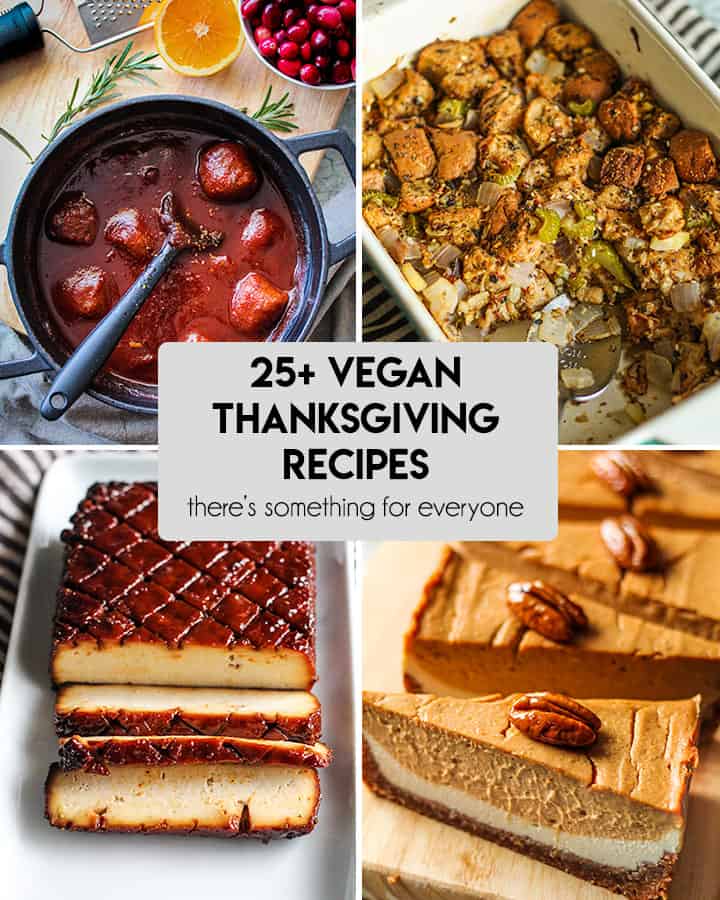 Whether you are trying out your very first vegan Thanksgiving or need some recipe inspiration to change things up this year, I have you covered with some fun and festive holiday recipes all in one convenient post. This round up of the tastiest Vegan Thanksgiving Recipes includes everything from mains, sides, and vegan desserts from brown sugar glazed tofu to a double layered pumpkin cheesecake.
Thanksgiving, but make it plant-based
Need some vegan thanksgiving recipe inspiration? I've got you covered for the whole day, from your very first meal of the day to the last bite of dessert you may want to enjoy. Here are some things to note with the recipes shared below:
I encourage you NOT to skip any of your meals. Focus on being present and enjoying your meal. Skipping your meal will make you grumpy and likely more ravenous when it actually is time for your big feast. This will likely lead you to being less mindful with your meal in general. As a result, you'll probably eat until you are really uncomfortably full.
I'm Dominican, so you will see some traditional Latino fair below that's been veganized. If you're looking for something new, but not sure about some of the seasonings, I mention my favorite brands and also have a post for how to make the spice blends here.
Need recipes for a smaller gathering? Got you covered. Just check the notes for the recipes below.
And if you can't find what you're looking for, feel free to leave a comment below and I'd be more than happy to help you find the perfect dish you might need for your holiday table.
Breakfast
I highly recommend treating your day just like any other day, even if it's a holiday. I'm going to emphasize this again, do not skip meals! Enjoy some breakfast and lunch so you can enjoy your meal later in the evening.
These fluffy vegan pumpkin pancakes never fail! The perfect fluffy texture, easy to make and they have all the fall flavor you need. For 2-4.
These soft vegan pumpkin cinnamon rolls use real pumpkin, the right amount of pumpkin spice and are topped with a maple cream cheese frosting.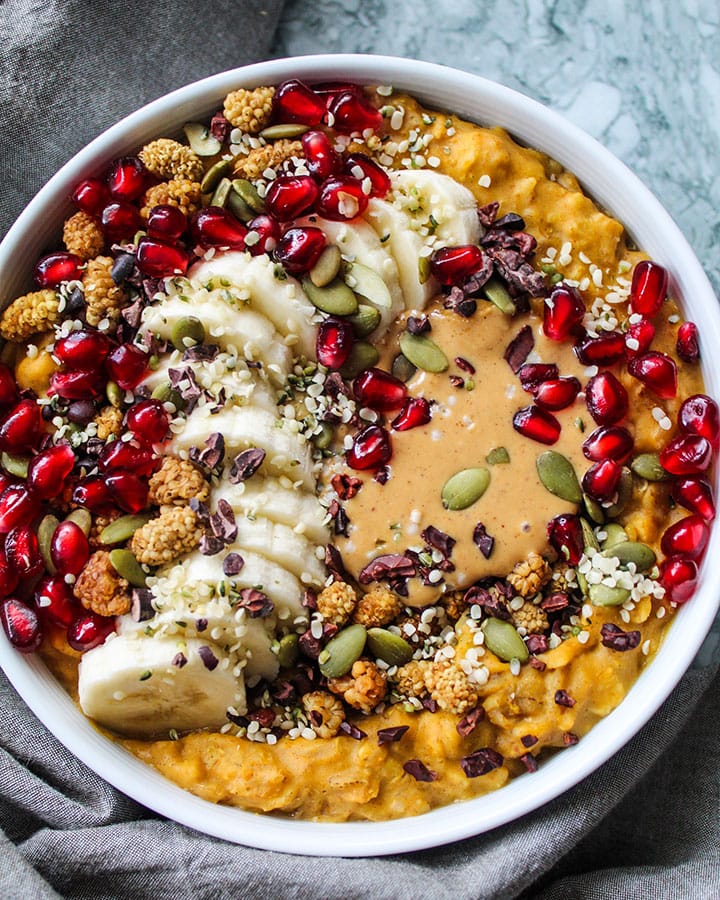 Creamy and decadent. Almost feels like dessert for breakfast. A perfect bowl to remind you why you should love this season!
This maple tahini stovetop granola is super easy and quick to make. Tastes like you baked it in the oven. Perfect breakfast meal prep! Vegan, oil free, and gluten free. 
Soups & Salads
A great meal starter, but can also be a great option to enjoy prior to your meal. I find like a sensible soup or salad can help fill you up if there are any delays with the main event.
A simple and easy butternut squash soup that is creamy and uses cinnamon and Chinese five spice to amp up fall flavors. Warming and delicious!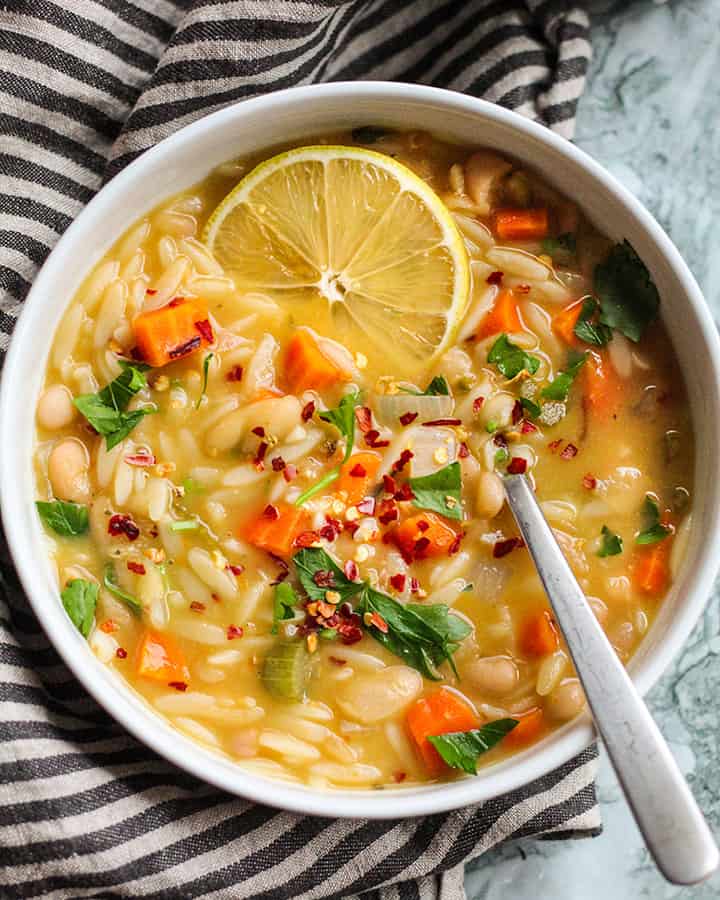 A lemon white bean orzo soup, bright and flavorful thanks to the lemon juice and zest mixed into this garlicky and herb filled soup broth.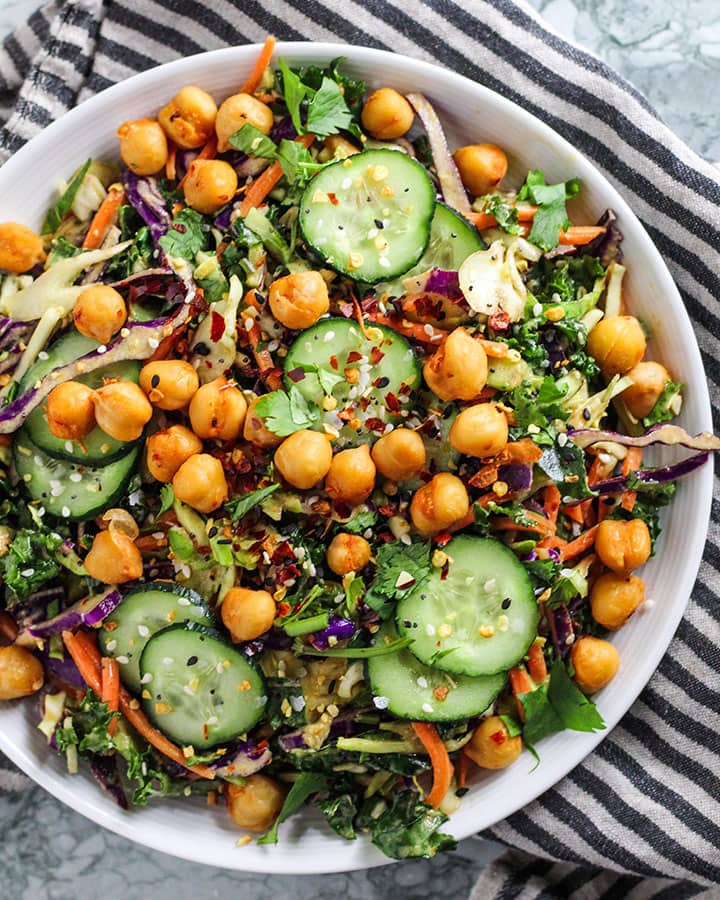 Simple salad that can be turned into a full meal or a fun side with a main meal. Crunchy, flavorful and will keep you coming back for more. For 2-4.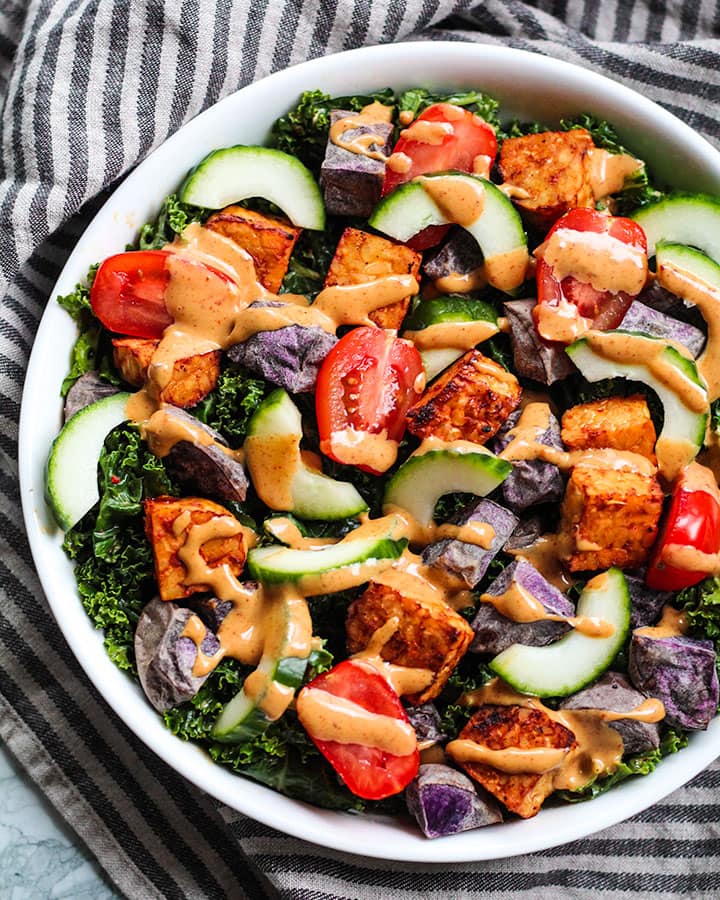 Make your salads more filling and satisfying! This massaged kale salad with chili lime dressing is a perfect example of the right balance of ingredients and flavor that will make you forget all of those boring salads in the past. For 2-4.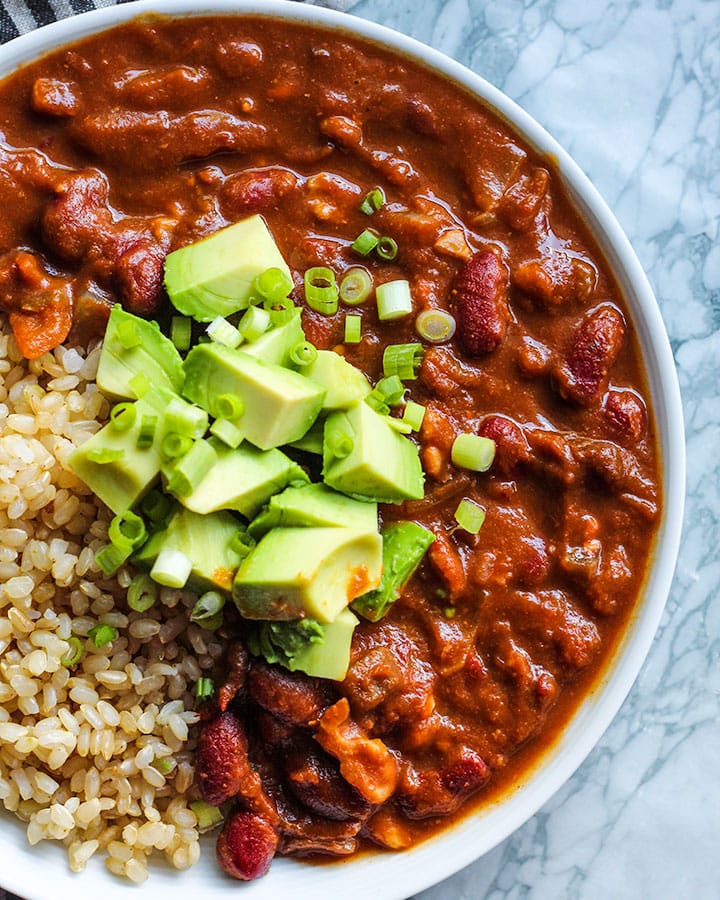 Chipotle pumpkin chili, a chili balanced with pumpkin and a touch of sweet and heat. Hearty, protein packed, and great for leftovers.
Mains
Can't have a vegan thanksgiving recipe round up without the main recipes. Lots of high protein plant based options using beans, tempeh, tofu and seitan here. Gluten free options as well!
The ultimate vegan main for your holiday table. This brown sugar glazed tofu is sweet and smoky and surprisingly easy to make! For 2-4.
This vegan lentil loaf is easy and loaded with a little bit of Latin flavor. Firm, tender and the right moisture. Perfect for Thanksgiving!
This vegan "pollo" guisado is a call to home with a plant based twist. Bursting with the same Latin flavors, high in protein and easy to make. For 2-4.
An easy and flavorful roast that is elevated with a delicious phyllo crust. Crispness on the outside, tender meaty inside perfect to pair will all the holiday sides.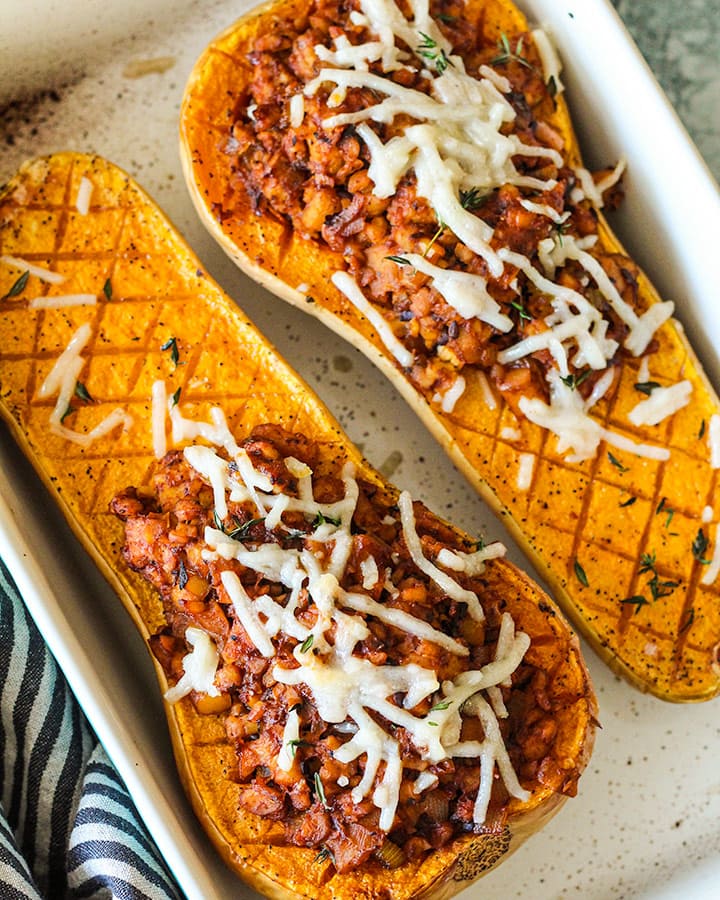 This vegan stuffed butternut squash makes the perfect holiday plant-based entrée. Stuffed with flavorful smoky tempeh and sweet diced apples. For 2-4.
Sides
Traditional and fun takes on some classic sides to help keep your palate and belly happy.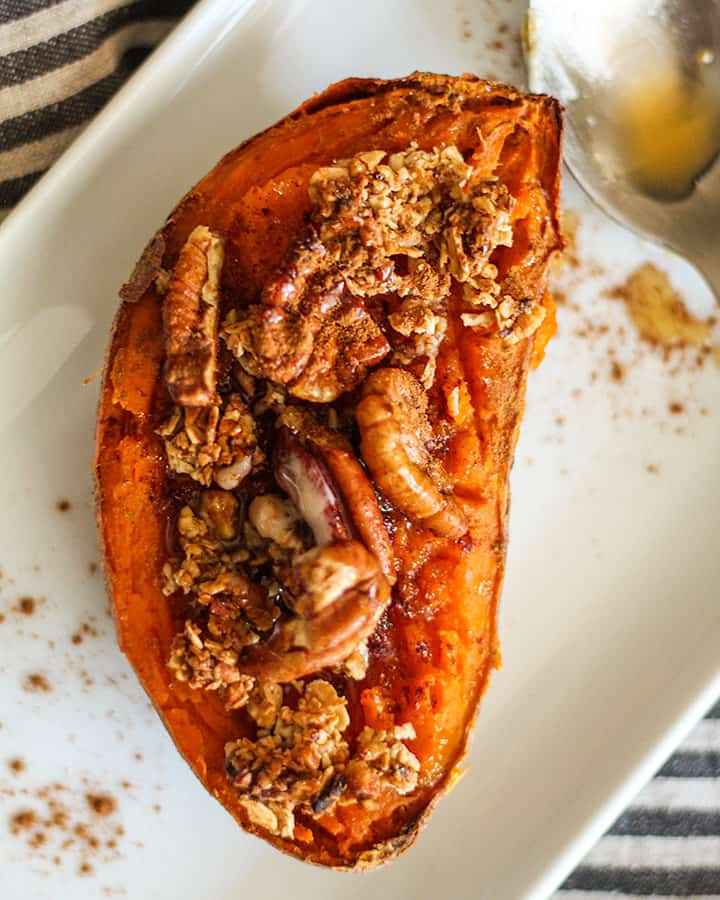 Get ready to fall in love with these sweet potato casserole boats. Buttery maple sweet potatoes topped with a delicious pecan crumble. 
This is the best sweet jalapeno cornbread because it's easy, delicious, quick, and homemade. Just 10 simple ingredients, mix and bake! 
This vegan everything bagel stuffing is loaded with the classic salty, onion, and garlic flavors you love plus is the perfect easy holiday side. For 2-4.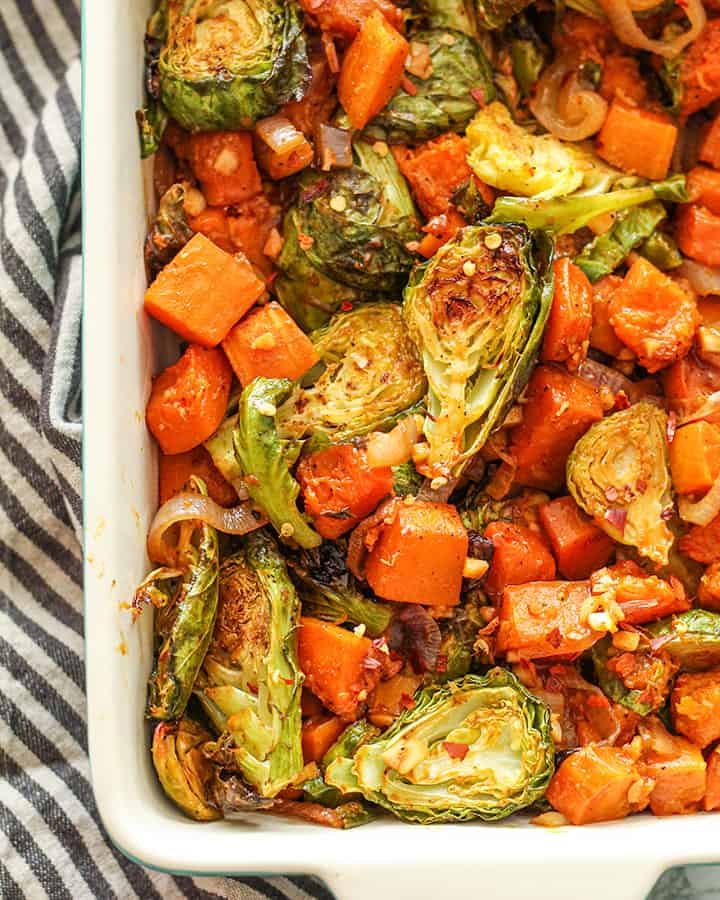 These orange miso roasted vegetables are glazed with garlic, orange and miso. A delicious way to actually enjoy your brussel sprouts!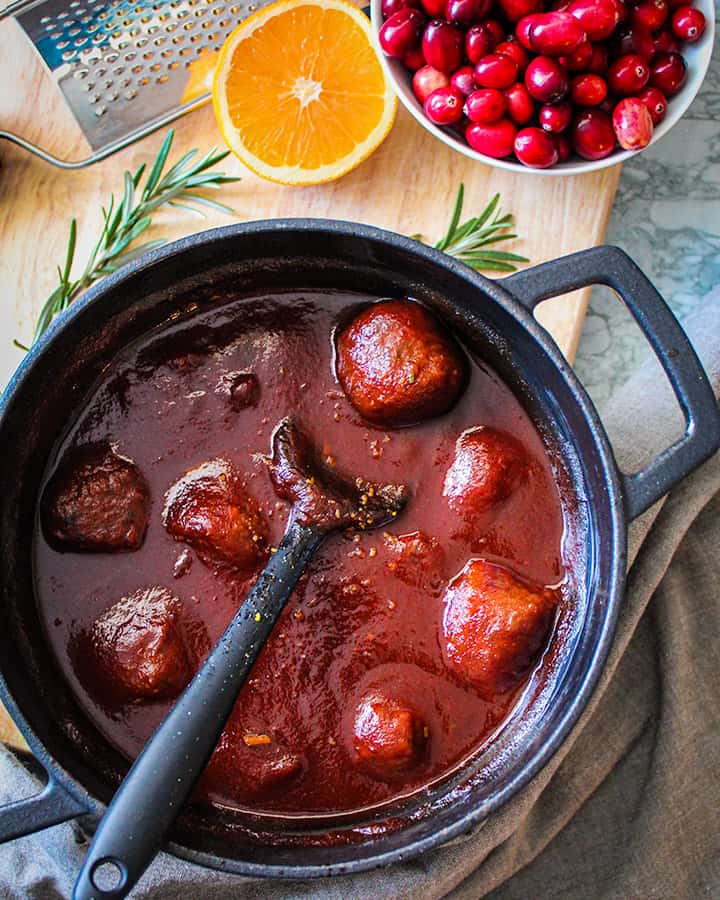 These vegan cranberry chili meatballs are the perfect holiday appetizer. Sweet, tangy, and spicy and just takes 20 minutes to make!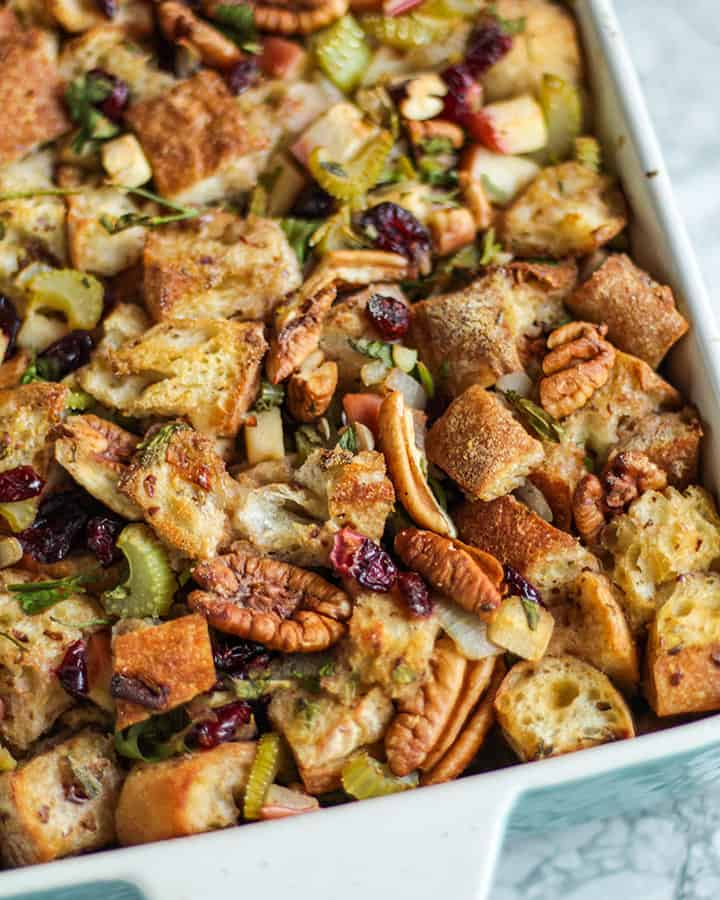 If you're looking for the perfect Thanksgiving or Christmas side, look no further than this vegan cranberry pecan stuffing. Herby, buttery, and way better than any box stuffing. Loaded with cranberries, pecans, and diced apples for a sweet taste of fall.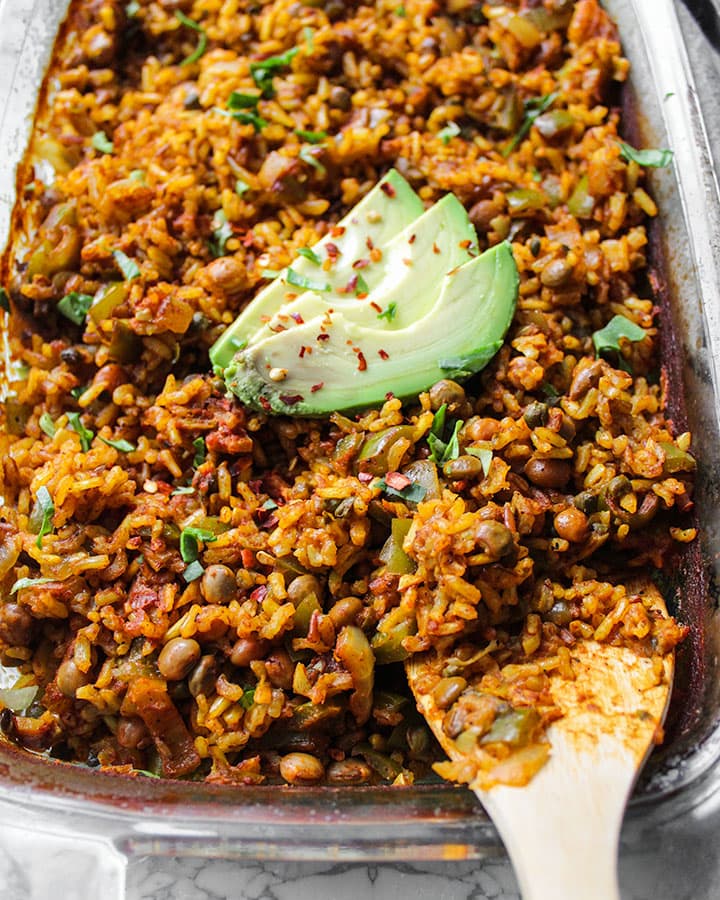 Making this delicious Hispanic rice staple easy and delicious in the oven. Make a big batch and save for eating throughout the week. You'll thank me later.
A spin on a traditional food I grew up eating frequently. Dough wrapped around delicious savory filling and perfect for on the go eating. Cheap and easy to customize to your preference.
Dessert
The holidays can't end without a little something sweet and these treats below are just so fun and can be enjoyed throughout the fall.
This vegan double layer pumpkin cheesecake is the perfect holiday dessert featuring both a vanilla and pumpkin layer. Easy and delicious!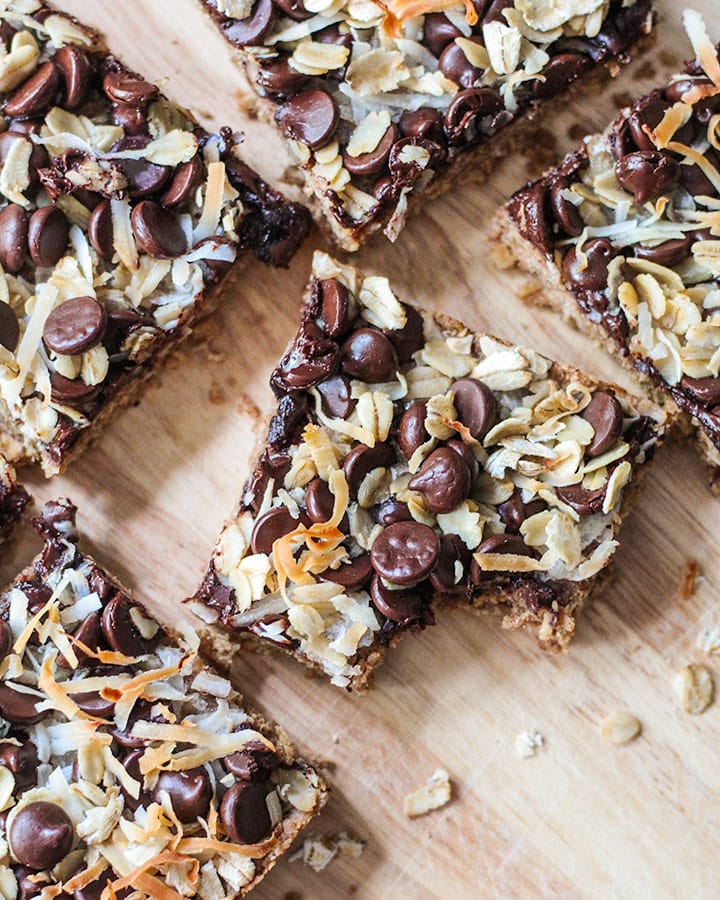 These vegan magic bars are a sweet and buttery treat loaded with chocolate chips and coconut. Simple to make and just 10 ingredients!
This vegan s'mores pumpkin mug cake is an easy fall treat that uses basic pantry ingredients. Baked in the microwave in just 1 minute.
Fluffy, vegan, and made with simple ingredients, this cream cheese filled pumpkin bread is the best fall breakfast, snack, or healthy dessert!
An easy apple crumble with minimal ingredients, a crispy top and gooey apple bottom.
Did You Try Any of These Vegan Thanksgiving Recipes?
Then let me know what you thought! Share your creations by tagging me on Instagram with the hashtag #plantbasedrdeats
★ Catherine