The forecast called for snow this weekend, so I found myself thinking of all the delicious things I could make. Maybe that is what drives us all to go to the store right before a storm to buy a bunch of perishables? Honestly, with all the time I'd find myself with this weekend, it only made sense to make empanadas or pastelitos. Something warm and stuffed with super flavorful ingredients? Yes, please! And my favorite kind are these baked sweet potato empanadas stuffed with minced tempeh. Vegan, oil free, and delicious.
Some of you might look at what I just said and be very confused. Especially my Hispanic friends that are familiar with pastelitos, you might be scratching your heads. Granted, these little pockets of heaven are baked. Even the dough ingredients are different from what my mother would make me growing up. However, I think when it comes to the recipes we learn from our traditional homes, the most exciting part is seeing how they evolve over time.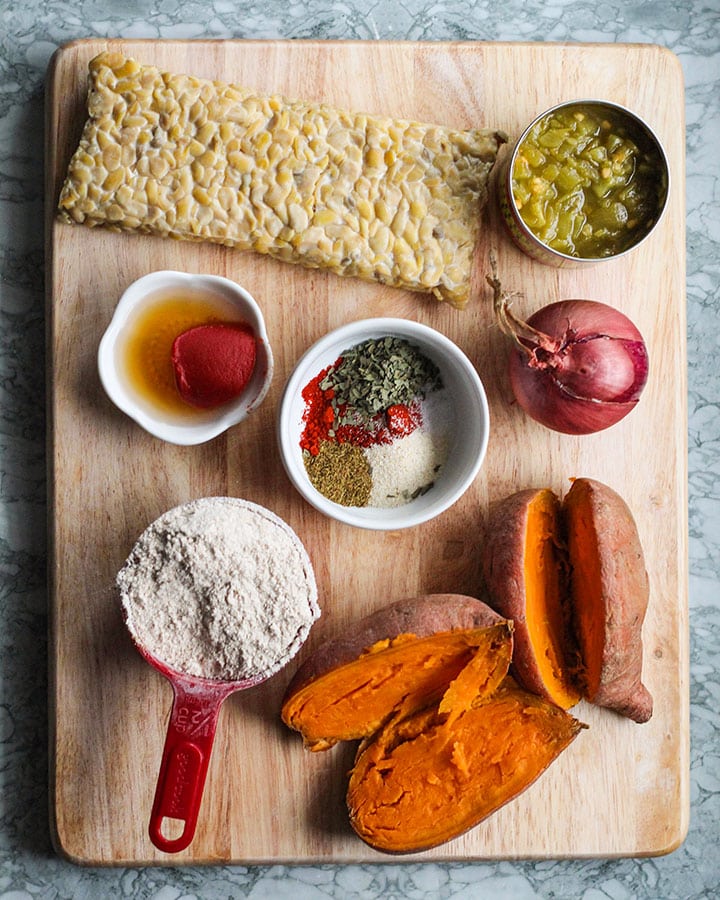 My mom made pastelitos very frequently when I was growing up. My aunts made them too! And even when we went out to get our hair done at the Dominican salon over the weekend, we'd find them ready to purchase for $1. This lady would come up with a bag of these to sell, and my mom would grab one for me and my sister as we sat under the suffocating heat of the hair drier with giant curlers in our hair.
What are pastelitos/empanadas?
Little pockets of joy! No, I'm not joking. It's dough that is stuffed with a savory filling. As far as I know, there isn't much argument as to what you can fill them with. Growing up, I was used to my mom making these with some minced meat that was seasoned with lots of adobo. I've had vegetable stuffed ones, spinach ones are particularly good. I've experimented with a bunch of filling ideas including lentils, tofu, and more recently tempeh (more on that later). The stuffed dough is often pan fried in oil, giving it a nice crispy outside. You will see these baked sometimes, and that is my preferred way of having them.
The major difference between the two is crispy or soft. I just really love taking a bit of these and getting a nice soft bite along with the warm filling. It just always feels cozier in my opinion.
What is the difference between pastelitos and empanadas?
As with anything in Hispanic culture, it really depends on who you ask. One region will make these round and another will make them half moon shaped. Some might bake these while others will fry. In my Dominican home they are half moon shaped. My mom makes them fried while I prefer mine baked. Shouldn't matter too much how it's down. When it comes down to it, I think flavor is king.
If you've never made these before, they can seem intimidating. But everything can seem challenging and scary at first. And usually after a few practices with folding the dough over the filling, you will feel like a pro. If you find that filling sneaks out, don't worry, just tuck it back in and seal it.
Why should I make these Baked Sweet Potato Empanadas?
Involves simple ingredients
Cheap to make and no special equipment required to make them
You can make however many you want, perfect for meal prep
These freeze well too
You can change up the filling to whatever you might prefer
Can be eaten easily on the go
For this particular variation, I added a healthy dose of sweet potato to the dough. Keeps the dough soft and also adds a great color and flavor to the dough. It's slightly sweet, which works perfect for the savory filling. After the first time making it, this is the way I always make my dough now. If you prefer a more traditional take, feel free to find a great dough recipe here. If my mom makes these, she literally just mixes water, white flour and a little salt together until a dough forms. Nothing fancy really required.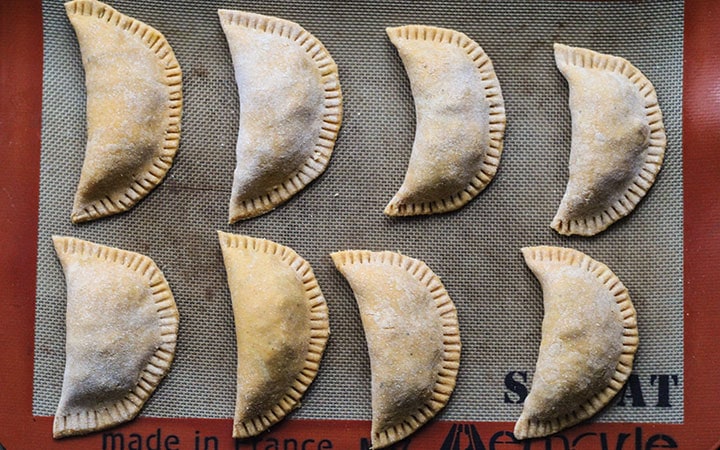 I love making a large batch of these Baked Sweet Potato Empanadas when I have a little time to myself. This snow storm we have right now is a perfect time to make these. Put on some fun music, dance a little while you make these and it will be no time before you have these perfect treats ready to eat.
For other vegan empanada inspiration:
Other filling ideas for your empanadas: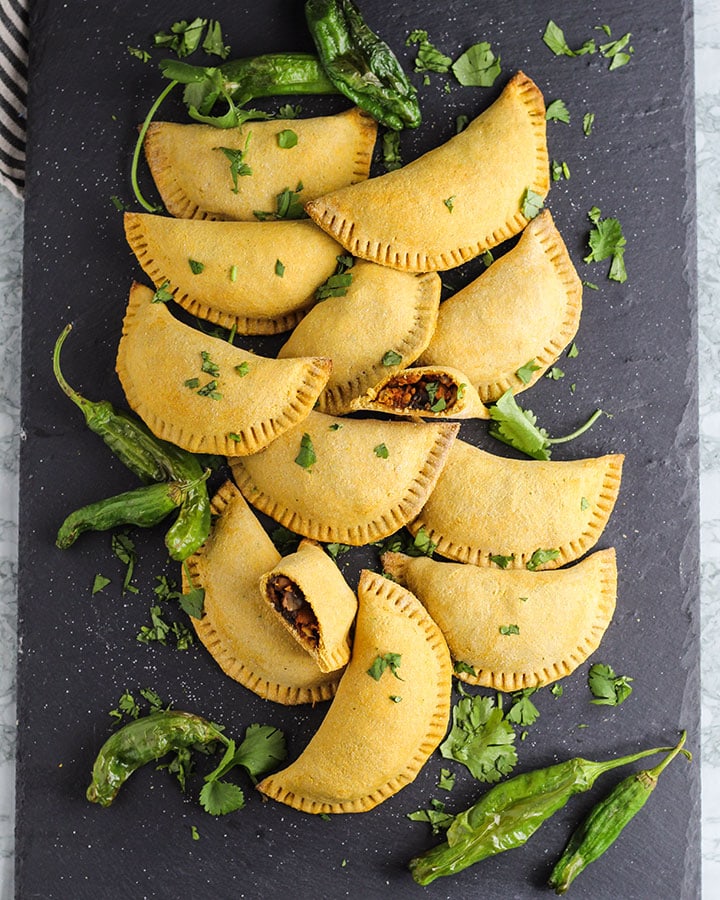 Print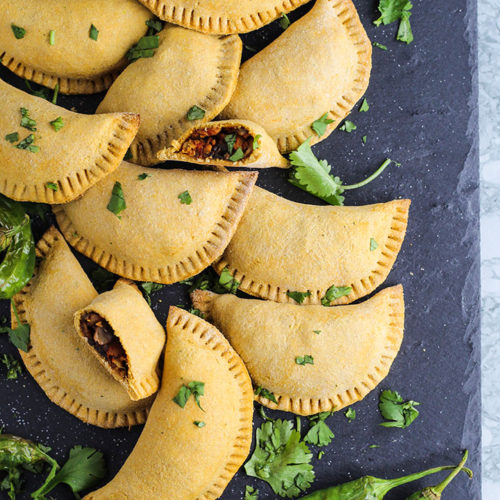 Baked Sweet Potato Empanadas with Minced Tempeh
Prep Time:

45 minutes

Cook Time:

20 minutes

Total Time:

65 minutes

Yield:

12

empanadas

1

x

Category:

Appetizer, Main Course

Cuisine:

Dominican
---
Description
A spin on a traditional food I grew up eating frequently. Dough wrapped around delicious savory filling and perfect for on the go eating. Cheap and easy to customize to your preference.
---
Empanada Dough
2 cups

white flour or white whole wheat flour

2 cups

mashed sweet potato

1 tsp

adobo seasoning
Minced Tempeh Filling
1

block tempeh

2 tsp

tomato paste

4

white button mushrooms, diced

1/2

small red onion, diced

2 tbsp

canned green chilies (optional)

1 tsp

maple syrup

1 tbsp

soy sauce

1 tsp

onion powder

1 tsp

dry basil

2 tsp

smoked paprika

1 tbsp

apple cider vinegar

1/2 cup

water
Salt to taste

1/2 tsp

cumin
---
Instructions
For Sweet Potato Mash
To make sweet potato mash, take 1 large sweet potato, pierce the outside with a fork and place in the microwave. Hit the baked potato button and allow to cook in the microwave until fully softened. Cut sweet potato in half and set aside to make filling so potato can completely cool before handling.
For Minced Tempeh
In a pan on medium heat, add onion and mushrooms then saute until mixture is softened and moisture cooks off.
Crumble tempeh into the pan with your hands then add tomato paste, spices, soy sauce and maple syrup to the pan. Stir to combine and allow to become fragrant, about 3 minutes.
Add water and green chilies, stir to combine then reduce heat to low and cover with a lid. Allow to cook for 10 minutes with the lid on.
Remove lid and cook off any excess moisture then remove from heat.
Add apple cider vinegar, stir and add salt to taste.
Set aside to cool while making the dough.
For Sweet Potato Dough
Preheat oven to 400F. In a bowl, add flour, adobo seasoning and stir to combine.
Add mashed sweet potato and with hands, start to kneed the potato into the flour to form a dough.
If dough is dry, add a tablespoon at a time of water to the dough mixture. Dough should be soft, not sticky and easy to work with.
Take dough, roll it out into a log then divide into 12 even pieces. Roll each piece into a small ball and set aside.
On a clean surface, add a little flour to it, then do the same to a rolling pin.
Place a dough bowl on the floured surface and press down on the dough with the palm of your hand to form a circle.
With the rolling pin, roll out dough into a flat circle.
Take 2 tbsp of filling and place at the center of the flattened dough.
With your hands, pull the edge of one side over the filling to meet the other end of the dough.
With fingers, gently press down to seal the dough. If you want your empanadas to look pretty, you can cut off any excess dough to shapen to your preference.
With a fork, press down around the edges of your empanada to properly seal.
Place empanada on a lined baking sheet and continue to repeat process with remaining dough balls. Remember to flour surface and rolling pin as needed to prevent dough from sticking as it is manipulated.
Once empanadas are all on the tray, place in oven for 20-25 minutes.
Remove from oven and allow to slightly cool enough to be handled safely before eating.
---
Notes
The size of these empanadas fit in the palm of your hand. If you want bigger empanadas, feel free to adjust size and amount of filling you wish to add.
Try to avoid over filling your empanadas as the folding process becomes challenging. I'd also recommend adding the filling towards the center of the dough.
Do not boil potatoes. They will be too moist for the flour and leave you with an ultra sticky dough. 
I have only tested this recipe with sweet potato. Remember that potatoes have different moisture levels, so it might not work with other varieties. 
For a gluten free version, you can swap the flour out for cassava flour. I have also had people tell me that they've made this using oat flour or a combo of oat flour and rice flour. I have not made these myself, but have heard from multiple users 
If you want a more flaky crust, you can also find a variation here that uses some coconut milk to the dough. 
Keywords: empanadas, pastelitos, sweet potato, tempeh
Did You Try This Recipe?
Then let me know what you thought! Share your creations by tagging me on Instagram with the hashtag #plantbasedrdeats
★ Catherine