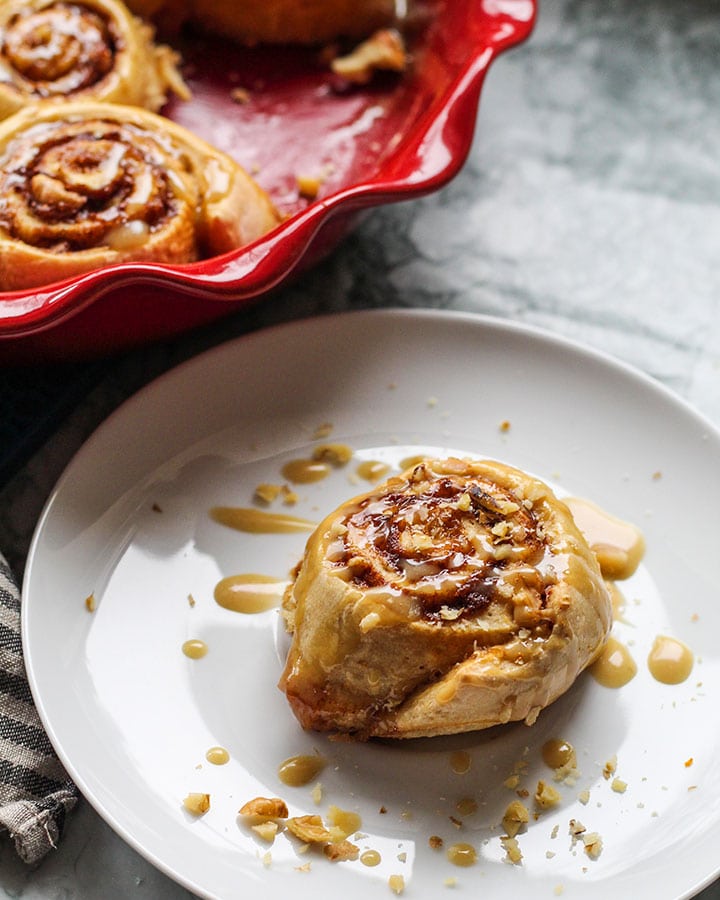 These Orange Walnut Cinnamon Rolls are delicious. And honestly, they probably won't last longer than the day you decide to make them. I mean, I can't be the only one that can't resist the temptation of a nice warm cinnamon bun right out of the oven, right? That's okay though. There are times where it's necessary to treat your self. These happen to do the trick perfectly with the orange zest that freshens up the dough and the orange infused tahini glaze that you can pour over top. Definitely a treat all around.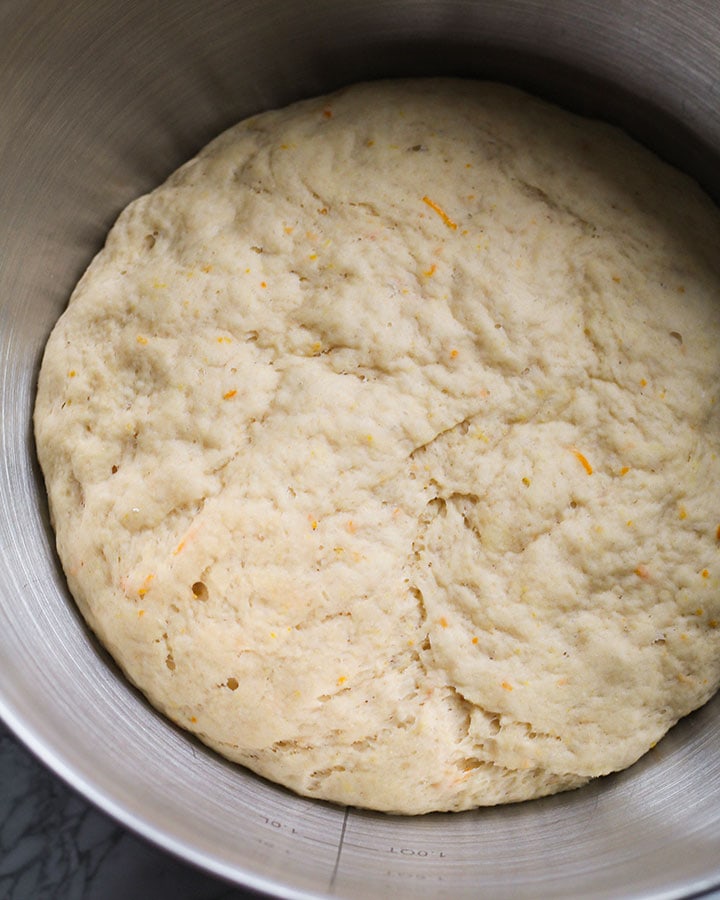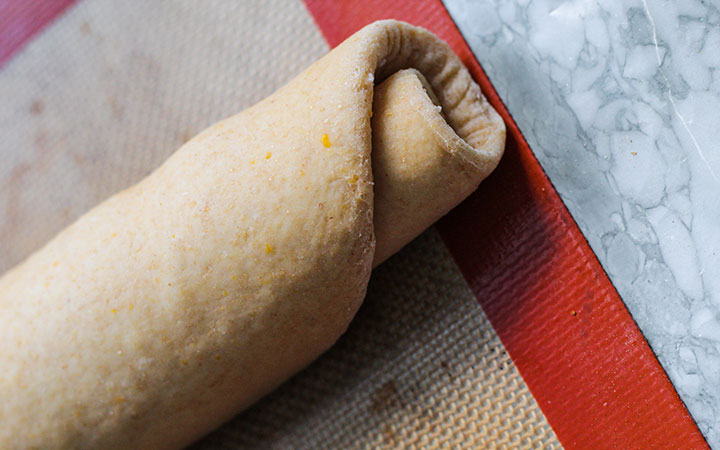 The idea for these Orange Walnut Cinnamon Rolls was actually inspired by a very vivid memory. Back when I was going through my dietetic internship in Texas, I had the opportunity to attend a vegetarian festival. And one of my absolute favorite purchases from that event was this giant cinnamon roll. The thing that was so distinguishable about this cinnamon bun was the fact that it was orange flavored. It was such a lovely balance. I literally made that cinnamon bun last as long as I could too. Since that moment, I made it a mission to try and make something even remotely similar to it.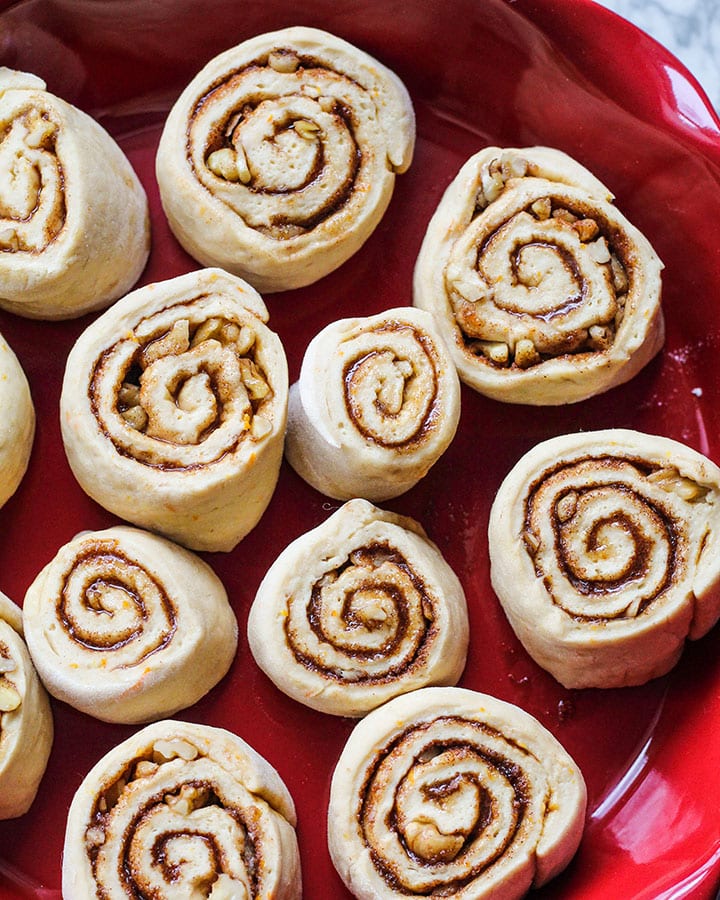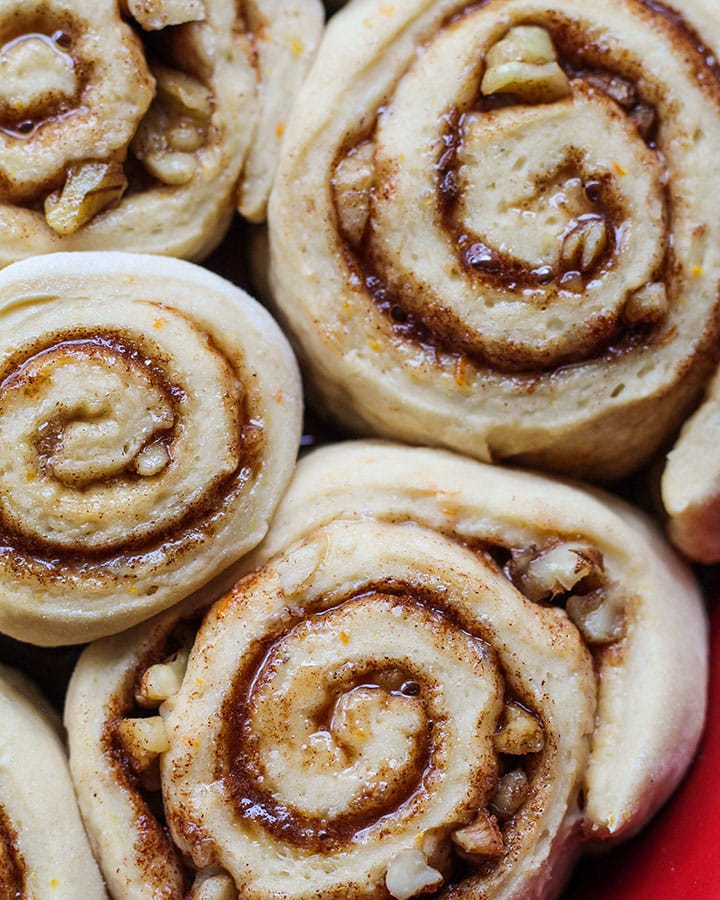 Flash forward to today, and I'm still obsessed with this flavor combo. In fact, I had planned to try and master making my own variation to share for the holidays, but with the holidays in general being so busy, they had to wait. It was worth being patient because I got to experiment with ways to make these buns more nutritious. Can you blame me though? I'm a dietitian, and I'm always intrigued with ways to add a few extra nutrients here and there.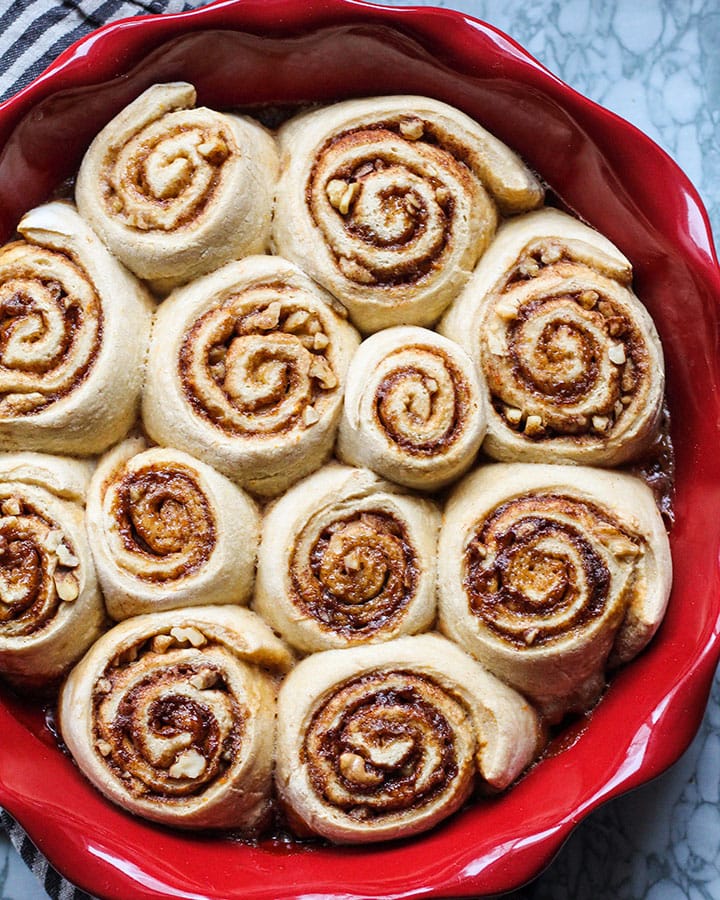 What's So Great About These Orange Walnut Cinnamon Rolls?
These have more fiber thanks to a little addition of whole wheat pastry flour (this flour is much lighter than regular whole wheat flour)
These buns have significantly less sugar in them without sacrificing flavor
Some extra antioxidants thanks to the orange juice and orange zest added to the dough and sauce
Why Less Sugar and Extra Nutrients?
It makes me feel better. That's it. Maybe they'll make you feel better too. Whenever I eat things with a ton of sugar now, they just sit heavy. These don't do that to me. If anything, kind of leaves more room for extra buns!
As I was making these, I asked myself, is there a way to make these a little more nutritious without hurting the integrity of the recipe? So I explored and came up with some fun solutions. For example, I made an orange tahini glaze using fresh squeezed orange juice, maple syrup and a few spoons of tahini. This glaze is in place of the sugary glaze that you normally see in recipes. But hey, if you still want to make the normal glaze, I won't stop you. Whether you make these exactly as is or do your own modifications, I hope in the least these have inspired you to always seek ways to feel your best.
In case you want some more rolls or sweet treats…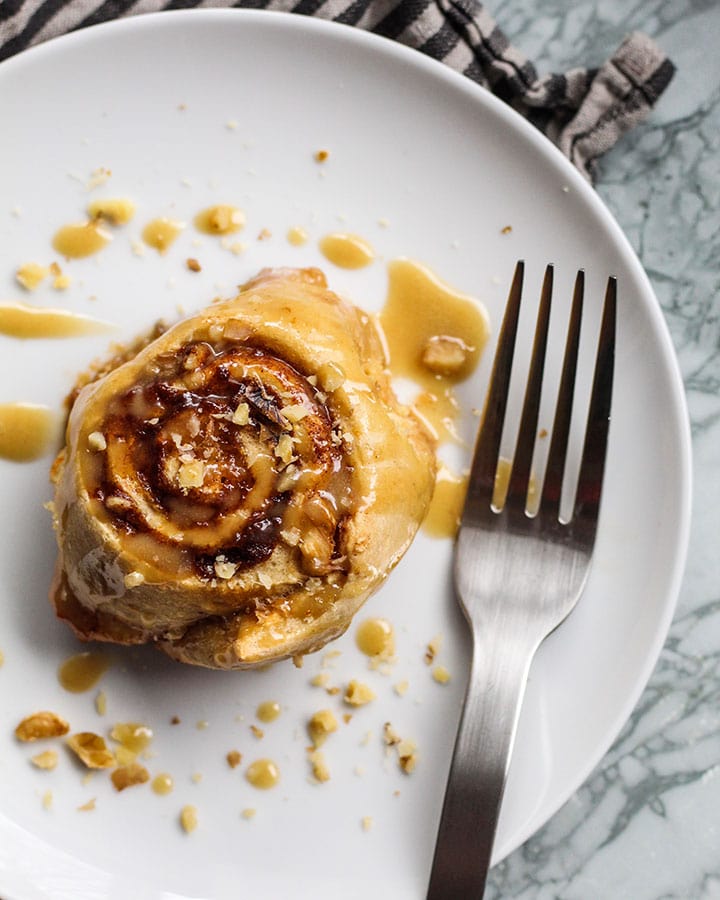 Print
Orange Walnut Cinnamon Rolls
Prep Time:

150 minutes

Cook Time:

16 minutes

Total Time:

166 minutes

Yield:

12

cinnamon rolls

1

x

Category:

Dessert

Cuisine:

American
---
Description
Have been dreaming of an orange flavored cinnamon rolls for the longest time, and these soft and super flavorful buns are perfection. These are oil free and have a lot less sugar than traditional recipes.
---
Dough
1 1/2 cups

all purpose flour

1/2 cup

whole wheat pastry flour

3 tbsp

brown sugar

1/2 tsp

salt

1

packet instant yeast

1 cup

unsweetened almond milk or coconut milk

2 tsp

vanilla extract
zest of

1

orange
Filling
3 tbsp

brown sugar

2 tsp

cinnamon

1/4 cup

chopped walnuts

2 tbsp

maple syrup
Orange Tahini Glaze
3 tbsp

tahini
juice of

half an

orange

1 tsp

vanilla extract

2 tbsp

maple syrup
For Baking
2 tbsp

unsweetened almond or coconut milk
---
Instructions
Dough
Using a microwave safe mug, add milk and place in microwave for 20 seconds. Double check that milk is warm and not scalding hot.
Add packet of yeast into the cup and allow to set for 5 minutes (do not mix).
While waiting for the yeast, add flour, sugar, orange zest and salt to a medium mixing bowl. Stir together then add yeast and vanilla extract once timer for yeast goes off.
Fold ingredients together to begin forming a rough dough. Feel free to use clean, slightly wet hands to help this process along.
Place rough dough on a clean working surface and begin kneading dough with your hands. Knead dough for at least 5 minutes to work the gluten.
Place dough ball in a bowl and cover with a cloth. Allow dough to double in size undisturbed for at least 1 hour in a warm area.
Filling
Once time elapses, you can take your dough and place it on a clean, floured working surface.
Using a rolling pin, flatten dough into a 1/4 inch thin rectangular shape.
Once you achieve a thin rectangular shape with the dough, use a silicone brush or back of a spoon and brush entire surface of the dough with maple syrup.
Evenly sprinkle sugar over top of the surface of the dough. Next sprinkle the cinnamon in the same fashion. Lastly, sprinkle the chopped walnuts on the surface of the dough as well. Use hands to spread toppings evenly to any blank or empty spaces.
Carefully begin to roll the dough tightly into a long log shape.
Using a sharp knife, cut the log into 12 individual pieces. Place the rolls in a baking dish, allowing a little space between the rolls.
Place a cloth over the baking dish and allow to rise for another hour in a warm area.
Orange Tahini Glaze
Feel free to make the orange tahini glaze at this time. Add tahini and orange juice to a small bowl and stir to fully combine. Add in maple syrup and vanilla extract to loosen it up. If too thick, feel free to add small amounts of milk or water to it to thin out as desired.
Baking the Buns
Before the hour is up, preheat oven to 350F.
Uncover cinnamon rolls and place in the oven for 6 minutes.
Remove from the oven and lightly baste the outside of the rolls with a little milk. Then place the rolls back into the oven for another 10 minutes.
Remove from the oven and allow to cool slightly for 5-10 minutes, add glaze and enjoy.
---
Notes
For a richer dough, feel free to add 2 tbsp of coconut cream or melted vegan butter to the dough. 
Buns will become firmer as they cool. If you want the buns to become soft again, reheat buns as desired by sticking in the microwave for 15 seconds to soften. 
If you don't care to add whole wheat pastry flour, replace with equal parts all purpose flour. 
If you dislike the taste of tahini, this works really well with cashew butter as well.
Why whole wheat pastry flour? It helps add fiber without making the buns super dense. You can also decide to use only all purpose flour, in which case use 2 cups of all purpose flour and omit the whole wheat pastry flour. 
Keywords: almond milk, cinnamon, cinnamon rolls, coconut milk, flour, orange, orange zest, sugar, walnuts, whole wheat pastry flour
Did You Try This Recipe?
Then let me know what you thought! Share your creations by tagging me on Instagram with the hashtag #plantbasedrdeats
★ Catherine