This hearty Latin style lentil soup is loaded with lentils, veggies and most importantly a little Latin flare. Easy dinner to put together!
What is it with mom's being so awesome and having the best tasting food? Food that feels like a giant warm and cozy hug? Well, here I am sharing a recipe that makes me feel homesick at the moment. This Latin style lentil soup is a homage to my mom. Someone who would always have a delicious pot of lentils waiting for me when I came over. Wanted to share the deliciousness with you all. So thanks mom for always having those tasty recipes!
How to kick up the flavors in a classic soup:

This year has been really challenging because all I want to do is see my mom. One of my last times with her before the start of the pandemic was when I stopped by to stay over during a work trip back in February. I worked late that day, so I popped on over to spend the night. When I walked through the door, the first thing I was greeted with outside of a warm hug was the smell of the lentils she was cooking on the stove top. Literally, her lentils are probably my favorite way to have them. Soupy, the perfect balance of flavor and so hearty.
And while I am not my mother, I wanted to try and create that same comfort and deliciousness she was able to share with me. The key to amazing Latin style lentils are our traditional seasonings and lots of herbs to impact flavor.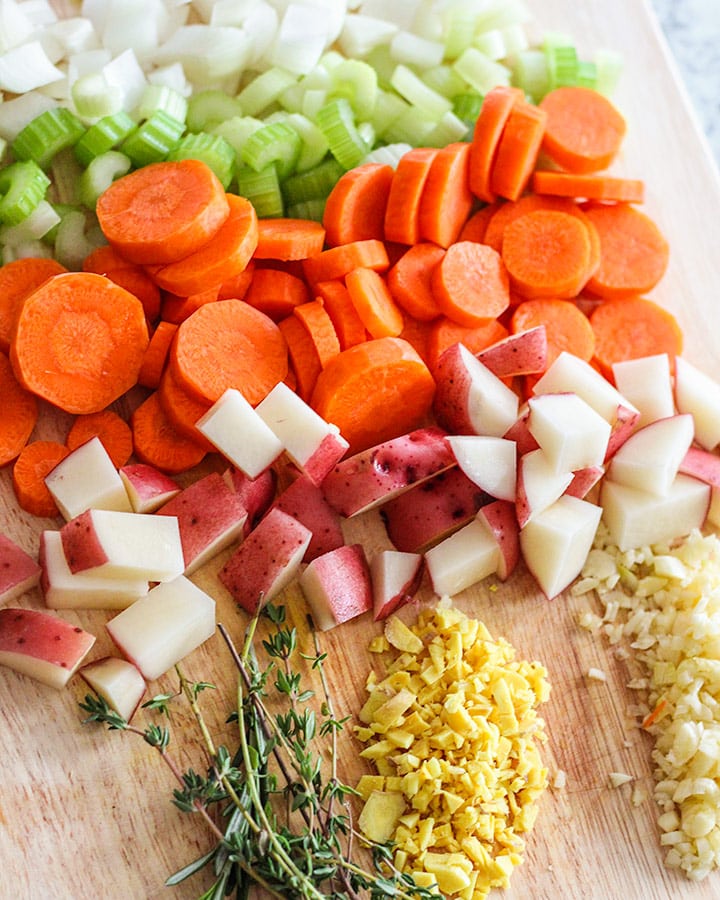 So what's so different about these lentils?
They have your typical lentil ingredients, but the main difference are the Latin spices added to it. These spices include s

azón

 and adobo.
Instead of just relying on one type of lentil, I've included two varieties, both green lentils and red lentils.
Included ginger to add a little bit of a kick, but also to infuse an ingredient I love to use this time of year.
Key ingredients
Onion, carrots, and celery: necessary for creating a base of flavor and loaded with extra nutrients
Potatoes: provides a heartiness to your soup
Garlic and ginger: provides additional depth of flavor to this soup
Fire roasted tomatoes: provides a little bit of smokiness to the soup
S

azón

: popular red and savory seasoning specific to Latin cooking
Adobo: popular seasoning salt in Latin cooking
Green lentils: the base of our soup that provides a lovely chew and texture to the soup as well as protein
Red lentils: when fully cooked, these will help to thicken our soup and provide additional protein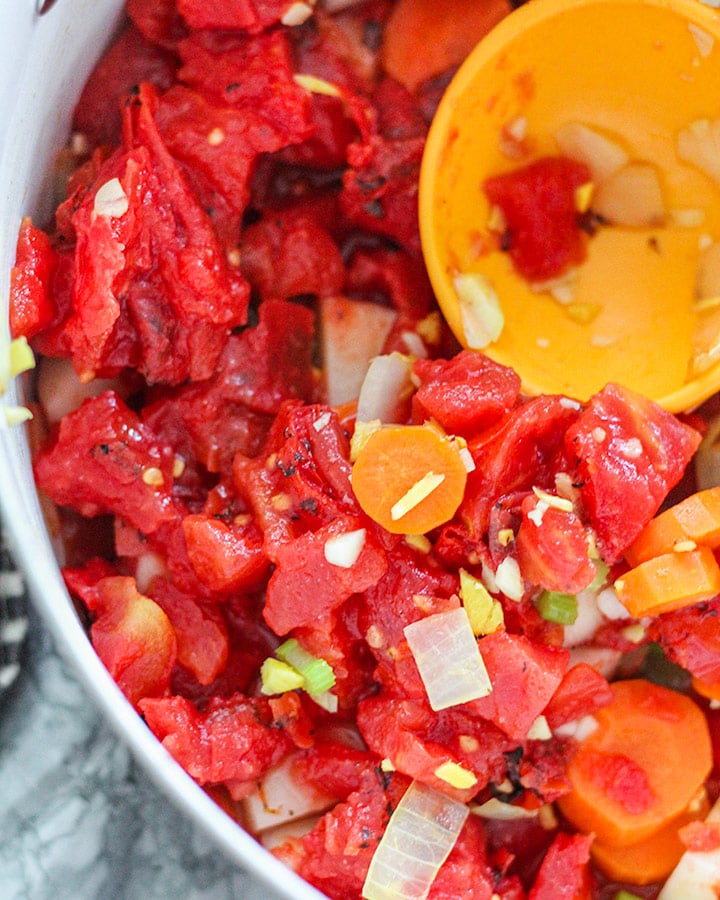 What is S

azón

?
Sazón is a seasoning blend that is used a lot in Spanish and Mexican cooking. Typically the main ingredients include coriander, cumin, ground annatto and oregano. This spice can be found in the international section or in the spice section of your grocery store. It has definitely gained in popularity especially in places that have a higher population of Latinos.
To make your own, you can combine equal parts of the following seasonings to keep on hand for recipes.
Ingredients
1 tbsp salt
1 tbsp ground coriander
1 tbsp dry oregano
1 tbsp ground cumin
1 tbsp ground annatto seeds or turmeric (if using turmeric, note that the color will be slightly off as annatto is a brilliant red color)
1 tbsp garlic powder
Prepare your sazón by combining these spices together in a jar. Make sure to mix well to evenly distribute all ingredients together.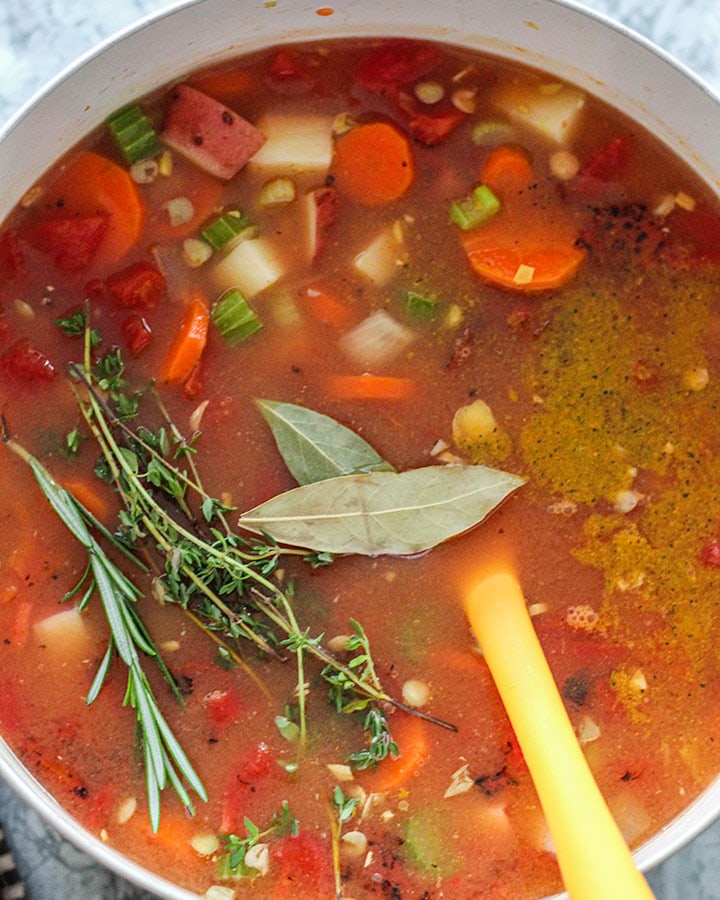 What is Adobo?
Adobo is the seasoning salt of the Latin world. To make the most basic version of this seasoning, you can focus on 5 basic ingredients. I slightly modified the sodium to not make it overwhelming, though note that original recipes will often have a higher concentration of salt. They don't call it seasoning salt for nothing!
Ingredients
1 tbsp salt
2 tbsp garlic powder
2 tsp dried oregano
1/2 tsp ground turmeric
1 tsp black pepper
Combine all ingredients in a jar and mix well to make sure ingredients are distributed well throughout.
How to make this Latin Style Lentil Soup
Starting with a large pot, cook up your onions, carrots and celery in a little bit of oil until softened. Then stir in your potatoes.
Add your aromatics and sauté again for a minute until fragrant.
To the pot, add your tomatoes, adobo and

sazón

and stir well.
At this point, you will add all remaining ingredients, bring your pot to a boil and then reduce to a simmer and cover.
Allow your soup to cook until the lentils have cooked through. This can take anywhere from 25-30 minutes. Make sure to remove the sprigs of thyme and bay leaves before serving.
Tips for making this soup
Don't skip the adobo and

sazón

. Most local grocery stores will carry both adobo and

sazón

under multiple brand labels. Usually you can find versions of it in both the regular spice aisle or often times in the international section of your grocery store. Don't be afraid to buy it, I promise once you've tried it in a dish, you will probably want to keep using it in just about everything. If you truly can't find it at all, I provided recipes above for you to recreate the flavors yourself.
I used regular potatoes for this, but I also love it with some alternatives. My other favorites include sweet potato or kabocha squash (Japanese pumpkin). The sweetness they provide is a nice contrast to the savory powerhouse of the spices.
If reheating as leftovers, you might want to add a splash of water or vegetable broth to it since it will likely thicken thanks to the red lentils here. Even if you don't, these leftovers work great spooned over some rice.
If storing for leftovers, allow soup to cool down before packing in Tupperware containers. Place in fridge for up to 4 days and if freezing, freeze in individual containers and store in the freezer for up to 3 months. Thaw, reheat and eat.
Some more delicious fall soups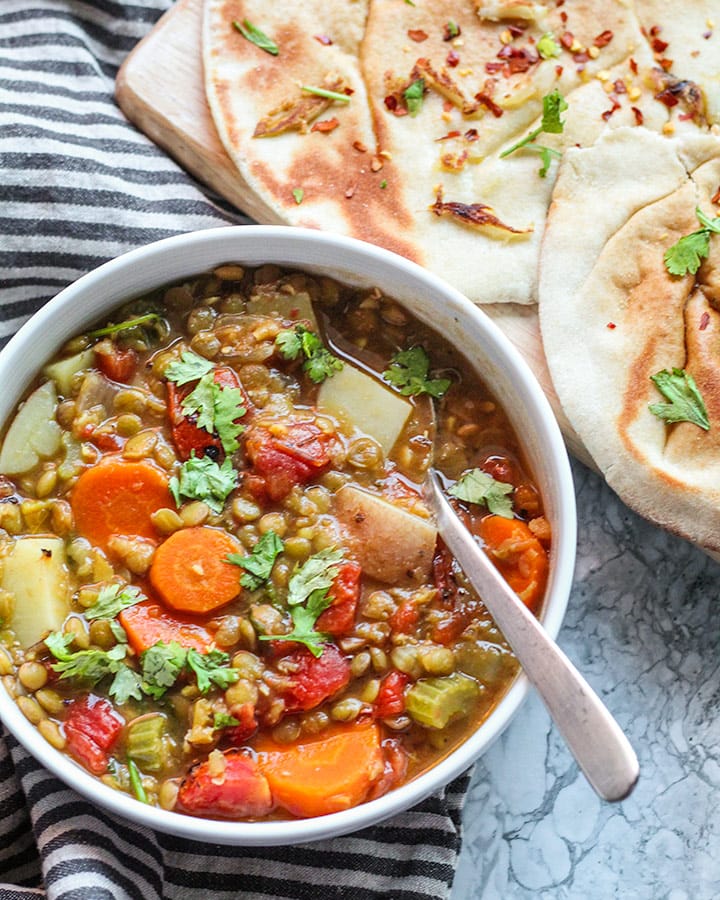 Print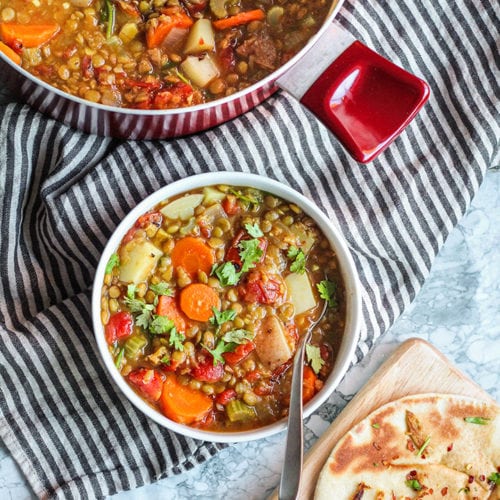 Latin Style Lentil Soup
Prep Time:

10 minutes

Cook Time:

30 minutes

Total Time:

40 minutes

Yield:

6

servings

1

x

Category:

Main Course

Cuisine:

Dominican
---
Description
This hearty Latin style lentil soup is loaded with lentils, veggies and most importantly a little Latin flare. An easy to put together!
---
1/2

yellow onion (diced)

2

medium carrots (sliced into coins)

3

stalks celery (diced)

2

red potatoes (cubed)

6

cloves garlic (minced)

1

inch ginger (grated)

1

15 oz can fire roasted tomatoes

1 tsp

sazón

1/2 tsp

adobo seasoning

1 cup

green lentils

1/3 cup

red lentils

6 cups

vegetable broth

4

sprigs thyme

1 tsp

dry oregano

1

bay leaf
Handful cilantro (optional, but highly recommended)
---
Instructions
In a large pot over medium heat, add 2 tsp olive oil, onions, carrots and celery.
Sauté until onions are softened. Add in potatoes and again stir to combine.
Stir in garlic and ginger, and continue to sauté until fragrant.
To the pot, add in tomatoes, adobo and sazón and stir well.
Add in your lentils, vegetable broth, thyme, roughly chopped cilantro and oregano, stir and raise up heat to bring to a boil.
Once at a boil, reduce to a simmer and cover with a lid.
Continue to simmer lentils for another 30 minutes or until lentils are fully cooked.
Remove thyme sprigs and bay leaves then serve. Feel free to add more adobo seasoning if you need just a little more flavor.
---
Keywords: adobo, ginger, lentil soup, lentils, sazon
Did You Try This Recipe?
Then let me know what you thought! Share your creations by tagging me on Instagram with the hashtag #plantbasedrdeats
★ Catherine