This post is sponsored by Sunnyland Farms, but all opinions are my own.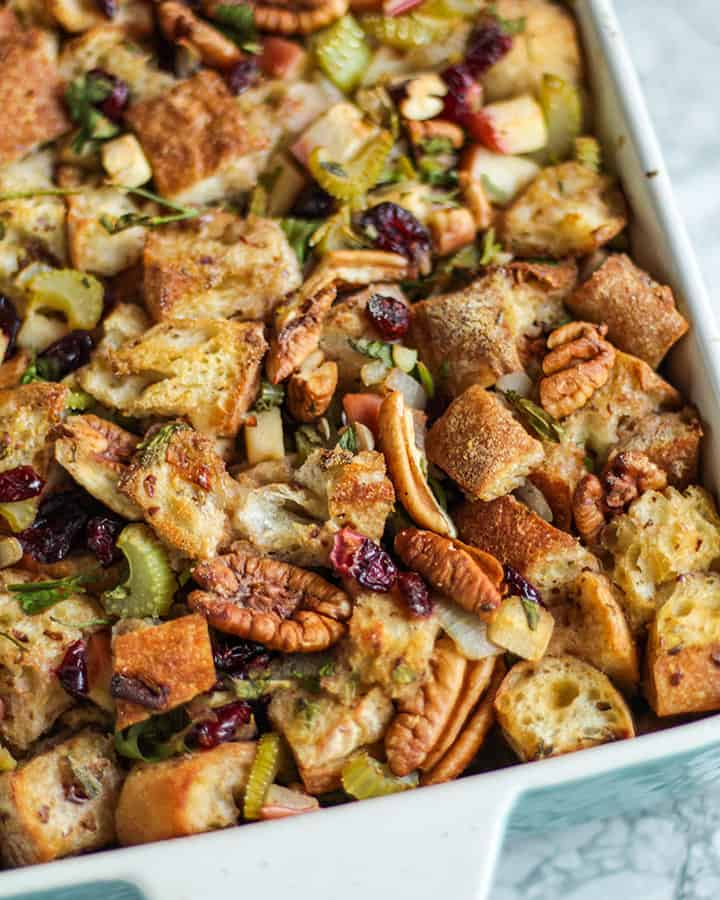 If you're looking for the perfect Thanksgiving or Christmas side, look no further than this vegan cranberry pecan stuffing. Herby, buttery, and way better than any box stuffing. Loaded with cranberries, pecans, and diced apples for a sweet taste of fall.
Nothing quite screams the holidays like stuffing does. Most of my life, I've relied on box stuffing, but that has changed a lot over the last few years especially after having some of the best homemade stuffing from my loving mother in law. It made me very eager this year to share a version that is flavorful thanks to the garlic, rosemary, thyme and sage in this, but more importantly the lovely spin added thanks to the addition of cranberries and the most delicious and buttery pecans. This vegan cranberry pecan stuffing definitely hits the spot.
Why you'll love this stuffing
This recipe is vegan and includes very simple ingredients!
Can be easily adjusted based on your stuffing preferences.
The high-quality pecans from Sunnyland Farms are the star here and offer a delicious buttery compliment to the stuffing. Truly a perfect and classic holiday side dish.
Key Ingredients for this Cranberry Pecan Stuffing
Loaf of bread: day old or lightly toasted
Sunnyland Farms Pecans: adds a lovely buttery taste to the stuffing without butter
Cranberries: adds a balance of sweet in contrast to the savory elements
Onions and celery: a classic duo that lends more depth to the stuffing
Flax Egg: a combo of water and ground flax seeds that gels up and helps bind the ingredients together
Apples: a nice compliment to the cranberries for a little extra sweet and a little more fiber
Garlic, rosemary, thyme and sage: because we need those holiday flavors infused or else what's the point
Vegetable broth: brings everything together and provides that amount of moisture to your stuffing that you desire
How to make vegan cranberry pecan stuffing
Prep your bread by cutting it into cubes. If needed, lightly toast in the oven before using.
In a bowl, combine round flax seed and water to make a flax egg and set aside.
Using a pan, sauté onions and celery to soften then add apples and garlic and sauté until fragrant.
Add bread to a large mixing bowl and add in sautéed apple mixture, flax egg, herbs, cranberries and pecans.
Slowly add broth over top bread mixture and stir to combine.
Spoon stuffing mixture into baking pan then cover with foil and place in the oven to cook.
Towards the end of cooking, remove foil and bake shortly to help brown the top.
Tips for making vegan cranberry pecan stuffing
If you don't have day old bread, you can use fresh bread and slightly toast it. Just cube your bread and spread it out evenly on a baking sheet and place in the oven for about 10 minutes to crisp up.
Add additional vegetable broth slowly if you want to change the texture of your vegetable broth. Just add a little more at a time, making sure that your bread is soaking up the broth. The more you add the more soggy your stuffing will be, so be careful not to add too much at once because you won't be able to take it back. If I need to adjust, I'll just add about 1/4 cup at a time.
Make it extra good by placing it in the oven to cook. Cover your dish with foil to cook your stuffing well and then remove the foil at the end to crisp up the top as it bakes. Don't worry, your stuffing will not dry out.
Want to keep your whole dish vegan? Pair your stuffing with some baked and marinated tofu.
Store extra stuffing away in a sealable container and place in the fridge for up to 4 days.
If you are ready to make this dish all yours this holiday season, head over to Sunnyland Farm's website to grab the full recipe and details for this vegan cranberry pecan stuffing below.
More Holiday Recipes to Try
Did You Try This Recipe?
Then let me know what you thought! Share your creations by tagging me on Instagram with the hashtag #plantbasedrdeats
★ Catherine