The ultimate vegan main for your holiday table. This brown sugar glazed tofu is sweet and smoky and surprisingly easy to make! Using the tips from this recipe will also help to make sure that the flavor of your marinade actually gets inside of your tofu.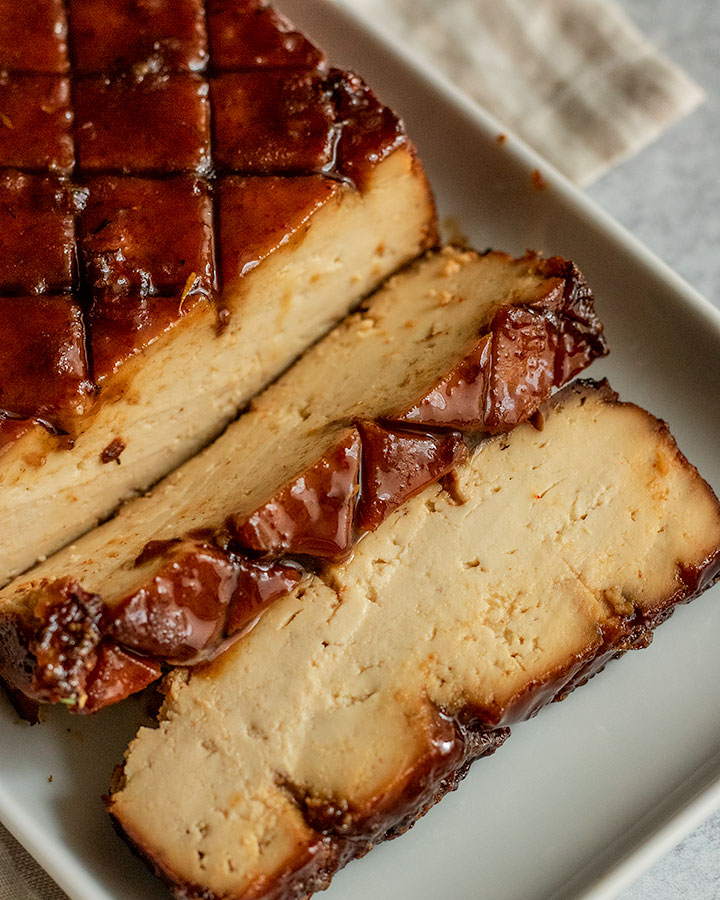 The holidays always get me thinking about my grandma. I have very fond memories of staying the holiday weekend with her and family as we indulged in board games, my grandfather and mom laughing loudly over their favorite novellas, and my grandmother's excellent holiday cooking.
Before I was vegan, I enjoyed her buttery mashed potatoes, large batches of Mexican rice, and brown sugar glazed ham. And those memories linger a lot when the holidays approach. With this holiday being different, I wanted to make sure I still enjoyed this holiday as much as the others. That's where this Brown Sugar Glazed Tofu comes in. I've watched my grandmother make her brown sugar glazed ham a million times, enough to inspire a plant based version that Greg mentioned was his favorite tofu he's enjoyed to date. A big compliment coming from him!
Why You Need This Glazed Tofu On Your Dinner Table
It's the perfect vegan main to use for any special occasion. It is also easy to make completely gluten-free.
This tofu has the perfect level of smoky and sweet flavors from smoked paprika and the brown sugar mustard glaze that calls back to traditional holiday flavors for me.
If you've ever wanted to marinade your tofu and actually infuse the flavor past the surface of your tofu, you'll see a secret technique to successfully do it.
Key Ingredients
Tofu: We are using extra firm tofu. Make sure to press and drain as much liquid from your tofu as possible. I recommend either using House Foods Extra Firm Tofu or Nasoya Brand Extra Firm Tofu for this recipe.
Soy Sauce: Provides a lot of umami flavor. If gluten-free, make sure to use a gluten-free variety or an alternative like coconut aminos.
Chili Garlic Sauce: A spicy sauce infused with garlic that you can find in the international section of your grocery store. You can often find it sold next to the sriracha. I tend to use the brand, Huy Fong.
Mustard: Provides a lovely tangy contrast to your marinade and brown sugar glaze.
Thyme: To make it easy, I just used dry thyme, but you can opt for adding 4 sprigs of fresh thyme in the marinade instead.
Maple Syrup: The best way to balance all the umami flavors in the marinade is with a little sweet.
Smoked Paprika: My preferred way of adding smoky flavors to many meals. It really brings out a great depth of flavor to this dish.
Nutritional Yeast: Another umami filled ingredient that also helps to give the outside surface of your tofu a nice crust as it bakes for the first time in the oven.
Brown Sugar: The main component of the brown sugar glaze that leaves a nice sticky sweet glaze on the outside of the tofu. You can use dark or light brown sugar, but I would say for the best color on your glaze, try to aim for the dark brown sugar if possible.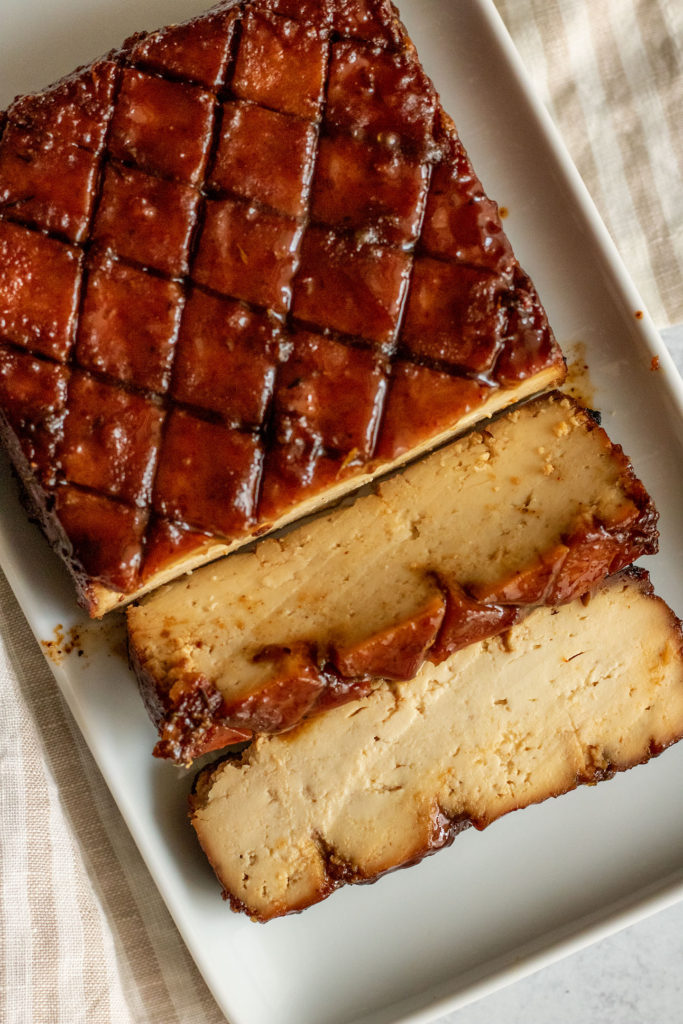 How To Make This Perfect Roasted Tofu
Press and drain your tofu really well before beginning. Place tofu on a clean working surface and taking either a toothpick or needle, poke holes all over the surfaces of your tofu (sides and edges). Cut a shallow crosshatch pattern on the surface of your tofu, top and bottom.
Mix marinade ingredients in a bowl, place tofu into a resealable bag and pour marinade overtop the tofu. Seal bag, gently shake to coat and place in fridge to marinade for at least 24 hours. You can also pour some marinade into an airtight container and then pour the remaining marinade overtop.
Remove tofu from the marinade bag and shake off any excess pieces of onion that might get stuck to the tofu, then place crosshatch side up on a lined baking sheet. Place whole cloves into each crosshatch intersection on the top surface of the tofu and then place the tofu into the oven for 20 minutes. As you remove tofu from the oven, prepare glaze by combining brown sugar and mustard together in a bowl or mug. Place in the microwave to warm up for 15 seconds then stir to form the glaze.
Carefully baste tofu with the glaze until it is covered and place back in the oven for 10 minutes. Remove from the oven and carefully remove the cloves with a fork. Coat the tofu with another spoon of glaze and brush all over the tofu again. Place tofu back into the oven and bake for an additional 15-20 minutes or until tofu edges caramelize. Remove from oven and allow to rest. Slice tofu into desired slabs and enjoy.
Expert Recipe Tips
For best results, press your tofu with a tofu press for at least 3-4 hours and then marinade your tofu for at least 24 hours. This gives your tofu time to absorb the marinade into the holes you poked into it.
If you do not wish to press your tofu, feel free to replace the extra firm tofu with super firm tofu, which should not need to be pressed at all. Make sure to poke holes into tofu and continue following the recipe as written for best results.
Be careful not to leave too much glaze over top the tofu. Too much excess will drip on the tray, then blacken and burn as it bakes. You will notice the glaze bubble quite a bit as it cooks. This is totally fine.
Don't forget to remove the whole cloves from the surface. They are not edible.
I used chili garlic sauce in this recipe. It's typically just as easily available as sriracha and usually sold next to each other in your local grocery store. If you can't find it, sriracha or hot sauce is a suitable alternative, but I would still add a little extra garlic powder to it to better mimic the flavor.
Note that ovens may vary in terms of temperature, so if you notice that your tofu appears undercooked, the internal temperature of your oven may be off. Use an oven thermometer and adjust as needed by either increasing the temp or cooking for a little longer to ensure a good texture for your tofu.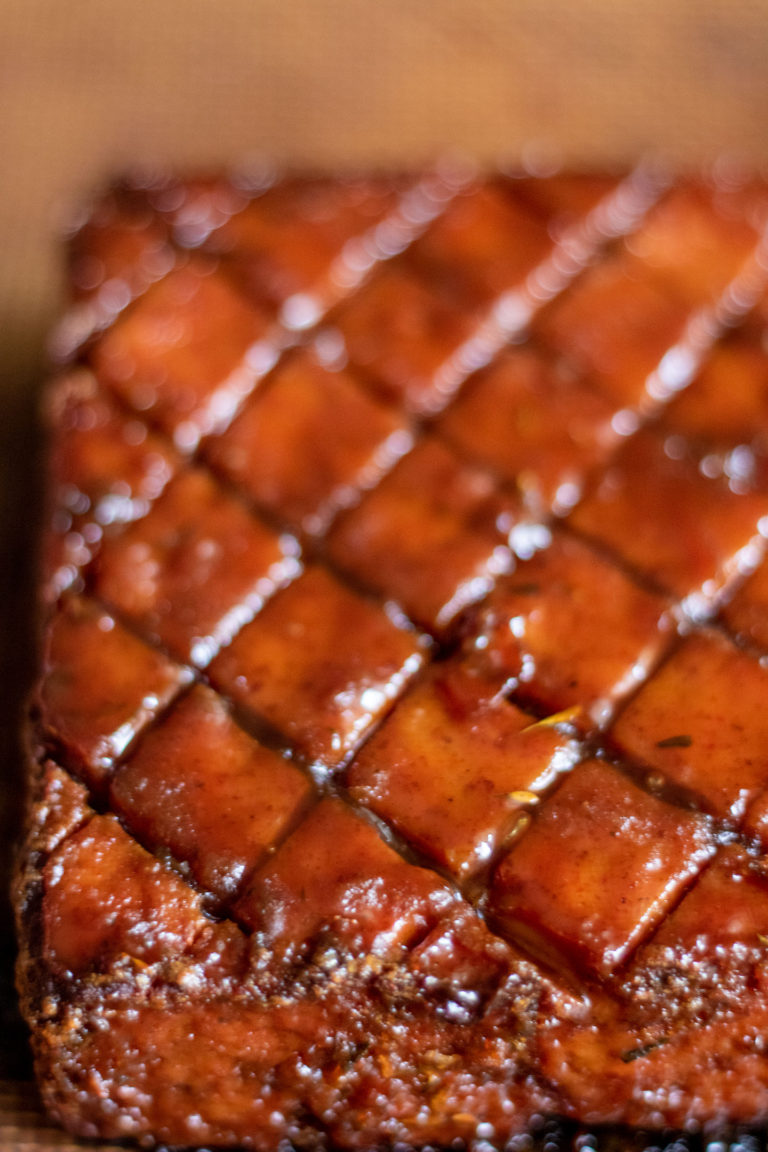 Frequently Asked Questions
Why is my tofu watery?
Make sure you are using an extra firm block of tofu, which you should see clearly indicated on your tofu packaging. Also use a good quality brand of tofu like House Foods Tofu or Nasoya. I have found that other brands can be inconsistent in texture and have blocks of tofu that are either softer or more waterlogged. Another thing to note is that you should try and press as much water out of your tofu as possible. The most consistent way I have pressed tofu successfully is with a tofu press for at least 3-4 hours, potentially longer if you are using a softer tofu brand.
Can I air fry my tofu?
You can air fry the tofu after it has sat in it's marinade. It can help firm up the tofu and bake it a little faster compared to the instructions. I would suggest, air frying it at 400F for 10-12 minutes. I would suggest not air frying the tofu once you add the brown sugar glaze. It will drip through the holes in the air frying basket leaving a big mess. Your brown sugar glaze will also have a higher chance of burning, so if you do happen to try this, just make sure to watch that the brown sugar doesn't burn. If you still want to go ahead and air fry, just make sure to lower the temperature to 370F and cook for 7 minutes the first round and then 10 minutes for the last glaze.
How do I store this tofu?
Once cooled, this tofu can be placed in an airtight container and in left in the fridge for up to 7 days. It makes this dish great to meal prep ahead. You can warm it through by placing back on a baking sheet, and setting the oven to 350F to warm back through for 10 minutes. Do not freeze leftovers as it will disturb the texture of the tofu.
How To Serve
This baked tofu is a great plant protein option to other holiday mains. You can pair it with other recipes like stuffing, roasted vegetables, cranberry sauce, or with a Dominican dish like Moro de Guandules con Coco.
More Thanksgiving Main Recipes To Try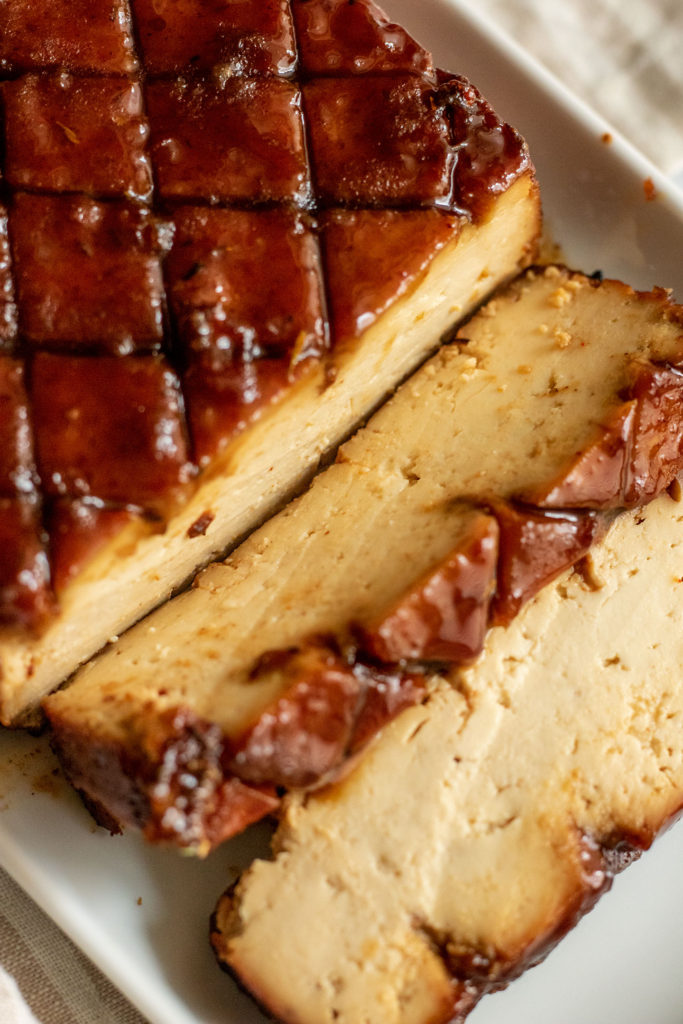 Print
Brown Sugar Glazed Tofu
Prep Time:

15 minutes

Marinating Time:

24 hours

Cook Time:

50 minutes

Total Time:

25 hours 5 minutes

Yield:

3

servings

1

x

Category:

Main Course

Method:

Baking

Cuisine:

American

Diet:

Vegan
---
Description
The ultimate vegan main for your holiday table. This brown sugar glazed tofu is sweet and smoky and surprisingly easy to make!
---
Marinated Tofu
1

block of extra firm tofu, pressed and drained

3 tbsp

gluten free soy sauce or tamari
Juice of

half a

lemon

1 tsp

chili garlic sauce

1 tsp

brown mustard

1 tsp

thyme

1 tbsp

maple syrup

3

garlic cloves, finely minced

1/2

small onion, minced

2 tsp

smoked paprika

2 tbsp

nutritional yeast

30

–

35

whole cloves (the spice)
Brown Sugar Glaze
3 tbsp

brown sugar

1 tbsp

spicy brown mustard
---
Instructions
Remove block of tofu from container and drain of excess liquid. Follow basic tofu prep method of pressing tofu by using a tofu press or placing tofu on a shallow plate and placing a heavy object like a pot overtop to help release as much water as possible over a 3-4 hour period.
Once tofu is pressed, place tofu block on a clean cutting board and with a thin tooth pick or needle, poke holes halfway through into the tofu all over the surface of the tofu.
Using a sharp knife, cut shallow crosshatch patterns over the top and bottom surface of the tofu.
In a small bowl, add soy sauce, lemon juice, chili sauce, mustard, thyme, maple syrup, garlic, onion, paprika, and nutritional yeast and whisk to combine.
Place block of tofu into a large reusable resealable bag or airtight container. Pour marinade into the bag, seal it and gently shake to completely coat tofu. Make sure marinade is concentrated all around the tofu and place into the fridge to marinate overnight.
Preheat oven to 375F. Remove tofu and shake off excess marinade. Place marinated block of tofu on a lined baking sheet and place cloves at each crosshatch intersection on the top of the tofu. Place tofu into the oven to bake for at least 20-25 minutes to brown edges and dry the marinade.
While tofu is baking, prepare brown sugar glaze by combining brown sugar and mustard. Once combined, place into the microwave for 15 seconds and continue to stir until a sauce forms.
Carefully baste the surface of the tofu well. Place back into the oven for another 10 minutes. After baking, carefully remove cloves with a fork and then baste the tofu again with remaining sauce on all exposed surfaces of the tofu.
Return tofu back into the oven for an additional 15-20 minutes until the glaze begins to caramelize around the tofu edges.
With a sharp knife, cut tofu into individual slices and serve as desired.
---
Notes
If you are not sure how to prep your tofu, find my quick guide here. If you do not have time to press your tofu, you can also attempt this tofu using super firm tofu. Just note that it might be a little more challenging to get the marinade through especially since it is so dense.
Do not over pour the brown sugar mix on top of the tofu. Baste with enough sauce and continue to baste periodically to make sure the sauce stays on the tofu and doesn't burn on your pan.
To make sure this dish is gluten-free, make sure to use gluten-free soy sauce or gluten-free tamari.
Keywords: brown sugar glazed tofu, easy tofu recipe, thanksgiving main recipe, vegan thanksgiving recipe
Did You Try This Recipe?
Then let me know what you thought in the comments below! And if you loved it, don't forget to rate it too. I love to see your recreations, so feel free to share your creations by tagging me on Instagram so I can share them with my community of friends.
★ Catherine
This post contains affiliate links which means I will make a small commission if you purchase from those links. I only recommend and share products that I know, trust and personally use myself!