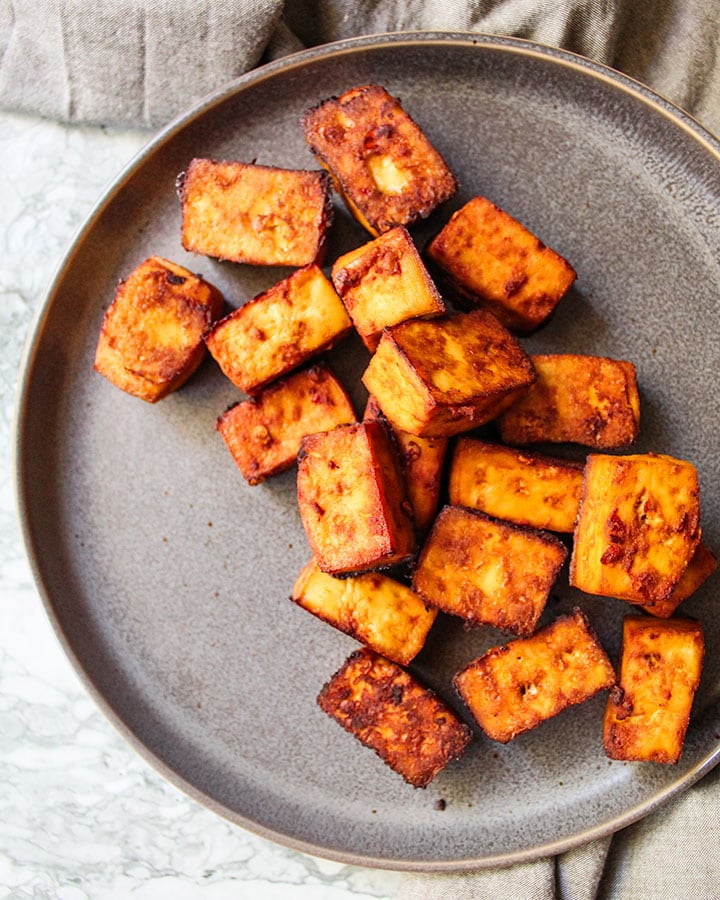 Have you tried tofu before? What was your experience with it? Inevitably, whenever I mention the word, I'm met with some form of confusion, despair or complete hatred. And I can absolutely understand why. Especially in the US, it's not something that people regularly use. It's foreign to us, and not knowing much about it can lead us to ignoring it's existence or finding reasons why we shouldn't have it because it isn't the norm. Not only that, but the most common thing I hear from people is that it was "too watery" or "bland" when they prepared it…
So let's learn a little more about tofu then. After all, the more you learn the less scary it is, right?
Tofu is the by product of coagulating soy milk. The curds left over from this process are then pressed together to form blocks of varying firmness and softness. Most often, you find tofu in the following forms at your local market: Silken Tofu, Firm Tofu, Extra Firm Tofu and Super Form Tofu.
Silken tofu is exactly as it sounds, very soft and silky in texture. It's perfect to add to add chunks into stews or blend into smoothies to make them creamy. Firm tofu holds it's shape much better than the silken tofu and is often still soft enough to use in stir fries or to crumble and use in tofu scramble recipes. Extra firm tofu holds it's shape very well and is great for marinating. It's texture is perfect for baking, grilling and frying. Super firm tofu holds it's shape the best without crumbling. This tofu is typically so firm that it doesn't necessarily need to be pressed (we'll get to pressing in a second). It's perfect for those times where you don't have time to properly drain your tofu of all it's water.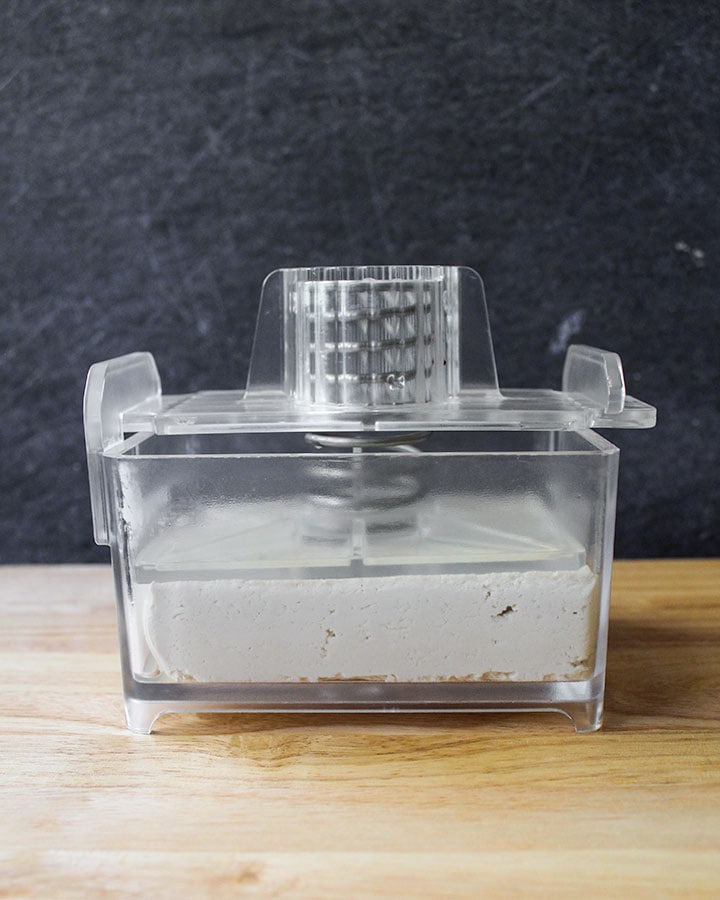 Today we are focusing on firm and extra firm tofu. And when it comes to these forms, they retain a bit of water from the liquid it sits in. This makes it really REALLY important to make sure you get all the water out. To remove water, you will need to press it out of the block. You can do this a number of ways:
Wrap your tofu in a clean, dry cloth. Place between two plate and rest a heavy object like a textbook over top and allow for the water to escape the tofu for an hour or more.
Cut the tofu into thin slabs and rest a cloth or paper towels over top of the tofu and lightly press with your palm to release the water.
If you love tofu and want to make a small investment in a tofu press, all you need to do is place the block in the press, screw it down tight and watch the tofu drain away all it's water. This is the least messy method in my opinion. Totally worth the investment.
Excellent! We got the water out. Now if you are new to tofu, if you were to eat a piece as is, you will likely find it super bland and weird. So don't do that unless you really like tofu like me and actually like it this way topped with a little hot sauce. But, from this step we want to focus on flavoring your tofu. You can flavor it a number of ways. Most recommended is using your favorite marinade and letting it sit for at least an hour or overnight.
Personally, I have a habit of forgetting to marinade. So instead, I use this quick method that uses just 4 ingredients including the tofu. Literally, all you do is cube up your tofu, add it plus the remaining ingredients to a bowl toss it together and bake it. Instead of a bowl you can also do this in a ziplock bag or a tupperware container and give it a gentle shake to coat.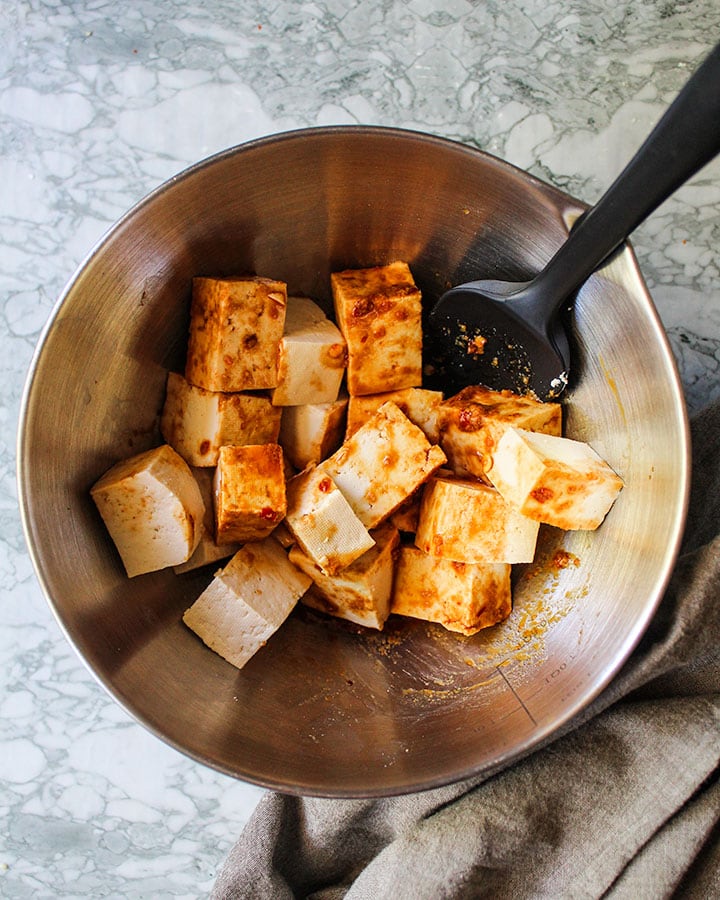 Now it's time to bake. Place your coated tofu on a lined baking tray. I personally really love using my silpat for baking. I feel it gets the edges just a little more crispy, but you can also use parchment paper or lightly spray a baking sheet with oil to prevent sticking. Make sure to spread your tofu evenly without the individual pieces touching to make sure they evenly bake.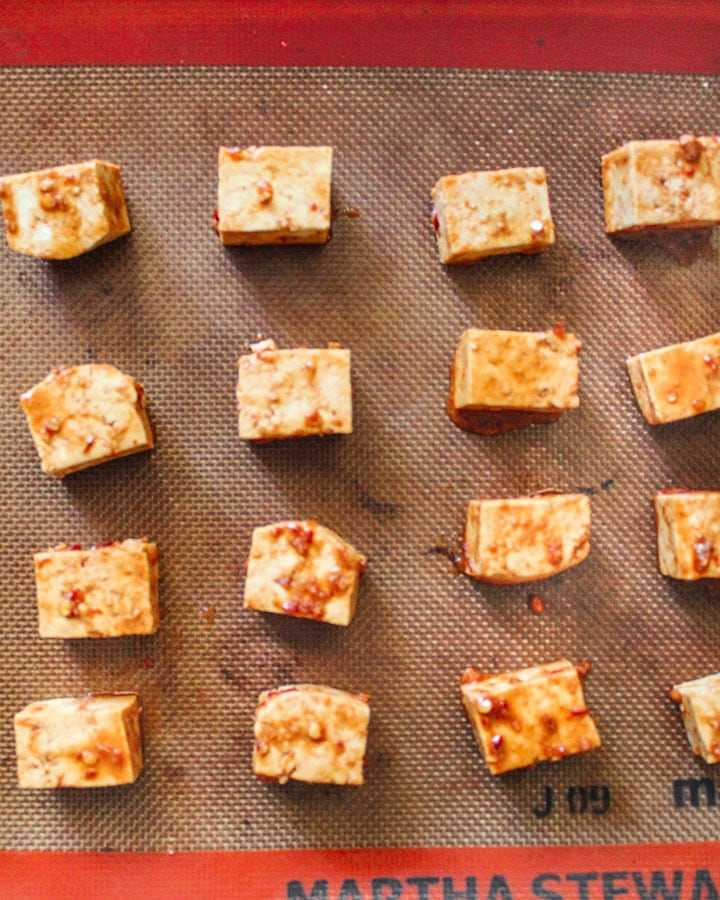 It's almost like magic. They always come out this beautifully golden right out of the oven. If you have an airfryer, even better! But the end result is nice and flavorful without too much fuss and much cheaper than buying some of the pre-flavored alternatives at the market.
Print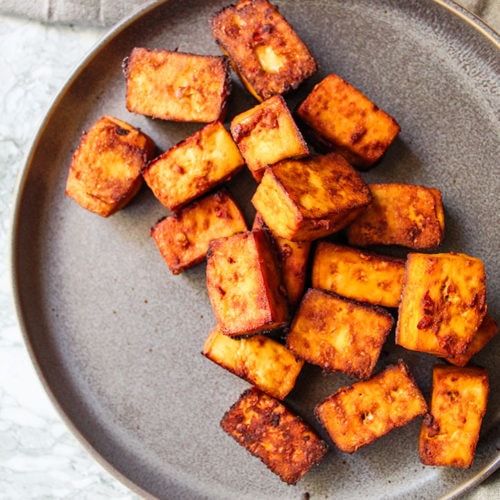 Garlic Chili Baked Tofu
Author:

Prep Time:

5 minutes

Cook Time:

25 minutes

Total Time:

30 minutes

Yield:

4

1

x

Category:

Main Course

Cuisine:

American
---
Description
One of the easiest and tastiest ways to prep tofu. If you hate tofu, consider having it this way.
---
1

block extra firm tofu (drained and pressed for at least an hour)

2 tbsp

tamari

1 tbsp

nutritional yeast

2 tsp

chili garlic sauce
---
Instructions
Set oven to 400F. After pressing tofu, cut tofu into even cubes and place in a bowl or Tupperware container.
Add remaining ingredients, and if using a bowl just gently toss together. If using a tupperware container, seal container and gently shake contents to evenly coat tofu.
Remove tofu and place on a lined baking sheet making sure tofu cubes aren't touching.
Place in oven for at least 25 minutes or until edges have browned.
Remove from oven and serve as desired.
---
Notes
These delicious bites can be placed in an air fryer. Set air fryer to 370F and allow coated tofu to bake for 15 minutes or until outer edges are crispy. 
Want your tofu to be extra chewy? Leave tofu in the package and place in the freezer. Once frozen, remove from fridge and allow to completely thaw. Once thawed, treat tofu as discussed, press and prepare. 
Outside of main meals, tofu is a fantastic snack as well. Especially when it's pressed, it has nice chewy texture and you can change up the flavors to meet your needs. 
Keywords: garlic, nutritional yeast, soy sauce, tofu
Did You Try This Recipe?
Then let me know what you thought! Share your creations by tagging me on Instagram with the hashtag #plantbasedrdeats
★ Catherine