This recipe for Mexican Rice is easy, uses few ingredients and comes together in less than 30 minutes. It's delicious on its own or as a side! This recipe is naturally gluten-free and vegan.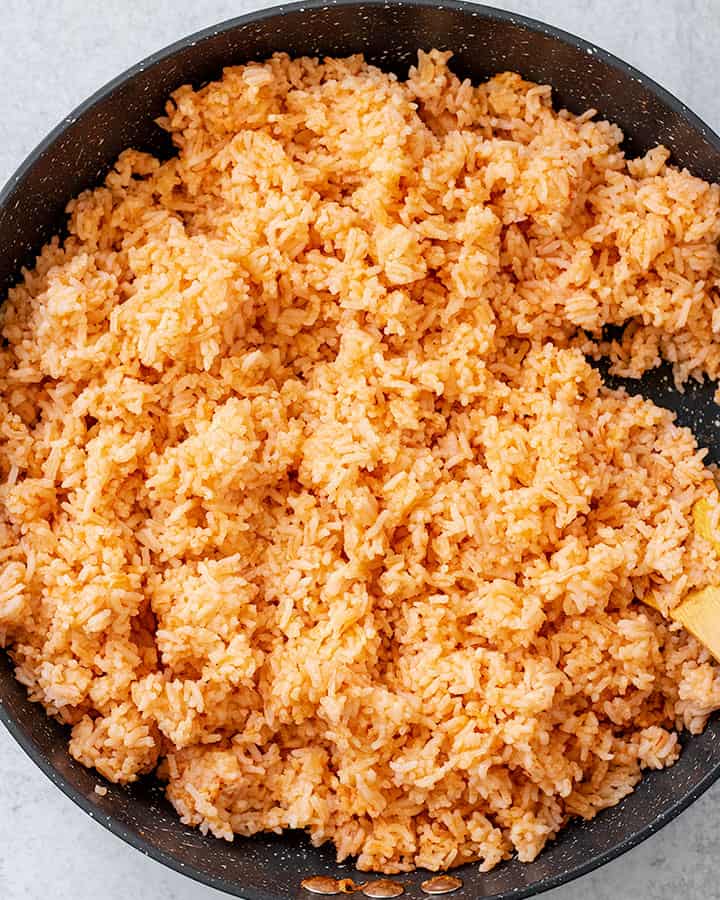 My Grandmother is one amazing woman. Eccentric, loving, and full of life. She inspires me in more ways than one, and the stories she shares always make me smile. She is one person I am looking forward to seeing the most very soon when everything is safe.
She married my Grandfather who is Mexican, and for a time his mother lived with them. Nanny. I only knew her for a very short time before she passed, but one thing my Grandmother was determined to do was keep her food legacy going. One thing Nanny taught my Grandmother was how to cook Mexican rice. She had to watch a lot and came to make it in a way that my Grandfather would love. And every holiday or time we came over, she would whip this recipe out for us. Even when my Grandfather passed, she would get this little spark of life in her eyes when we would come over. It was a joy for her to make and that legacy made me want to carry it forward.
Her rice was not vegan. Normally, Mexican rice can be prepared with lard and chicken broth. Now when I visit, I just ask for her to prepare hers with vegetable broth as she already toasts her rice with oil. Still delicious and wholesome this way.
If you know me by now, I love rice. Flavored rice dishes like my mother's Moro really makes me feel alive, so sharing dishes like this brings me joy. I hope it brings you the same delicious joy too.
Why you'll love this rice
This rice is simple! It only uses a few simple fresh ingredients and a simple cooking technique, which help make the rice more flavorful and delicious.
It's customizable. I'm sharing a plain version because my husband isn't a fan of peas or carrots, but you can throw in some small diced veggies at the end to make it more vegetable packed.
This version is vegan, gluten free and the perfect side for any delicious bowl.
Key Ingredients
White Jasmine Rice: The perfect rice that has flavor and can absorb the flavorful broth.
Oil: For toasting your rice.
Tomatoes: I used Roma tomatoes.
Onion: I used yellow onion for this, but red also works.
Garlic: 3 large cloves, but feel free to adjust to your preference.
Jalapeno: Love the little kick of spice.
Vegetable Broth: You can also use a vegan "chicken" broth base as well.
How to make Mexican rice
Start by adding your tomatoes, jalapeno, onions and garlic to a high speed blender and blend on high until smooth.
In a skillet, heat up your oil and add some clean rice and lightly toast until your rice is slightly golden. Should just take a few minutes.
Add in your pureed tomato mixture over the rice in the pan and sauté with the rice until it's mostly absorbed. Now add in your vegetable broth and additional salt to preference and bring to a boil, then slightly reduce the heat to a simmer. Cover your rice with a lid and allow to cook until the broth has cooked off. Remove rice from heat and let stand covered for 3-5 minutes then fluff with a fork and enjoy.
Tips for making the perfect rice
Do not add too much liquid to your rice. Your rice will get super mushy if you add too much water. Because white rice cooks very quickly, it typically will not need a long cooking time or too much water too cook through. Stick to the measurements listed.
Make sure you cover your rice with a lid and keep it on until it looks like all of the liquid has been absorbed. Once it looks absorbed, take a spoon and check the edge of your rice to see if the liquid is gone. If there is still some liquid left after the cooking time, just cook for a few more minutes until all gone.
For fluffy rice, remove your rice from the heat and allow your rice to sit covered for a few minutes extra to naturally steam. I recommend at least 3-5 minutes. Then remove lid and fluff with a fork.
To make your rice extra flavorful, I highly recommend using Jasmine rice for this as it is most fragrant. However, regular long grain white rice works here as well.
Can you make this rice with brown rice?
You would need to increase the amount of liquid and also allow this to cook for much longer. I highly recommend sticking to the recommendation of using white rice for this. White rice tends to absorb the flavors a lot better than brown rice.
What to pair your Mexican rice with
This Mexican rice is perfect in burrito style bowls. I love enjoying it with some black beans, avocado, fire roasted corn and some pan fried soy curls. Feel free to check out my recipe for chicharones de "pollo" using soy curls.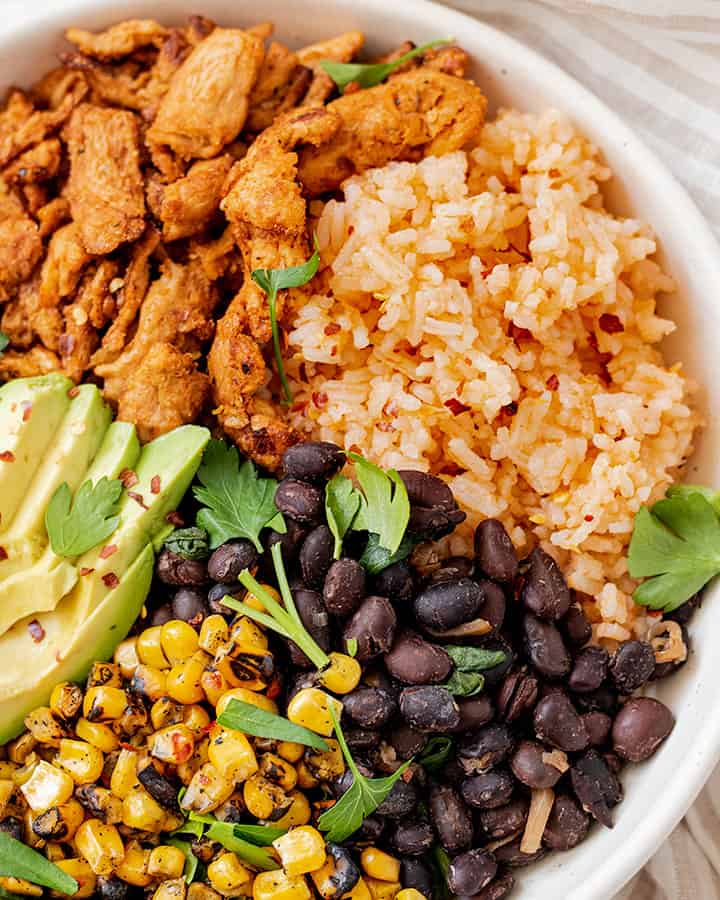 More Side Recipes
Print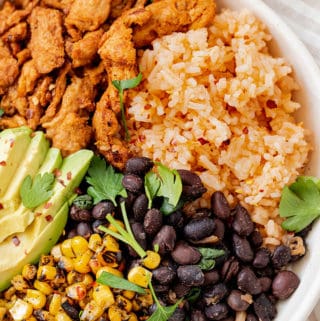 Easy Mexican Rice
Author:

Cook Time:

15 minutes

Total Time:

15 minutes

Yield:

8

servings

1

x

Diet:

Vegan
---
Description
This recipe for Mexican Rice is easy, uses few ingredients and comes together in less than 30 minutes. It's delicious on its own or as a side! This recipe is naturally gluten-free and vegan.
---
3

roma tomatoes

3

cloves garlic, peeled

1

jalapeno, end removed

1/4

roughly chopped yellow onion

1 tbsp

neutral oil

2 cups

white jasmine rice

3 cups

vegetable broth

1/4

  tsp salt or to taste
---
Instructions
In a blender, add tomatoes, garlic, jalapeno and onion and blend on high until smooth.

Warm some oil in a pan with a pinch of salt and then add in rice and move it around to lightly toast it for a few minutes, about 3-4 minutes.

To the pan, pour in the tomato puree and sauté it into the rice until rice absorbs it and no remaining liquid is in the pan.

Pour in the vegetable broth, give a good stir and bring to a boil, then reduce to a low simmer and cover with a lid and cook for 12-15 minutes until rice absorbs all the liquid.

Remove the pan from heat and let it stand for 3-5 minutes then fluff with a fork and enjoy.
---
Notes
To get the perfect rice make sure you measure out your liquids appropriately. If you use too much liquid or eye ball without knowing much about rice, you will end up with mushy rice. 
For fluffy rice, make sure you let your rice stand and steam at the end of cooking before fluffing with a fork. 
The flavor of your rice will depend on your ingredients. Try to make sure your tomatoes are good quality (nice and red) and ripe for maximum flavor. If not, make sure to adjust your salt at the end to help with the flavor.
Keywords: side dish recipes, quick and easy
Did You Try This Recipe?
Then let me know what you thought in the comments below! Share your creations by tagging me on Instagram with the hashtag #plantbasedrdeats
★ Catherine