This vegan inspired Latin nourish bowl combines a vegan version of chicharrons de pollo made from soy curls. This delicious plant based protein is paired in a bowl with rice, beans, corn and avocado and is the perfect dinner meal prep.
Vegan Chicharrons de Pollo
Go bold or go home, right? There might be a lot of people that get angry at vegans for wanting to make a classic recipe like this vegan. I already hear you and all I can do is extend you some peace and perhaps some good eats if you keep an open mind.
While vegans choose not to eat meat, that doesn't mean vegans of various cultures hate the foods they grew up with or want to denounce their culture because they choose to have tofu instead of chicken. If anything, I feel with being vegan I have connected more with my culture than I had previously.
Food is something personal. For some, a religious experience in and of itself and well protected. Me making this Dominican dish vegan is my way of connecting with my culture. Dominican food is delicious and I want more people to know about it. I want them to know the delicious flavors, the zing of vinegary and citrusy goodness, the aroma of spices and garlic mashed together in my mother's mortar and pestle. You can still enjoy those spices, the cooking methods, the loud dancing and singing in the kitchen with family while not having to partake in the harm of animals.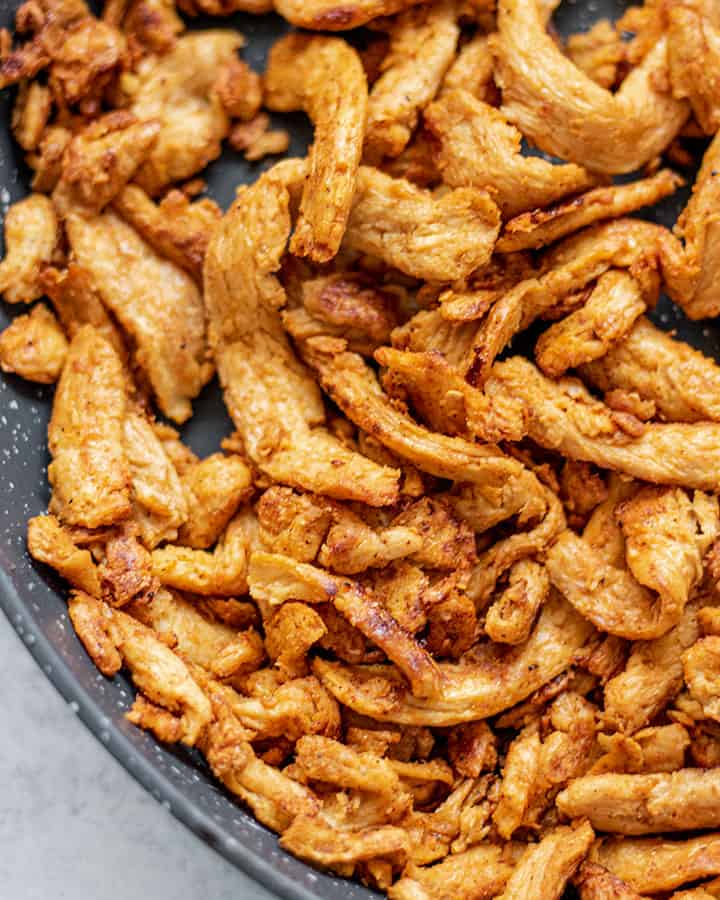 Why you'll love this recipe
This recipe still touches on all the incredible flavors in the original recipe for chicharron de pollo…sin el pollo! Instead of chicken, we are using soy curls, which have the perfect chewy texture and soak up all the delicious flavor.
When we mean flavor, we mean brining our soy curls and lathering them up with sazon, adobo, cumin, oregano, coriander, garlic and fresh lime juice.
This dish is vegan and gluten free! The perfect high protein and high fiber food to have on your plate.
The perfect complete dinner by adding the cooked soy curls into a Latin style nourish bowl that is full flavor and the perfect balance of nutrients.
Key Ingredients
Soy Curls: The replacement of our chicken, but still provides that delightful chew wants in this dish.
Sazon: The soul of this dish and helps to add an incredible amount of flavor.
Adobo: Our Latin version of seasoning salt.
Garlic: I recommend fresh, but you can also use dried if you want this to come together fast.
Vinegar: To help brine our soy curls.
Lime Juice: To help finish our dish off and add a lovely citrusy zing.
How to prepare your soy curls
Start by brining your soy curls. To a medium bowl, add a package of soy curls and then cover them with 3-4 cups of hot water making sure it covers the curls. To that add your vinegar, a bouillon cube and a heavy pinch of salt and let that sit for 5-10 minutes or until soy curls are fully hydrated.
Drain your soy curls into a large mesh strainer and carefully squeeze out as much liquid from the soy curls as you can. Add them back to your empty bowl and sprinkle with cornstarch and seasonings.
Warm up some oil in a pan then and add in your soy curls, allowing them to cook until slightly browned. Add in your soy sauce and continue to cook until absorbed. Turn off the heat and add in your fresh lime juice. Stir well and serve.
Tips for making this delicious Latin Nourish Bowl
Don't overcook your soy curls. It will make them like jerky. We still want them to be crisp on the outside and tender on the insider when you take a bite.
To make this really flavorful, use fresh garlic. The way my mother used to make this, she would user her mortar and pestle and pulverize the garlic into the other spices then add that to the meat (in this case our soy curls) and mix to combine then cook. If you can spare the extra minute to do this, I highly recommend it!
Don't be afraid to combine cultures. I'm Mexican and Dominican. I love having these chicharron inspired soy curls with some Mexican rice. The best of both worlds in my opinion.
What is adobo and sazon?
These are the essential ingredients in any Latino's home. A blend of ingredients probably closest to seasoning salt, but each have a unique set of ingredients on their own. You can find both of these seasoning blends typically in the international section of your store. You can also purchase online if your store does not carry it or make it yourself!
Make it a nourish bowl!
Pair your soy curls with some beans, Dominican Moro or Mexican Rice, fire roasted corn, beans, plantains, or anything you may enjoy. Don't forget the avocado!!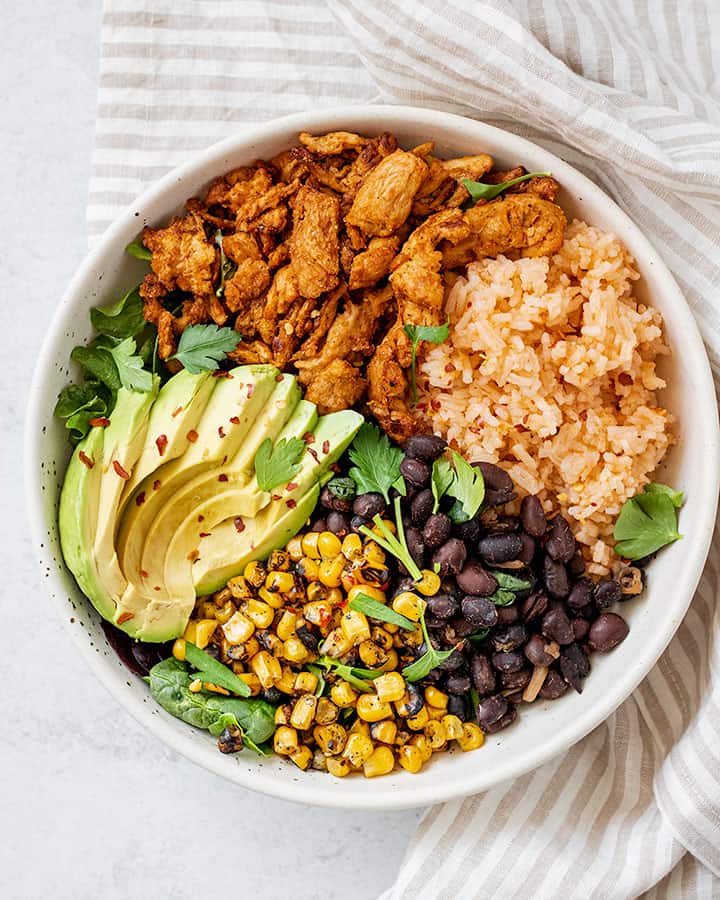 More Nourish Bowls to Try
Print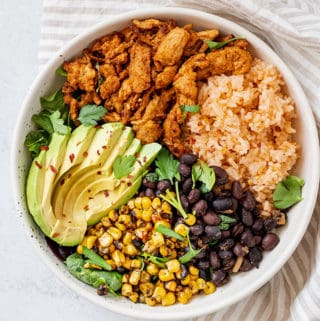 Latin Nourish Bowl with Vegan Chicharrons de Pollo
Author:

Prep Time:

10 minutes

Cook Time:

20 minutes

Total Time:

30 minutes

Yield:

8

servings

1

x

Diet:

Vegan
---
Description
This vegan inspired Latin nourish bowl combines a vegan version of chicharrons de pollo made from soy curls. This delicious plant based protein is paired in a bowl with rice, beans, corn and avocado and is the perfect dinner meal prep.
---
1

, 8oz (227g) package of soy curls

½ cup

white vinegar

3

–

4

cups hot water (enough to cover the soy curls)

1

vegetable bouillon cube or

1 tsp

vegetable bouillon base

1 tbsp

cornstarch 

2 tsp

sazon

½ tsp

adobo

1 tsp

garlic powder or

4

cloves garlic

1 tsp

onion powder

2 tsp

paprika

1 tsp

ground cumin

1/2 tsp

ground coriander

2 tbsp

olive oil

1 tbsp

soy sauce 
Salt and pepper to taste
Juice of

1/2

lime over top
---
Instructions
In a bowl, add your soy curls and pour over top hot water, vegetable bouillon, vinegar and a generous pinch of salt, then allow to sit and soak for at least 5-10 minutes.

Drain the liquid from the soy curls using a mesh strainer and carefully squeeze out as much liquid from the soy curls as you can.

Add your soy curls back to the bowl and pour in your cornstarch, sazon, adobo, garlic, onion powder, paprika, ground cumin and coriander then toss to coat. ***

Warm up your oil in a skillet and add in your soy curls and sauté for about 5-8 minutes to help brown your soy curls. It helps to cook them untouched for about 3 minutes and then toss and cook again untouched for another few minutes.

Pour in soy sauce and sauté again until your soy curls have absorbed the soy sauce and starts to  brown more, about 5 minutes.

At the very end, add a squeeze of lime juice and adjust salt and pepper over top to your liking. See notes below for instructions for assembling your Latin Nourish Bowl. ***
---
Notes
As an important note, this recipe is a short cut. If you'd like to take an extra few minutes to add even more flavor, I highly recommend crushing your garlic in a mortar and pestle into your spices, then mixing that with the soy curls and sprinkle with cornstarch. Fresh garlic always makes a difference and it just smells amazing.
You can technically make this recipe without oil, but it won't be as tender and flavorful because the oil makes a lot of the flavor blossom more. 
Don't overcook your soy curls. If you dry them out completely, they will come out similar to jerky and be a little too chewy. We want a little moisture, but some crispy edges.
To assemble your Latin Nourish Bowl, add 1 serving of soy curls along with a serving of black beans, a serving of fire roasted corn (I used thawed frozen corn), and a serving of Mexican rice. Top with 1/2 an avocado, cilantro, salsa, and/or hot sauce.
Keywords: nourish bowls, dinner recipes, quick and easy
Did You Try This Recipe?
Then let me know what you thought in the comments below! Share your creations by tagging me on Instagram with the hashtag #plantbasedrdeats
★ Catherine