I had a very strong call to childhood the last few days of quarantine. I think it's because I keep finding myself reminiscing over everything and missing family like crazy. Our family bonds with food, as I'm sure many other families do. And as a result, it had me thinking of all the delicious stewed meals we would have growing up. There's something really special about a Dominican stew. It's the colors, the smells and all of the fantastic memories I have around those special dishes. One particular stew my mom made regularly was a dish called Pollo Guisado. If you don't know Spanish, it means stewed chicken. Obviously, I don't eat chicken anymore, but I was determined to create a Vegan "Pollo" Guisado that was still bursting with flavor, high in protein and would help me get through some of the rough patches of quarantine life.
I am part Dominican and part Mexican. My mom, who is Dominican, was our cook. She would make the most delicious dishes with all kinds of seasonings. Our house always smelled amazing. Growing up, we also learned that with Latin dishes, there is always more than one way to do something. Between my mom and all of my aunts, there was everyone's special means of making their dishes their own. The beauty of that has made me less scared of trying to translate some of my mom's non-vegan dishes I used to love into a version I am proud of.
Transitioning my food to vegan
When I first transitioned to a vegan lifestyle, one of the hardest things to overcome was this sense that I was betraying our culture by not eating meat. If you don't know Dominican cooking…there's a lot of meat everywhere! There are even names of dishes that boast about this! When I told my family about my vegan lifestyle, I was met with a lot of resistance and disappointment. "Is my food not good enough?" or "Do you hate me, is this why you are doing this?" were things I often heard and it hurt me so much. I could have responded in a lot of negative ways to this, but instead, I made it a point to try and show them that I could still partake in my families traditions and love for food without losing myself. That's when I took to the kitchen.
How to maintain your cultural integrity while staying vegan
When it comes to making food from a specific culture, remember that it is all about flavor! The thing that will flavor a dish the most will be your herbs and spices! Luckily herbs and spices are plant based.
Be kind no matter what. I know sometimes people can say insensitive things, but from my own experience, they are often being defensive. Instead of making things more awkward, just be inclusive and kill them with kindness where you can. One of my aunt's used to make a big deal about me bringing my own food for Thanksgiving. Give me eye rolls and make rude comments. I would always be polite to her and share the things I made, especially desserts, and eventually she stopped.
Eventually you do get to a point where family becomes a little understanding and considerate. Be grateful when someone tries to make you something. Always show a lot of gratitude!
Don't force your beliefs on others. Be mindful and provide information when it is asked for. You will only create more resistance if you go to a dinner and insult everyone about what they are eating. If you haven't guessed, food is a religion to many.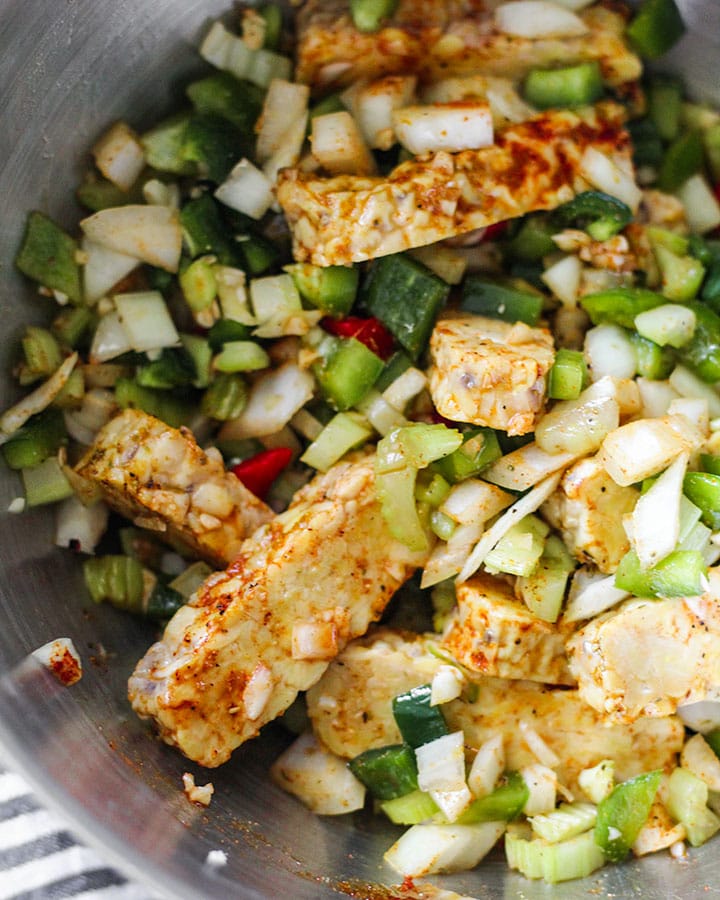 What brings out the flavor in a vegan "pollo" guisado?
onion
all kinds of peppers
garlic
celery
lime
tomato paste
sazon
adobo
oregano
black pepper
vinegar
As you can see from the listed flavors, this is not a bland dish at all. If you've never heard of sazon this is a magic Latin spice blend and can typically be found in the international aisle of your grocery store. Adobo is another magical seasoning blend that is more of a blend of garlic, oregano, pepper and annatto seeds. These two seasonings define a lot of Latin meals. If you aren't using them, get on it! If you don't have access to these flavors, I have listed some ways to modify this dish in my recipe notes.
Can I use something other than tempeh for the vegan "pollo" guisado?
Absolutely! Some different protein choices you can opt for include:
Soy curls
Vegan meat substitutes
Tofu
Chickpeas
Need more Latin inspired meals?
Print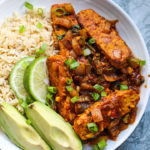 Vegan "Pollo" Guisado
Prep Time:

60 minutes

Cook Time:

30 minutes

Total Time:

90 minutes

Yield:

2

servings

1

x

Category:

Main Course

Cuisine:

Dominican
---
Description
This vegan "pollo" guisado is a call to home with a plant based twist. Bursting with the same Latin flavors, high in protein and easy to make.
---
1

block tempeh, cut into thick strips

1/2

red onion, finely diced

1/2

green bell pepper, finely diced

1/2

red bell pepper, finely diced

1

stalk celery, finely diced

5

cloves garlic, minced

1 tbsp

brown sugar
` Juice of one lime

1 tbsp

tomato paste

2 tbsp

gluten free soy sauce or tamari

1 1/2 cups

vegetable broth

1 1/2 tsp

sazon

1/2 tsp

adobo

1/2 tsp

black pepper

1/2 tsp

dry oregano

2 tsp

olive oil

1 tsp

vinegar
---
Instructions
Optional, but recommended, steam tempeh in a pan with water for 10 minutes to cut bitterness. Remove and allow to cool as you prep your other ingredients.
Remove and allow to cool. Place tempeh in a bowl and add sugar, adobo, sazón, pepper and oregano and top with veggies.
Then pour over lime juice and soy sauce.
Genly toss together and allow to sit and marinade for 30 minutes to an hour.
Once done marinading, heat up a pan to medium heat and add oil. Scoop tempeh out of marinade and add to the heated pan.
Carefully saute and brown both sides of tempeh.
While tempeh is cooking, add tomato paste to remaining marinade and stir together.
Scrape out marinade and add to tempeh in the pan. Stir and saute for about 3 minutes or until fragrant.
Add vegetable broth and bring mixture to a boil then reduce to a simmer. Allow to cook and simmer on low for 30 minutes.
If pan gets dry, add a little more water to make it more saucy again.
Once tempeh is cooked, add vinegar and turn off heat. Stir gently to combine all the flavors together.
Serve as desired. Garnish with extra herbs like cilantro if available.
---
Notes
This dish is great if paired with some arroz con gandule and avocado. Obviously, feel free to pair this however you prefer! 
If you don't have access to adobo seasoning feel free to make your own with this recipe here.
If you don't have access to sazon seasoning feel free to make your with this recipe here.  If worse comes to worse, you can add 1/2 tsp cumin and 1-2 tsp of smoked paprika as a replacement. 
If you wish to use another mock meat other than tempeh, thaw before using and marinate and cook as recommended in the instructions above. 
Keywords: adobo, black pepper, garlic, lime, onion, oregano, poblano peppers, sazon, tempeh, tomato paste
Did You Try This Recipe?
Then let me know what you thought! Share your creations by tagging me on Instagram with the hashtag #plantbasedrdeats
★ Catherine