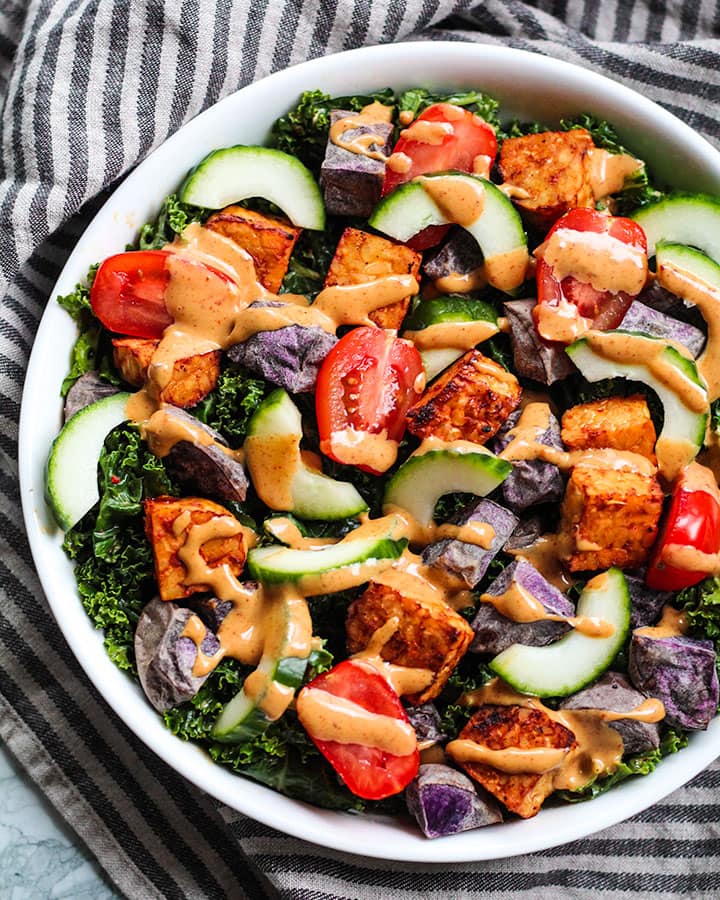 In this house hold, we don't believe in whimpy salads. What is a whimpy salad? A whimpy salad can only be best described as the face that my clients make when they tell me that they had a salad for lunch and dinner. Generally, these salad are mostly just a handful of greens, very few additional ingredients and maybe a few tablespoons of vinaigrette. If you think that will fill you up, I can promise you it won't. So here I am, I'm hear to teach you how to nail the perfect salad every single time. Plus, why not throw in one of my favorite current salads? This massaged kale salad with chili lime dressing is a dream and will make you feel super satisfied.
What makes a good salad?
A good salad should be satisfying. It shouldn't leave you hungry a few hours later. To make a salad satisfying, think about the components of that salad.
Veggies: This can include the base greens plus some other vegetables or just roasted vegetables. No rules saying your salad needs to just be greens.
Starch: This can include things like potatoes, squashes and grains. Starches provide a great stream of energy that will help fuel you between meals.
Plant Proteins: Proteins keep you full longer and can help regulate blood sugars to keep your energy steady. Added benefit to plant proteins include more fiber.
Healthy Fats: Plant based fats like avocado, nuts and dressings make salads more enjoyable and can help absorb a lot of the great nutrients your salad provides.
Salad Enhancers: Add herbs for more flavor, sprinkle seeds over top to help provide crunch and texture to your salad and even feel free to add fruits like berries over top for a little sweet.
Need a visual? I made this info graphic to highlight all the ingredients I mentioned that can help make your salad the best. Consider adding at least one ingredient from each category to have the best salad ever.
Chili Lime Kale Salad Ingredients
What's inside of one of my favorite salads? I'll spill all the details.
Base: Massaged kale **
Starch: Roasted potatoes
Extra fun toppings: cilantro, cucumber, cherry tomatoes
Plant Based Protein: Roasted tempeh
Healthy Fats: Chili Lime Dressing
What do you mean by Massaged Kale?
If you've ever had raw kale, you probably thought it was bitter and tough. One way you can enjoy raw kale is to break down some of that bitterness and toughness. Typically just three things are needed to do this, which include a little acid from something like citrus, healthy fats, and salt. Most often when you see massaged kale salad recipes, the acid is lemon juice, the healthy fat is olive oil and you'll see the addition of salt. You add those ingredients to your kale, and with your hands rub the ingredients into the leaves as if you were giving the kale a massage. I know it sounds weird, but it makes a big difference.
The chili lime tahini dressing for this salad includes all the ingredients necessary to help break down the kale. Just whisk those ingredients together, pour a little over your greens, and get your hands to work.
Put your chili lime kale salad together
Once you've massaged your kale, load it up with all the ingredients you want. Don't forget all of the components mentioned throughout this post. Trust me, you won't look at salads the same way again. In general, make sure to customize it the way you like it best. Not a fan of tempeh? Choose beans. Not a fan of cilantro, try mint. Experiment with cooked components of your salad if you don't want them to all be raw. Make it fun and you'll never be bored with another salad again.
Need more salad inspiration?
Print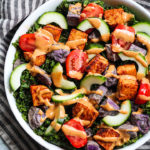 Chili Lime Tahini Dressing
Prep Time:

15 minutes

Cook Time:

20 minutes

Total Time:

35 minutes

Yield:

1

serving

1

x

Category:

Lunch

Cuisine:

American
---
Description
Make your salads more filling and satisfying! This massaged kale salad with chili lime dressing is a perfect example of the right balance of ingredients and flavor that will make you forget all of those boring salads in the past.
---
Chili Lime Tahini Dressing
2 tbsp

tahini

1/2 tsp

chili lime seasoning

2 tsp

maple syrup
Juice of

1

lime

1/2 tbsp

nutritional yeast

2

–

3

tbsp water
Garlic Chili Tempeh and Potatoes
1/2

block tempeh

1

small roasted potato

1 tbsp

gluten free soy sauce

2 tsp

garlic chili sauce

2 tsp

maple syrup
Massaged Kale Salad with Chili Lime Dressing
5

stems kale, rinsed and dried

1/2

cucumber, diced

5

–

8

cherry tomatoes, diced

5

sprigs cilantro, minced

2 tbsp

chili lime dressing
Roasted Garlic Chili Tempeh and Potatoes
---
Instructions
Chili Lime Tahini Dressing
In a bowl, combine all ingredients and whisk together until smooth. Add additional water in small amounts if you want your dressing to be slightly thinner.
Set dressing aside.
Tempeh and Potatoes
Set oven to 400F. Dice tempeh and potato into cubes.
In a bowl, combine soy sauce, chili garlic sauce, and maple syrup. Toss tempeh and potatoes in sauce and place on a baking sheet.
Place baking sheet in oven and bake for 20 minutes. Set ingredients aside as you assemble salad.
Salad Assembly
De-stem kale and break up into smaller pieces with hands into a medium sized bowl.
Add 2 spoonfuls of dressing to kale. Using hands, rub dressing into kale. Keep massaging the kale until the leaves start to turn a bright green, shrink in volume and soften.
Add in diced minced cilantro, vegetables, tempeh and potatoes and toss together.
Place combined salad in a bowl and top with extra dressing. Feel free to add more toppings or ingredients based on preference.
---
Notes
I use tahini quite a lot. If you'd like a discount for some tahini, I am in love with the tahini from Soom Foods. Use this link for 10% off your order.
You can swap tempeh for chickpeas or tofu in this recipe.
If you don't have chili lime seasoning, you can make your own! Just combine 1/4 tsp chili powder, the zest of one lime, pinch of sugar, pinch of salt, and 1/4 tsp garlic powder. 
Keywords: chili lime, cucumbers, kale, lime, maple syrup, nutritional yeast, potatoes, salad, soy sauce, tahini, tempeh, tomatoes
Did You Try This Recipe?
Then let me know what you thought! Share your creations by tagging me on Instagram with the hashtag #plantbasedrdeats
★ Catherine