This cinnamon roll mug cake feels like a blast from the past. This is fun to make, does not require hours of wait time, and cooks in the microwave in a minute and 15 seconds. Perfect if you have a sweet tooth and need a single serve dessert. All you need is a mug, a bowl and a handful of ingredients.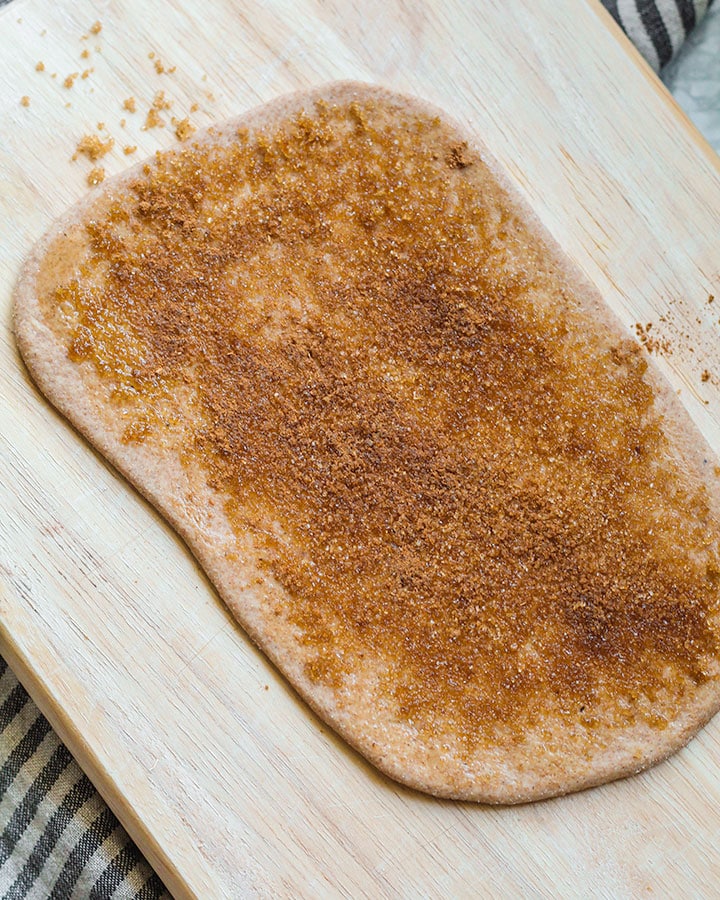 When I was younger, my mom would send me over to Burger King pretty regularly to order food for the family. Around this time, they had just started offering the $1 menu. On that menu, I was delighted to see ciniminis. And if you can't guess, I ordered those things so fast. I'm a cinnamon bun lover, and these were too cute to pass up when I was younger. I would watch happily as the cashier pop these minis into the microwave to reheat them. The packet of icing that came with it was magic to my young mind. Just dunk and enjoy. It was so simple, but they were so good. Obviously, these weren't the decadent cinnamon rolls you would get from a bakery. But they really hit the spot in a special way as a kid. It was something I just couldn't forget.
Cinnamon Rolls with a Twist
When I was originally planning to create this cinnamon bun mug cake, I had not planned for them to remind me of this memory. But as soon as I took my first bite of them, I was pleasantly surprised with how familiar the flavors were. Sweet, but not overly sweet on their own. Perfect cinnamon sugar notes. And a really good texture considering these were made in the microwave. As a health professional, I couldn't help to add a little whole grains to these to help up the fiber. I also made sure not to load these up with too much sugar.
Ingredients you need to make this cinnamon roll mug cake
spelt flour (you can use regular white flour or whole wheat pastry flour; I have not tested this with gluten free flours)
brown sugar
baking powder (super important for helping these buns rise successfully)
cinnamon
maple syrup
your preferred glaze
Need some more fun single serve treats?
Print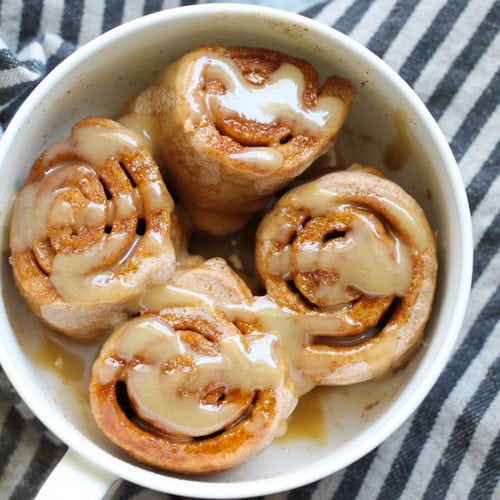 Cinnamon Roll Mug Cake
Prep Time:

5 minutes

Cook Time:

1 minutes

Total Time:

6 minutes

Yield:

1

serving

1

x

Category:

Dessert

Cuisine:

American
---
Description
This vegan cinnamon roll mug cake is a fun, single serve dessert that is easy to make, only needs a few ingredients and cooks in about 1 minute.
---
Dough
4 tbsp

spelt flour

1 3/4 tbsp

unsweetened almond milk
Pinch of salt
Pinch of cinnamon

1/2 tsp

brown sugar (optional)

1/2 tsp

baking powder
Filling
1 tsp

maple syrup or vegan butter

2 tsp

brown sugar
Pinch of cinnamon
Pinch of salt
Sweet Glaze (optional)
1/2 tbsp

tahini

1 tsp

lemon juice

1 tsp

maple syrup

1 tsp

water
---
Instructions
Glaze
Add all glaze ingredients together and whisk until well combined and set aside.
NOTE: If you want a traditional icing, just mix 1 tbsp powdered sugar with a splash of almond milk. Mix until the right consistency is achieved. Feel free to make a lot more if you want a lot for your mug cake.
Dough & Filling
In a bowl, add flour, cinnamon, baking powder, salt, and sugar and mix well.
Add in milk and mix together with a fork until a dough starts to form. Go in with your hands and kneed dough for about 1-2 minutes. If dough is dry, add a small splash of milk. If dough is too wet, add a pinch of flour until it is less sticky.
Allow dough to rest for a minute, then take dough to a lightly floured surface and with hands start flattening dough and forming a rectangle.
Using either maple syrup or vegan butter, lightly spread it over the dough surface then sprinkle brown sugar and cinnamon over top. With a spoon, make sure to spread cinnamon sugar mixture evenly over the dough.
Starting from the short end of the dough, start rolling dough tightly to form a log. Cut log into 4 even pieces.
Take cinnamon roll pieces and place them in a shallow mug, allowing a little space in between for them to grow.
Place mug in the microwave and set to 1 minute. Allow to cook for the first 30 second and open microwave door to allow to rest for a second. Close door again and microwave for the remaining 30 seconds. Allow to rest for a few seconds and then cook for the remaining 15 seconds if buns do not appear done cooking.
Once mug cake is cooked, top with icing and enjoy immediately. If you allow the mug cake to sit for a long time, it will eventually get hard.
---
Notes
Feel free to use white flour, if you don't have whole grain flours. AVOID USING WHOLE WHEAT FLOUR. It will just turn into a brick. 
Please note, I am not trying to create a cinnabon here. These will not be like the ones that take hours to make. But for what it is, these are fun and really tasty in a pinch. 
I have not tested this with gluten free flours, but if you do, let me know and I'll add some notes to this section to help some of my gluten free followers!
Keywords: almond flour, baking powder, brown sugar, cinnamon, cinnamon buns, maple syrup, spelt flour
Did You Try This Recipe?
Then let me know what you thought! Share your creations by tagging me on Instagram with the hashtag #plantbasedrdeats
★ Catherine