These soft vegan pumpkin cinnamon rolls use real pumpkin, the right amount of pumpkin spice and are topped with a maple cream cheese frosting.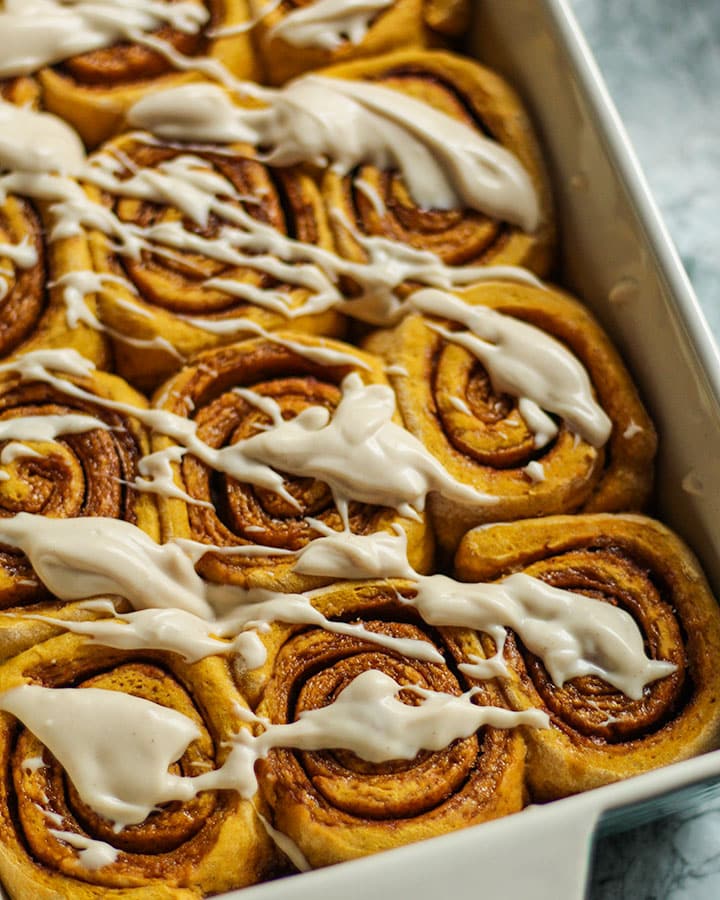 I have two other cinnamon roll inspired recipes on the blog, but these pumpkin cinnamon rolls with salted maple cheese cream frosting is probably is one of my favorites. I love pumpkin a lot. Outside of it's nutrition, I really love how soft it makes these rolls. It also just defines fall flavor for me. The blend of pumpkin with pumpkin spice just absolutely hits the spot this time of year. While cinnamon rolls might take a while to make, they honestly are not hard to make at all. In case you are intimidated about making them, I've listed some detailed tips so you can enjoy ultimate cinnamon roll success!

How to make Pumpkin Cinnamon Rolls
Step 1. Prepare your yeast. Combine milk and sweetener and heat up slightly either on the stove top for a minute or two or in the microwave for 45 seconds. Test heat of milk with your finger. If you feel it is too hot, that means it's too hot for your yeast. So make sure to allow to cool until just warm. Once at the right temperature, add your yeast and allow your yeast to bubble.
Step 2. Prepare your dough. Mix in pumpkin, coconut cream, and yeast mixture. Then add in your dry dough ingredients. Initially start by mixing with a spatula. As a dough forms, use clean hands to kneed your dough for 5-8 minutes. You can either kneed your dough in your bowl or on a floured surface. Your dough should be smooth but just slightly sticky. Shape dough into a ball and place in your mixing bowl. Cover with a clean dish towel and place in a warm place to rise for an hour.
Step 3. Prepare your cinnamon roll filling. Mix your cinnamon, pumpkin spice and brown sugar together and set aside. When dough is doubled in size after rising, deflate dough and place it on a floured surface and with a rolling pin, roll it out into an even thin rectangle shape. Using a spoon, brush or your hands, spread your coconut cream, oil or butter over the surface of the dough. Sprinkle your cinnamon sugar mixture overtop and then gently pat sugar into the dough.
Preparing cinnamon rolls to bake
Step 4. Roll your dough into a log. Using the short side of your rectangle, tightly start rolling into a log shape making sure to end with the seam of the log facing down into your surface.
Step 5. Second Rise. Use a serrated knife to cut your log into 12 equal sized rolls. Place rolls into a parchment lined or greased 9×13 baking dish making sure that rolls have space to expand. Place rolls in a warm spot or place back in oven with oven light on for 30 minutes to rise.
Step 6. Bake the cinnamon rolls. Once rolls double in size, preheat oven to 350F. Bake rolls in the oven for 17-20 minutes. Remove from oven and allow to cool for 10 minutes. As you wait for rolls to cool, prepare cream cheese frosting by mixing all frosting ingredients together until completely smooth. Spread frosting over top cinnamon rolls or serve with rolls when ready to eat.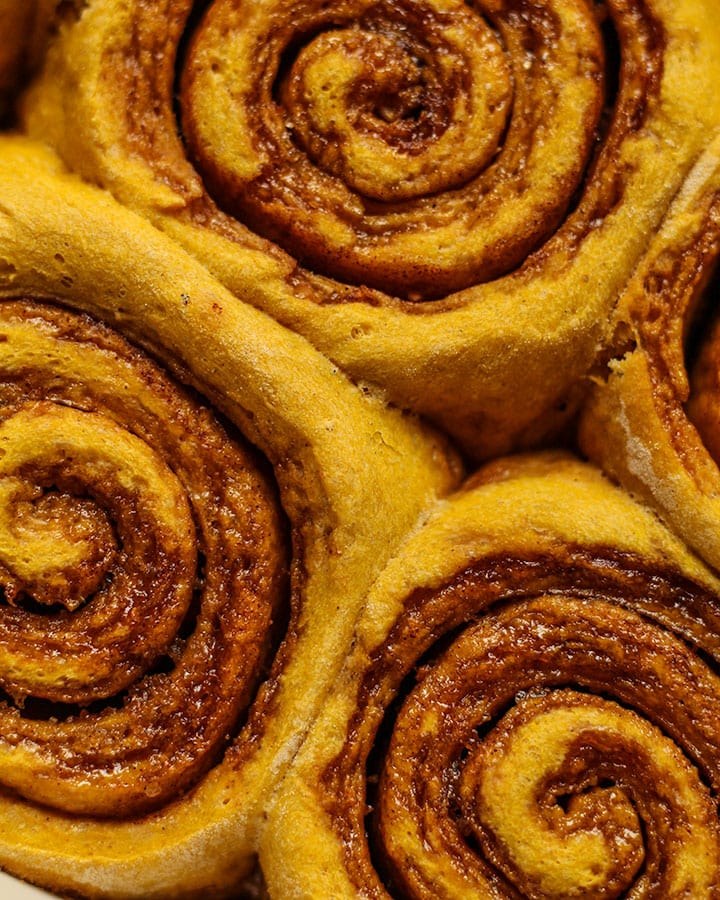 Tips for making Pumpkin Cinnamon Rolls
Make sure your yeast is activated. You will know if your yeast is working by the way it reacts to your milk and sweetener mixture. You should see the yeast almost double in size and bubble. If you are not seeing this reaction, you may have killed your yeast if your liquid is too hot or you might have yeast that expired.
When measuring your flour, make sure to spoon your flour into your measuring cup. DO NOT measure flour by sticking your measuring cup into your bag of flour. Instead, spoon flour into measuring cup until full and then with the edge of a knife, level your flour in the cup to properly measure.
If your living space is cold, turn on your oven light and place your dough in the oven. The heat from the oven light should keep your oven warm enough to help your dough rise appropriately.
Many recipes will tell you to use cling wrap to cover your bowl during the rising process. I find that using a clean dish towel is perfect on it's own to help reduce plastic waste.
When rolling your cinnamon roll into a log, if your log is thicker in the center, gently stretch your log from the center out to elongate your roll and even it out.
You do not want to overcook your cinnamon rolls. This method will allow your cinnamon rolls to remain soft for longer.
More Fun Fall Vegan Desserts
Print
Pumpkin Cinnamon Rolls with Salted Maple Cream Cheese
Prep Time:

120 minutes

Cook Time:

20 minutes

Total Time:

140 minutes

Yield:

12

rolls

1

x

Category:

Dessert

Cuisine:

American
---
Description
These soft vegan pumpkin cinnamon rolls use real pumpkin, the right amount of pumpkin spice and are topped with a maple cream cheese frosting.
---
Pumpkin Cinnamon Rolls
1/2 cup

almond milk

1/4 cup

maple syrup

1

14 oz packet of instant yeast

1/2 cup

pumpkin puree

1/4 cup

coconut cream or coconut oil

1 tsp

pumpkin spice

3 1/2 cups

all purpose flour or bread flour (spoon into measuring cup and level)

1/2 tsp

salt
Cinnamon Roll Filling
2/3 cup

dark brown sugar

1 tsp

pumpkin pie spice

1/2 tsp

cinnamon

1 tbsp

coconut cream (butter or coconut oil)
Salted Maple Cream Cheese
4 oz

of plain vegan cream cheese (at room temperature)

3 tbsp

maple syrup

1/4 tsp

cinnamon

1/4 tsp

salt
---
Instructions
In a microwave safe mug, add in almond milk and maple syrup and place in the microwave for 45-50 seconds. Mix well and test to make sure that milk is not too hot, should just be slightly warm.
Add packet of yeast into the mug, give a quick mix and allow to set for 5 minutes.
In a large mixing bowl, add pumpkin, coconut cream and yeast mixture then give it a good stir.
Mix in pumpkin spice, salt and flour and with spatula fold ingredients together to begin forming a dough.
With clean hands, kneed dough on a floured surface or in your mixing bowl for about 5 to 8 minutes. You should be left with a smooth and slightly sticky dough.
Leave the dough in your mixing bowl, cover the top with a cloth napkin. Turn the light of your oven on and place bowl inside oven (oven should be off) and allow to rise for an hour.
While dough is rising, mix together brown sugar, cinnamon, and pumpkin pie spice.
Once dough has doubled in size, transfer dough to a well floured surface and roll it out into a thin rectangle shape.
With a brush or your hands, spread coconut cream all over the surface of the dough. Then sprinkle cinnamon sugar mixture evenly over the dough surface, and lightly pat down mixture.
Taking the short end of the dough, tightly roll your dough up into a log shape seam facing down. If log is fat in the center, gently stretch log from the center to even it out.
With a serrated knife, cut dough into 12 equal sized rolls and place rolls in a greased 9×13 inch pan making sure rolls have space in between them. Place pan into the oven with the light on and allow to rise for an extra 30 minutes. Remove and then, preheat your oven to 350F.
Place cinnamon buns in the oven and bake for 17 to 20 minutes.
As cinnamon buns bake, prepare salted maple cream cheese glaze. Place glaze ingredients in a mixing bowl and whisk together until smooth and set aside.
Once buns are baked, remove from the oven and allow to cool for 10 minutes and then spread with glaze and enjoy.
---
Notes
I have not tested this recipe with gluten free flours, but I highly recommend these cinnamon rolls by Okonomi Kitchen if you need a gluten free alternative.
Keywords: cinnamon rolls, pumpkin
Did You Try This Recipe?
Then let me know what you thought! Share your creations by tagging me on Instagram with the hashtag #plantbasedrdeats
★ Catherine