A collection of more than 40 Thanksgiving Recipes for Vegans. Whether this is your first vegan holiday or your 20th, these recipes will help to meet all your entertaining needs.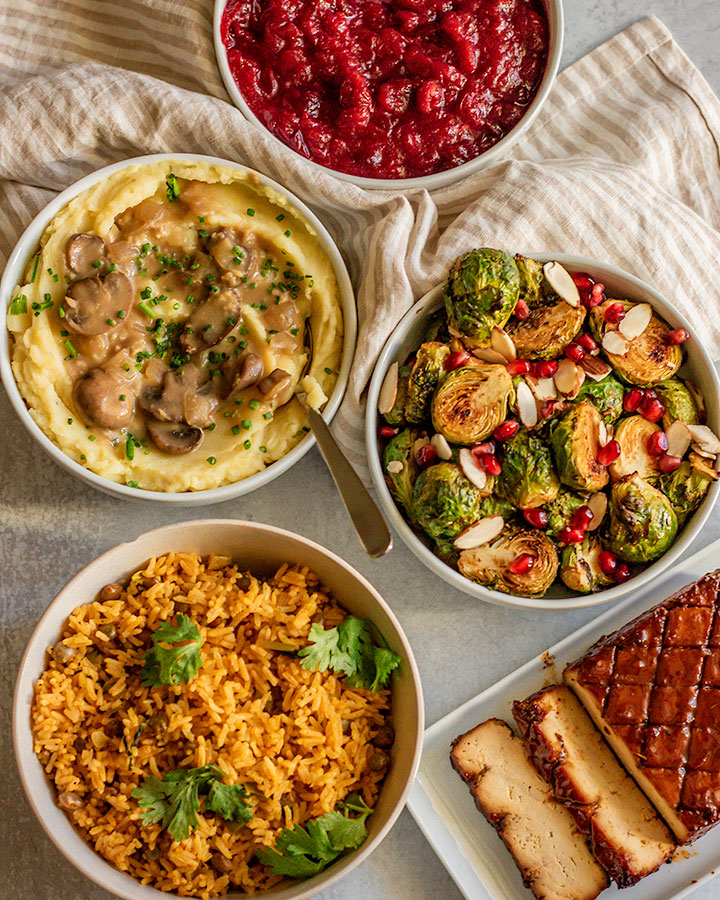 Whether you are trying out your very first vegan Thanksgiving or need some recipe inspiration to change things up this year, I have you covered with some fun and festive holiday recipes all in one convenient post. This round up of the tastiest Vegan Thanksgiving Recipes includes everything from mains, sides, and vegan desserts from brown sugar glazed tofu to a double layered pumpkin cheesecake.
Thanksgiving, But Let's Make It Plant-Based
Need some vegan thanksgiving recipe inspiration? I've got you covered from the start of your meal to the last bite of dessert you may wish to enjoy. Here are some things to note with the recipes shared below:
I encourage you NOT to skip any of your meals. Focus on being present and enjoying your meal. Skipping your meal will make you grumpy and likely more ravenous when it actually is time for your big feast. This will likely lead you to being less mindful with your meal in general. As a result, you'll probably eat until you are really uncomfortably full.
I'm Dominican, so you will see some traditional Latino fair below that's been veganized. If you're looking for something new, but not sure about some of the seasonings, I mention my favorite brands and also have a post for how to make the

spice blends here

.
And if you can't find what you're looking for, feel free to leave a comment below and I'd be more than happy to help you find the perfect dish you might need for your holiday table.
Expert Tips For a Healthy Mindset During the Holidays
Don't be hard on yourself! Regardless of where you are on your journey, do your best. Even if you aren't ready for a fully vegan meal, start with the little things that are easy for you. Maybe it's making vegan desserts or making a few sides. Something is always better than nothing!
Focus on what you wish to enjoy. Thinking with an abundance mindset is more empowering then thinking of what you are wanting to restrict. What is a dish you absolutely love? That should be the star on your plate.
If you are going to a non-vegan gathering, be a gracious guest and bring some vegan entrees you wish to share with your company. Sharing is caring, but also helps you and your host.
You might get questions about your choices. Instead of becoming defensive, focus on sharing correct information. Some might ask, "how do you get your protein?" or "aren't you worried about deficiencies?" Provide helpful, non-judgmental responses like "I meet my protein needs with protein-rich plant-based foods like beans, chickpeas, lentils, tofu, nuts and seeds." or "I work with my healthcare team to make sure I am meeting all my nutrient needs."
Did You Try Any of These Recipes?
Then let me know what you thought in the comments below! And if you loved any of them, don't forget to rate it too. I love to see your recreations, so feel free to share your creations by tagging me on Instagram so I can share them with my community of friends.
★ Catherine