Healthy Air Fryer Plantains that are perfectly crispy and easy to make. All you need for this fun snack are 2 ingredients and an air fryer.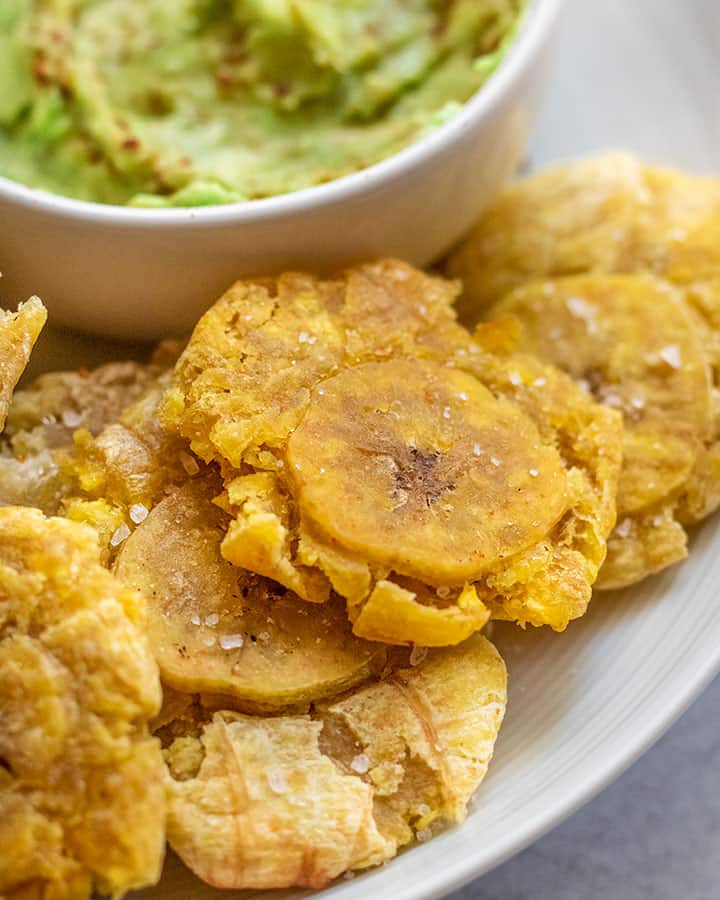 My mom has fried up plantains for me all throughout my childhood. And that hasn't stopped even into adulthood. She makes the best ones (as far as I'm concerned). Perfectly crispy on the outside with that soft chewy center.
To be honest, I'm not the biggest fan of frying, and it has nothing to do with health. It's more so that I remember getting burned one time trying to fry them and that fear still kind of lingers in my head. That, and it's often a bigger mess to make if frying them on the stove top.
Now that I live quite far from my mom and there aren't really many Dominican restaurants close by that make these little gems, I needed to learn a way to make them myself without the hassle. I was very intrigued with potentially trying them in the air fryer. However, the first time I tried them, they came out super dry and kind of rubbery. After a long time of experimenting, I finally got the crispy tostones I wanted. They are pretty easy to make even if this is your first time working with plantains and surprisingly healthy compared to the fried variety.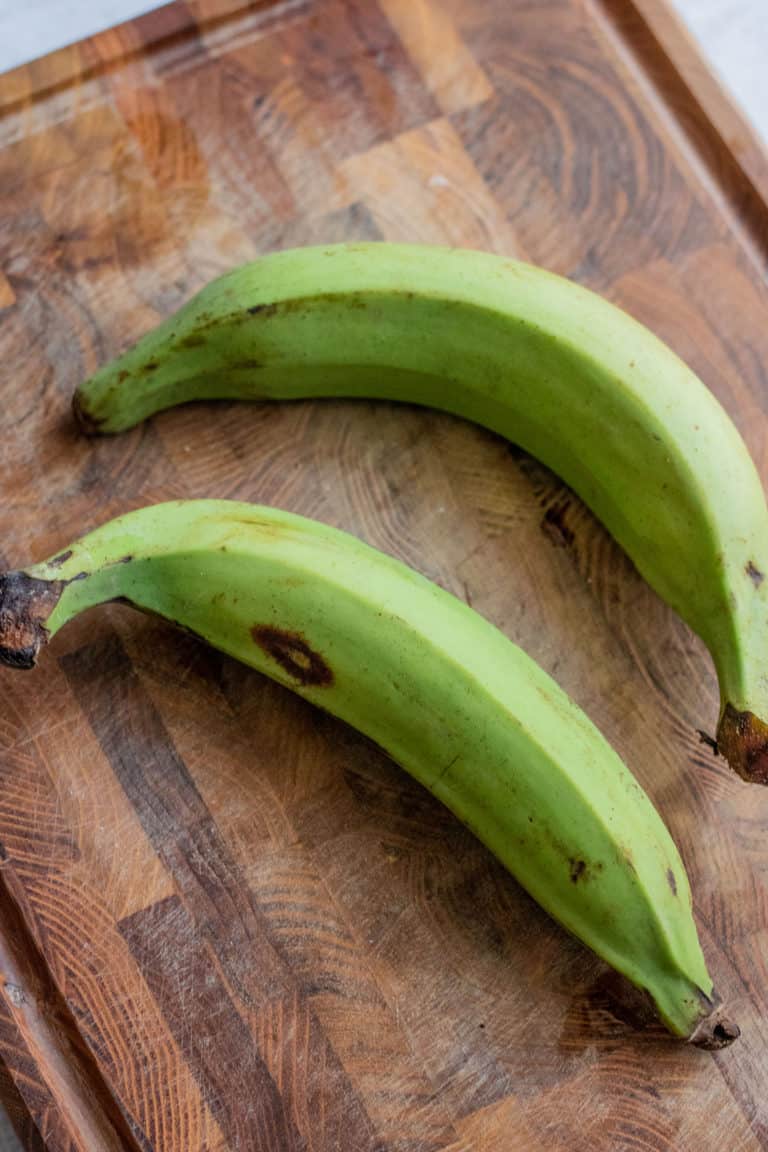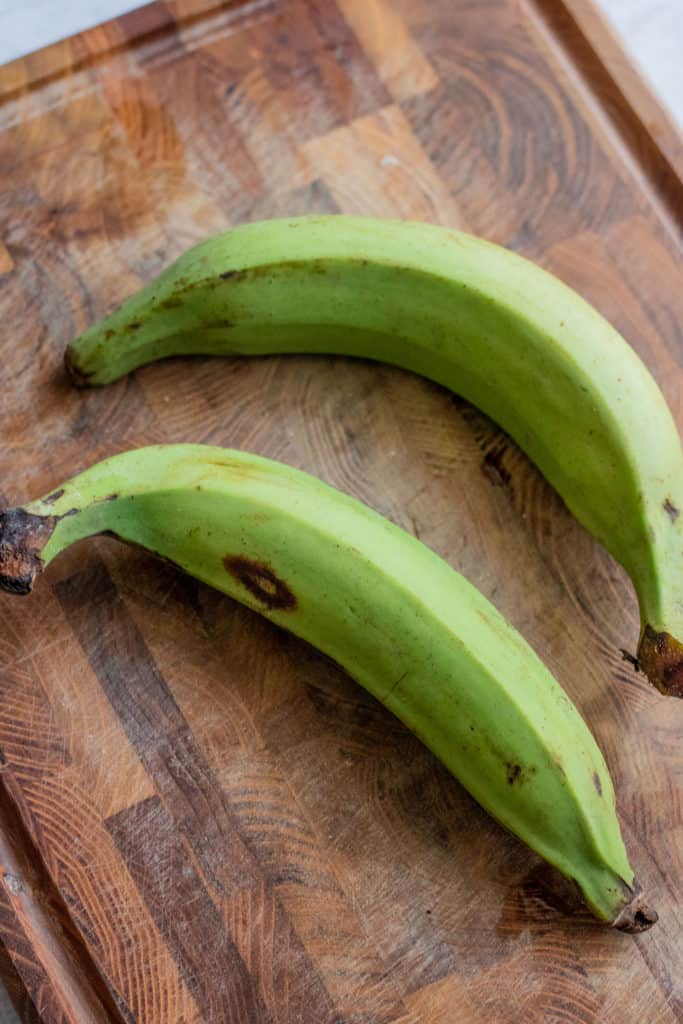 What Are Plantains?
Plantains look like giant bananas, but because they are starchier than the average banana, I often think of them as cooking bananas. They are meant to be cooked and have been utilized by various cultures in different, but similar recipes. In fact, you can find them used throughout Africa, the Caribbean, Central America and even in parts of South America.
For this recipe, we are referring to the green variety of plantains, unripe and fresh. Traditionally, when frying green plantains they are twice fried to get that nice crispy texture. You fry it once to cook the plantain through enough to then smash it with a tostonera and then fry it again to crisp up the exterior.
I'll be sharing some recipes for the sweeter more ripe variety soon, so stay tuned!
Most Important Steps for Making Air Fryer Plantains
Peeling Your Plantain
Start by cutting the ends of your plantain off with a paring knife. Then cut down one of the seams of the skin all the way down the length of it. For super fresh plantains, carefully peel back the skin from where you cut it and run your finger down the seam to gently remove the skin.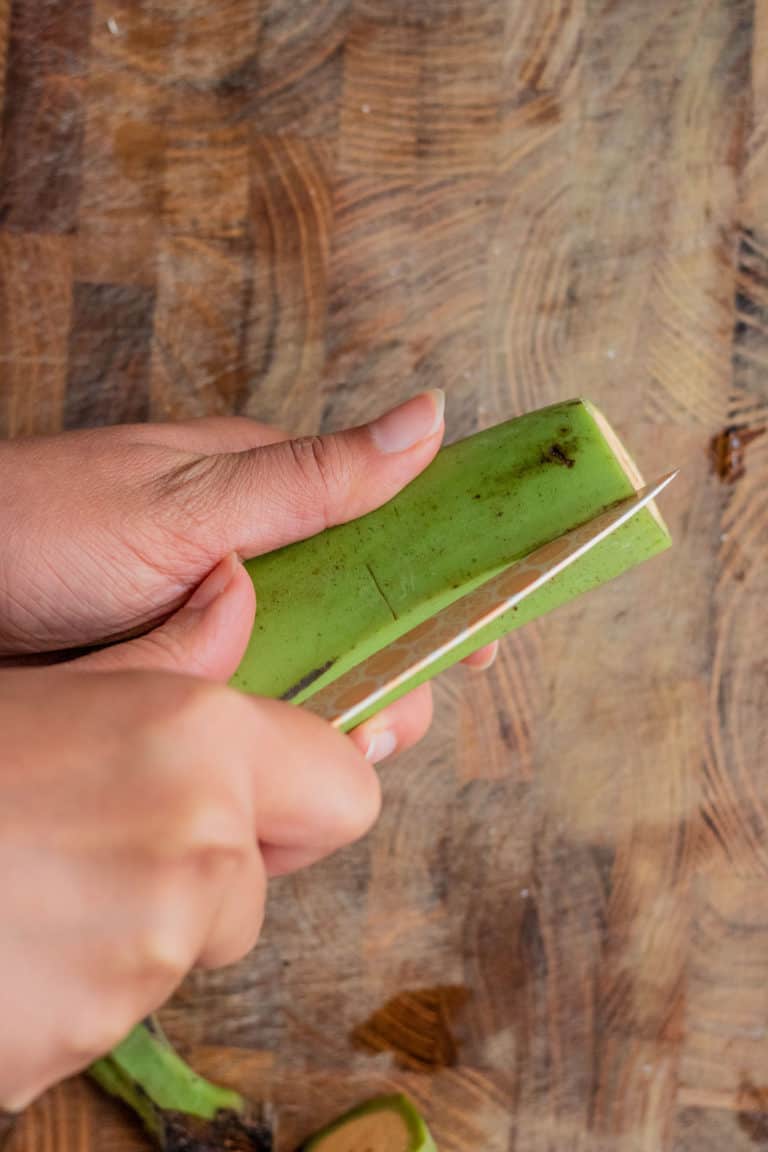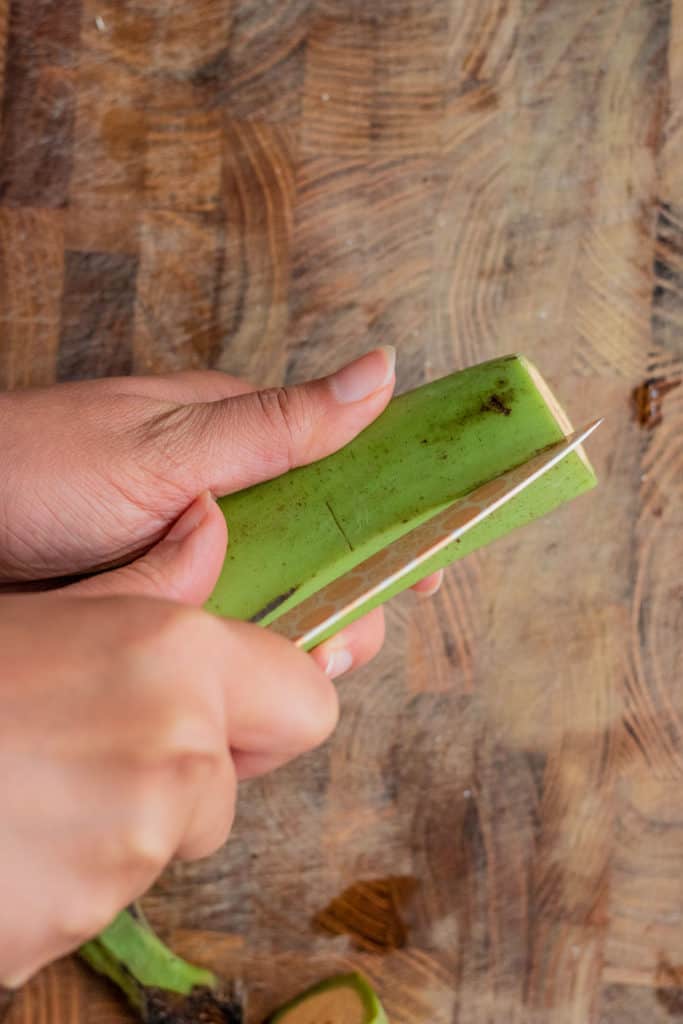 Some plantains that might not be as fresh may take a few slices around the seams to remove the peel. I like to run my paring knife at the top corners of my cuts to help make peeling back the skin easier. I'll also take my knife and gently run it over parts of the plantain where the peel still appears attached to remove it.
Using Oil
I have seen a number of variations of air fryer plantains that use less oil and do a water soak in between air frying, but I've tried that method too and it just wasn't very enjoyable for me. Instead, we need to use a little more oil to help protect some of the moisture. So, make sure we are coating the plantains really well with oil before popping in the air fryer to cook. This will help ensure we maintain that nice crisp outside but tender inside.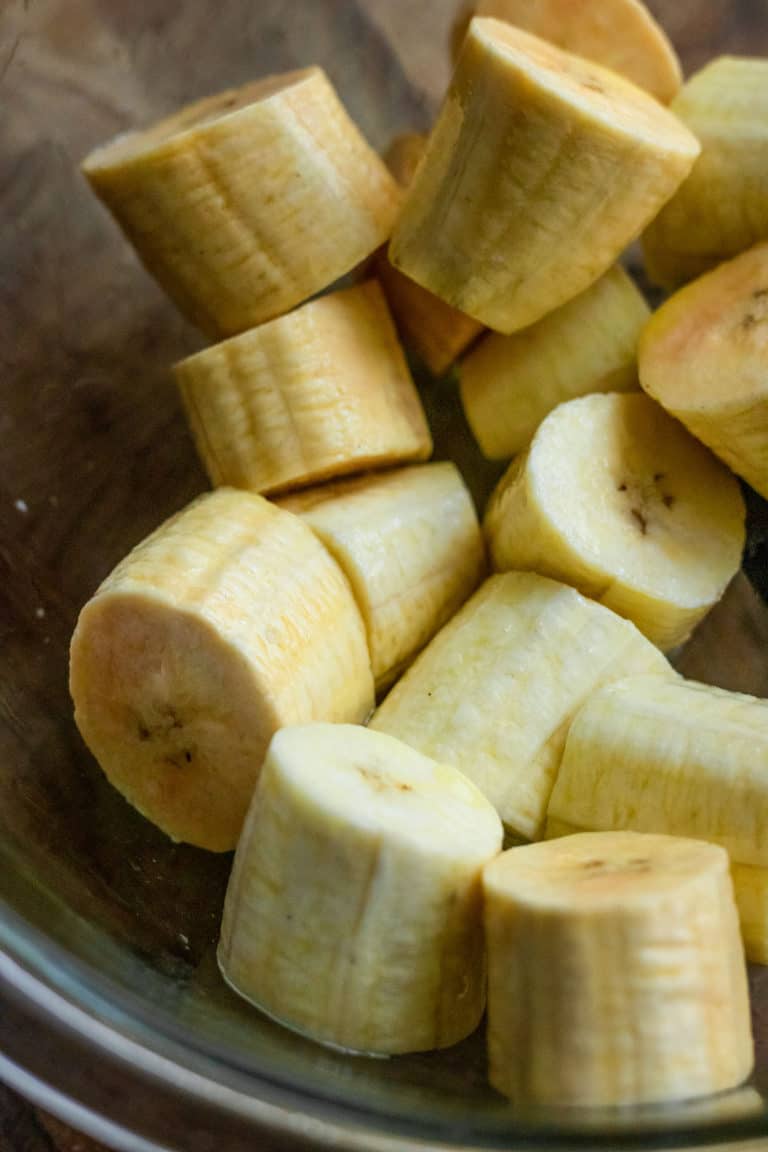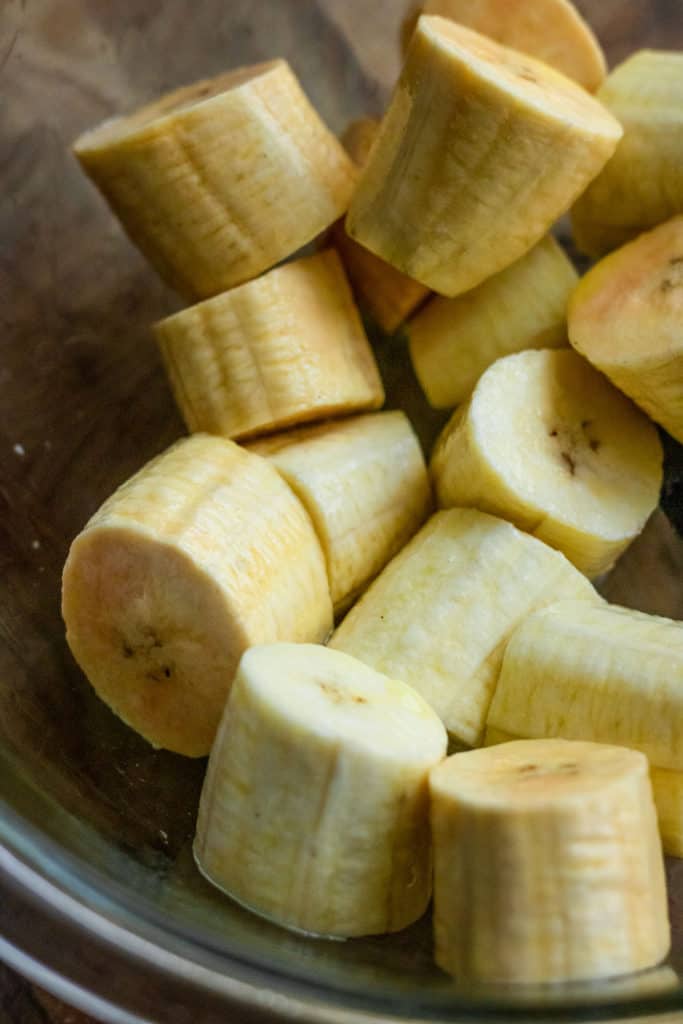 Flattening
After "frying" your plantains the first time, they should be cooked through enough where you can easily smash them into small disks. Normally, most Dominican homes will always have a tostonera, but you can use a flat bottomed surface like a jar or glass to smash them down into 1/4 inch thick disks.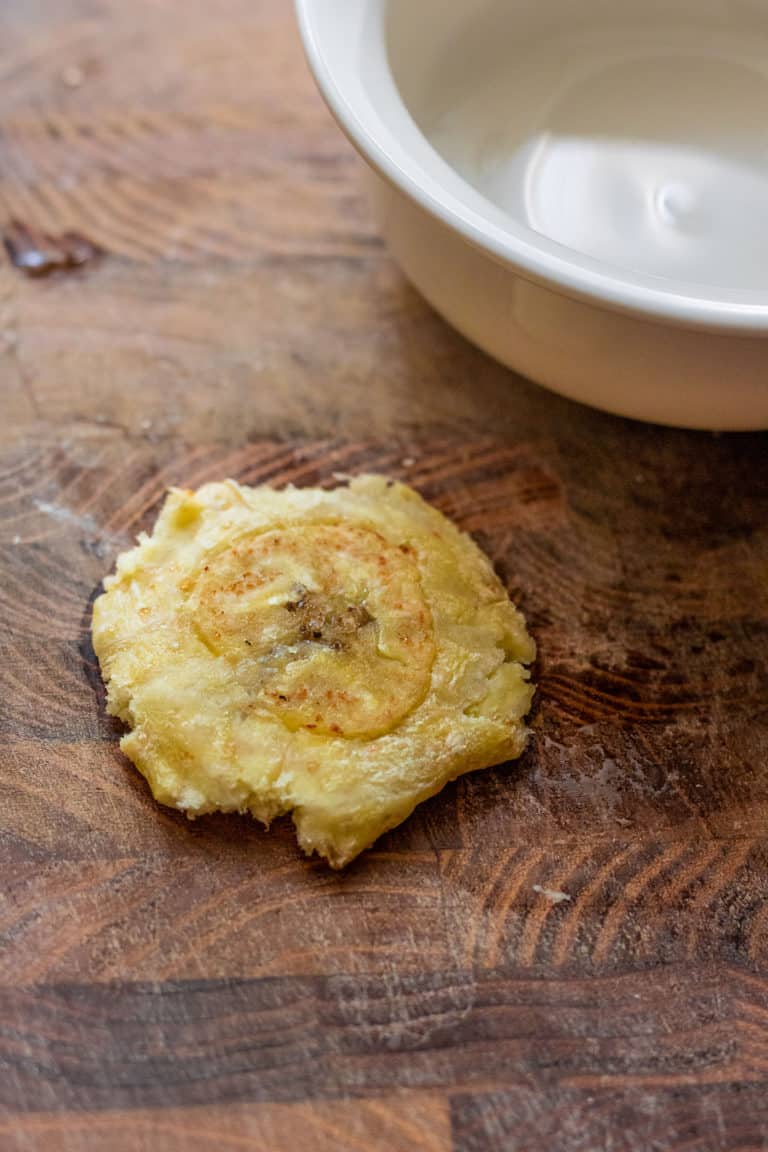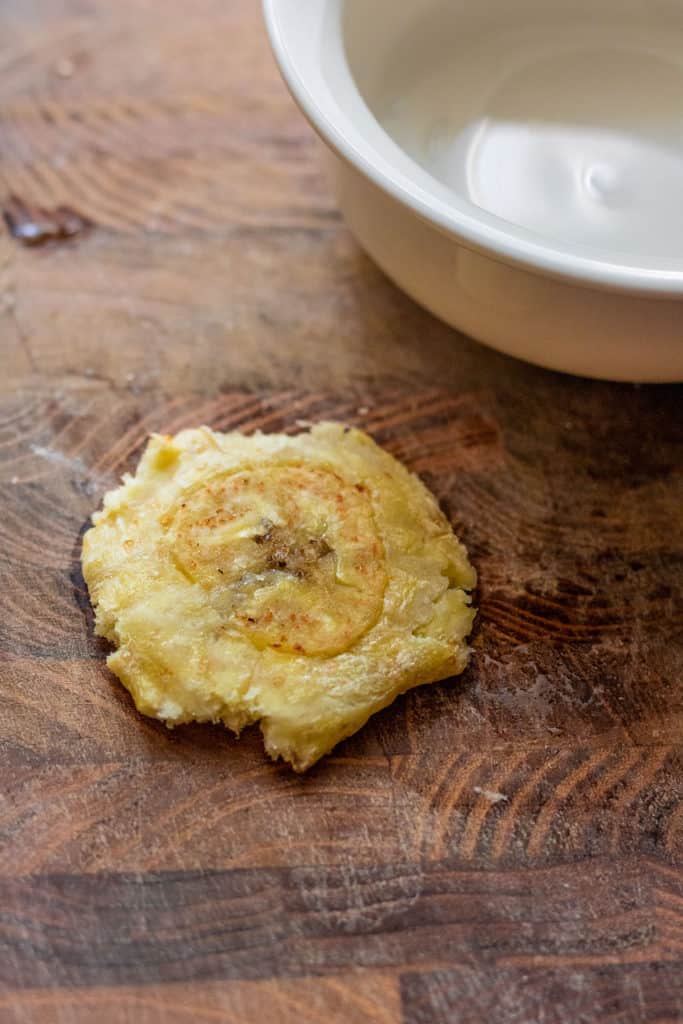 Low and Slow
To get the perfect crispy plantain that is tender and not dried out, I prefer using the low and slow method. We cook these at a lower temperature and for a longer time.
Tips for Perfectly Crispy Tostones
Cut your plantains into coins that are no bigger than 1 inch. Don't make the pieces too big or they may not cook through.
Oil your plantains really well. Make sure to use enough oil to coat your plantains when air frying each time. This will seal in their moisture better which will provide the perfect condition to crisp them up in the oven.
Use fresh green plantains. Do not refrigerate your plantains. This will cause them to dry out and break apart much easier when you smash them.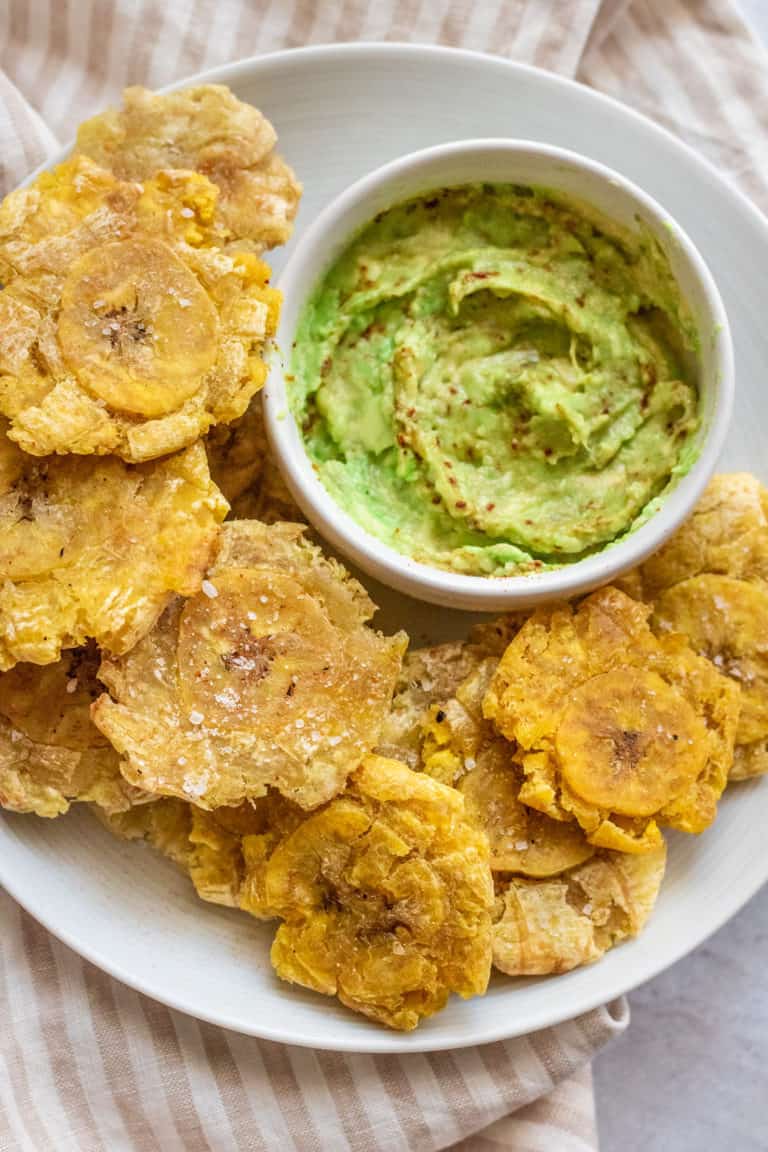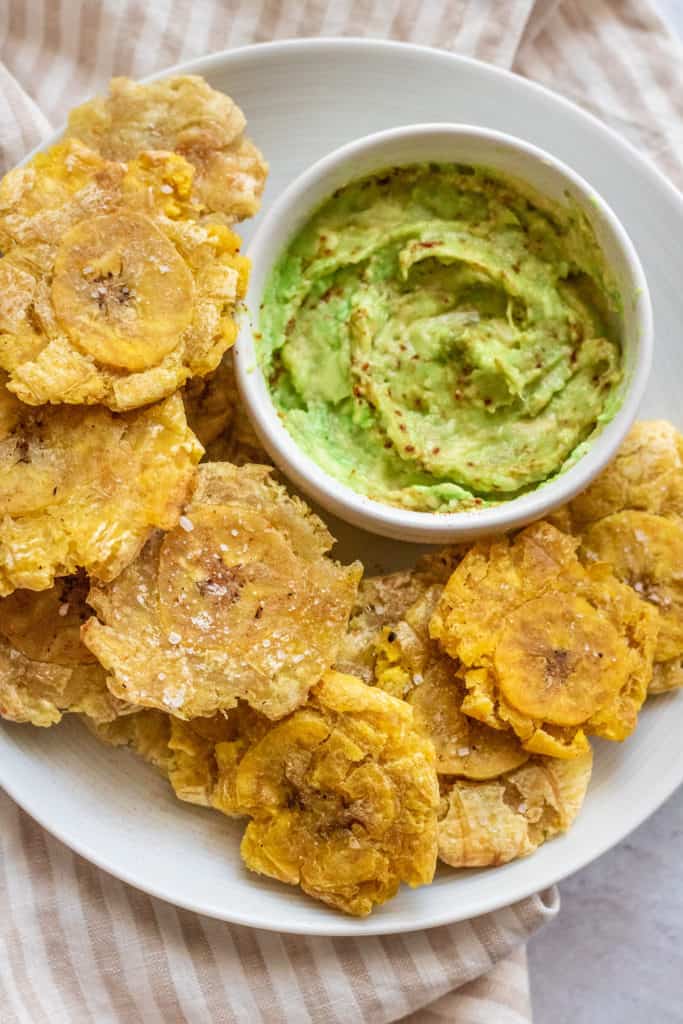 Frequently Asked Questions
Are plantains healthy?
Yes! They are a good source of fiber, vitamin C, potassium, magnesium and some B vitamins that are good for heart health. Using plantains that are boiled or baked will conserve these beneficial nutrients.
What do I eat my plantains with?
That is going to depend on who you ask. I'm Dominican and well aware that people eat their tostones differently. My Puerto Rican friends enjoy theirs with a ketchup mayo mix while I personally enjoy mine plain with a little salt as a side along with some rice and Habichuelas Guisadas. I've paired these plantains with some mashed avocado since avocado just goes great with everything. Before becoming vegan, I used to eat them all the time with fried salami. Recently, I found some familiar salami flavors in Gardein's Breakfast Sausage patties in case you need that familiar flavor too, it definitely gave me all the childhood feels.
Why did my plantain break apart when smashing it?
There are a few reasons for this. One would be that you may not have had a fresh plantain. Fresh cooked plantains keep together really well, but if you refrigerate them or find them refrigerated at purchase, they will break apart much easier. A second reason is that your plantain might not have cooked all the way through, which might be a result of the banana pieces being cut to big or not cooked long enough to cook the center.
What do green plantains taste like?
They kind of remind me of a cross between a banana and potato. Very, very mild banana taste (honestly I can't taste banana from the green ones) with a more bold starchy potato kind of taste. When fried, they are nice and crispy and often served with a sprinkle of salt.
Can I bake these in the oven?
You can, but it won't be the same since the air fryer does act like a convection oven that helps to circulate heat all around the plantain coins as they cook. For the oven, you will have an easier time using a riper plantain as it will caramelize as it bakes.
More Latin Inspired Recipes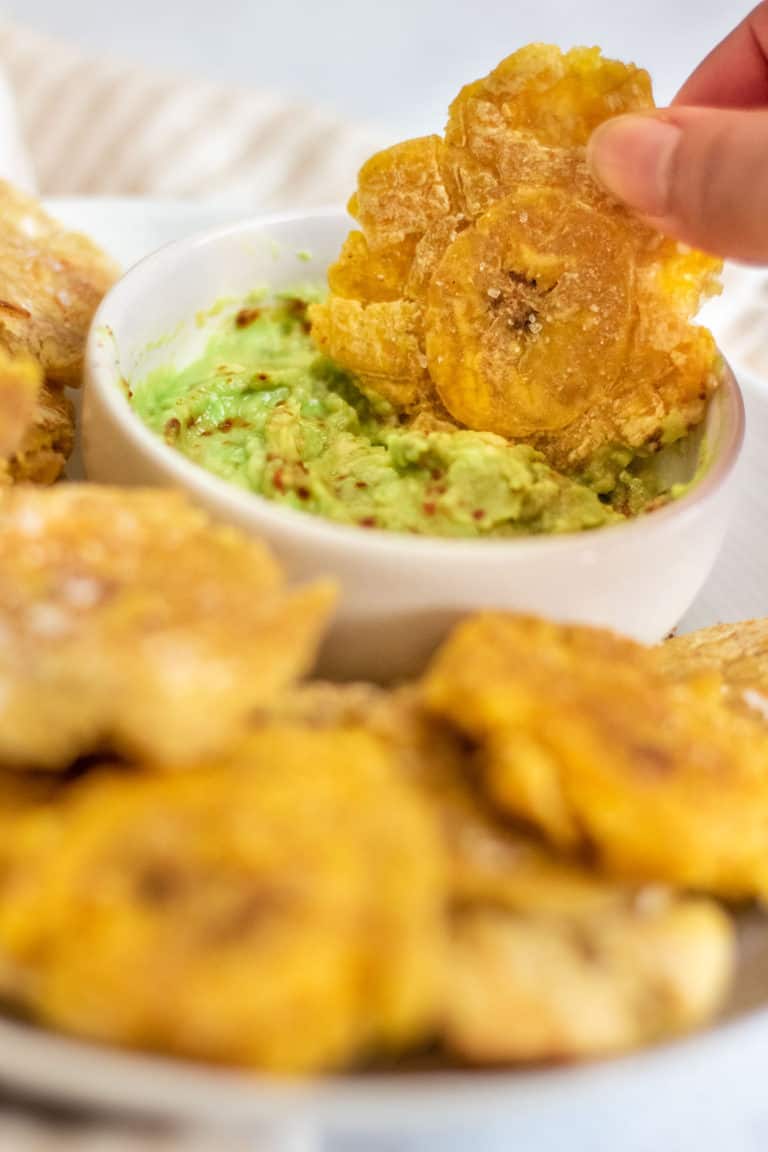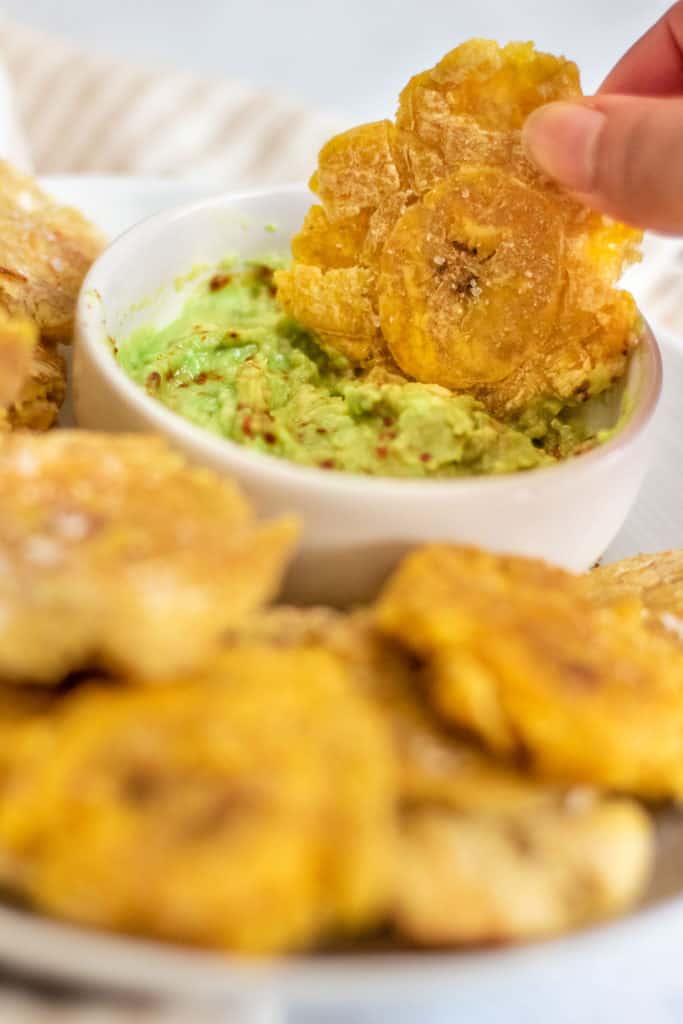 Print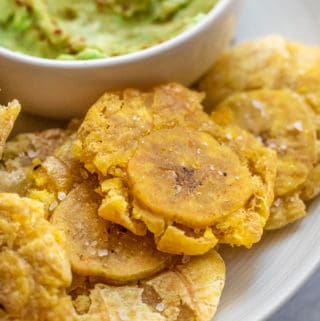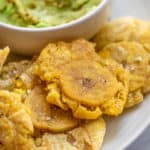 Healthy Air Fryer Plantains (Dominican Tostones)
Author:

Prep Time:

15 minutes

Cook Time:

15 minutes

Total Time:

30 minutes

Yield:

4

servings

1

x

Category:

Appetizers

Method:

Air Fryer

Cuisine:

Dominican

Diet:

Vegan
---
Description
Healthy Air Fryer Plantains that are perfectly crispy and easy to make. All you need for this fun snack are 2 ingredients and an air fryer. 
---
2

green plantains, ends cut and skin peeled

2

–

3

tbsp olive oil or neutral oil
Salt to taste
Avocado for serving
---
Instructions
Peel and cut your plantain into 1 inch pieces. Place in a medium sized bowl with a tablespoon of oil and toss to coat completely.
Place your plantains in the air fryer, making sure they are not piled on top of each other, for 10 minutes at 325F.
Place the plantains back in the bowl and while they are still hot, place on a cutting board and either use a 

tostonera

 or flat bottomed cup or plate and flatten your plantains.
Take your flattened plantains and coat with the remaining oil to coat all of the plantains very well.
Place back in the air fryer at 325F and cook for an additional 5-7 minutes until nice and golden. Serve immediately with a pinch of salt and some mashed avocado.
---
Notes
Cut your plantains into coins that are no bigger than 1 inch. Don't make your plantain pieces too big or they may not cook through all the way in the air fryer.
Make sure to use enough oil to coat your plantains. This will seal in their moisture and provide the perfect condition to crisp them up.
Use fresh green plantains. Do not refrigerate your plantains. This will cause them to dry out and break apart much easier when you smash them. 
Keywords: healthy air fryer plantains, air fryer green plantains, Dominican tostones, crispy tostones
If you tried this recipe or any other recipe on the blog, then let me know what you thought in the comments below! And if you loved it, don't forget to rate it too. Feel free to follow on Instagram, Pinterest, and TikTok for the latest nutrition tips and recipe videos.
★ Catherine
This post contains affiliate links which means I will make a small commission if you purchase from those links. I only recommend and share products that I know, trust and personally use myself!