A flavorful savory sweet tofu broccoli stir fry mixed in an easy garlic ginger sauce. The perfect vegan weeknight dinner that comes together in 20 minutes.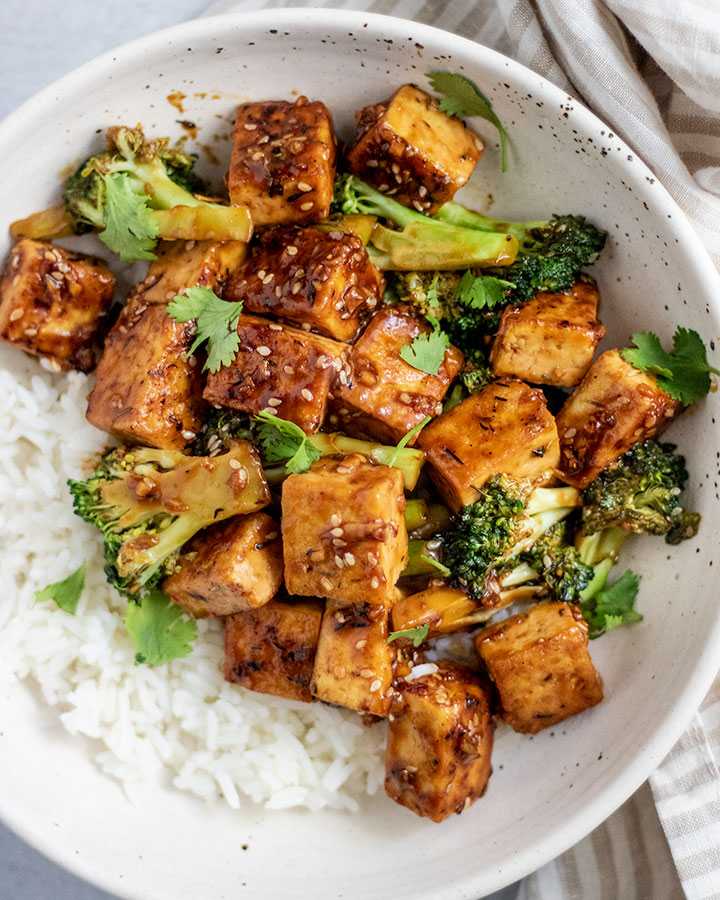 An Easy Tofu Broccoli Stir Fry
Keep it simple. I've been doing my best to live by this principal because I am the type of person that will overcomplicate things if it is only left to me. I think that's what makes me a sucker for quick and easy meals.
If it cooks in 20 minutes like this Sun-Dried Tomato White Bean Skillet, then I am all in. And that's why this Tofu Broccoli Stir Fry in this flavorful Garlic Ginger Sauce has my whole heart today. A delicious sauce rich in sesame, garlic and ginger flavor, chewy tofu seasoned and crisped to perfection and perfectly sautéed broccoli. It's my dream meal.
Key Ingredients & Substitutions
Tofu: I used extra firm tofu that I pressed using a tofu press. You can also press it using other methods listed in my Tofu 101 post or feel free to use a super firm tofu variety instead.
Tofu Coating: Combining cornstarch, garlic powder, thyme, salt and pepper. It gives our tofu a nice crispy texture when it's pan fried.
Broccoli: Cut your broccoli into small florets. You can also peel the outer layer of the stem and cut into chunks to throw into your stir fry to help reduce food waste. Short on time? Use store bought chopped broccoli florets.
Sauce: We are using a combination of freshly minced garlic and ginger, soy sauce, maple syrup, rice wine vinegar, sesame oil and hoisin sauce. Use gluten-free soy sauce and

gluten-free hoisin sauce

to make it gluten-free, you can opt for brown sugar if you don't have maple syrup and lime juice in place of the rice wine vinegar.
Cornstarch: We use it both in the tofu coating and the sauce. It does two functions. For the tofu, it helps to crisp it up. In the sauce, it helps to thicken it so it sticks to your tofu and broccoli.
How to Make This Tofu Broccoli Stir Fry
Make your sauce first by whisking the ingredients together in a bowl and setting it aside. Then cut your tofu and broccoli.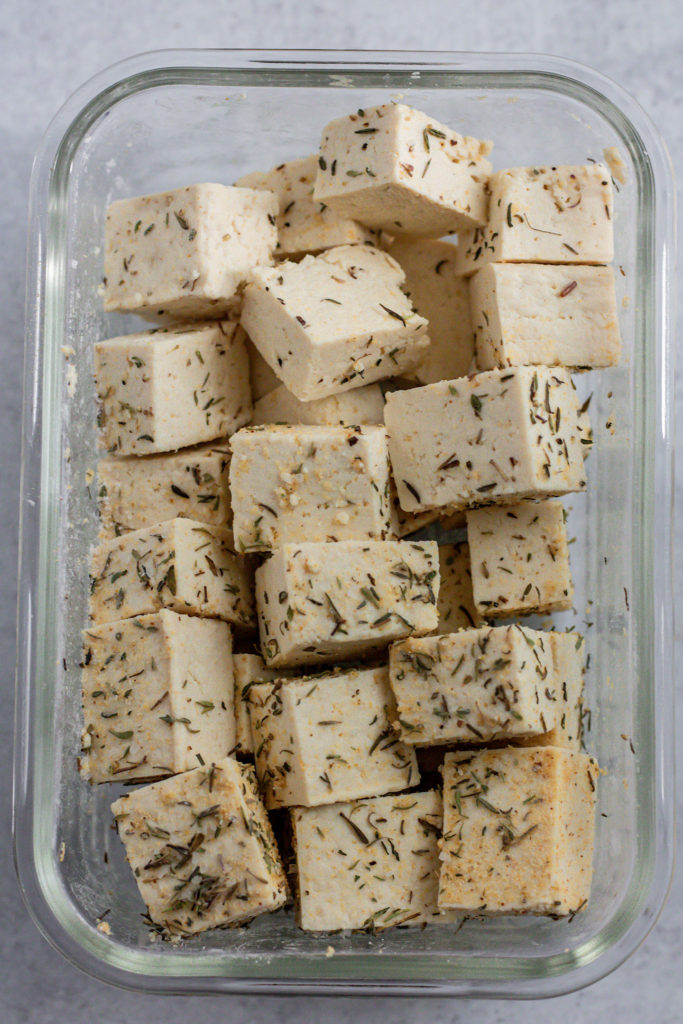 One thing I do differently with my tofu compared to other recipes I've seen is add just a bit more flavor to it. Outside of just coating with cornstarch, I like to also coat my tofu in a mix of garlic powder, dry thyme, salt and pepper. I find the extra bit of thyme that is added really boosts the flavor for me and compliments the sauce really well when it's mixed.
I just crisp the tofu on two sides because I'm lazy. Can you relate? After searing the tofu, add in your broccoli and continuously stir on a medium high heat for a few minutes until your broccoli starts to turn bright green in color.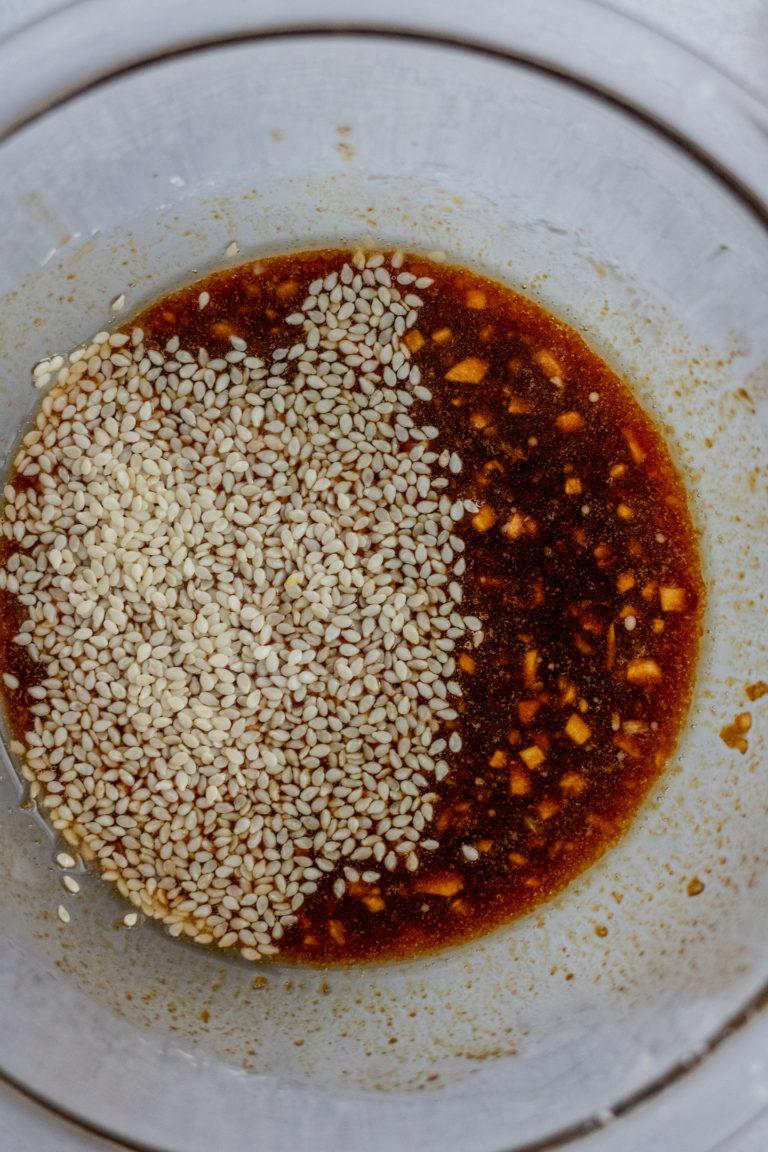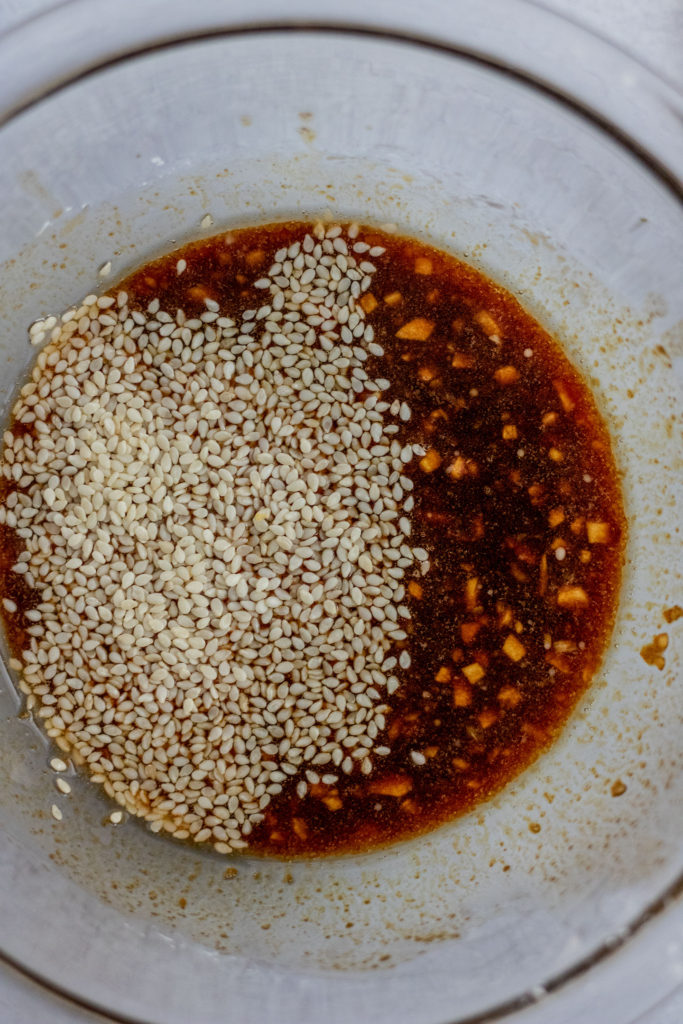 Continue to sauté the tofu with broccoli mix and then pour in your sauce. Mix everything in the pan well to coat and you should notice your sauce getting thicker and glossier as it coats your tofu. Remove from the heat and serve immediately.
Tips for the Perfect Tofu Stir Fry
Press out excess water from your tofu. If you are short on time, use super firm tofu. For extra firm tofu, remove the tofu from it's container, and gently squeeze as much water as you can from the tofu or opt for a tofu press. The more water you can squeeze out of the tofu, the quicker and crispier it will be.
Let the tofu pan fry undisturbed for a few minutes before flipping. Try to avoid flipping your tofu too early as your tofu will likely still be sticking to the pan. Give it 3-4 minutes before flipping and this should ensure it's golden and crisp.
Change up your vegetables. If you are not a fan of broccoli, feel free to insert your favorite vegetable instead. Try bell peppers, mushrooms, or even cabbage.
Don't over crowd your pan. Use a large pan to cook everything in. Start with your tofu and make sure it's seared on two sides then add in the broccoli. This will allow everything to cook well and not get soggy.
Getting the Perfect Stir Fry Texture
I will keep emphasizing this, make sure you press out most of the water from your tofu. If your tofu feels like it has a lot of water to it, you will likely end up with tofu that is more crumbly and you will likely end up with a scramble consistency. Use a good brand of extra firm tofu and press it for at least an hour if not more.
Cook your tofu and vegetables on a higher heat. Start with a preheated pan over medium high heat. Then add in your oil and warm it through before adding your tofu. If you cook on a lower temperature, your broccoli will steam and get mushy.
Cut your broccoli into equal bite size pieces. This little tip will help to make sure that your broccoli cooks fast and evenly.
Another tip, don't overcrowd your pan when cooking your tofu. Make sure you have enough room in your pan to place the tofu on a single layer in the pan. And as it cooks, try not to disturb it too much as it sears. Wait about 3 minutes before flipping one tofu piece to see if it has become golden in color. Then flip the rest of your tofu and sear again until golden.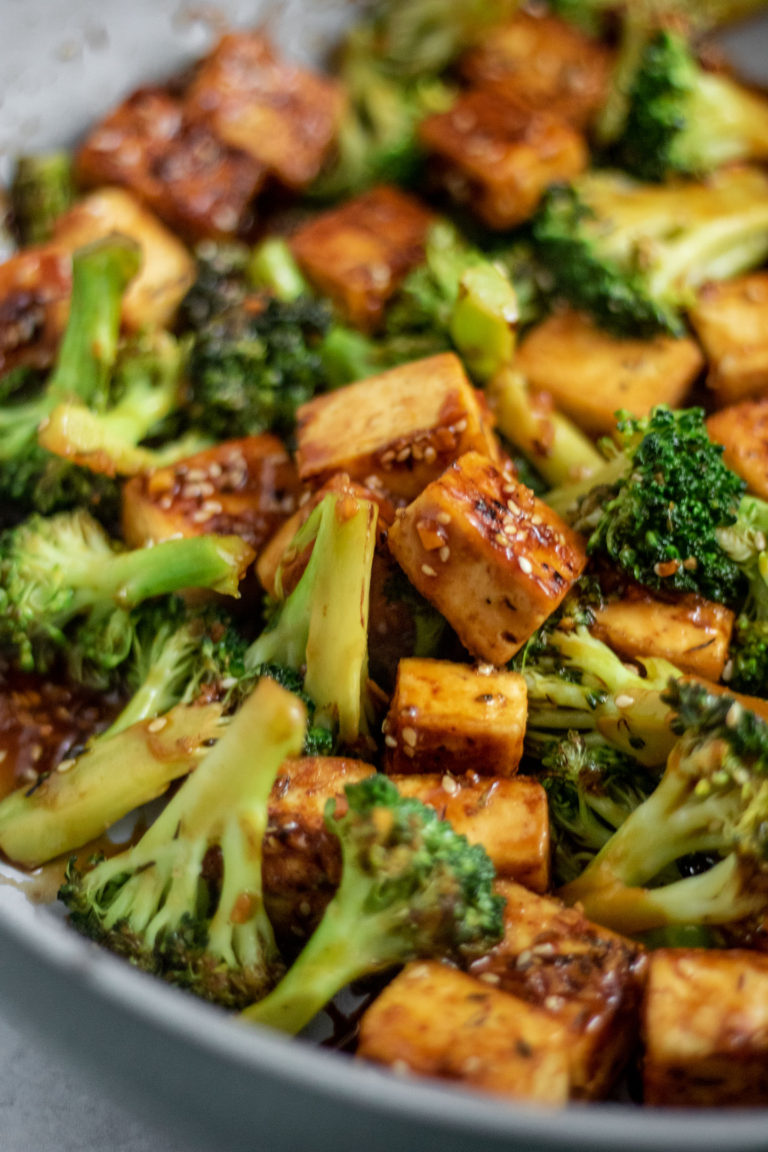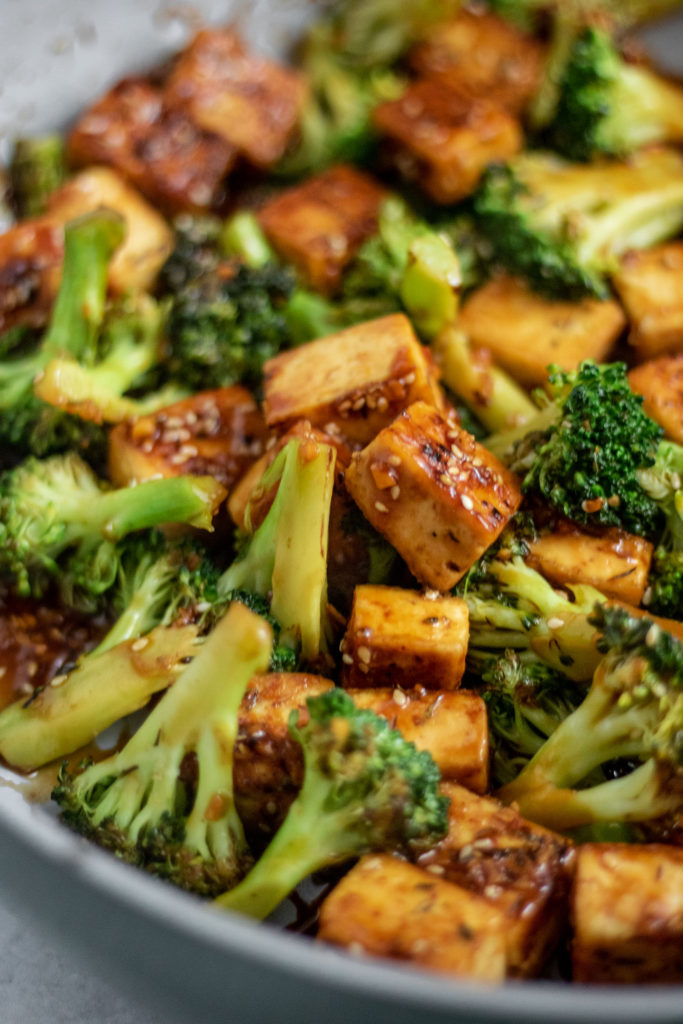 Frequently Asked Questions
How can I make this recipe soy free?
If you are allergic to soy, you can replace the tofu with seitan or opt for some canned chickpeas. If using chickpeas, just make sure to rinse, drain and dry them well before adding to the pan to cook. You can replace the soy sauce with some coconut aminos, and for the hoisin sauce replace with barbeque sauce. Your sauce will be slightly different in flavor, but should still be flavorful. You can also try these Sesame Orange Chickpeas if you'd like to try something different.
Can I meal prep this recipe?
This recipe is best served immediately. If you do make a large batch for later, just note that your broccoli might be softer and not as bright green.
Why do you serve your meals with white rice?
I alternate the types of rice I use regularly. I love white rice, brown rice, Forbidden rice, red rice, etc. I know many people tend to demonize white rice, but I look at it as a means to also encourage good nutrition. If someone really loves white rice and that makes them more willing to enjoy more vegetables and plant based proteins then it is a major win in my eyes.
What to Serve with Your Broccoli and Tofu Stir Fry
Your tofu and broccoli stir fry provides a good amount of protein and a portion of vegetables. You can serve your stir fry with some starches like rice (white or brown), quinoa, couscous, or even millet. This will help create a more complete meal that will leave you feeling full and satisfied.
And feel free to garnish with extra sesame seeds, red chili slices or red pepper flakes if you like it spicy. If you feel you need more fats to help keep you feeling satisfied, you can either mix in some peanut butter to your stir fry sauce or serve with some sliced avocado.
Quick & Easy Vegan Weeknight Dinners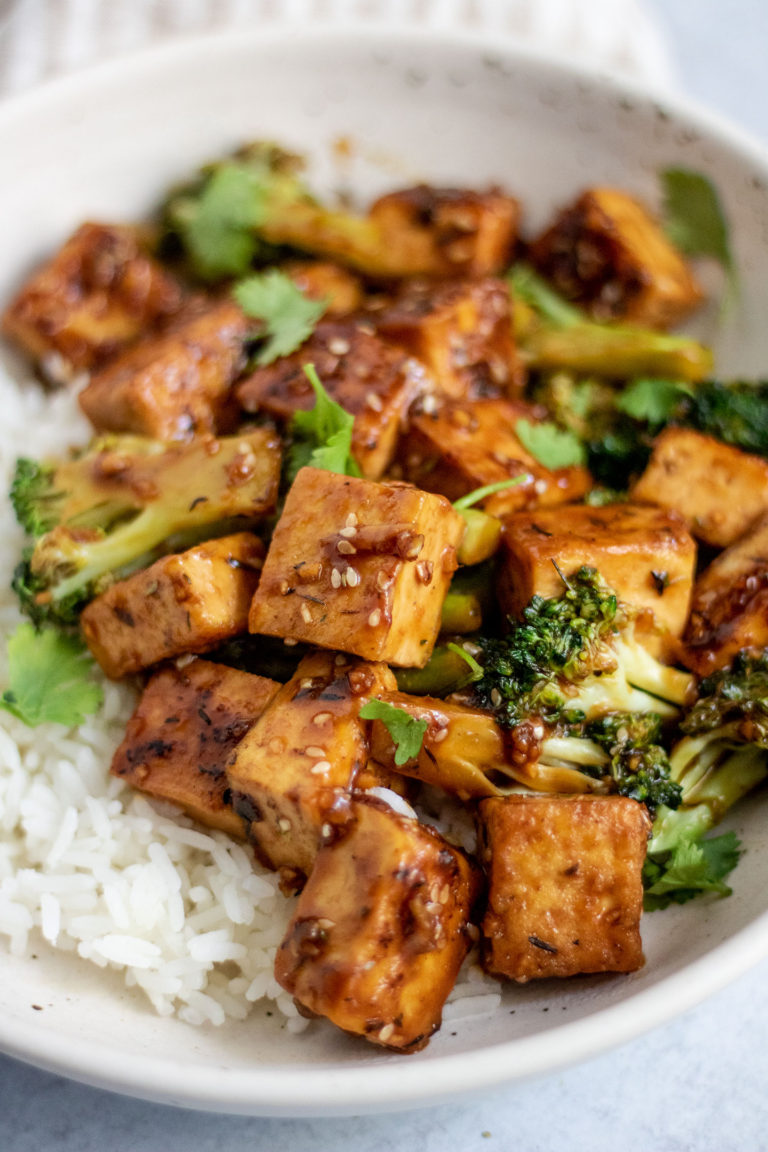 Print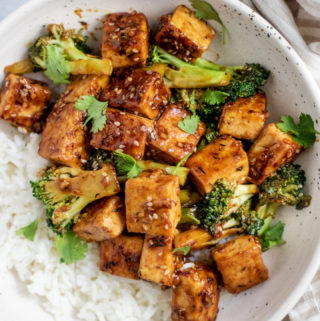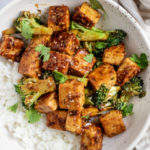 Tofu Broccoli Stir Fry with Garlic Ginger Sauce
Author:

Prep Time:

10 minutes

Cook Time:

20 minutes

Total Time:

30 minutes

Yield:

3

–

4

servings

1

x

Category:

Main Dish

Method:

Stove Top

Cuisine:

Chinese Inspired

Diet:

Vegan
---
Description
A flavorful savory sweet tofu broccoli stir fry mixed in an easy garlic ginger sauce. The perfect vegan weeknight dinner that comes together in 20 minutes.
---
1

block (450g) extra firm tofu,

pressed

and drained

2 tsp

cornstarch, divided

1 tsp

garlic powder

1/2 tsp

dry thyme

1/4 tsp

salt and pepper

2 tsp

neutral oil

1

–

2

cups broccoli florets, cut into bite size pieces
Stir Fry Sauce
1 tbsp

hoisin sauce

2 tbsp

soy sauce

1 tbsp

sesame oil

1 tbsp

maple syrup

1 tbsp

rice wine vinegar or lime juice

3

–

4

cloves garlic, finely minced

1

inch fresh ginger,  finely minced

1 tbsp

sesame seeds, optional

1/4 cup

water or vegetable broth
---
Instructions
Prep your ingredients before you start. Cube your tofu as desired and set to the side. 
In an airtight container add in 1 teaspoon of cornstarch, garlic powder, dry thyme, salt and pepper and mix well. Add in your tofu, seal your container and give a gentle toss to completely coat your tofu. 
Grab a small bowl and combine all of your stir fry sauce ingredients including the remaining 1 teaspoon of corn starch and whisk really well to make sure there are no cornstarch chunks. 
Heat up a large skillet over medium high heat and then add your oil allowing a minute to warm through. Add in your tofu pieces making sure they fit in one even layer, then allow to cook undisturbed for about 3 minutes or until your tofu has become golden, then flip and cook on the opposite side for an additional 3 minutes or until the tofu has seared. 
To the pan, add in your broccoli and stir frequently to help cook the broccoli evenly. You should see that your broccoli has started to become bright green in color and the stalks should start to lighten in color as well. 
Pour in your stir fry sauce and start to stir it into your tofu and vegetables making sure that everything gets evenly coated and your sauce is thickening. Once thickened to your liking, about 1-2 minutes, remove from the heat and serve immediately.
---
Notes
Don't forget to press your tofu to help remove as much excess water as possible. The amount of water in your tofu depends on it's firmness, the tofu brand used and how long you press it for. To help save time you can also use super firm tofu in place of extra firm tofu. 
Make sure to cook your stir fry on a medium high heat. Avoid low heat as this will lead to more steaming versus searing, which will impact the texture of your stir fry. 
Prep things in advance before starting. This will make sure that you are not missing a key ingredient and also make the cooking process less chaotic and lead to the best end result. 
Keywords: tofu and broccoli stir fry, tofu broccoli stir fry, garlic ginger sauce, tofu with broccoli
If you tried this recipe or any other recipe on the blog, then let me know what you thought in the comments below! And if you loved it, don't forget to rate it too. Feel free to follow on Instagram, Pinterest, and TikTok for the latest nutrition tips and recipe videos.
★ Catherine
This post contains affiliate links which means I will make a small commission if you purchase from those links. I only recommend and share products that I know, trust and personally use myself!