These sweet and sour chickpeas are a quick and easy healthy dinner option that only uses a handful of condiments to make the perfect sauce.
This past weekend we were kind of set to go and get take out. I was super excited, but ultimately, with everything going on in the world, we made the right decision to stay inside. It felt right to us, so we just went with the flow. So, I took takeout into my own hands and the results made me happy we stayed in. These sweet and sour chickpeas had the perfect sticky sauce with the play on sweet and sour flavors I absolutely adore. Faster to cook and put together compared to takeout and just as satisfying in my opinion.

Are chickpeas healthy?
Chickpeas are part of the pulse family. Pulses include all beans, lentils and peas. Chickpeas and other pulses are loaded with a host of different vitamins, minerals and antioxidants. Because of the wide array of nutrients they have, they are often associated with cardiovascular benefit, better blood sugar control and often lead to better satiety. Here are just a few of the nutrients you can find in abundance with chickpeas specifically.
Fiber
Iron
Folate
Protein
Zinc
How to make sweet and sour chickpeas
Whisk up a corn starch slurry as well as your sweet and sour sauce before you start cooking. Mix these up first to help make this recipe come together quickly.
Make sure to cook your aromatics. Start by cooking your onions until translucent and then layer in your garlic and ginger to add on a lot of flavor on the front end of this recipe.
Follow up with adding veggies and chickpeas and then covering both with your sauce and corn starch slurry.
Allow sauce to simmer and thicken for a few minutes and then serve.
How to become a better bean eater
Interested in the health benefits of beans, but not a bean eater? There are many ways to approach increasing the beans in your diet.
Slow and steady. If you don't eat beans, remember that they are high in fiber. Your gut might not be prepared to handle a large influx of fiber rich foods, which may lead to constipation. Aim to slowly increase in small amounts at your own pace. Start with 1-2 tbsp. Work your way up to 1/4 cup. Wait a few days and see how you feel before progressing closer to a 1/2 cup serving. Everyone is different, so some might be able to work up to that 1/2 cup faster than others. Be patient, and if you are not seeing improvements, definitely schedule a visit with a dietitian to come up with a proper plan of action.
Rinse and repeat. Canned beans are nutritious! Feel free to use these especially if you find it easier to get beans in this way. If you are concerned about the sodium, rinse your beans well under running water. This will not only remove a significant amount of sodium, but will also remove some of the starches that often lead to gas.
Add them to things you already love. Hate the taste of beans? Think about adding them to dishes you already love. Saute them in your favorite sauces or roast them with your favorite seasonings.
Change the texture. If you are not a fan of their texture, then transform them into a texture you prefer. You might like them pureed into a flavorful hummus for dipping or spreading. Or you might prefer them roasted to crispy perfection. Don't be afraid to experiment!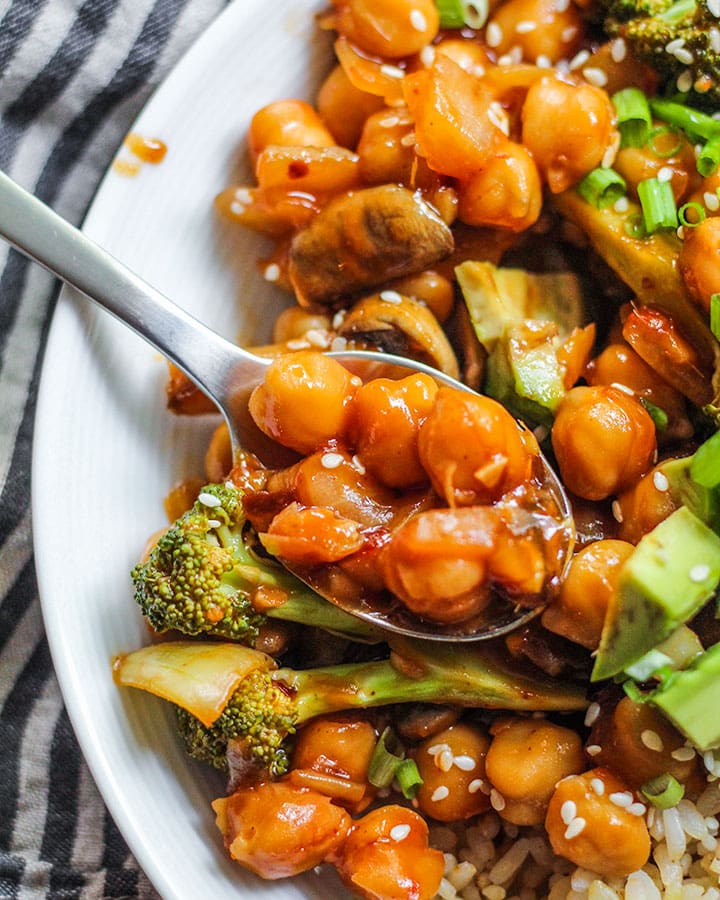 Tips for making a sweet and sour chickpeas
Corn starch slurry. Stir corn starch and water together and make sure that no lumps remain.
Use fresh garlic and ginger if possible. Fresh ingredients tend to amp up flavor better. If you do need to use garlic and ginger powder, you can opt for using 1 tsp garlic powder and 1/2 tsp ginger powder to replace the fresh ingredients.
Cooling and setting. When you finish cooking your chickpeas, give them a minute or two away from the heat to set. You will notice the more time that passes, the more sauce around the chickpeas will thicken.
Need more chickpea inspiration?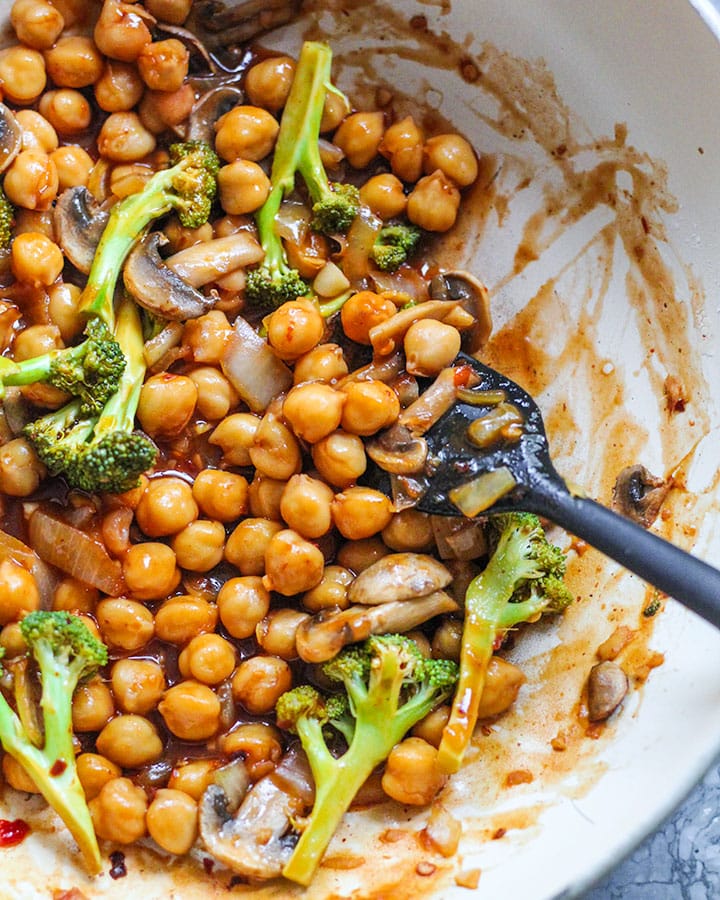 Print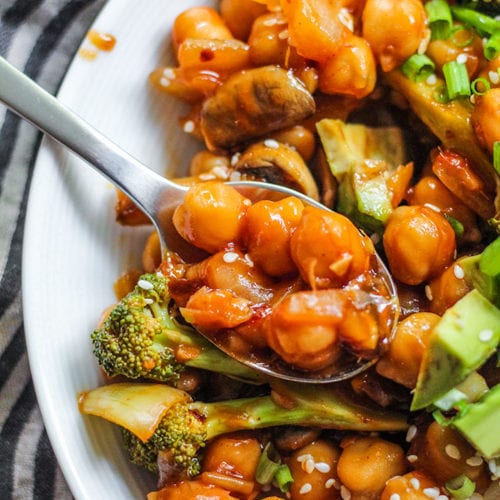 Sweet and Sour Chickpeas
Prep Time:

10 minutes

Cook Time:

10 minutes

Total Time:

20 minutes

Yield:

2

servings

1

x

Category:

Main Course

Cuisine:

American
---
Description
These sweet and sour chickpeas are a quick and easy healthy dinner option that only uses a handful of condiments to make the perfect sauce.
---
1/4 cup

water

1 tsp

corn starch

2 tbsp

soy sauce

1 tbsp

maple syrup

1 tbsp

ketchup

1 tsp

mustard

1 tsp

garlic chili sauce

2 tsp

vinegar

1/2

onion, diced

5

mushrooms, sliced

3

cloves garlic, minced

1

inch fresh ginger, minced

1

can chickpeas, rinsed and drained

1 cup

broccoli florets
---
Instructions
In a cup prepare corn starch slurry by whisking together corn starch and water until corn starch is fully dissolved, then set aside.
In a separate cup or bowl add soy sauce, maple syrup, chili garlic sauce, vinegar, ketchup and mustard and whisk together then set aside.
Bring a saute pan up to medium heat.
Add in onion and mushrooms to the pan and saute until onions are softened.
Add in broccoli, garlic and ginger and saute for 30 seconds to a minute until fragrant.
Add in chickpeas, stir together to combine, then add in the sauce you whisked together.
Stir well and then add in corn starch slurry.
Stir and allow to simmer on low until sauce thickens, about 3-5 minutes.
Remove from heat, stir well again and serve as desired.
---
Notes
Feel free to swap out the maple syrup with another liquid sweetener of choice or for equal amounts brown sugar.
If you do not have ketchup swap in for 1/2 tbsp tomato paste and a little extra sweetener to taste.
You can replace corn starch with regular flour, chickpea flour, or arrow root powder. 
Keywords: sweet and sour chickpeas
Did You Try This Recipe?
Then let me know what you thought! Share your creations by tagging me on Instagram with the hashtag #plantbasedrdeats
★ Catherine