These black bean brownies are surprisingly delicious and fudgy while also being healthy! Gluten free, easy to make, and only needs 10 ingredients!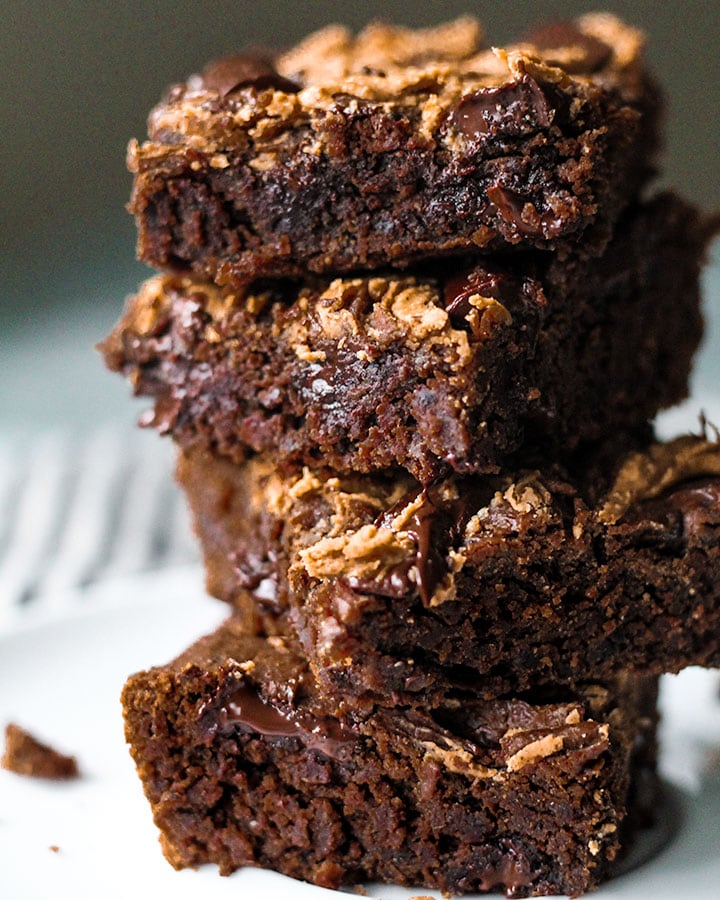 I'm going to tell you a secret. I have a massive sweet tooth. I love cookies, cakes….anything sweet. BUT! My absolute favorite dessert would be brownies. I will take any opportunity given to make them. And while I love making traditional brownies, I think there is definitely a space for some versions that include some healthier ingredients. That's how these black bean brownies came into existence. Still fudgy and still delicious as brownies should be.

Why black beans in your brownies?
The concept might sound strange, but adding the right ingredients to your black beans can make them into a really tasty dessert. While you can absolutely enjoy your typical brownies, I think it's so fascinating that different food combinations can still lead to the same enjoyable experience. The bonus is that you'll get a few more nutrients along the way.
The added benefits of adding black beans to your brownies
Higher protein: If you have a sweet tooth, this actually might be a benefit to add in as it can help to keep your blood sugars a little more stable.
Folate: From cell division to it's involvement in creating genetic material, this b vitamin is important to get in. Beans happen to be a good source of this nutrient as well.
Iron: Beans are a great source of iron on a plant based diet.
Fiber: Not only do beans have fiber, but they also happen to have a special type of fiber called soluble fiber that happens to be especially good for our hearts. Soluble fiber acts like a gel and absorbs water, but can also help to reduce bad cholesterol as well.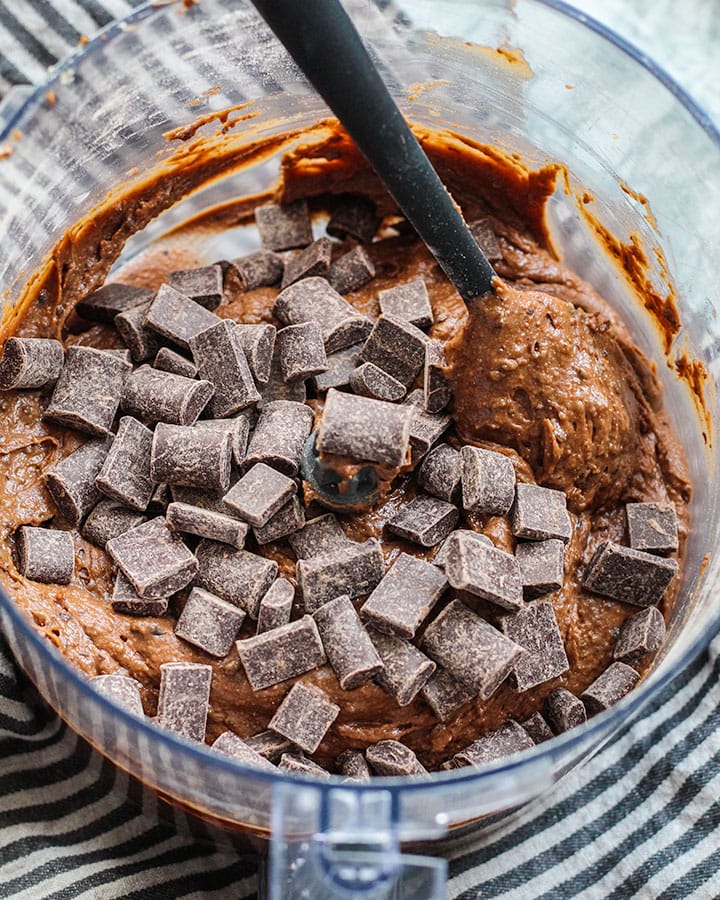 How to make black bean brownies
Prep the chocolate and almond butter. Melt the almond butter and chocolate chips together and mix into a smooth mixture.
Dry ingredients. Process your dry ingredients first to turn into a fine flour before adding the beans. This will help make sure you end up with a nice consistency.
Wet ingredients. This includes your beans. Make sure you are blending to make a smooth batter. If you have a weaker food processor, you can still get a smooth consistency, just blend to the best of your ability. Any really tiny pieces, should be unnoticeable once it bakes.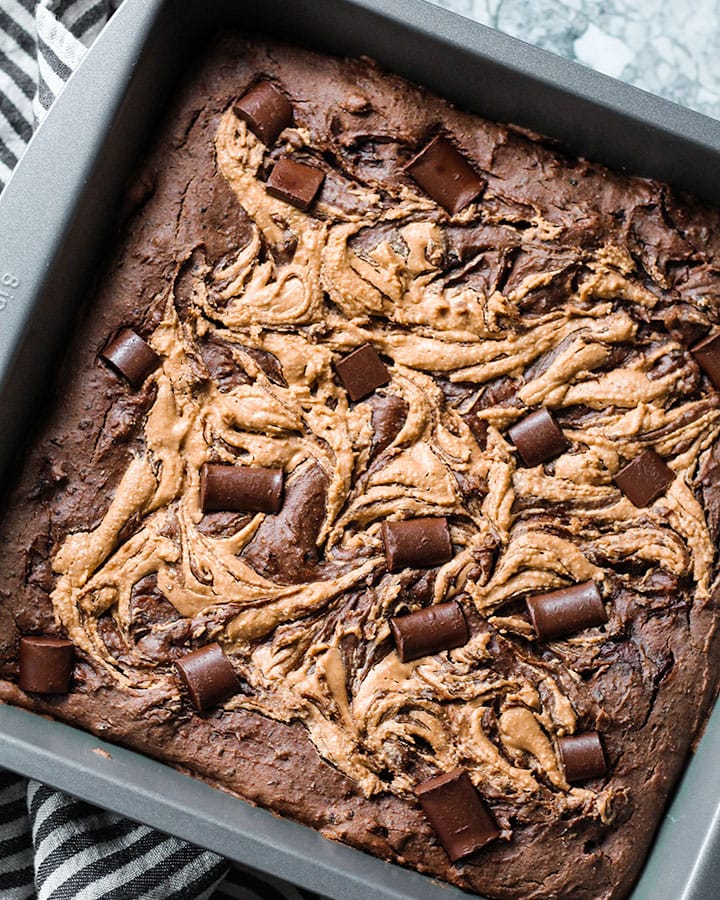 Tips for making black bean brownies
Blend it well. I suggest using a high speed food processor. The better the quality, the more smooth your batter will be and it will be more convincing your your audience eating them. If you see chunky pieces of beans in your batter, you unfortunately won't be able to fool many people with them. So make sure to blend, blend, blend!
Use runny nut butters. Having a runny nut butter makes all the difference as it will result in a smoother batter. Make sure to opt for natural nut butters that only have the nut in question plus some salt. If you are allergic to nuts, you can also make this with sunflower seed butter. If nut butter is stiff, microwaving it for a few seconds will help to make it a little softer.
Dutch cocoa. The type of cocoa you use will result in different flavor and color. Dutch cocoa tends to be richer in color and flavor, so I recommend this variety if you can find it. If not, regular cocoa still works.
Fold in the chocolate chips. If batter is really warm after processing, wait a minute or two for it to cool then fold in the chocolate chips. The chocolate chips are necessary as it will make these brownies more moist and fudgy. No one wants a dry or cakey brownie.
Need some more chocolate goodness?
Print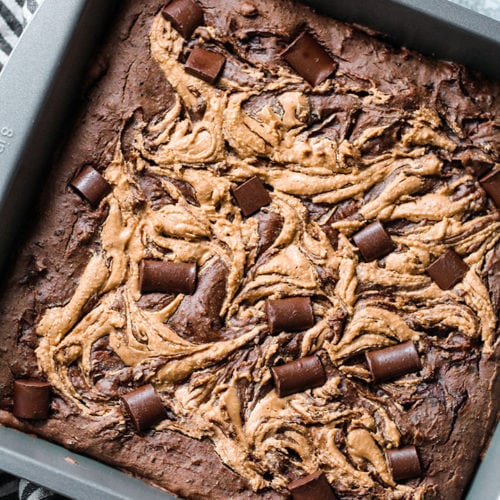 Black Bean Brownies
Prep Time:

10 minutes

Cook Time:

20 minutes

Total Time:

30 minutes

Yield:

9

pieces

1

x

Category:

Dessert

Cuisine:

American
---
Description
These black bean brownies are surprisingly delicious and fudgy while also being healthy! Gluten free, easy to make, and only needs 10 ingredients!
---
1/4 cup

chocolate chips for melting

1/4 cup

natural almond butter

1/2 cup

gluten-free quick oats

2 tbsp

cocoa powder

1 tsp

baking powder

1/4 tsp

salt

1

can black beans, rinsed and drained

2 tsp

vanilla extract

1/2 cup

maple syrup

1/3 cup

chocolate chips
---
Instructions
Set oven to 350F.
In a microwave safe dish, place 1/4 cup chocolate chips and almond butter together and place in microwave for 15 seconds. Stir to combine, and if not fully melted, place back in microwave for an extra 15 seconds until contents mix together smoothly.
Place all oats, cocoa powder, baking powder and salt into a food processor.
Process on high until oats have turned into a fine flour.
At this time, add in chocolate almond butter mixture, maple syrup, black beans, and vanilla extract, to good quality food processor and continue to process until a smooth batter forms.
You will likely need to scrap down sides as it processes to make sure batter is evenly mixed and smooth.
Add in 1/3 cup chocolate chips and fold them into the batter with a spatula or spoon. Do not process the chocolate chips.
Spoon mixture into a lined or greased 8×8 baking pan and spread as evenly as possible around your baking pan.
Place tray in the oven and bake brownies for 20 minutes.
Remove from oven and allow to cool for at least 10 minutes before cutting.
---
Notes
These brownies are especially good with an extra swirl of nut butter on top. Prior to placing brownies in the oven, add 2-3 spoons of a runny nut butter. With a butter knife, carefully swirl the nut butter around the surface of the brownies.
You can add other add ins like walnuts or sprinkle the top with salted pretzels for a tasty and fun treat.
The melted chocolate and almond butter will provide a nice moist and fudgy texture, so try not to miss this step!
To ensure this recipe is gluten-free make sure to use certified gluten-free oats.
If you are not using a a good quality food processor, your results may vary in terms of texture. Ultimately, if you have a low power motor, you might need to process for a longer time until the beans are as smooth as possible.
For a darker chocolate look, opt for dutch processed cocoa.
Keywords: black bean brownies
Did You Try This Recipe?
Then let me know what you thought! Share your creations by tagging me on Instagram with the hashtag #plantbasedrdeats
★ Catherine