Whip up these peanut miso chickpeas when you need a quick and easy dinner in less than 30 minutes. Coated in a tasty sauce blend of miso and peanut butter.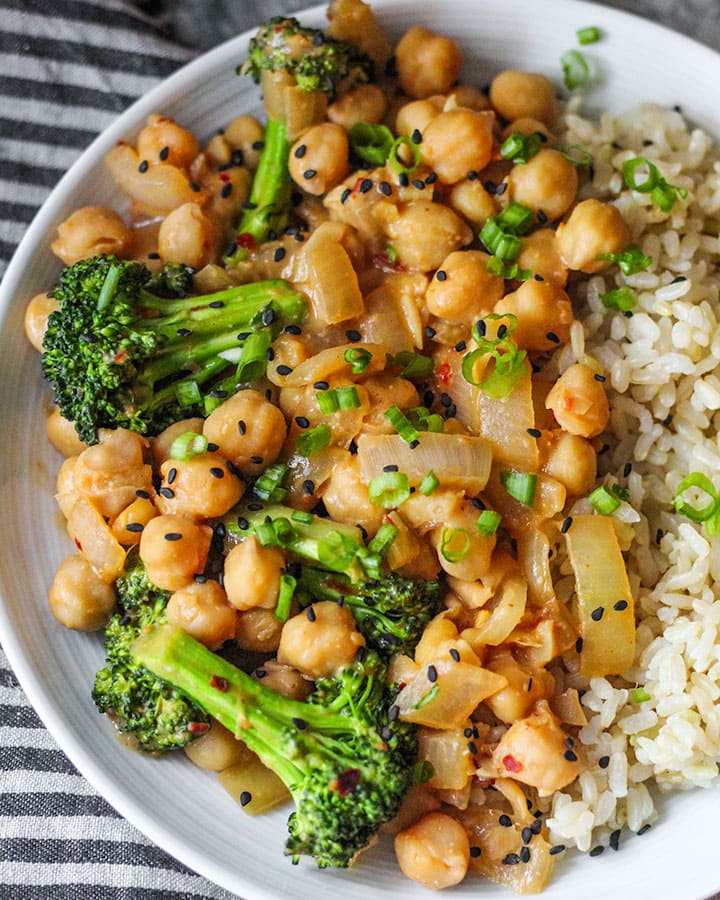 I was in a rush one day in the kitchen. I typically am because I always have a million things to do as I'm sure a lot of you do as well. Originally I was going to stop at the addition of miso paste, but the dish was still too watery. My instincts told me to grab my peanut butter, so I added just a small amount and all of sudden I had a very rich and creamy coating surrounding my chickpeas. Wasn't expecting much from this simple dish, but it only took one bite to fully fall in love with this dish. This dish is creamy, hearty, and is up there when it comes to my favorite chickpea dishes. Bonus, it takes less than 30 minutes to make.
Peanut Miso Chickpea Ingredients
Miso Paste: This is what distinguishes this dish the most. It adds a depth of flavor while also being a fantastic source of nutrients thanks to it's fermentation. Great for gut health thanks to it's probiotics and different from other sodium laden ingredients as it actually can have benefit to your cardiovascular system.
Onion: You can use the onion type you most prefer like red onion, shallots, or yellow onions.
Garlic: A dish is just not complete without it. This is one of 2 garlic sources in this dish. If possible, please use fresh garlic cloves.
Ginger: Fresh ginger is the way to go with this dish, but if you are in a pinch, feel free to use about 1/2 tsp of powdered ginger or more based on your preference.
Chickpeas: I adore chickpeas for being such an excellent source of plant based protein, but also very versatile in dishes like these. They pick up the peanut miso sauce so well.
Peanut Butter: This helps to thicken and add further flavor to the dish. Have a peanut allergy? Feel free to use things like almond butter or seed butters like sunflower butter.
Garlic Chili Sauce: Such a big flavor enhancer. You will often see this in my cooking because for a small amount it can add the perfect garlic flavor along with a nice balance of heat.
Vegetables of choice: I used broccoli, but feel free to add more vegetables based on preference. Things like carrots, cauliflower, spinach and others can work really well in this dish.
Tips for making peanut miso chickpeas
Add miso last. Miso is a delicate ingredient. Over cooking it will cause it to taste more bitter, so try waiting towards the end of cooking to add it in.
Layer your ingredients and flavors. I love to start off by cooking the mushrooms and onions. I follow this by adding the heartier vegetables like broccoli in and then the garlic and ginger, allowing these aromatics to become more fragrant. Building these flavors before adding the miso makes the biggest difference when it comes to the overall flavor of this dish.
Avoid overcooking your vegetables. You can use any vegetables in this dish that you prefer. Best tip for the best vegetable results that are not overcooked or mushy is to pay attention to their cooking time. For vegetables that take time to cook like broccoli, cauliflower or carrots, add them earlier during the cooking process. For things like spinach or peas that take less time to cook, add them at the end of cooking. These very delicate veggies just need a little steam to cook, so you can actually turn the heat off add the veggies and place a lid on top to steam for a short time.
How to serve peanut miso chickpeas?
I always love serving these chickpeas with rice. Choose short grain rices, whether its white or brown, as they tend to be stickier and more flavorful in my humble opinion. I also have had these chickpeas in whole grain wraps or loaded in lettuce cups. Feel free to double this recipe as well to use for meal prep throughout the week.
Need more creamy recipe inspiration? 
Print
Peanut Miso Chickpeas
Prep Time:

10 minutes

Cook Time:

15 minutes

Total Time:

25 minutes

Yield:

2

servings

1

x

Category:

Main Course

Cuisine:

American
---
Description
Whip up these peanut miso chickpeas when you need a quick and easy dinner in less than 30 minutes. Coated in a tasty sauce blend of miso and peanut butter.
---
1 tsp

miso

1/4 cup

warm water

1/2

small onion, diced

1/2 cup

sliced mushrooms

1 cup

broccoli florets

2

–

3

cloves garlic, minced

1

inch fresh ginger, minced

1

can chickpeas, rinsed and drained

1 tbsp

natural peanut butter, salted

1 tbsp

soy sauce

1 tsp

garlic chili sauce

1/2 cup

vegetable broth or water
---
Instructions
Prep all vegetables and aromatics as described in the instructions.
In a small bowl, add warm water and miso paste. Mix together with a fork to make sure miso is fully dissolved.
Heat a pan to medium heat. Once the pan comes to temperature, add in onion and mushrooms.
Allow to sit on the heat for a minute and then move around to saute for about 1-2 minutes until onions are translucent.
Add in broccoli florets, and move around in the pan with a small splash of water for about 1-2 minutes.
Follow this by adding in garlic and ginger and continuously saute this mixture until garlic and ginger are fragrant, about 1 minute.
Add chickpeas, soy sauce, garlic chili sauce, peanut butter and vegetable broth and stir to combine.
Allow mixture to come to a simmer and cook for 3 minutes.
Add in miso mixture, stir well and allow to cook until broth thickens as desired, about 2 minutes.
Remove from heat and serve with rice.
---
Notes
This recipe was tested with almond butter and is a great swap for peanut butter. You can also do this with other seed butters as well if you have an allergy.
Feel free to add additional vegetables, but be aware not to overcook delicate veggies too early. 
I used a mellow miso for this. Feel free to opt for white to yellow miso for this dish especially if you are new to miso.
Double the recipe if you'd like to meal prep this meal for the week.
To make this dish gluten free, use gluten free soy sauce or wheat free tamari.
Keywords: miso, peanut butter
Did You Try This Recipe?
Then let me know what you thought! Share your creations by tagging me on Instagram with the hashtag #plantbasedrdeats
★ Catherine