This spicy miso eggplant is full of umami flavor and a hint of sweetness. A delicious compliment to any bowl and super quick and easy to prep in the oven.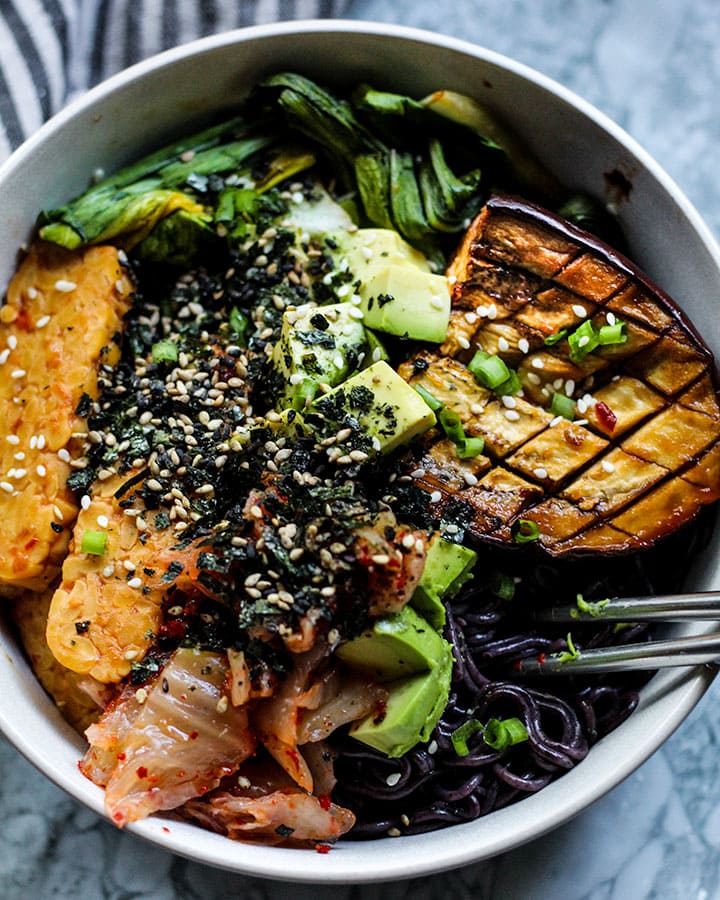 The inspiration for this miso eggplant stems from an amazing experience I had at a very unique Japanese restaurant in Brooklyn. This restaurant blew me away for a number of reasons. Besides the aesthetic, literally there was a real live large tree in the middle of the building with seating provided around it, the food was astounding. I enjoyed their miso eggplant, and it was a literal flavor bomb! Just melted in your mouth good. And it made me want to eat it everyday. So in hopes of enjoying that same experience, I got to experimenting in the kitchen. As a result, I made this super simple recipe that only needs 6 ingredients to prep!

What is miso eggplant? 
Miso eggplant is eggplant that has been cooked along with a miso sauce. Cooking methods can include sauteing or baking. The end result is a very delicate and tender eggplant bursting with umami flavors. If you are not sure what umami means, think about all of the flavors that usually come to mind when you are enjoying a well balanced savory meal. These flavors are commonly found in things like soups and meaty dishes. Fermented items like miso and soy sauce as well as earthy elements like mushrooms have a lot of umami to them. These elements can help elevate a vegetable like eggplant to all new heights of flavor.
Is Miso Eggplant good for you? 
Miso is a fermented soybean paste and is a great source of protein and b vitamins. While it can be categorized as a high sodium food, it actually does not impact our cardiovascular system in the same way as other highly salted foods. In fact, a few studies have shown some cardiovascular benefit. Eggplant is often looked down on because it is considered a nightshade vegetable. Many may see it as inflammatory, but in reality, eggplant is very nutrient dense and high in antioxidants, which can be anti-inflammatory. It too has also shown great results when it comes to it's benefit to our cardiovascular system.
How do you make spicy miso eggplant?
Soak your eggplant in a salt bath. This helps to reduce some of the bitterness of your eggplant.
It's all in the sauce. Miso has such a lovely savory flavor, so often times balancing it out with some sweet components can help balance it into the perfect sauce. Using the sauce featured in this recipe will soak up into the eggplant as it cooks, making each bite super juicy and flavorful. When adding miso to your sauce, make sure it blends in well, making sure there are no big chunks of it floating around.
Bake it up. To avoid things drying out, make sure you baste your eggplant in between. I provided suggestions in the recipe for time point checks, but feel free to adjust based on how your eggplant is looking as eggplants can vary in size.
Tips for making spicy miso eggplant
Use the right type of miso. For this dish, I suggest using either a white or yellow miso as they can be less intense than other types of miso. Might be easier to opt for these types of miso options if you are new to miso and not used to the flavor. For an amazing article explaining miso in more depth, I really love this article by Just One Cookbook.
Score your eggplant. By cutting into the flesh of the eggplant, you will ensure that more of the miso sauce penetrates into it. This will result in a nice and tender piece of eggplant. Start by cutting shallow lines into the flesh of the eggplant in one direction and then make cuts perpendicular to those lines to make a cross hatch pattern.
Keep basting your eggplant. Basting in between baking helps to make the eggplant juicy and flavorful by the end of the baking process.
How to enjoy miso eggplant
With something mild. I find this dish works best when served with something mellow like rice or noodles. Perfect way to balance the flavors you get from the eggplant.
Protein rich. To make sure this meal makes you feel full, don't forget to serve it with some plant based protein. Tofu and tempeh can be great items to compliment this dish with.
In my bowl. The featured bowl I have in this post shows you an example of what you can pair with your eggplant. I choose to serve mine with forbidden rice noodles as the base, some sauteed bok choy, some tempeh, kimchi, avocado and some nori flakes (optional, I personally like it). Make it your way and let me know down below how you enjoyed your miso eggplant.
Need more easy dinner inspiration?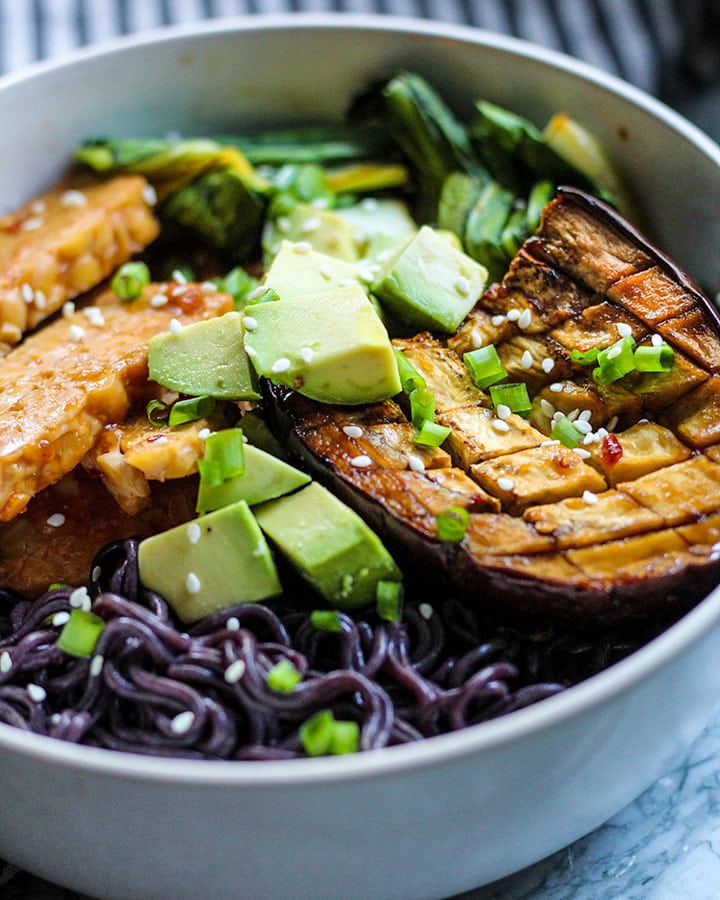 Print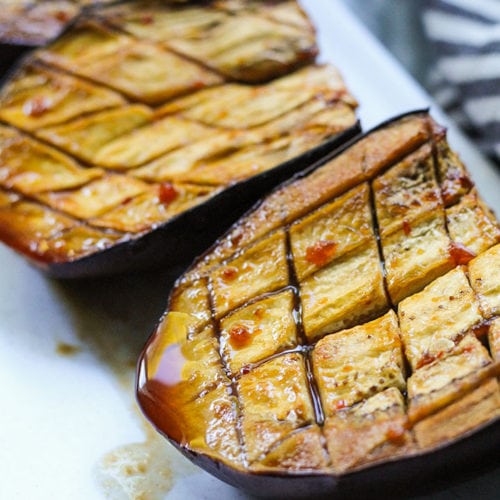 Spicy Miso Eggplant
Prep Time:

10 minutes

Cook Time:

20 minutes

Total Time:

30 minutes

Yield:

2

servings

1

x

Category:

Side Dish

Cuisine:

Japanese
---
Description
This spicy miso eggplant is full of umami flavor and a hint of sweetness. A delicious compliment to any bowl and super quick and easy to prep in the oven.
---
1

medium eggplant

2 tbsp

soy sauce or tamari

1 tsp

miso paste

1 tbsp

rice wine vinegar

1 1/2 tbsp

maple syrup

1 tsp

garlic chili sauce
---
Instructions
Set oven to 375F.
Prepare eggplant by removing cap with a knife. Then, cut eggplant directly in half lengthwise and then cut each side in half.
Fill a medium bowl or dish with salted water and submerge eggplant pieces under water for about 10 minutes.
Whisk together remaining ingredients until miso is fully dissolved then set aside.
Remove eggplant from salt water bath and score it in a cross hatch pattern then place on a lined baking sheet, flesh facing up.
Using sauce, brush or laddle on a small amount over top the eggplant, making sure that sauce gets in between the cuts on the surface.
Reserve sauce on the side for basting. Take tray of eggplant and place in the oven for 8 minutes.
Pull eggplant out and baste again with the miso sauce. Place eggplant back in the oven for another 6-8 minutes.
Remove eggplant for a final time and baste. Place eggplant back in the oven for another 4-5 minutes or until middle of eggplant is soft.
Brush eggplant slices with additional sauce as desired. Carefully transfer eggplant to a serving plate and enjoy as desired.
---
Notes
Cooking time will depend on thickness of eggplant. If eggplant is thinner or smaller, it might not require the 3rd baking time and cook a little faster. Adjust based on eggplant. 

Perfect to pair with rice or ramen noodles as desired. For additional balance, try also including a good source of protein. 
Did You Try This Recipe?
Then let me know what you thought! Share your creations by tagging me on Instagram with the hashtag #plantbasedrdeats
★ Catherine