These vegan Pastelitos are pockets of dough stuffed with ground tempeh simmered with Dominican spices. They can be baked or fried as a delicious Christmas appetizer.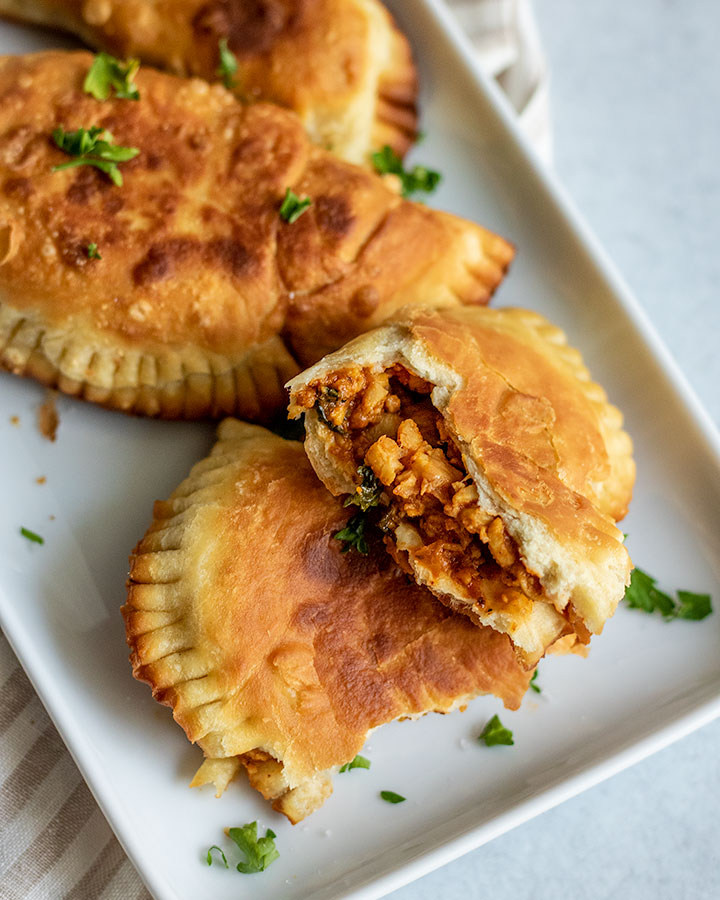 It's that time of the year where my consumption of pastelitos increases exponentially. It's a treat I always look forward to, and it's even more important to me because my mom adapted her traditional recipe to make it vegan for me.
No one should have to give up their culture or traditions just because they don't eat meat. In fact, I feel closer to my culture because of it. To replace the meat in these pastelitos, I used tempeh simmered in some traditional Dominican flavors. Stuff this rich plant protein filling into your dough, seal and then cook. Totally, up to you if you want to fry, bake or air-fry.
Why You'll Love These Little Appetizers
They are so tasty and fun to eat. The tempeh filling is simmered in Dominican spices and the dough is nice and flaky when fried or crisp and golden when baked.
Makes for the perfect holiday appetizer. My mom always makes a ton of them at Thanksgiving and Christmas for us to enjoy and will just put them on a plate for us to snack on while dinner is cooking.
You can customize the filling to your liking. While I'm sharing a savory preparation, you can also fill them with some sweet additions as well.
They are vegan and give me an opportunity to stay connected with my Dominican roots.
Key Ingredients and Substitutions
Dough: I have a homemade recipe listed in the recipe card. My mom used to always make her dough from scratch, but especially with how busy life can get, having an alternative really helps her a lot. When she wants to make this fast, she will use Discos from Goya, which you can find in the freezer section. As brands can change ingredients, just make sure to read the ingredients to make sure it's vegan (should use vegetable shortening).
Tempeh: The base of our filling. Tempeh is a great substitute for this recipe because the normal recipe requires a simmer time for the meat. Simmering the tempeh will not only give you the flavor, but also helps skip the step of steaming it to remove some of it's bitter undertones.
Spices: We are using a combination of adobo seasoning, sazon, cumin, coriander and oregano. If you don't have access to the Latin spices, sazon and adobo, you can also try to

make them using these recipes

.
Cilantro: Helps to brighten up this dish with a lovely fresh and herby taste. If you can't tolerate cilantro, you can omit or try adding fresh parsley.
Olives & Vinegar: Both of these ingredients provide tang to balance out the strong flavors of the spices and tomato paste. If you are not a fan of olives though, feel free to omit them from the recipe.
How to Make Pastelitos
The Filling
You want to sauté your onions and peppers first until softened, then crumble in your tempeh along with the garlic and continue to sauté. Add in the soy sauce along with the spices and continue to cook.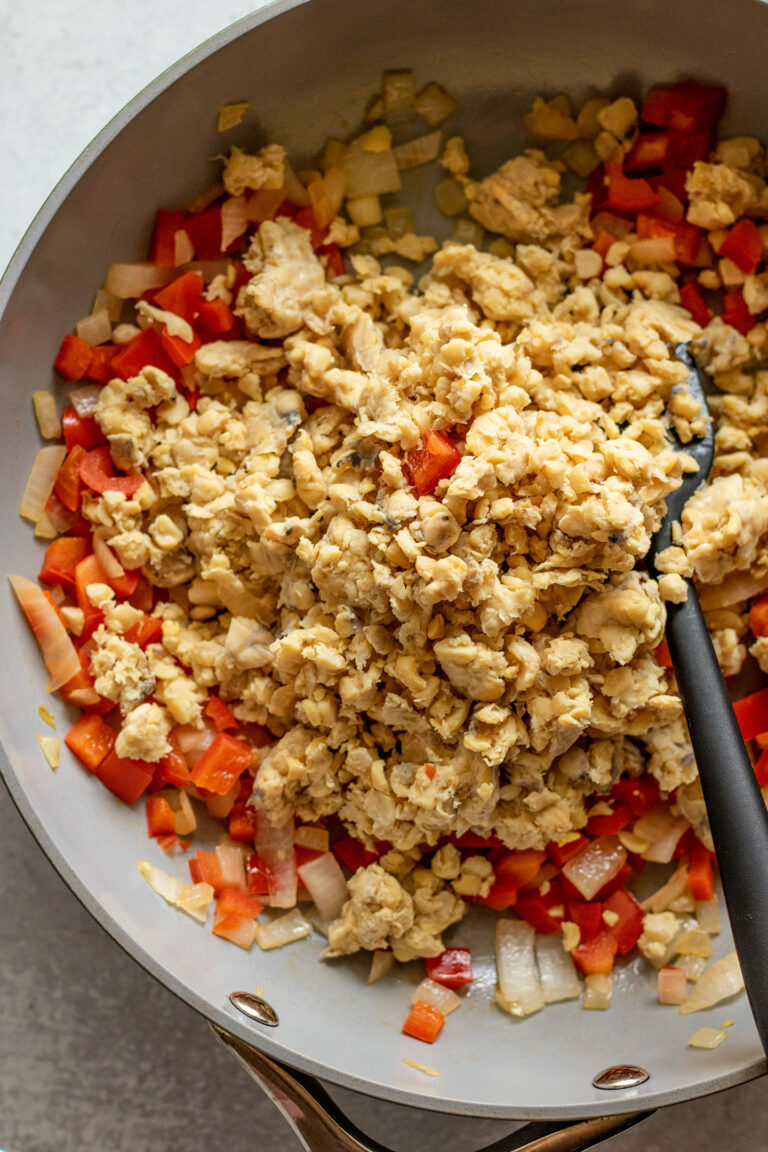 Make a well in the middle of your pan and stir-fry the tomato paste for a minute. Mix the tomato into the tempeh until fully combined. Pour in your vegetable broth and allow to simmer until the tempeh has absorbed a good portion of liquid. Then, stir in the cilantro, Spanish olives and vinegar. Once fully cooked, remove from heat.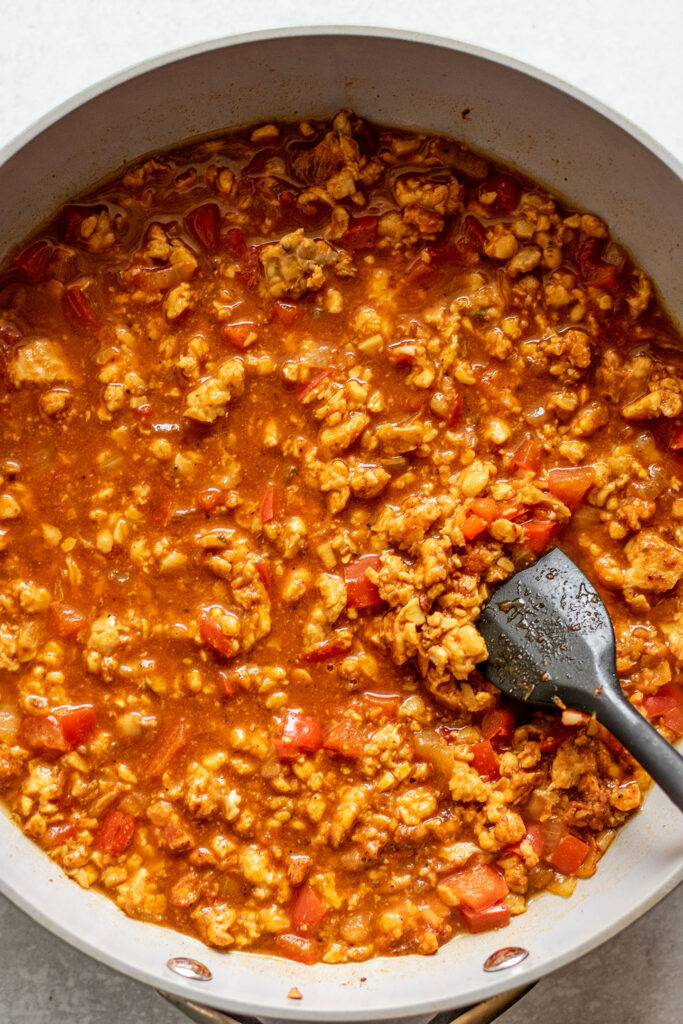 The Dough
To make the dough, start by combing all of your dry dough ingredients in a bowl and giving them a good mix. Add in your oil and water and mix until a smooth dough forms. If the dough appears dry, add a small splash of water at a time until the dough has formed. Make sure to let it rest covered for at least 10 minutes in a greased bowl.
Stuffing the Pastelitos
Cut your dough into 8 equal pieces and then roll each piece into a ball. One at a time, place the dough on a floured surface and with a rolling pin, roll the dough until it's fairly thin. With a thin lipped glass, you can cut perfect circles out of your dough and use these to fill with your filling or use the bigger dough to make larger sized empanadas.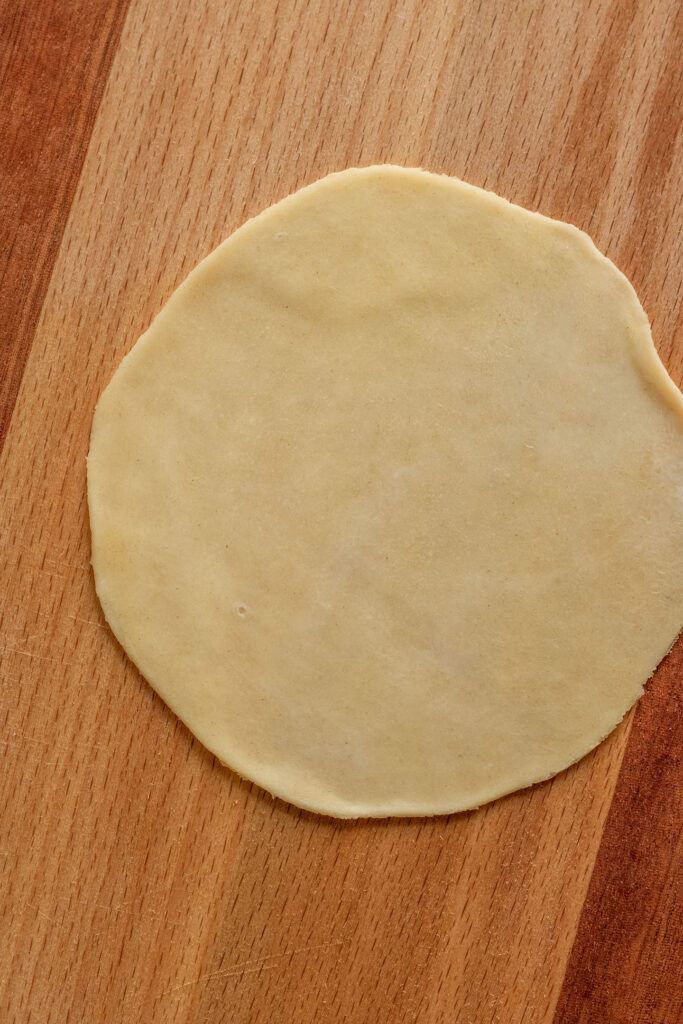 If cutting out your dough, roll the circle shape once more to make sure it's fairly thin. Now stuff with about 1 tablespoon of filling and then pull one side of the dough over to meet the other side. Pinch the ends together and with a fork, crimp the ends to properly seal. Repeat with the remaining dough and filling and then pan fry or bake as desired.
Tips for Perfect Pastelitos
Roll your dough thin. Thin dough will crisp up beautifully when fried and maintain the classic look of traditional pastelitos.
Don't let your dough dry out. Make sure you are covering your dough as you go. Cover the bowl of dough you are working with using a cloth and as you are sealing the pastelitos, place them on a plate covered with a clean kitchen towel to keep the dough fresh before cooking them.
Make sure your pastelito is sealed properly before cooking. I like to pinch the dough and then go around the edges with a fork to ensure that it is sealed properly.
Adjust cooking times based on the size of your pastelitos. Bigger sizes will require just a little more time in the oven to fully bake. Monitor and adjust as needed. Generally you need an extra 2-3 minutes for baking.
Frequently Asked Questions
Can I use a different filling?
You can use a variety of different fillings for your Pastelitos and Empanadas. I love to use lentils as an alternative or you can use vegan ground meats as well. For the lentils, I would recommend cooking 1/2 cup dry lentils first in some vegetable broth. Then add the lentils in where you would add the tempeh in this recipe. You just won't need to add as much liquid. So simmer everything in 1/2 cup of broth and allow it to mostly cook off before using as your filling.
How do I make these gluten-free?
While I have not personally tested them out myself, a few of my followers on Instagram have made these using an old recipe where the dough is made with flour and sweet potato. Instead of the flour, they use oat flour and they managed to work well. You can find my Sweet Potato Empanadas here for reference.
Can you bake these?
I have included 3 different methods for making this recipe. To make this traditionally, shallow fry in oil until golden on both sides like the instructions indicate. For air frying, depending on the size, I find that 3-5 minutes works well at 375F. For baking, place on a baking tray and place in the oven at 325F for 15-20 minutes.
Is this a recipe I can make in advance?
This recipe is best made fresh because it's easy for the dough to dry out if you aren't careful. However, you can make the filling in advance to help save on time. Cook and cool the filling and then place in the fridge in an airtight container for up to 4 days.
How to Serve
Around the holidays when we gather together, we often have these served as appetizers, but they also can be paired with a meal.
This filling for the pastelitos, vegan carne molida, is also great on it's own! Try it paired with some rice and plantains. It was often something I would eat regularly growing up, so having an alternative is everything.
More Dominican Recipes to Try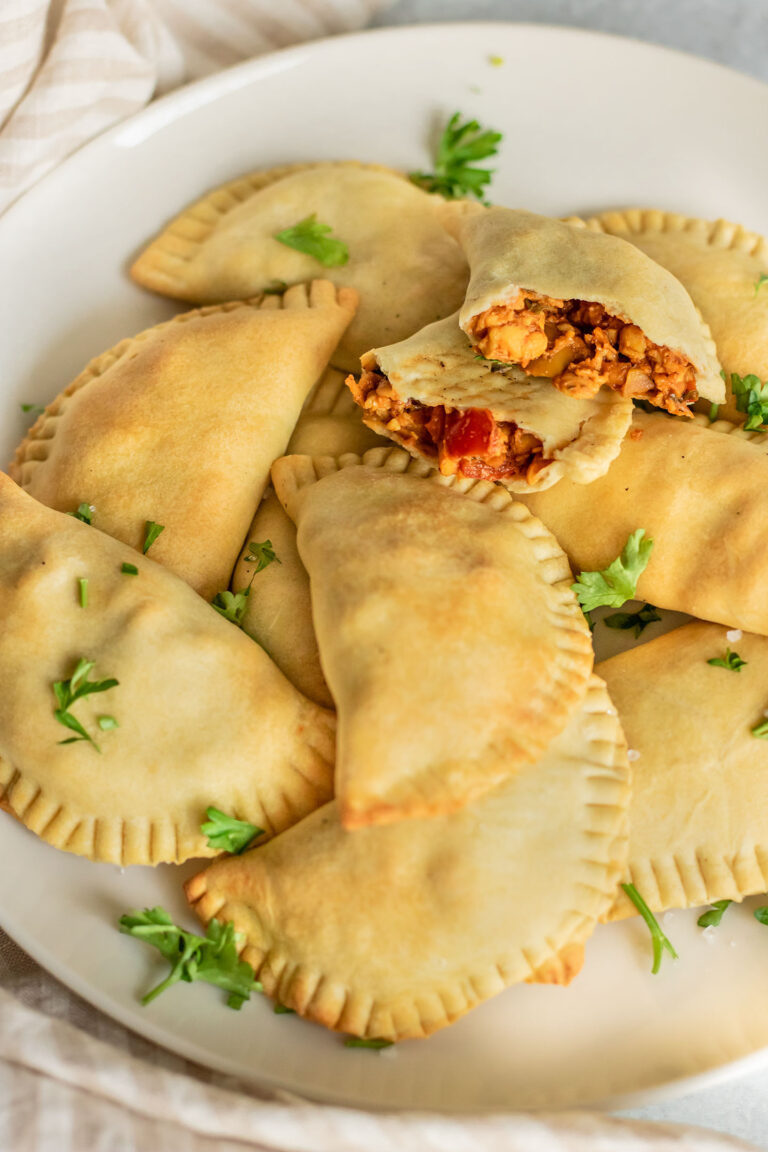 Print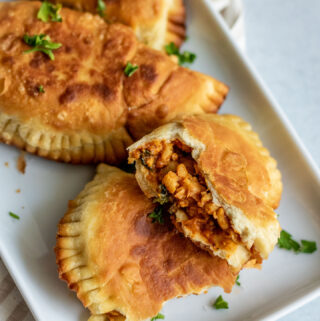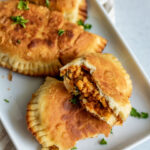 Vegan Pastelitos
Author:

Prep Time:

20-30 minutes

Cook Time:

30 minutes

Total Time:

0 minute

Yield:

16

–

18

small pastelitos

1

x

Category:

Main Dish

Method:

Baking

Cuisine:

Dominican

Diet:

Vegan
---
Description
These vegan Pastelitos are pockets of dough stuffed with ground tempeh simmered with Dominican spices. Can be baked or fried as a delicious Christmas appetizer.
---
Vegan Carne Molida
1

–

2

tbsp olive oil

1/2

large yellow onion, diced

1

block (227g) tempeh, crumbled

2

garlic cloves, crushed

1/2 cup

diced bell pepper

1 tbsp

soy sauce

2 tsp

sazon

1/2 tsp

adobo seasoning, ground cumin, coriander, and oregano

1 tbsp

tomato paste

1 cup

vegetable broth

2 tbsp

chopped green Spanish olives, optional

1/4 cup

cilantro

1 tbsp

white wine vinegar
Salt and pepper to taste
Dough
2 cups

all purpose flour

1/2 tsp

baking powder

1/2 tsp

baking soda

1/2 tsp

salt

3 tbsp

oil or vegan butter

1/3 cup

water or more as needed to make a smooth dough
---
Instructions
Vegan Carne Molida
Heat up oil in a medium sized skillet, then add in your onions to sauté until translucent.
Stir in your tempeh and sauté along with the minced garlic sauté for about 2 minutes.
Pour in soy sauce and sprinkle in spices then continue sautéing until fragrant.
Make a well in the middle of your pan and add your tomato paste and a small splash of oil.
Cook your tomato paste for about 2 minutes, then stir into the tempeh mixture.
Pour in vegetable broth, stir, then cover with lid and simmer for 10 minutes.
Remove the lid and allow to cook for 5 minutes.
Stir in your cilantro, Spanish olives and vinegar, then allow to continue cooking until most of the liquid has absorbed.
Dough
Add flour, baking powder, baking soda and salt to a bowl and mix well to combine.
Fold in the oil and water and kneed flour until a smooth dough forms. If dough is really dry, add additional water by the tablespoon until dough is formed. If too wet, add a small amount of flour.
Allow your dough to rest for 5 minutes before rolling.
Preparing the Pastelitos
Roll out your dough and cut out little 4 inch circles from the dough using a thin lipped glass.
Take a disk and roll it out a little thinner on a floured surface.
Spoon about a tablespoon of filling into the center of the dough, making sure not to overfill it.
Take one end of your dough and fold it over to meet the other end. Press your fingers down to seal and reseal again using a fork all around the edges of your dough. If you have excess dough around the edges, feel free to trim it using a knife.
Cooking
To bake, place your prepared pastelitos on a baking sheet and spray with a little oil then bake in the oven at 375F for 10 minutes and then set to broil on high for 2-3 minutes until dough has browned.
To air fry, brush the pastelitos with some oil and place in the airfryer at 375F for 3-5 minutes until golden.
To fry, place 2 cups of oil in a pan and heat up before frying each empanada on both sides until golden. Rest the cooked empanada on a paper towel to soak up excess oil, then serve as desired.
---
Notes
For best results, make sure to roll your dough out fairly thin. If it's too thick, it won't be as flaky for frying.
Make sure the pastelitos are properly sealed to avoid the dough from opening up while they are cooking.
If you'd like to make gluten-free baked pastelitos, follow the instructions for this Sweet Potato Empanada recipe, but use oat flour. This was tested by other users and they had great success with it.
Keywords: vegan pastelitos, dominican pastelitos, meatless pastelitos
If you tried this recipe or any other recipe on the blog, then let me know what you thought in the comments below! And if you loved it, don't forget to rate it too. Feel free to follow on Instagram, Pinterest, and TikTok for the latest nutrition tips and recipe videos.
★ Catherine
This post contains affiliate links which means I will make a small commission if you purchase from those links. I only recommend and share products that I know, trust and personally use myself!