These caramel macchiato overnight oats are perked up with some fresh brewed coffee and sweetened with some medjool dates. The perfect breakfast pick me up that will keep you feeling energized and full throughout the morning. Easy to assemble for grab and go meals throughout the week.
I wasn't always a fan of the idea of overnight oats. Cold oats just didn't sound very appetizing to me. However, I got curious about them after I started seeing various flavor combos. The more I thought about it, the more it made me want to experiment with it. And after trying it for the first time while traveling, I realized how much I was missing out! Not only were they really easy to customize to your preference, I loved the fact that you could make them in advance and then just take them with you. Oats, you can pretty much eat anywhere.
After playing around with a few flavors, I was very interested in trying out a coffee flavored one. And that's where the idea of these caramel macchiato overnight oats came about. While I'm not the biggest fan of coffee on it's own, I really love the flavor and smell of it. That alone for me is enough of a pick me up first thing in the morning. So, if you are interested in having a fun treat first thing in the morning, let's get you on your way to making these overnight oats.
Why You'll Love These Caramel Macchiato Overnight Oats
Makes oats more enjoyable in the morning by perking it up with a little coffee.
Great source of fiber and healthy fats thanks to the combo of oats and chia seeds. This combo helps to increase fullness and satiety for more stable energy levels in the morning hours.
These can be made allergy friendly by swapping out regular rolled oats for gluten free rolled oats and making sure to use a nut free plant milk instead.
Key Ingredients
Oats: I used rolled oats for this, but feel free to also sub out for quick outs if you prefer that texture
Chia Seeds: These gel up nice and help make our oats thick, but you can use ground flaxseed if needed
Medjool Date: Make sure it's soft; this is what gives our oats a more caramel flavor
Cardamom: Pairs really nicely with the sweet caramel flavors of the date
Brewed Coffee: Can't have a macchiato without the coffee
Unsweetened Oat Milk: I love using fortified milks because they also help to make sure we get all the nutrients we need; I explain this more in my Balanced Vegan Plate article
Salt: This can actually help with toning down some of the bitter notes in your coffee
How To Make Overnight Oats
Begin prepping these oats the night before. In a jar or Tupperware container, combine oats, chia seeds, cardamom, dates, salt and mix to combine.
Pour in milk and vanilla and stir well to combine, seal it and place in the fridge to sit overnight.
When ready to serve, pour coffee overtop and feel free to top with some frothed milk and a pinch of cinnamon to really give it a coffee feel.
Tips for Making Overnight Oats
Just in case you are like me and forget to set your oats overnight, I often cheat a little and will mix everything together morning of and just let it sit to gel and thicken for at least 30 minutes to an hour while I'm getting ready. Once gelled, mix well and continue recipe as described with the coffee and foam.
You can mix your oats all together once the coffee is added, or feel free to scoop through the coffee into the oat layer and enjoy bite by bite to preserve the layers.
If you do not have a medjool date, you can do a mix of almond butter and maple syrup to give a similar caramel flavor. Feel free to also keep it simple and use some brown sugar if you are just interested in the sweetness with the coffee notes. Regardless, it should still compliment the coffee very well here.
Not a fan of coffee? Totally understand! You might instead be interested in some matcha flavored oats instead. This is typically my go to caffeine option, and still gives you everything you might be looking for when it comes to an early morning treat.
Need some extra substitutions?

Feel free to use quick oats instead of rolled oats.
You can sub the chia seeds for ground flaxseeds.
You can replace the coffee for some brewed matcha instead.
More Oatmeal Recipes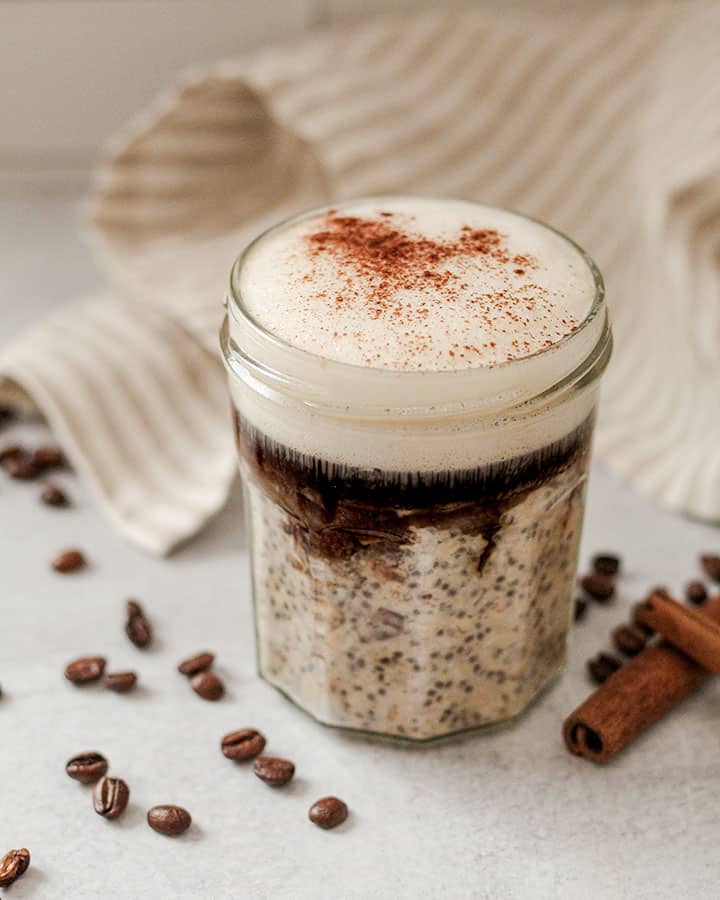 Print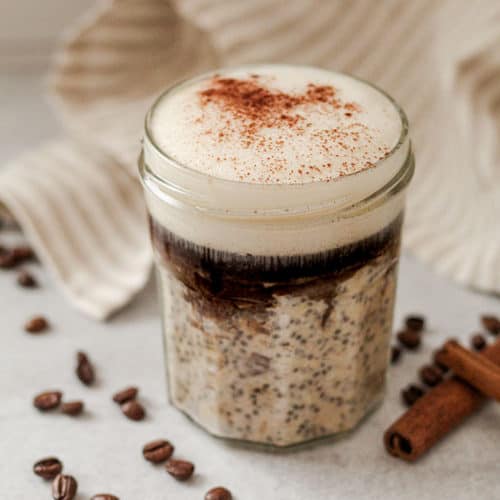 Caramel Macchiato Overnight Oats
Author:

Prep Time:

10

Total Time:

10 minutes

Yield:

1

serving

1

x

Category:

Breakfast

Diet:

Vegan
---
Description
These caramel macchiato overnight oats are perked up with some fresh brewed coffee and sweetened with some medjool dates.
---
1/2 cup

rolled oats

1 tbsp

chia seeds

1

medjool date, mashed
Pinch of salt
Pinch of cardamom

1/4 tsp

vanilla extract

1/2 cup

+

2 tbsp

unsweetened oat milk or almond milk

2

–

3

tbsp brewed coffee
Optional Toppings
Frothed Plant Milk
Cinnamon
---
Instructions
In a jar, add oats, chia seeds, dates, cardamom, salt and mix to combine.
Pour in milk and vanilla and stir well to combine.
Allow oats to sit for a few minutes and then give another good stir before covering and placing in the fridge overnight to set.
When ready to enjoy, pour your brewed coffee over top. To go for a fancy coffee look, feel free to add a scoop of frothed milk foam on top with a pinch of cinnamon and enjoy.
---
Notes
Frothed Milk
Frothing your milk is totally optional, but definitely makes these oats more fun to enjoy. You can froth your milk a few different ways. You can use a regular frothing machine or a handheld frother if you have it available. If using a machine, set it to heat and froth your milk. If using a handheld device, heat up your milk in the microwave for a minute until it's hot. With your handheld frother, just place into the milk and begin to froth your milk until some foam forms at the top. If using a handheld frother, just note that it is recommended you opt for a barista style milk that is easiest to froth.
Keywords: overnight oats, oatmeal, coffee, quick and easy, meal prep
Did You Try This Recipe?
Then let me know what you thought! Share your creations by tagging me on Instagram with the hashtag #plantbasedrdeats
★ Catherine