Going vegan can be both really exciting and also really overwhelming. There is a lot of information out there, and some of it might even sound conflicting. So which way do you go if you want to go vegan? Let's explore that and provide some evidence based guidelines to help anyone new or old to the vegan lifestyle the best way to approach it. This vegan plate guide will help give you a better understanding of important vegan food groups to focus on.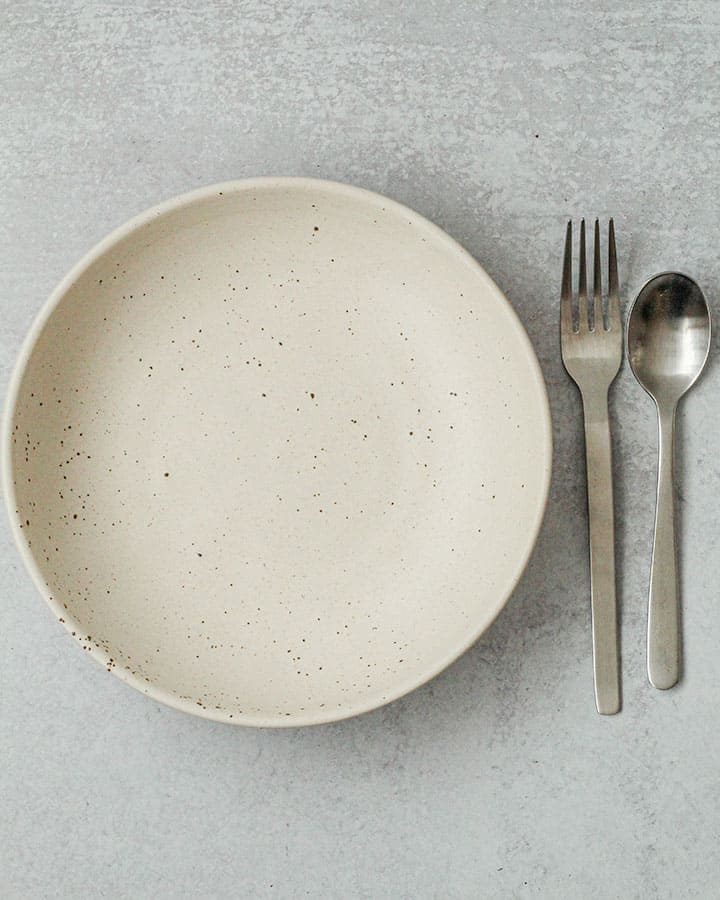 What does it mean to be vegan? 
Vegans follow personal choices that help to reduce harm to humans, animals and the planet. In reducing harm, the first thing you might think of when it comes to eating with vegan intentions is what vegans don't eat. Vegans do not eat meat, poultry, fish, or any additional animal byproducts like eggs, dairy products and honey. But let's not end it there, let's bring focus to what vegans can eat because often times this helps to better explain the diversity of choices vegans still have and also helps to normalize this way of eating. Vegan eating patterns tend to encompass food choices centered around the consumption of plants including vegetables, fruits, whole grains, nuts, seeds, and legumes in various whole food and processed forms. Both whole food options and processed vegan foods can help meet various nutrient needs while supporting social normality, convenience and accessibility.
Following these specific dietary patterns can be appropriate for all stages of the life cycle including pregnancy, lactation, infancy, childhood, adolescence, older adulthood, as well as for athletes. These guidelines are also recommended and supported through the Academy of Nutrition and Dietetics and sited along with their full peer reviewed and evidenced based position paper. 

Things to remember
It's also important to remember that for all the things that vegans are known not to do, there are many things that vegans do outside of eating to help minimize harm. This can include animal and human activism, examining purchases, environmental work to reduce waste, exploring cultural practices that can further creating and providing vegan goods, etc.
And if you've been vegan curious, but hesitant for any reason, just know that any work towards vegan or even doing more plant based thinking leads to a reduction of harm. Something is always better than nothing. We do so much better when we think of what we can still do instead of what we can't do. So even if you are not ready to commit 100%, consider even the small things that can still have a huge impact and still align with your morals. At the end of the day, there is no such thing as a perfect vegan, but we can do our best each day to live with our best intentions.
Benefits of Adopting a Plant Based or plant forward Lifestyle
Those following plant based diets high in fiber and diverse in vitamins, minerals and antioxidants are often at a reduced risk of various chronic diseases including:
Heart disease

Type 2 diabetes

Hypertension

Certain types of cancer
Further benefits also include:
Lower cholesterol

Lower blood pressure

Improved blood sugar control

Improved weight maintenance 

Less impact on the environment
The Vegan Plate Method
It can seem very overwhelming to switch to a plant based diet. You might be concerned primarily with making sure that you are getting enough of what you need nutritionally. And even if you aren't looking to be 100% plant based, we can all benefit from adding more plants to our diet. So let's take a look at the vegan plate method.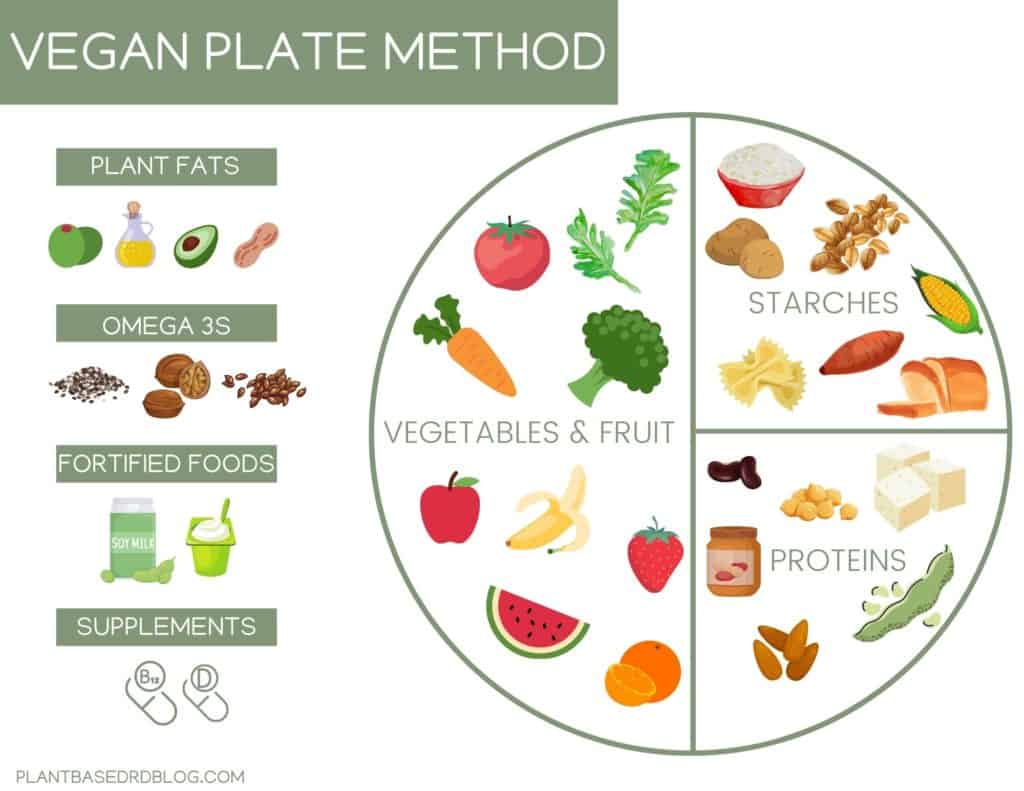 Vegan Plate Method – Download PDF
Fill ½ your plate with fruits and/or vegetables
Benefits:

Vitamins, minerals, fiber, and antioxidants that can help reduce the risk of developing chronic disease. Fiber rich foods can also help lead to more meal satisfaction and improve overall digestion.

Sources:

Any and all fruits and vegetables that you can find either fresh, frozen or even canned especially if it helps with convenience. Always look to include a range of different colors such as your green veggies (like leafy greens, bok choy, and broccoli) and orange veggies (like carrots, butternut squash, and bell peppers).

Pro Tip:

General guidelines recommend between 5-7 servings of fruits and vegetables daily. A serving is an equivalent of about 1/2 cup fruit or vegetables cooked. If you can't get a fruit or vegetable in at a main meal, you can also aim to get them in as snacks. 
Fill ¼ of your plate with starches or grains
Benefits:

Provides a wonderful source of sustained energy especially if you opt for more complex carbohydrates that are higher in fiber. Research indicates that complex carbohydrates may help to reduce cardiovascular disease risk.

Sources:

Oatmeal, rice, whole grain breads, wheat/corn tortillas, whole grain pastas, quinoa, barley, millet, teff, amaranth, buckwheat, sweet potatoes, white potatoes, corn, etc.

Pro Tip:

Aim for a least half of your daily grain servings to be whole grains for the increased fiber benefit! 
Fill ¼ of your plate with plant-based protein

Benefits: 

Help maintain adequate muscle, adds additional fibers to the diet, aids in some absorption and increases your satiation (keeping you full longer).

Sources:

Soy products such as tofu, tempeh and edamame, seitan, green peas, all beans, chickpeas, all lentils, split peas, and most vegan meat replacements. Other sources that are both protein and fat sources are anything in the nut and seed categories, such as hemp seeds, sunflower seeds, pumpkin seeds, walnuts, almonds, peanuts, and all forms of nut and seed butters. 

Pro Tip: Thinking protein swaps can help make this transition easier. Replace dairy milk with soy milk for similar protein profiles, opt for tofu in place of eggs to make tofu scrambles, use seitan strips to get the chew or bite you might miss from meats/poultry, mix some lentils with smoky spices to mimic ground meats, and even use chickpeas as the replacement protein in chicken/tuna salad recipes.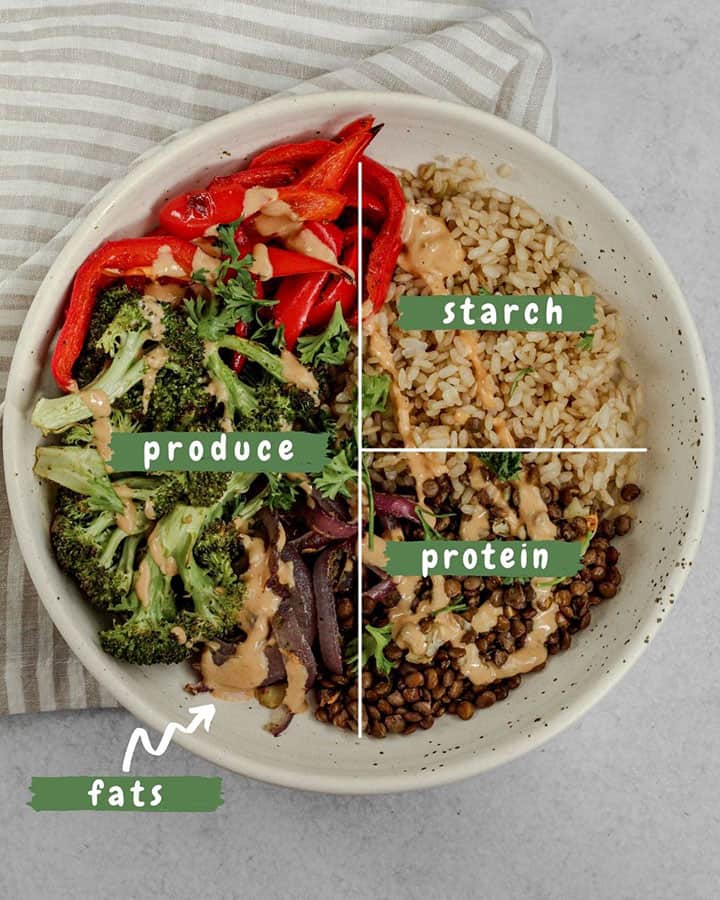 Additions to our vegan plate
Awesome! So we got through the foundation, let's accessorize. Accessories help to make the basics more fun and satisfying. They also serve their own unique purposes.
Healthy Fats
Why:

Fats are an essential part of a healthy diet and are integral to many functions of the body including the absorption of vital nutrients. Fats also help to cushion our most important organs to keep them safe. 

Recommendations:

Consume healthy fats from whole food sources where possible as whole fats tend to have more fiber, vitamins and minerals.

Vegan sources: Avocados, nuts (walnuts, almonds, cashews, etc.), seeds (sunflower, pumpkin, chia, hemp, and flaxseeds), nut butters, olives, coconut, and plant based oils (olive oil, canola oil, etc.). Aim to also include omega 3 fats like walnuts, ground flaxseeds, hemp seeds and chia seeds.
Fortified Foods
Why: Including fortified foods in your diet will help to make sure you are hitting certain nutrients in a lot easier.
Recommendations: Check the nutrition facts label and ingredients to confirm that a plant based dairy product or cereals are fortified with specific vitamins of interest like Vitamin B12, Vitamin D, and/or Calcium. Typically 2-3 servings can help with meeting some nutrients. Even if consuming fortified foods, still consider including supplements as detailed below.
Vegan Sources: Various plant based milks (like almond milk, soy milk, cashew milk, and pea protein milk), some plant based yogurts, cereals and juices like orange juice.
Supplements
Vitamin B12:

Rarely found in non-animal based food products. Vegans need to obtain vitamin B12 from  fortified foods and/or supplements. You can either use a daily B12 supplement of between 25-100 mcg daily or 1000 mcg x2 weekly. 

Vitamin D: Depending on where you live in the world and how often you are out in the sun it might be difficult to synthesize enough vitamin D, so either ensuring that fortified foods are included in the diet and/or a supplement with 600-800 IU/day may be appropriate to help with maintaining normal levels.
DHA & EPA: In line with recommendations for consuming omega 3 rich foods. To help replace recommendations for fish oil supplements, you can use an algae based supplement as a swap.
Let's Apply What We Know with some recipes
I find the best way to really understand the concept of the plate method is to actually put it into practice. Think of what we just reviewed as a check list and ask yourself at meals if different plant based food groups are being represented through out.
Supplements
Take as appropriate in pill form and don't shy away from fortified foods. They can be another key area to help ensure you are meeting your nutrient needs. Look for these nutrients in fortified plant based milks and cereals.
Vitamin B12
Vitamin D
Omega 3s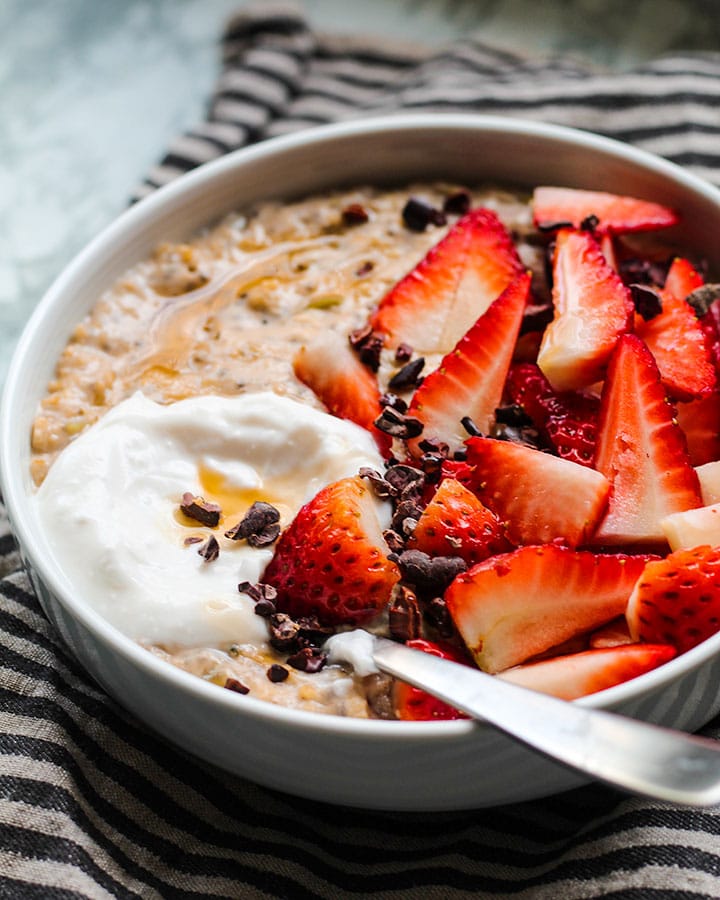 Breakfast: High Protein Strawberry Oatmeal
1/2 Plate Produce: Strawberries
1/4 Plate Protein: Fortified Soy Milk, Hemp Hearts, Flaxseeds, Chia Seeds
1/4 Plate Starch: Oats
Fats: Hemp Hearts, Flaxseeds, Chia Seeds
Other Nutrients: Omega 3s, Calcium, Vitamin D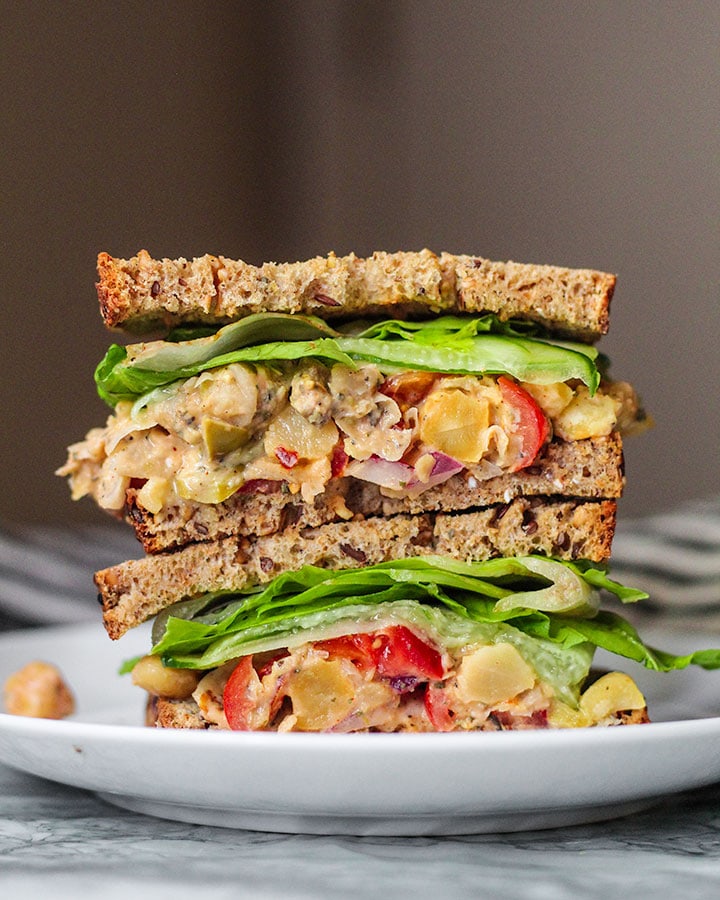 Lunch: Mediterranean Inspired Chickpea Salad Sandwich
1/2 Plate Produce: Tomatoes, Red Onion, Spring Mix
1/4 Plate Protein: Chickpeas
1/4 Plate Starch: Bread
Fats: Tahini, Olives
Other Nutrients: Vitamin C, Beta-Carotene, Calcium, Potassium, Fiber, Iron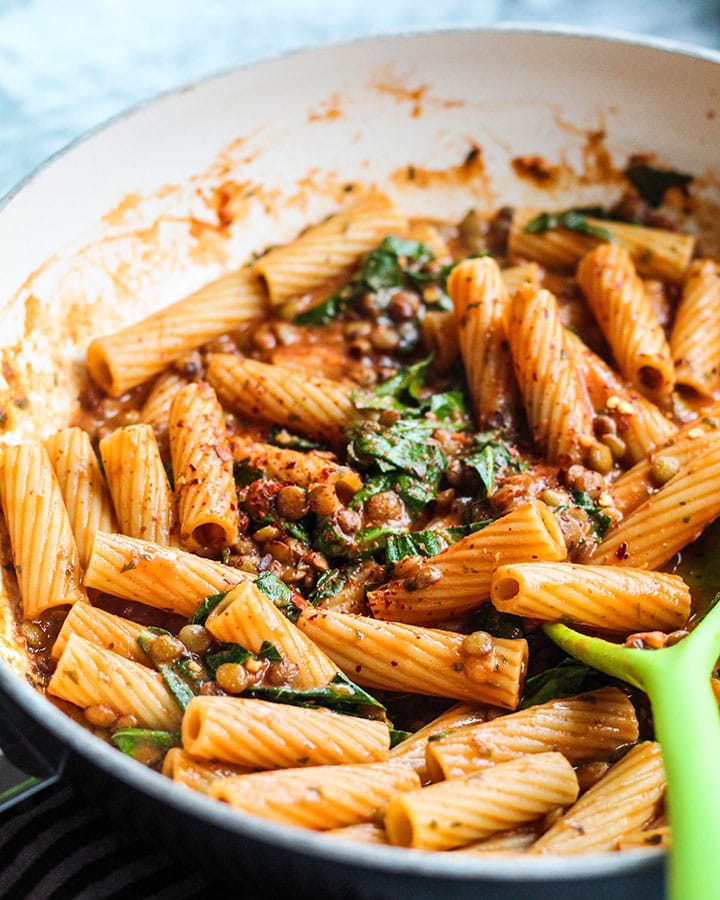 1/2 Plate Produce: Tomatoes and Kale
1/4 Plate Protein: Lentils
1/4 Plate Starch: Pasta
Fats: Tahini
Other Nutrients: Calcium, Vitamin C, Beta-carotene, Potassium, Fiber, Iron
Snack: Oatmeal Raisin Cookie Bites
1/2 Plate Produce: Raisins
1/4 Plate Protein: Peanut Butter
1/4 Plate Starch: Oats
Fats: Peanut Butter & Flaxseeds
Other Nutrients: Omega 3s & Fiber
Summing It Up
I'll say it again, all of this information may seem like a lot. The goal here is to make you aware of what we should be aiming for regularly. That doesn't mean you need to be militant or obsess about every single nutrient. If anything, this is to emphasize the importance of varying up your food choices every so often and make sure that you are not falling deficient on nutrients that can lead you to stop being vegan.
If you are really struggling with building a balanced plate, I highly recommend that you look for and meet with a registered dietitian that supports your vegan or plant based efforts and can provide evidenced based solutions to any issues you might have. Dietitians can help with evaluating what you are eating
References
Melina, Vesanto, et al. "Position of the Academy of Nutrition and Dietetics: Vegetarian Diets." Journal of the Academy of Nutrition and Dietetics, vol. 116, no. 12, 2016, pp. 1970-1980., doi:10.1016/j.jand.2016.09.025
Davis, Brenda, and Vesanto Melina. "Becoming Vegan: the Complete Reference on Plant-Based Nutrition." Becoming Vegan: the Complete Reference on Plant-Based Nutrition, Book Publishing Company, 2014, pp. 431-437.
Looking for more tips?
» Head over to my last nutrition article and learn all about Grocery Shopping Like a Vegan Pro.
Share your favorite vegan finds by tagging me on Instagram with the hashtag #plantbasedrdeats
★ Catherine