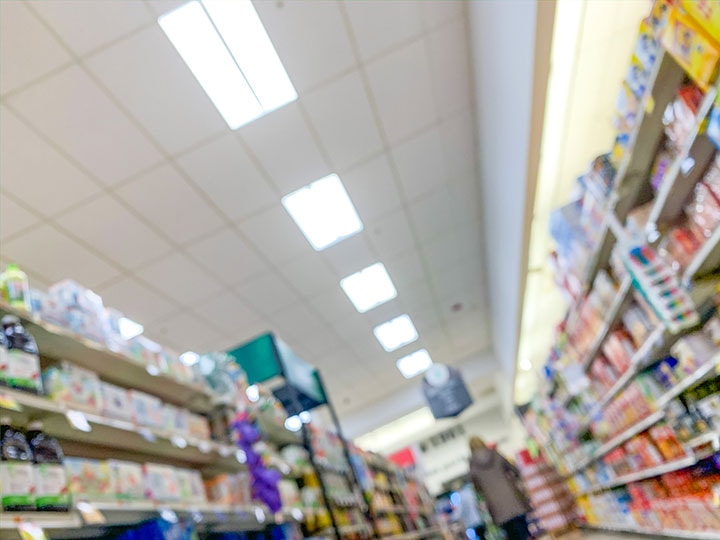 One of the scariest things about going vegan is trying to figure out where to start. Honestly, it can feel very overwhelming because there is so much information out there. It also doesn't help that if you go to a grocery store, there are thousands of different products to choose from. What's vegan? Can you be healthy while including convenience items? What should you buy? How can you combine it all to make a satisfying meal? Don't worry. I have you covered! In fact, I even created a pdf guide that goes over every section of the store, goes over vegan products as well as tips so you can shop like a vegan pro. I included a list of all current products with detailed descriptions. You'll also find a grocery list pdf that includes some balanced meals and snacks you can put together easily. So, let's get started!
Vegan Grocery Shopping Notes
The thing I hear the most from people looking to go more plant based is that it is time consuming. I wanted to make this grocery guide to show you that there are a lot of options out there to make this lifestyle as convenient or complicated as you want. There are so many companies that offer vegan options now. And on top of that, we have so many convenient options we can use to still stay in balance and nourished. All of the products you see listed below are based off of a general grocery store chain. I left out specialty stores because not everyone has one in their area. On top of that, I wanted to highlight products that weren't overly expensive. So while my store did carry some great specialty products that were vegan, if it was ridiculously priced, I left it out.
Special note! Grocery items are always changing. Keep an eye out on old and new products and always double check to confirm ingredients when purchasing items! Don't always rely on the front of the package to determine if something is vegan or not. Also important to note that I can't guarantee that all of these items will be in your local store.
Plant Based Convenience Items
Convenience items absolutely have a place in a healthy lifestyle. Not only can they save us time and encourage us to cook more, but they can also have a good amount of nutrients to them as well. Below, you will find a listing of some common grocery convenience items that happen to be vegan and can be mixed and matched into some yummy snack and meal ideas. A printable guide can be found here, and discussion about the items can be found in this post. Please note, I based this list off of items in a regular grocery store. You can definitely find more vegan items in different places, but I tried to make it as user friendly and inclusive as possible. Most items here are under $5. In the printable handout, I've included some meal and snack ideas using the grocery items listed below.
Produce Section
Love Beets: Super convenient beets that are already peeled and cut for you. Super simple to add to salads, but did you know they can be a way to amp up nutrition for things like homemade hummus, smoothies, and even blended into dessert batters (chocolate beet truffles are insanely delicious, and the beets balance so well with the chocolate flavors).
Franklin Farms: Includes plant-based burgers, tofu bites, seitan, and falafel. Easy protein options that can be heated in a toaster oven and used for sandwiches and bowls. Typically find these in the produce section, typically separated from the rest of the fresh veggies. Please note, not all products from this brand are vegan, so confirm by checking ingredients.
Fermented Foods: Kimchi and fresh sauerkraut are perfect additions to bowls, sandwiches or wraps. These are the two most common I've found in multiple stores. Please note, not all fermented foods like kimchi are vegan. Be mindful to look at ingredients for other brands.
Fortune Noodles by JSL Foods: Note that this brand is not all vegan, but the below products are marked vegan right on the front of the package. Can't emphasize how good these noodles taste. I love adding a lot of veggies to either the yakisoba while stir frying or using some spinach and broccoli to heat up in the udon broth.

Vegan Yakisoba (Spicy, Soy Ginger, Teriyaki)
Vegan Udon
Tofu: Includes regular and flavored tofu. I love to flavor my own tofu (you can find my recipe for easy tofu here), but there are days when you might not feel up to making your own tofu. So note that the following brands do have pre-flavored tofu. Easy to heat up as is or you can cube it for salads or stir fries as needed.
Bare Snacks: Provides both a great option for sweet and savory snacking. These are healthier fruit and veggie chips with very simple ingredients and great texture. I recommend these often, and I find that a lot of stores offer an equal alternative, which is nice if you're looking for something different. They are real fruits and veggies, backed and never fried.
Harvest Snaps: Similar to Bare Snacks, but featuring snap peas in a fun crispy way. They do come in multiple flavors. Be aware that not all the flavors are vegan. Current vegan flavors include the original with sea salt, barbecue, tomato basil, mango chile lime, habanero, and black pepper. All their products are gluten-free!
Fresh Gourmet Crispy Veggies: A fun salad topper! They are little veggie strips, which can be a fun little crunchy replacement for croutons or crispy noodles on salads. Be careful with other products in this line because they can contain dairy, but a good majority of the crispy veggies are vegan.
Hummus: Includes Boar's Head, Sabra, Tribe, etc. There are just so many brands of hummus. They all taste great and really it comes down to your own personal preference!

Regular: The easiest one to find is typically by Sabra. Reliable, clean ingredients and super accessible at most grocery stores nationwide. I don't think I've ever stepped in a store and not seen Sabra in some refrigerated case.
Dessert Hummus: The best I've tried is the Boar's Head Dark Chocolate Dessert Hummus. It literally is a dessert dip. You can't taste the chickpeas, and I find that it is a fun little change up from doing something like Nutella.

Nasoya: It's a brand you can find in pretty much every grocery store. They have a lot of great products, and most recently they made their egg roll wrappers and wanton wrappers vegan! You can now find it labeled on the front of the package!
Baking Aisle
Enjoy Life Chocolate Chips: There used to be some great chocolate chip options, but I find that a lot of brands recently have changed their ingredients to include things like milk. However, this line is pretty reliable because they very focused on keeping their products allergy friendly! They are gluten free, kosher, vegan, halal certified, fodmap friendly, dairy free, egg free, fish free, sesame free, soy free, peanut free and tree nut free for a good majority of their products.
Vegan Egg Replacer: Was surprised to see so many different options at my grocery store. Lot's to choose from. Personally, I go for flaxseed, but if you are not a fan, the others work really well too.

Ground Flax Seed: The cheapest one is a ground milled version by the company Hodgson Mill, which is amazing. As an egg replacer, combine 1 tbsp ground flax with 3 tbsp of water to get the equivalent to one egg in a baking recipe
Crackers
Cereal/Granola
Barbara's Puffins: Compared to other cereals, this brand I adore because it definitely includes more whole grains, less sugar and more fiber! It also includes a good fortification of calcium in it.
Envirokidz: Simple ingredients, kid friendly as well as gluten free. They do try to keep sugars low and still provide some great balance with whole grain ingredients.
Love Grown: Offer cereal and oatmeal cups that focus on plant based ingredients. All of their cereals are vegan and gluten free. Their cereals are made using a bean based blend, but you'd never know because they taste like awesome cereal.

Cereal
Oatmeal Cups
Granola

Kashi: A very plant forward company with great cereal options. While not all products are vegan (some contain honey), there is a good amount of vegan products from this brand.

Wheat Biscuits
Go! (watch out some of them have honey)

Bear Naked: Have loved the Bear Naked Fit line products V'Nilla Almond and Triple Berry are vegan and pretty great because their sugar content is low.
Quaker: While not all of their products are vegan, there are quite a few instant oat options that are vegan! They also have some great overnight oats options. Their plain, original offerings are typically vegan. Often times if I'm in a rush, I'll use an instant packet and flavor it myself with cinnamon and other spices like ginger or cardamom.
Purely Elizabeth: Really tasty granola. Can be a little on the expensive side, but I often will purchase if on sale just as a way to change up textures. Good to add to plant based yogurts or I love to sprinkle it on top of cooked fruit to make a super easy fruit crumble, no baking required! Their products are certified vegan.
Bob's Red Mill: Big fan of their muesli and oatmeal cups. They are also great with marking on their website if a product happens to be vegan. If you aren't familiar with muesli it's a breakfast cereal made with oats, whole grain wheat, nuts/seeds and dried fruit. Super yummy and can be eaten hot or cold.
Canned Foods
Beans: Plain beans are typically just that plus water and salt. Please note if the beans are in a sauce, you should check the ingredients to confirm the ingredients (especially true for baked beans). These are perfectly convenient because now you don't have to cook them from scratch. Most canned items now offer a BPA free lining too, which is great. Regardless of the sodium content, please note that you can rinse beans under running water for a few minutes and significantly reduce the amount of sodium in them! Many companies are now creating no salt or lower salt options too, so keep a look out!
Heinz Vegetarian Beans: Even though these say vegetarian, the ingredients are vegan. Perfect saucy beans in case you need something quick and already prepared.
Canned Vegetables: Similar to the disclaimers I mentioned with beans. Often, people worry about the nutrition content of canned vegetables, but an important thing to remember is that often canned/frozen options can be more nutritious than fresh as they are prepared and packed within 48 hours of picking from the farm. Fresh fruits and veggies can sometimes sit refrigerated for weeks before making it to their store destination. Never mock or turn your nose up to anyone that has to rely on canned foods. They work really well!
Fruits in 100% Fruit Juice: Not everyone can afford or do fresh fruits. If you are opting for canned fruits, that is absolutely fine! One thing to note is to make sure that they are packed in 100% fruit juice to avoid added sugars.
Convenience Meals in the Aisles
Tasty Bite: One of my favorite quick meal options! Literally, just microwave and you have meal ready. They include some great Indian inspired bean options as well as rice to pair it with. Get some microwave frozen veggies and you are ready to eat without much effort! For your convenience, I have linked to their products that are vegan. You can also filter for gluten free options. They are good about labeling their products.
Annie Chun: Another favorite easy meal option, this time focusing on Asian inspired meals. They have some great noodle bowls and really convenient microwave and go rice. They've definitely been a life saver multiple times and super tasty!
Amy's: One of the most reliable and most common vegan/vegetarian offering at most stores. I first found them thanks to their canned soups and chilies. As you will notice, they have a very extensive line of products. Really love their ingredients and they provide a nice balance of various nutrients in their meals.
Right Foods: A variety of cups that just make life super simple. There is a great number of different soups, quinoa salads, noodle cups, etc. And they are all vegan and pretty accessible at most grocery stores I've visited. You might find them in multiple spots in the store. For example, I often see them in both the soup aisle and natural/gluten free sections of the store. Please note, not all of their products are gluten free, but they have a nice selection.
Kitchen & Love: Another great option that is shelf stable. These fit in your desk and only involve combining the two cups together. No need to heat or add water. The cups are microwavable if desired, and they are BPA free. Really great flavor and can be paired with other protein options for a more filling meal.
Seeds of Change: Include great shelf stable rice packets that only need to be popped in the microwave. They have blends of rice and quinoa or beans together as well as flavored rice options as well.
Microwave Rice: The following brands are typically very easy to find at grocery stores. They include various options in terms of grains as well as various ways of preparing them (microwave, boil, etc.). Side note, please check ingredients for flavored rice options as sometimes they are not always vegan.
Pasta/Noodles
*Note: A good majority of pasta brands on the shelf are often vegan. Always check ingredients as some of them can have egg added to it. I highlighted the below options as they provide some good gluten free options and in some cases good protein sources as well.
Condiments
Soups
Breads/Wraps
Butter
Earth Balance: The original and my personal favorite. They have both tubs and butter sticks.
Country Crock: Now offers a plant based option to their normal line. These plant butters vary in the type of oil they include in their oil mix. This includes option made from olive oil, avocado oil or almond oil blended in.
I Can't Believe It's Not Butter: Another great vegan alternative spread. Simple ingredients and really good for people that need a lower sodium option!
Yogurt
Milk
*Note: You can find milk in the refrigerated section, but also in the aisles usually in cartons or single serve containers. You can determine which milk is best depending on how much you need at a given time.
Frozen Meals
Frozen Products
Vegan Meats/Cheese
*Notes: When feeling bored of beans, tofu or tempeh, it is totally okay to fall back on some tasty pre-made vegan meats. They definitely come in handy and provide a nice chew, texture.
Bars
Plant Based Protein Powders
*Note: Everyone has an opinion about protein powders. Personally, it's always going to be based on preference. Instead of providing my opinions, I will link below the options I have found pretty easily in my local markets. If you are worried about making the invest towards a protein powder, you can find single serve pouches of some protein powders either at Target or GNC. Good for testing out what you might prefer and then it won't feel like you invested a lot for something you don't like.
Snacks
Treats
If you got this far down the list, I do want to thank you for taking the time to read this! Hoping this list can help to make you feel more confident in the grocery store. I will be periodically coming back to update this list as time goes by.
Now's Your Turn!
What are your favorite grocery store convenience items that help make meal and snack prep easy? Make sure to share your tips in the comments or by tagging me on Instagram with the hashtag #plantbasedrdeats
★ Catherine