All of the people I know at some point or another ask me if all I eat is oatmeal. My answer is generally no because as much oatmeal as I do eat and enjoy, I don't always want a bowl of oats. I also find that in general, there aren't nearly enough people that enjoy oatmeal as much as I do. A couple of things often get in people's way when it comes to oatmeal. The first is texture. If the idea of eating mush repulses you, then there is a good chance you'll hate oatmeal. So when texture is the issue, change it up. If you like crunchy, try making granola with your oats. If you want to feel like you are eating cake for breakfast, then baked is the way to go. Enter this amazing, Blueberry Baked Oatmeal.
Baked oatmeal is the perfect option for those that are either bored with oats or need a more appealing texture. Don't get me wrong, stick a bowl of regular oatmeal in front of me and I am content. But there is no denying that something baked out of the oven is just something extra special.
What do you need to make baked oatmeal?
It's fairly simple. Major things you want to make sure to include are something that will bind everything together and then something that will help it stay fluffy and moist. This will also involve a lot less liquid then your normal oatmeal.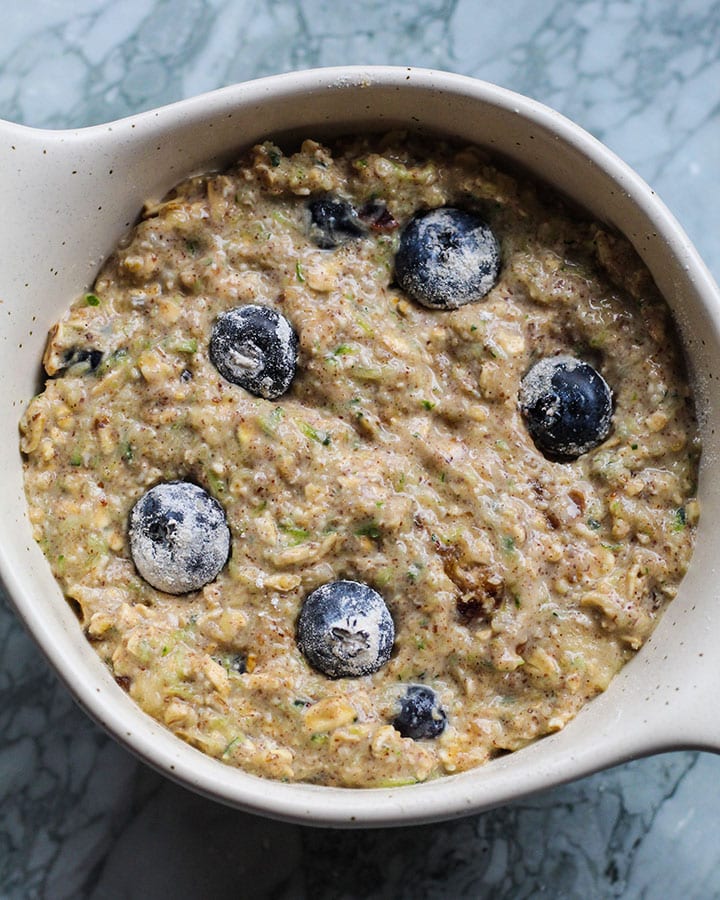 Important Ingredients
Rolled Oats: The base that will absorb a great deal of the liquid as it bakes. We want to lightly process these a little to make it easier to absorb those liquids. Keep in mind, you can always replace this with quick oats if you don't want to use a food processor.

Walnuts: Healthy fats to keep it moist.

Banana or Apple Sauce: This helps to keep the mixture moist and provide a way to enhance sweetness without adding sugar.

Baking Soda and Baking Powder: Provides a little lift and also helps to create air inside of your baked goods.

Ground Flax Seeds: Helps to keep everything together without falling apart. Think of it as your egg replacement.
Just like all of my oat bowls, a few modifications can lead to a completely different flavor experience. For example, if you want to make it feel like a real sweet treat, use chocolate chips instead of blueberries. If you want to get some veggies in, grate a little zucchini into the batter. The combinations are endless, which means you most likely won't find a reason to get bored.
On top of that, if you prep the ingredients in advance, you can let it sit overnight in the fridge like overnight oats and then pop it into the oven when you wake up the next morning. As you're getting ready, your oats will be baking and making your house smell amazing. Let it cool a little and this Blueberry Baked Oatmeal is perfectly warm and ready to eat.
Extra Toppings for Your Blueberry Baked Oatmeal
These oats go especially well with extra nut butter on top. You can also make a yummy peanut sauce by adding 1 tbsp of peanut butter, 1 tsp maple syrup, pinch of salt and 1-2 tbsp of water depending on how thin you want it.
Extra fruit like banana, berries or jam
Seeds like hemp hearts
For some chocolatey feels, I love adding cacao nibs on top
Scoop of banana nice cream or regular ice cream for something decadent
Some Extra Oat Inspiration
Print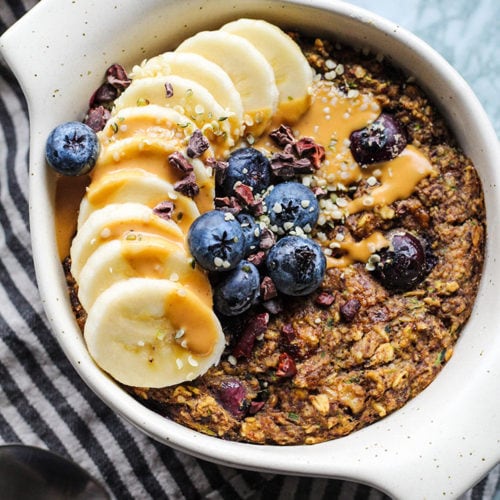 Blueberry Baked Oatmeal
Prep Time:

10 minutes

Cook Time:

30 minutes

Total Time:

40 minutes

Yield:

1

1

x

Category:

Breakfast

Cuisine:

American
---
Description
A new take on getting your oats in. If you are not a fan of the texture of regular oats, then this recipe is for you! I love baking oats as it gives oats a more muffin like texture.
---
1/2 cup

rolled oats

1

medjool date

2 tbsp

walnuts

1/2 tsp

baking powder

1/4 tsp

baking soda
Pinch of cinnamon

1/2 tbsp

ground flax seeds
Pinch of salt

1/2

small ripe banana

1/3 cup

unsweetened almond milk (fortified)

2 tbsp

blueberries (fresh or frozen)
---
Instructions
Preheat oven to 350F.
In a food processor or blender, add oats, walnuts, and date to the container and pulse a few times until mixture is crumbly.
Place mixture into an oven safe dish or ramekin and add remaining dry ingredients.
Stir to combine dry ingredients then add in banana and mash lightly with a fork.
Add in milk then stir. Mixture should be thick (if for some reason the mixture is still dry, add in 1-2 tbsp of extra milk or water to moisten).
Fold in blueberries and then place dish into the oven for about 25-35 minutes (25 minutes will allow edges to fully back, but leave some warm batter in the middle; 25 minutes should fully cook the oats to more of a muffin consistency).
Remove from oven and just let it cool for 5-10 minutes before digging in.
---
Notes
Tip for Adding Veggies: If you are noticing some green bits in my baked oats, I added some grated zucchini to this version because I wanted to (think zucchini bread). To modify, I used 1/3 cup oats, 1/2 small grated zucchini, and did 1/4 cup almond milk instead of 1/3 cup in the instructions. 

Tip for Saving Time: Combine ingredients the night before in a baking dish and allow to sit in fridge overnight. When ready, just pop in the oven and bake while you get ready for work.

Ingredient Swaps: My favorite thing about this recipe is how easy you can swap ingredients out. Want this to be more decadent, swap the blueberries for dark chocolate chips; if you don't like banana, swap for 2 tbsp of apple sauce; don't use dates, feel free to use 2 tbsp of raisins; don't have a food processor, then replace the rolled oats with quick oats, use 1 tbsp of peanut butter in place of walnuts and mash all the ingredients really well with a fork. 
Keywords: apple sauce, baked oatmeal, blueberries, cinnamon, dates, flax seed, oats, walnuts
Did You Try This Recipe?
Then let me know what you thought! Share your creations by tagging me on Instagram with the hashtag #plantbasedrdeats
★ Catherine