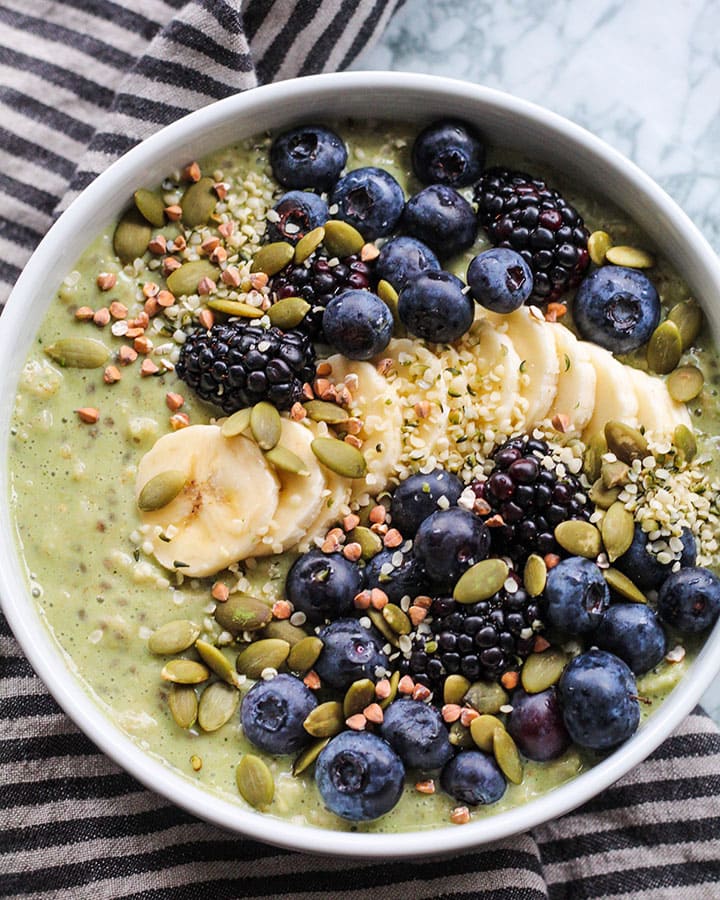 One of the most random things I adore and look forward to is a matcha latte with soy milk from Starbucks. I know! It's not the be all, end all of matcha beverages. However, in an area where there aren't many options for matcha lattes, I make due. This warm beverage is a special one. I adore the creaminess, the slight sweet, and the earthiness created by the matcha. And these simple elements made me realize how desperately I wanted to recreate this in oat form. This Matcha Latte Oatmeal combines all of these amazing latte attributes in a bowl of deliciousness you can enjoy for breakfast.
Why is matcha a good idea to add to your oats?
If you aren't familiar with matcha, it is a powdered form of green tea leaves. The thing that is different about matcha compared to regular green tea, is that you drink the whole tea leaf, where as with regular tea you steep and remove the leaves from the water. Consuming the whole leaf provides an extra boost in nutrition.
You may be slightly familiar with matcha now, as it has found its way into the mainstream. You can now find matcha not only served as a warm tea, but also in desserts, breads, and even savory dishes. Or, in my case it's a good thing to add to my morning oatmeal.
There are numerous potential benefits for drinking matcha powder. Some of the most prominent benefits include:
A boost in antioxidants, specifically catechins such as EGCG, which may help prevent cellular damage
Stress relief and improved mood
Using good quality matcha does matter. When I first started using matcha, I had no idea there were various forms sold. You can get lower quality matcha powders just about everywhere, but often times you get what you pay for. Even if it's super cheap, the taste and consistency is off and can be super bitter.
When making beverages or adding to things like my oats, I often will make sure I'm using better quality matcha. With this oatmeal, I used ceremonial grade matcha. Ceremonial grade matcha is the luxury sports car of the matcha world. It sports its brilliant green color and taste tends to be a much smoother taste. For this, I have been using ceremonial grade matcha from My Encha. When it comes to baking purposes, you can go a step down and use culinary grade matcha. If a matcha powder doesn't have the grade added to it, it's likely a low tier matcha that will most likely taste bad. So be cautious!
Ideas for using matcha powder
Mix into oatmeal or sprinkle a little bit over top
Mixed with chia seeds for a chia pudding
Add to a green smoothie (I love the combo of matcha, mango and spinach)
Sprinkled over some toast spread with nut butter of choice
Add into baked goods
As a beverage on it's own
How do I make matcha latte oatmeal?
For the matcha, I use a ceremonial grade variety (the best quality and you can definitely notice a difference in flavor). The color is so gorgeous and brilliant green. So, I take my matcha powder and mix it well with a small amount of water separately. I set this aside to use at the end of cooking my oats.
You can make this recipe as basic as you want, but I find that a combo of unsweetened almond milk and coconut cream blend so well and keep the latte oats super creamy.
Instead of sugar, I sweeten my oats with some ripe banana. I'll either slice it into coins or mash it and mix it in while the oats cook.
Lastly, some pinches of goodness to balance flavor. A pinch of cinnamon is so lovely to help enhance the sweetness. I also love to add some salt at the end for two reasons. It does help to bring out a little more of the sweetness, but it also happens to reduce a bit of the bitterness that you might get from matcha.
Once your oats are finished cooking, I fold in the matcha. And from there, it's all magic and gorgeous green swirls.
Some extra oatmeal inspiration
Hoping all this talk about matcha has made you excited for enhancing your next bowl.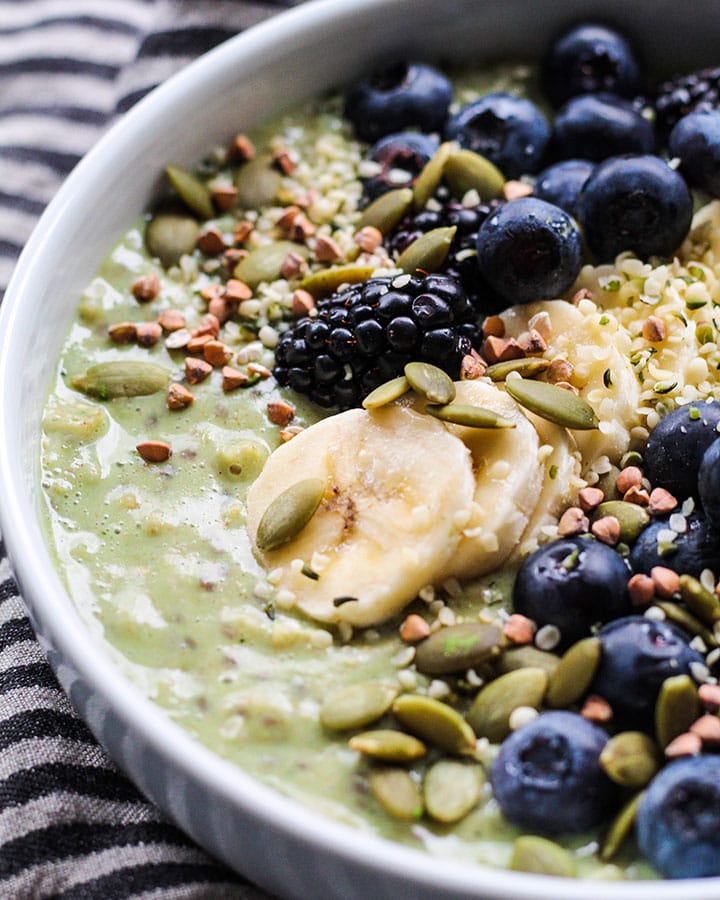 Print
Matcha Latte Oatmeal
Prep Time:

5 minutes

Cook Time:

10 minutes

Total Time:

15 minutes

Yield:

1

1

x

Category:

Breakfast

Cuisine:

American
---
Description
The ultimate bowl of oatmeal that reminds me of enjoying a delicious matcha latte. Creamy, delicious and no added sugar needed.
---
1/2 cup

rolled oats

1 cup

unsweetened soy milk
t tsp chia seeds

2 tbsp

coconut cream

1/2

banana, sliced into coins
Pinch of salt
Pinch of cinnamon

1/2 tsp

matcha powder

2 tbsp

hot water
---
Instructions
Matcha Instructions
In a small bowl add matcha powder. With a spoon or a matcha whisk, gently break up any clumps in the powder.
Add 1 tbsp of hot water first and gently whisk/mix together making sure no lumps remain.  Add an additional tbsp of water, stir and set aside.
Oatmeal
Add oats, chia, milk and cream to a sauce pan and bring to a low simmer.
Allow to cook and thicken while stirring occasionally for about 5 minutes. 
Remove oats from heat and add in matcha mixture to oats and fold into oats until matcha is fully incorporated. 
---
Notes
If you don't have access to matcha powder, you can transform your oats using other colorful spices and ingredients. For example, ingredients like turmeric can add a beautiful yellow to your oats and still add a boost antioxidants. 
I love to top my oats with berries, banana slices, pepitas, and hemp hearts. Sometimes if I don't feel like doing all the matcha oats prep work, I'll just sprinkle a bit of the match powder over top. A little still goes a long way. 
The coconut cream helps with creaminess, but more importantly makes these oats more decadent. 
If you are looking for good quality ceremonial grade matcha powder, I highly recommend My Encha. 
Keywords: banana, chia seeds, coconut cream, matcha, matcha latte, oatmeal, soy milk
Did You Try This Recipe?
Then let me know what you thought! Share your creations by tagging me on Instagram with the hashtag #plantbasedrdeats
★ Catherine