Better than canned Vegan Refried Black Beans. Easy to make from scratch with basic pantry staples and perfect for burritos, bowls or chips.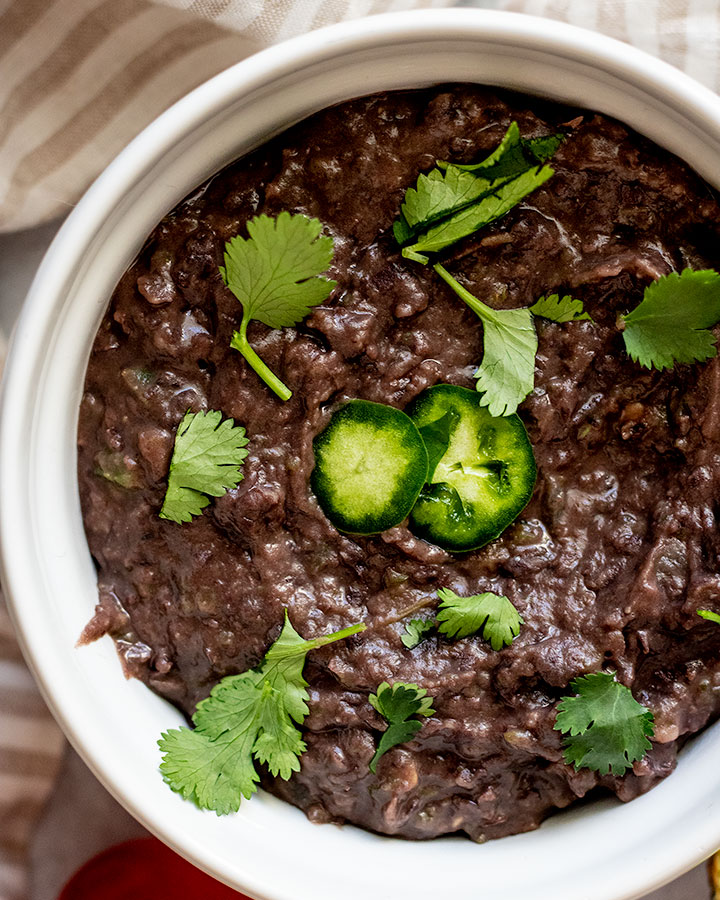 Yes, you can take the short cut and use commercially prepared vegetarian refried beans to your heart's content. However, there is just something so delicious about making them fresh yourself. And you can do it so many ways. Cook your beans from scratch on the stove top, in the instant pot or use canned beans to make your refried beans. They will still come out better!
So I have shared 3 ways I typically make beans depending on my laziness scale and how you can use them to prepare delicious Easy Vegan Refried Beans. When I'm feeling ambitious, I'll cook my beans on the stove top like my mom does. If not, I will use the instant pot or canned beans for an easier time. No judgement here.
Why You'll Love These Beans
Uses easy homemade from scratch beans
Very simple ingredients needed
They are vegan, gluten-free, soy-free and nut-free
Easy to customize to your preference
Aren't Refried Beans Naturally Vegan?
Traditionally, refried beans are made with lard, which is rendered fat from pigs. You can find vegetarian friendly versions that are cooked in oil, so it's important to always check ingredients on packages or with dining establishments before enjoying. Making them yourself is easy and tastier than canned versions.
Key Ingredients and Substitutions
Black Beans: This recipe uses black beans. Use 1 cup dry beans if cooking from fresh or 2, 15 oz cans of black beans if you are pressed for time.
Onion: White or yellow works well. Half will be used for the beans and the other half will be used to cook into the refried beans.
Jalapeno: I love the flavor of jalapeno, so if you wish to do without, you can leave the pepper out. If you like heat, you can also use a serrano pepper.
Garlic: You need fresh garlic to cook your beans in and one crushed clove to add to your beans.
Bouillon: Authentic Mexican Refried Beans are typically cooked in lard, which makes the beans very flavorful. To help make up for some of the flavor lost, I recommend adding some bouillon base to your beans before mashing. You can break up a bouillon cube into your beans or add Better Than Bouillon base to your beans before mashing.
Using Black Beans vs Pinto Beans
Refried beans can be made using a variety of different beans. The most common bean used in Tex-Mex or Northern Mexican preparation is pinto beans. But you can find other varieties like black beans, Peruano, or even red kidney beans used in other parts of Mexico.
For texture, pinto beans tend to be creamier while black beans are more firm and nutty in flavor. They both provide about the same amount of protein, fiber, and iron, but do vary with some of their micronutrients. Black beans are higher in zinc, magnesium and antioxidants than pinto beans, while pinto beans have more selenium and vitamin B6. So choose what you love.
How to Make Vegan Refried Beans From Scratch
Cook Your Beans On the Stove Top
Sort and remove any debris or broken pieces from your beans. Rinse them and then place in a pot along with your water, onion, garlic cloves and bay leaves. Bring to a boil, then reduce to a simmer and loosely cover the pot. Allow the beans to cook until soft, stirring occasionally and adding more water if needed to the beans as they cook.
If Using the Instant Pot
Place your sorted and rinsed beans into the pressure cooker chamber along with water, your onion, garlic and bay leaves. Seal the pressure cooker then set to manual pressure for 40 minutes and allow the pressure to release naturally.
Cooking the Refried Beans
Heat up your oil in a pan and when warm, add in your onions along with a pinch of salt and start cooking them down. Add in your jalapeño and continue to stir until the jalapeño appears cooked through and lightly seared.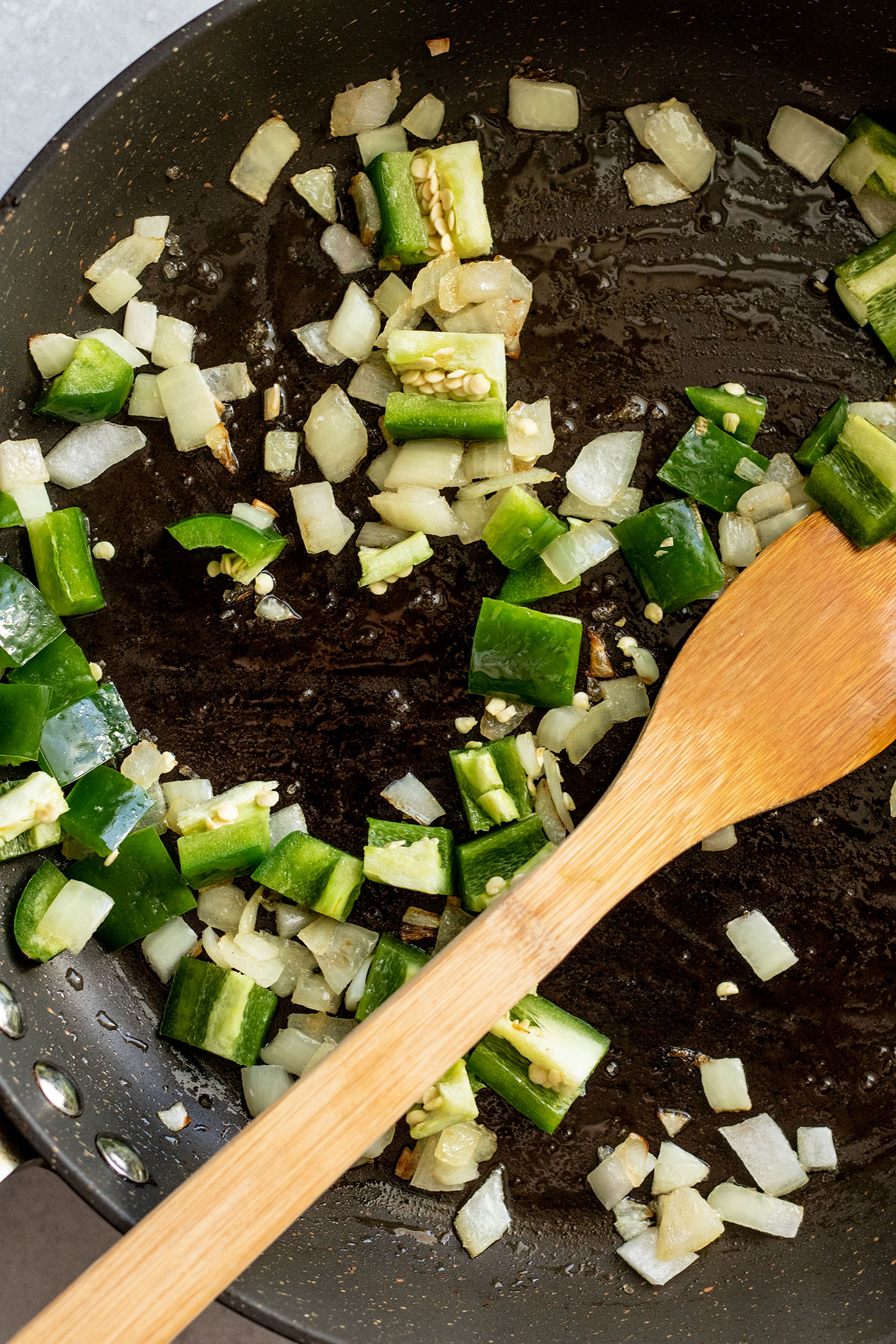 Pour in the beans and their liquid and allow them to come to a simmer. Using a potato masher, lightly mash your beans until a thick paste starts to form. Remove from heat and adjust salt to taste before serving.
Expert Tips
For the best flavor, cook your beans fresh. Cook them however you prefer: soak and cook, in a pressure cooker, or even slow cooker. When cooked fresh, it's easier to modify the flavor to your liking.
If you don't have time to cook your own beans, you can use canned beans. Don't drain the liquid from the can as this will help give your refried beans the best texture when mashed.
Control the consistency of your beans by cooking them low and slow. If you put the heat too high, your beans will dry out faster.
Your refried beans will continue to thicken as they sit, so taking them off the heat when they are still a little runny is totally fine!
Frequently Asked Questions
How are refried beans traditionally made?
While the name might be misleading, refried beans comes from the Spanish translation of frijoles refritos, which means "well fried". The beans aren't twice fried. Cooked beans are added to a pan to cook with a fat like lard, oil or butter and some onion and additional spice, then mashed into a paste.
Can you freeze refried beans?
Yes! Place your cooled beans in an airtight container and place in the freezer for up to 3 months. It's important to note that the beans might lose a little bit of their flavor when thawed. If this is the case, adjust the seasonings based on your preference when reheating them.
Why are my beans are still hard after cooking for the recommended time?
Make sure that you haven't cooked your dry beans in salt. Salt will make it harder for your beans to soften as they cook. Add the salt in at the end of cooking. Also, check to make sure your beans aren't really old. Beans that have been sitting in your pantry for 9 or more months can take much longer to cook and soften. In the event you are using old beans, try to soak them before cooking or cook them for longer until softened.
What can I do to reduce gas from beans?
Everyone's tolerance to beans is different. If you are not a regular bean eater, I do recommend soaking your beans before starting this recipe. This may help with making the beans more digestible. Another thing is to slowly introduce beans into your diet if it's new to you as your gut is not used to it. Try a few tablespoons at first to see how you tolerate it, then work your way up to 1/4 cup, etc. In Mexican cuisine, black beans are often cooked with Epazote, an herb that helps with reducing bloat. You can read more about Epazote here.
What to Eat with Refried Beans
Most commonly, refried beans are served as a side with many meals in Mexico. However, you can see that it has become a popular dip or even used to top nachos and other Tex-Mex styled meals. Here are ways I've enjoyed it to help inspire:
More Bean Recipes to Try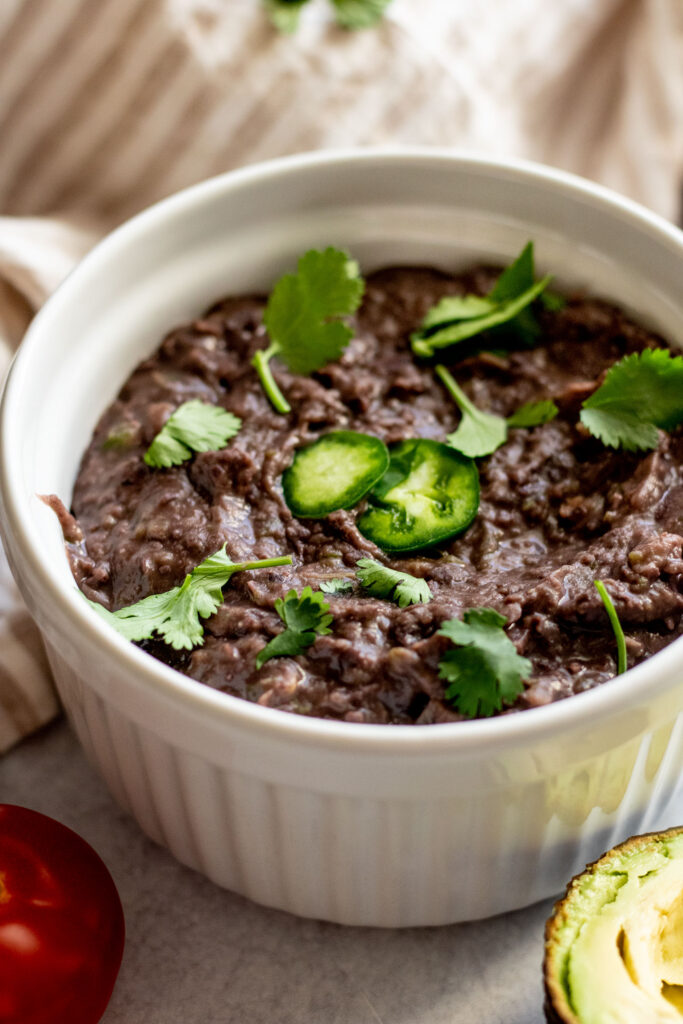 Print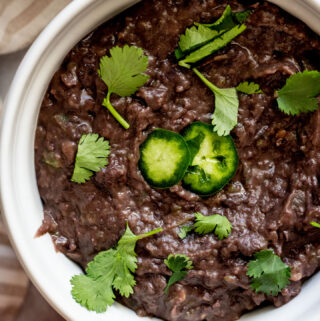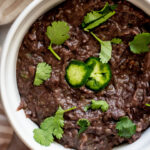 Homemade Refried Beans
Author:

Prep Time:

5 minutes

Cook Time:

75 minutes

Total Time:

1 hour 20 minutes

Yield:

6

servings (1/2 cup serving)

1

x

Category:

Lunch

Method:

Stove Top

Cuisine:

Mexican

Diet:

Vegan
---
Description
Better than canned Vegan Refried Black Beans. Easy to make from scratch with basic pantry staples and perfect for burritos, bowls or chips.
---
1 cup

dry black beans

1

small white or yellow onion, cut in half and save 1/2 for the boiled beans and dice up the other half for the refried beans

7

cloves of garlic,

crush

1 clove for the refried beans

1

bay leaf

2 tbsp

olive oil

1

jalapeño or serrano pepper, seeds removed if desired

1/2

vegetable bouillon cube or

1/2 tsp

Vegetable

or

Vegan Chicken Better than Bouillon

Salt to taste
---
Instructions
If Cooking Beans From Scratch
Measure your beans then spread out on a sheet pan and sort, removing any extra debris, rocks or shriveled or broken pieces. Rinse the beans well and place the beans in a large pot with enough water to reach 3 inches above the beans.
Add in 1/2 your onion, 6 cloves of garlic and your bay leaf. Bring the pot to a boil over medium-high heat, then simmer the beans and loosely cover the pot with a lid. Cook the beans for 2-3 hours or until the beans are tender. As the beans cook, stir occasionally and add additional hot water as needed, I often will add about 2 cups of extra hot water to the pot after an hour and a half. After cooking, add salt to taste.
Refried Beans
Heat up a large skillet on the stove top, add your oil and when hot add in the onion with a pinch of salt and cook down until softened. Then, if using jalapeño, add to the pan and sauté until the jalapeno starts to sear, about 2-3 minutes.
Add 3 cups of cooked beans with bean liquid OR 2, 15 oz cans of black beans with their liquid to the pan and mix in with the onion mixture. As the beans simmer, add in the bouillon base and use a potato masher to mash up the beans.
Continue to cook the beans until a nice puree forms. You can leave it as chunky as you like.
---
Notes
To make your beans in the Instant Pot, place your sorted and rinsed beans into the pressure cooker chamber along with 4 cups water, 1/2 onion, 6 garlic cloves and 1-2 bay leaves. Seal the pressure cooker then set to manual pressure for 35 minutes and allow the pressure to release naturally. Make sure to use newer dry beans and avoid beans that have then sitting in your cabinet for longer than 9 months.
When cooking the refried beans, use a medium heat to avoid drying out your refried beans. They will continue to thicken when they sit and cool, so if they are slightly runny that is okay.
To store, allow beans to cool, place in an airtight container and place in the fridge for up to 5 days. You can freeze these beans as well for up to 3 months.
Keywords: vegan refried beans, refried black beans
If you tried this recipe or any other recipe on the blog, then let me know what you thought in the comments below! And if you loved it, don't forget to rate it too. Feel free to follow on Instagram, Pinterest, and TikTok for the latest nutrition tips and recipe videos.
★ Catherine
This post contains affiliate links which means I will make a small commission if you purchase from those links. I only recommend and share products that I know, trust and personally use myself!