These vegan taco pinwheels are a combo of fluffy dough wrapped around taco meat and cheese! These appetizers are easy to make and perfect for summer entertaining.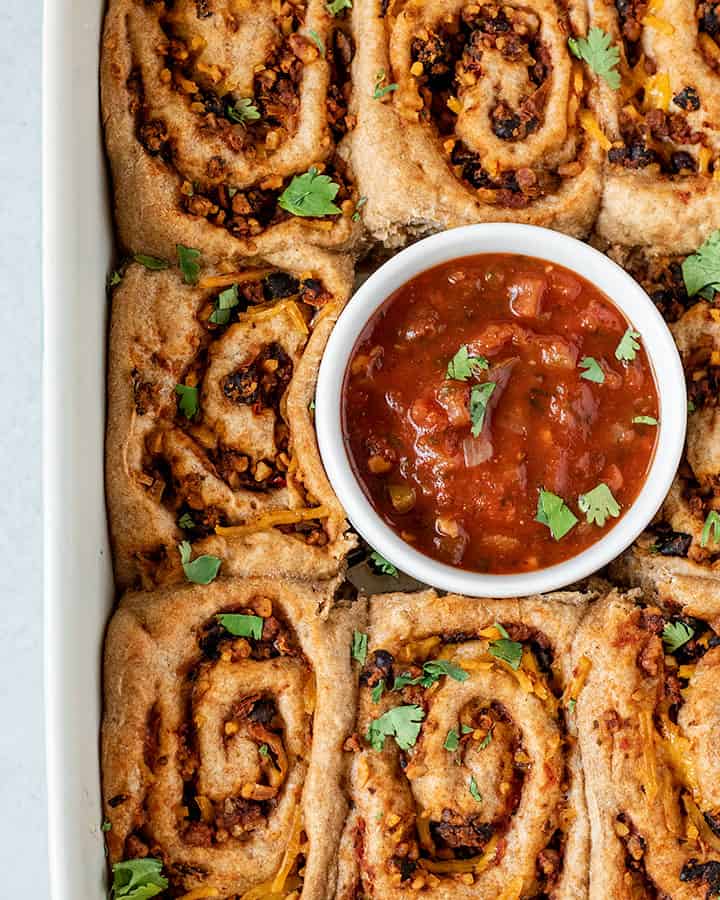 This post is sponsored by One Degree Organics, but all opinions are my own.
Taco Pinwheels: The Perfect Appetizer for Entertaining
Fun, flavorful and dunkable. Those are the qualities I look for in the perfect appetizer. Now add fluffy, spicy and a gooey center, and I'm hooked. These taco pinwheels hit the spot, but there are more reasons to love this spin off of my original pizza pinwheel recipe.
Includes simple, wholesome ingredients. While they are perfect for entertaining, they also pack in some more whole grain nutrients because we are using spelt flour. One Degree Organic's spelt flour is an excellent source of fiber, plus other vitamins and minerals, and is also sprouted making it easier to digest and way more satisfying than average party treats. For more benefits on sprouted grains, you can find it in my cardamom coconut pancakes post.
Easy to make. The dough comes together quickly. Just let it rise and sprinkle with your fillings and roll it up.
Fun to customize. The best part of these pinwheels is that they are easy to grab and dunk. You can pair with one sauce or multiple sauces for guests to dunk to their heart's content. 
Key Ingredients
Flour: We are using a combination of One Degree Organic's Sprouted Spelt Flour and all-purpose flour for the perfect balance in taste and whole grain goodness.
Yeast: Helps to provide the biggest amount of fluff.
Sugar: Helps to activate the yeast and feed it to give our dough more structure and fluff.
Vegan Taco Meat: You can use your favorite mix. For this pinwheels, I used my vegan taco meat recipe.
Salsa: Use a premade sauce of your choosing. Chunky and spicy was what I went for.
Vegan Cheese: Feel free to use your favorite type. Personally, really like either cheddar or pepper jack varieties to compliment the flavors of the taco meat spices.
How to Make Taco Pinwheels
Start by activating your yeast. Warm up your water and sugar (not too hot, just warm, which is about 15 seconds in the microwave – then test with your finger to make sure it's comfortable). Once at the right temperature, add in your yeast and give it a good mix. Let it sit for a few minutes until it starts to foam.
Add your dry dough ingredients to a bowl, mix well and then add your yeast mixture to the flour. Mix it with a fork and as it starts to come together into a dough, use your hands to mold it into a smooth dough. Cover the dough and place in a warm spot for 45 minutes to rise.
Take your dough and place it on a flat floured surface and form it into a rectangular shape then roll it flat. Spread a little salsa over the surface and then add your taco crumbles and sprinkle it with your vegan cheese.
Starting at one end, start to tightly roll your dough into a log (similar to a cinnamon roll) and then evenly cut your log into 16 pieces. Place the pieces into a greased baking dish, then cover and allow to rise again for 30 minutes.
Brush buns with a little olive oil, then place buns in the oven to bake for about 15-17 minutes until the tops become golden.
Tips for Making This Taco Pinwheels Recipe
To ensure your dough is fluffy, make sure to spoon your flour into your measuring cup instead of sticking your measuring cup in the flour. Once you scoop in your flour, just level it like normal. This method prevents the flour from being too packed, which can lead to a heavier dough that isn't as light and airy.
Before rolling out your dough, try to form it in the shape of a rectangle. Rolling it out from this shape will make it easier to form a more even flat rectangular shape for rolling, which will result in more even shaped rolls. 
Frequently Asked Questions
Can you make this dough with just spelt flour?
For the best results, use a mix of spelt flour and white flour. If you want the max whole grain benefit, you can definitely make these with just spelt flour. I would recommend using One Degree Organic's Spelt Flour if only using spelt flour as this particular brand tends to result in a fluffier consistency when baked compared to other whole grain flours I've tried.
Is there a way to make this dough without yeast?
If you want to save time, you can make a version of this dough without having to use yeast or allowing the dough to rise. I would recommend the exact dough used for my pizza pinwheels and use the recommended fillings for this recipe with it. The major difference is that they won't be as fluffy as this version.
Are these pinwheels healthy?
These pinwheels are packed with more fiber and minerals. Because of the use of spelt flour, these pinwheels also are more filling and satisfying.
What to Serve With Your Taco Pinwheels
There are a lot of options you can serve your taco pinwheels with. I like to remove the center bun from the baking tray and place a small dish in the middle with a dunking option. Any of the following are perfect to use.
Fresh salsa
Top with pico de gallo
Fresh guacamole
Vegan cheese sauce
Vegan sour cream
More Fun Appetizers to Try
Print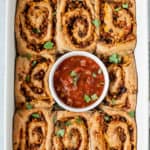 Taco Pinwheels
Author:

Prep Time:

90 minutes

Cook Time:

15 minutes

Total Time:

1 hour 45 minutes

Yield:

16

rolls

1

x

Category:

Appetizers

Method:

Baking

Cuisine:

American

Diet:

Vegan
---
Description
These vegan taco pinwheels are a combo of fluffy dough wrapped around taco meat and cheese! These appetizers are easy to make and perfect for summer entertaining.
---
Dough
1 cup

warm water

1

packet of yeast

2 tbsp

organic sugar, divided

1 cup

all-purpose flour + extra flour for rolling out

1 tbsp

cornstarch

½ tsp

salt

2 tbsp

olive oil
Filling
1 cup

Vegan Taco Meat

½ cup

Salsa

1 cup

vegan cheese
---
Instructions
In a microwave safe mug add water and 1 tablespoon of sugar then place in the microwave for 15 seconds to warm up. Make sure to test the water with your finger to make sure the water is not too hot.
Add your yeast to the water, mix and let stand for 5 minutes to activate. You should see the yeast foam up. 
To a bowl, add in your remaining dry dough ingredients  and mix well, then add in your yeast mixture and oil then give a good mix to form a dough. If the dough is too sticky, sprinkle a little flour on top and knead it until a smooth dough forms. Grease your mixing bowl and place the dough back in, cover with a clean cloth and place in a warm spot to rise for 45 minutes. 
Sprinkle a clean flat working surface with flour and lay your dough down. With a rolling pin, flatten your dough to a rectangular shape about ¼ inch in thickness. 
To the surface spread on your salsa, sprinkle with the vegan taco meat and then layer on with cheese. 
Starting from one end, start to tuck and roll your dough into a log shape similar to making a cinnamon roll. 
Using a sharp knife, cut the log into 16 even pieces. Place these pieces into 2, 9inch x 9inch greased baking dishes, making sure you give space in between for the dough to rise.   
Cover the baking dishes with a towel and allow to rise for 30 minutes while preheating your oven to 375F.
Place the buns into the oven for 15-17 minutes until the tops are golden. Allow to slightly cool before serving.
---
Notes
To measure flour appropriately, just make sure to spoon your flour into a measuring cup. 
I have not tested this recipe with other flour alternatives. You may need to adjust the liquids as needed to produce a proper dough consistency. 
You can make a no yeast version of this dough by following the instructions in my pizza pinwheels post. 
Keywords: taco pinwheels, pinwheels, vegetable pinwheels, vegan appetizers
Did You Try This Recipe?
Then let me know what you thought in the comments below! Share your creations by tagging me on Instagram with the hashtag #plantbasedrdeats
★ Catherine