These vegan Cinnamon French Toast Sticks are easy to make and use only 8 ingredients. They are deliciously crisp and perfect for kids to dip.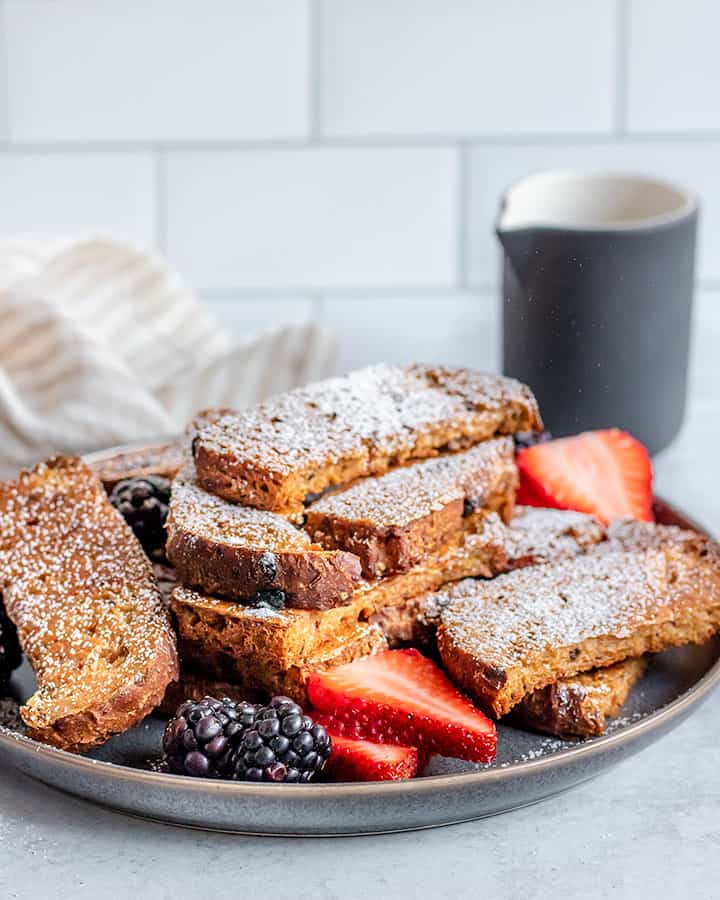 This post is sponsored by Silver Hills Bakery. All thoughts are my own.
Can You Make French Toast with Sandwich Bread?
What if I told you that you can make delicious French toast sticks with sandwich bread? While most recipes will tell you to use super thick bread for a recipe like this, it's just not the case. And, we can still make it wholesome too!
These French toast sticks still maintain a perfect crispy exterior with a nice soft and sweet center. They are perfect to hold and dip, which makes them a great option for kids to make and enjoy.
Why You'll Love This Fun Breakfast
Only 8 ingredients! Nothing makes family breakfast better than when it is simple and easy to make. Most of the ingredients here are likely things you already have in your pantry too.
Make this with regular sandwich bread. To make life easier, just use your favorite sandwich bread and get to making this recipe.
Fun to dip. Whether you have kids or not, these are fun for everyone. Pair with classic syrup to make these kid-friendly or upgrade your dip to a vegan hot "honey" for your adult palate.
Make it nutritious! You can still have French toast and make it more nutritious. For this recipe, I'm using Silver Hills Organic Sprouted Power Cinnamon Raisin Bread for a boost in activated nutrients, better digestion and whole grain goodness for better energy.
Is Vegan French Toast Healthy?
Normally, French Toast might not be designed to provide a lot of nutrition. However, you can control that depending on the type of bread you use. In this recipe, using a sprouted whole grain bread actually helps to provide more nutrition than normal. This is because the sprouting process helps to unlock a lot of nutrient potential in the whole grain seed.
What Are Sprouted Grains?
A sprouted grain is a grain that is in essence woken up. Think about normal seeds, when you water them and provide the right conditions they start to grow and will begin to tap into nutrients it has stored up in it's seed.
Once a grain starts to sprout, you have better access to its nutrients. Sprouting helps to break down some anti-nutrients like phytates and tannins that inhibit absorption of certain nutrients. Breaking these barriers around those nutrients allows you to better utilize nutrients like fiber, protein, and B vitamins. It tends to also be much easier for our bodies to digest these grains.
Why You Should Opt for Sprouted Grains
Ever have that mid-afternoon crash? They are not my favorite and it's usually a sign that I haven't fueled myself appropriately. Being able to better digest and absorb nutrients like vitamins, minerals, fiber and protein is a key trick to stabilizing your energy throughout the day.
More availability to soluble fiber and protein helps to lower the glycemic index of a food. In turn, this helps to slow down digestion, and makes the release of carbohydrates to our blood stream more controlled over time. This leads to more sustainable energy that lasts without the crashing that hyper-processed foods may lead to. Extra bonus, the availability of B vitamins and vitamin C from the sprouting process are more available to the body, which can improve focus and mental alertness.
To anyone that needs that energy boost, Silver Hills Sprouted Organic Bread is one of the first things I'll recommend my clients swap to, and they definitely notice the difference. The blend of organic sprouted whole grains and organic wheat flour lead to a more light and fluffy texture that can make anyone fall in love with sprout grains.
Key Ingredients
Cornstarch: Replaces the egg in our batter
Nutritional Yeast: Helps to provide a little bit of that umami flavor that eggs normally provide
Cinnamon: Compliments the bread we are using
Nutmeg: If you can grate some fresh nutmeg that will be even better
Unsweetened Plant Milk: Use your favorite, I decided on some soy milk as it is a little thicker
Maple Syrup: For our sweetness
Vanilla Extract: To help enhance that sweetness naturally
Your Favorite Bread: I'm using a cinnamon raisin variety as it will lend extra natural sweetness to this recipe
How to Make Cinnamon French Toast Sticks
Start by making your batter by whisking all of your ingredients except the bread in a medium sized bowl. I like to add in my dry ingredients first and then slowly pour and mix in the wet to help prevent any clumping.
Heat up a greased pan or griddle to medium heat and then start to dunk your breadsticks into the batter really quickly. Dunk to coat and shake off excess batter then quickly place on the griddle. Allow to cook for about 2-3 minutes on each side. I always like to slide my spatula under one of the edges and lift it up to check the bottom just to make sure it's browning nicely before flipping them. Once done, place on a wire rack to cool.
Tips for the best Vegan French Toast
Don't soak your bread for too long. You literally just want to dip the bread into the batter for a second to coat, shake off excess batter and place on your griddle or pan.
Mix dry ingredients before pouring in liquid ingredients and whisk well to make sure no clumps remain. 
When your toaster stick is done cooking, place on a wire rack instead of on a plate to prevent your toaster stick from getting soggy due to condensation.
Fun French Toast Stick Dips for Kids and Adults
Enjoy these however you like. Serve to kids with dunkable options or if you like drizzling your syrup like I do, that works too. Here are some dipping ideas for adults or kids to have fun with.
Warmed Stewed Berries: Heat up some frozen berries in a sauce pan with a little touch of maple syrup and cornstarch then mash well.
Coco Whip: Use store bought or homemade.  
Apple Sauce: Go for cinnamon flavored to help compliment the cinnamon raisin bread choice. 
Vegan Hot "Honey": Add a little spice for the adult palate by combining 1/4 cup maple syrup with 1-2 tsp of your favorite hot sauce.
Freezing your Cinnamon French Toast Sticks
This recipe is best served immediately, but you can freeze these for later. Once your toast sticks are fully cooked, allow them to cool down completely. Place the pieces in a reusable sandwich bag and place in the freezer for up to 1 month. When ready to serve, remove the toaster sticks you'd like to eat and place in an air fryer or oven to heat and toast back up.
More easy breakfast recipes
Print
Vegan Cinnamon French Toast Sticks
Author:

Prep Time:

15 minutes

Cook Time:

15 minutes

Total Time:

30 minutes

Yield:

4

servings

1

x

Category:

Breakfast

Method:

Stove Top

Cuisine:

American

Diet:

Vegan
---
Description
These vegan Cinnamon French Toast Sticks are easy to make and use only 8 ingredients. They are deliciously crisp and perfect for kids to dip.
---
6

–

8

slices of bread (I used Silver Hills Organic Cinnamon Raisin Bread)

3 tbsp

cornstarch

1 tbsp

nutritional yeast

1 tsp

cinnamon
Pinch of freshly grated nutmeg

1 tbsp

maple syrup

1 tsp

vanilla extract

1 cup

unsweetened plant milk
---
Instructions
Take your bread and with a serrated knife, cut each slice into thirds and set aside.

Mix dry ingredients before pouring in liquid ingredients and whisk well to make sure no clumps remain. 

Take each breadstick and dunk it into the batter for just a second to coat, then shake off excess and place on a hot greased skillet or griddle, cooking each side for about 2-3 minutes or until both sides are nice and golden.

Set cooked cinnamon sticks back on the wire rack until they are all cooked. Serve them with some extra powdered sugar, fruit and some maple syrup for dunking.
---
Notes
Don't soak your bread for too long. You literally just want to dip the bread into the batter for a second to coat, shake it off and place it on your griddle.
When making your batter, slowly pour in your wet ingredients into the dry ingredients while mixing to help prevent clumping.
Use fun kid-friendly dips like maple syrup, coco whip, apple sauce or warmed mashed berries to serve with. 
To make vegan hot honey to use as a dip for this recipe combine 1/4 cup maple syrup and 1-2 tsp of your favorite hot sauce and mix together. Use to dunk or pour over as desired.
Keywords: French toast, vegan French toast sticks, breakfast recipes, cinnamon French toast sticks
Did You Try This Recipe?
Then let me know what you thought in the comments below! Share your creations by tagging me on Instagram with the hashtag #plantbasedrdeats
★ Catherine