This red lentil curry is a delicious, healthy and easy weeknight dinner that only takes 20 minutes to make. This curry is full of flavor thanks to a combo of coconut milk, ginger, cumin and curry powder.
I admire curries and I've been fortunate enough to learn a great deal about Indian preparations of them through classmates, co-workers and friends who make the most incredible curries. The spice combinations and techniques used to get every bit of flavor from them in authentic recipes always makes me want to come back for more. So recipes like this golden red lentil curry help me to enjoy these indulgent flavors a little more regularly at home. This curry is inspired by many daal recipes I've had the pleasure to try. And while traditional curries do not use curry powder, I've included it in this preparation along with some other spices as a short cut to help mimic the flavors.
Why you'll love this golden red lentil curry
Because we are using red lentils and not much in the form of chopping, this curry dish cooks in only 20 minutes.
Red lentils are packed with plant protein, iron and provide a lot of satiation thanks to their fiber content.
This recipe is healthy, comforting, vegan and gluten free!
Key Ingredients
Red Lentils: Our main protein and one of the ingredients that leads to the perfect creamy texture
Coconut Milk: Make sure you use full fat canned coconut milk
Ginger: Fresh ginger is best for this recipe, can't stress that enough
Cumin Seeds: Blooming this spice really brings out extra flavor to this dish
Curry Powder: A quick and speedy way to make this curry quickly but also add some good flavor
How to make this creamy curry
Start by boiling some water. In a medium bowl, add your lentils and pour the boiling water over top, making sure that the water covers the lentils by 1 inch. Set aside and go about preparing your other ingredients.
In a heated sauté pan, heat up your oil and add in your cumin seeds and stir them around to become fragrant. Add in your aromatics and squash, continuing to sauté until onion has softened.
To the mix, add in your spices and sauté again until fragrant. Add in coconut milk, vegetable broth and sugar and stir well to make your sauce.
Drain your lentils and add them to the pot, stirring well to combine. Bring your curry up to a simmer, cover and cook for about 10-12 minutes or until lentils are cooked through, but not mushy. Squeeze with lemon and serve.
Tips for making this creamy curry
Make sure to use canned full fat coconut milk. It makes a big different when it comes to the creaminess of this dish. Since there aren't many ingredients to this dish, not skimping on quality makes a difference.
Do not skip the oil. While I understand the desire for oil free cooking and have a number of oil free recipes like these coconut chipotle lentils, when it comes to certain spices like cumin seeds, they benefit the most in infusing flavor when you cook them in oil. The oil helps to intensify the flavors of the spices. So if you want the best tasting curry, don't skip this step.
If you are unable to or forget to soak your lentils, you can still make this dish easily. Rinse your lentils and add them to the pot to cook. Just add 1-2 extra cups of vegetable broth to the pot and allow to cook for 10 minutes longer.
Are red lentils healthy?
Lentils are a nutritious plant protein that offers a great source of iron, fiber, potassium, folate, and manganese. A 1/2 cup of cooked lentils provides 12 grams of protein. In addition, with all this nutrition, they can aid with meal satisfaction thanks to the combo of protein and fiber.
Do you need to soak red lentils?
Red lentils on their own cook quick, so technically you don't need to soak them before use. However, soaking lentils for extended periods of time may improve their digestibility and also reduces cooking time even further. In this recipe, we do a quick soak by covering the lentils in boiling water and allowing them to sit and soften as you prepare your other ingredients. This in essence helps to achieve a similar affect. If you do happen to remember to soak in advance, feel free to soak your red lentils for a little longer for max benefit.
What to serve with golden red lentil curry
There are a lot of fantastic things to pair with your fresh made curry. Enjoy it with some aromatic basmati rice or some fresh heated naan as your main starch. And if you want some veggies to round out this dish, you can either cook in some cauliflower florets or serve with a side salad of romaine lettuce, cucumbers and tomatoes.
More lentil dishes for you to try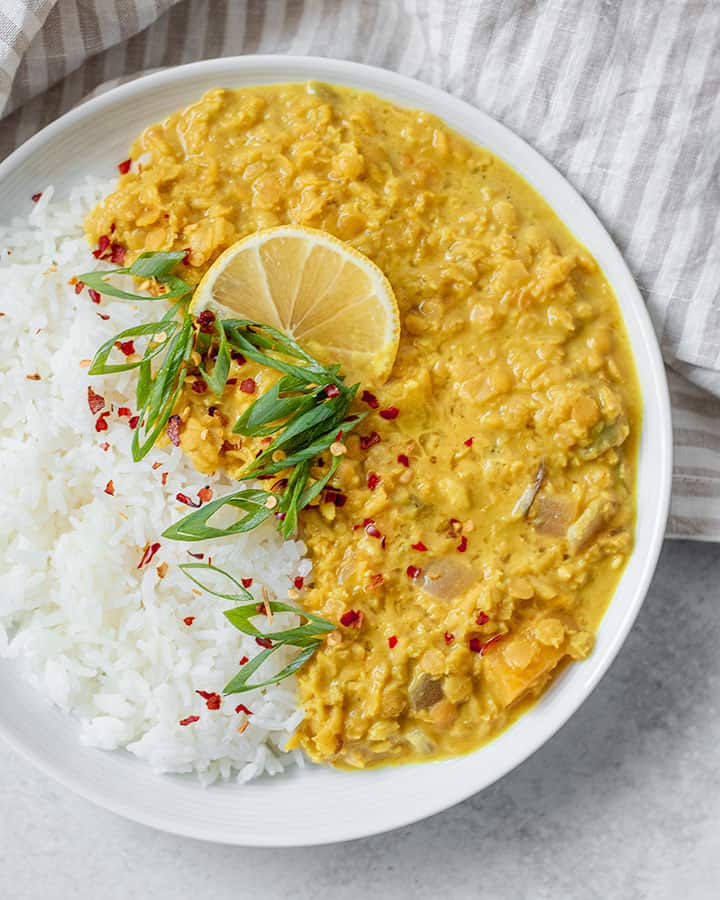 Print
Golden Red Lentil Curry
Author:

Cook Time:

20 minutes

Total Time:

20 minutes

Yield:

6

servings

1

x

Diet:

Vegan
---
Description
This red lentil curry is a delicious, healthy and an easy weeknight dinner that only takes 20 minutes to make. This curry is full of flavor thanks to a combo of coconut milk, ginger, cumin and curry powder.
---
1 1/2 cups

(

285 g

) dry red lentils, rinsed and drained

2 tsp

or more of neutral oil

1 tsp

cumin seeds

1/2

red onion, diced

5

cloves garlic, minced

1

inch fresh ginger, grated

1 cup

kabocha squash, diced small (optional)

1/2 tsp

ground coriander

1 1/2 tbsp

curry powder

1

, 13.5 oz can (

398

mL) full fat coconut milk

1 cup

(240mL) vegetable broth

1

–

2

tbsp sugar
Fresh Lemon Wedges for serving
Salt and pepper to taste
---
Instructions
To a medium sized bowl add your red lentils. Boil water and pour over your lentils making sure it's enough to cover your lentils by one inch. Allow lentils to sit and soak as you prepare your ingredients.
In a large pan over medium heat, heat up your oil and add in cumin seeds making sure to move them back and forth in the pan to allow to bloom and become fragrant, about 1 minute.
Add in onions, garlic, ginger, squash and a pinch of salt and continue to sauté until onions have softened.
Then add in curry powder and coriander, continuing to sauté for about 30 seconds to become fragrant. 
Stir in the canned coconut milk, vegetable broth and sugar making sure to mix well.
Once combined, drain your lentils in a strainer and dump them into the curry sauce.
Bring your mixture to a boil and then reduce to a simmer. Cover with a lid and allow to cook for about 10-12 minutes or until red lentils are cooked through. 
Add salt and pepper to taste along with a fresh squeeze of lemon juice and serve as desired.
---
Notes
Do not overcook your red lentils! If you cook too long the red lentils will become very mushy, so make sure to pay attention. At the 10-12 minute mark of cooking, test them out by tasting it. You should be able to tell if they are perfectly cooked by then. If they still seem to firm, you can cook for an additional 4-5 minutes.
The kabocha squash is optional. I used it here because I wanted to use some up. Totally okay to omit in this dish, but if you do happen to have some, it really goes great in this dish. Just make sure to cut it small so it cooks quick.
Do use full fat coconut milk for this recipe. It leads to the creamiest and richest texture. 
Keywords: curry, lentils, quick and easy
Did You Try This Recipe?
Then let me know what you thought! Share your creations by tagging me on Instagram with the hashtag #plantbasedrdeats
★ Catherine