This Baked Hummus Pasta comes together for a quick and easy dinner that uses a flavorful sauce made with fresh tomatoes, garlic and hummus. The perfect sauce that is convenient to make and also nut free.
A quick healthy pasta recipe
This Baked Hummus Pasta recipe is the definition of an easy dinner that is also all things delicious and super quick to make. Most of the flavor in this dish is going to be coming from the hummus, tomatoes and garlic cooking together in sweet harmony with the olive oil. This super rich sauce that forms becomes to perfect coating for your favorite pasta.
I'm all about convenience. The least amount of hands on time required the better. And personally, if I can have something cook up very quickly, I'm all for it (you might want to also try this Easy Chickpea Tomato Stew if you need another quick dinner meal too)!
Why bake hummus?
I was actually inspired by one of my favorite dishes I would order from a Mediterranean restaurant we used to frequent often. The owners actually told me that to really get good flavor from your hummus, it's best to actually eat it warm or lukewarm. And they were right, it was delicious!
So I decided to run with this concept and kind of use it as a replacement for the feta used in the very viral baked "feta" pasta trend going around. It makes the most delicious and creamy sauce to coat your pasta and also makes this dish completely soy and nut free for those dealing with allergies.
Key ingredients
Cherry Tomatoes: Really important component of our sauce
Garlic Cloves: Adjust the amount based on the flavor of hummus you get
Hummus: Feel free to use your favorite flavor, I just went with garlic hummus
Seasonings: Dry basil, oregano, and a pinch of rosemary
Olive Oil: Do not skip it, it helps make this dish extra rich
Sun-Dried Tomatoes: for some extra salty and umami flavors
Fresh Basil: Pairs super well with the tomatoes in this and helps freshen everything up
Nutritional Yeast: For a little umami and cheesy flavor
Pasta: I find that large rigatonis were our favorite in this, but you can go for whatever pasta shape you prefer
Lemon Juice: Adds a little extra zing and brightness to finish the pasta off
How to make this hummus pasta
Start by adding your tomatoes and garlic to a large baking dish with a generous amount of olive oil. Then, make a small well in the center of your dish and add your hummus.
Season the veggies and hummus well and then add another splash of olive oil over top before popping into the oven at 400F for 30-40 minutes.
While waiting for everything to bake, cook your pasta, making sure to season the water generously with salt. Then cook pasta of choice according to package, making sure to reserve 1 cup of pasta water before draining.
Remove the pan from the oven once you see the tomatoes blister and soften. With a fork, lightly mash your tomatoes and then stir everything together.
Add in your reserved pasta water, nutritional yeast and sun-dried tomatoes then give everything a good stir. Finally, pour in your cooked pasta along with some fresh basil and a squeeze of lemon then toss to coat.
Easy substitutions
Make it gluten free: Use gluten free pastas like brown rice pasta, chickpea pasta or lentil pasta. Make sure to properly cook
Use your favorite veggies: Try different add-ins like olives for something salty, broccoli for extra veggies, or roasted chickpeas for more protein.
Leave out the nutritional yeast: Personally I feel it does add just a little hint of cheesy flavor to this dish, which is very similar to this vegan baked tofu "feta" pasta. However, it can be left out if you'd rather highlight the flavor of your hummus.
How to store and reheat your pasta
Allow your hummus pasta to cool after it bakes and place in an air-tight container in the fridge for up to 2-3 days. You can reheat your pasta on the stove top or in the microwave until warm. Before warming up, add a few splashes of water to the pan or microwave dish to help rehydrate the pasta and sauce. Mix well and serve.
Tips for making the perfect pasta
Make sure to add salt to your pasta water. This step is really important and really does help improve the taste of your pasta.
Don't forget to reserve 1 cup of your pasta water! This makes a big difference for the quality of your sauce. The starch in the pasta water will help thicken your sauce and also help it stick to the pasta better.
For convenience use store bought hummus in this dish. But, using some homemade hummus can elevate this dish even more as you can control the quality of the ingredients and also the flavor to your preference.
More pasta recipes to try
Print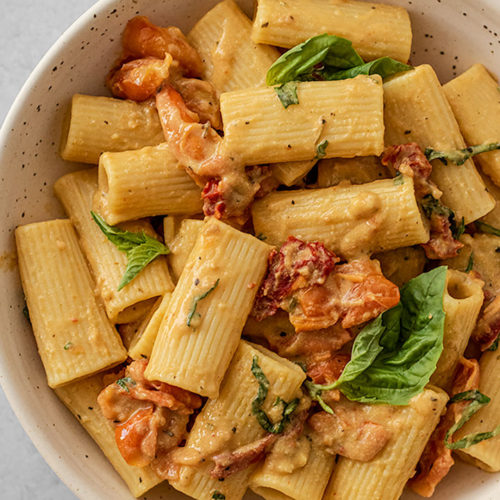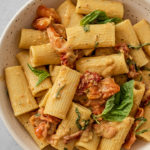 Baked Hummus Pasta
Author:

Cook Time:

30 minutes

Total Time:

30 minutes

Yield:

4

servings

1

x

Diet:

Vegan
---
Description
This Baked Hummus Pasta is loaded with flavor and is quick and easy to make. 
---
1 pint

cherry tomatoes

3

–

4

peeled garlic cloves (use more or less depending on the flavor hummus you use)

1 cup

hummus

1/2 tsp

dry basil

1/2 tsp

dry oregano

1/2 tsp

dry rosemary

2

–

3

tbsp olive oil

8 oz

of dry pasta

1 cup

reserved pasta water

1/3 cup

sun-dried tomatoes, sliced into strips

3 tbsp

nutritional yeast

5

–

6

fresh basil leaves, cut into strips
Juice of

half a

lemon
Salt and pepper to taste
---
Instructions
Preheat the oven to 400F, then in a large baking dish, add in your cherry tomatoes, garlic cloves and 1 tbsp of olive oil and toss to combine. 
Make a well in the center of your baking dish and add in your hummus.
Top the hummus with the dry basil, oregano, rosemary and the remaining olive oil, then place in the oven to bake for 30-40 minutes or until tomatoes are blistered and juicy. 
While the hummus bakes, prepare your pasta according to the package, making sure to season the water with salt. Make sure to reserve 1 cup of pasta water for the sauce after the pasta cooks. 
Once the tomatoes and hummus are cooked, carefully with a fork mash your tomatoes and garlic to fully release all of their juices, then mix into the hummus to get a thicker sauce. 
Add in your pasta water, sun-dried tomatoes, and nutritional yeast, making sure to stir well to create the sauce. 
Next, pour in your cooked pasta, fresh basil and a squeeze of lemon juice, then toss to coat evenly and adjust salt and pepper to taste.
Serve immediately.
---
Notes
Make sure to season your pasta water well. This will ensure that you have very flavorful pasta in this dish.
Don't forget to reserve your pasta water! You need that water to help make sure that your sauce thickens and adheres well to the pasta.  
Store leftovers in an air-tight container in the fridge for up to 2-3 days. 
Did You Try This Recipe?
Then let me know what you thought! Share your creations by tagging me on Instagram with the hashtag #plantbasedrdeats
★ Catherine