This easy vegan mug brownie for one is dairy free, egg free and uses basic pantry ingredients. Baked in the microwave in just 45 seconds to fudgy perfection.
I'm not a dessert blog, but I feel like dessert has been on my mind a lot. I think because baking is so tactical, scientific, and you need to test things a million times before you share it…it's just a lot of time spent. Before the pandemic, I didn't have time for any of that. So now that weekends are a little slower and I can take more time to think these things out, I've found myself experimenting more. Again, I am no dessert expert, but I do know I like easy and I like brownies. This easy vegan mug brownie is a proud accomplishment as I've been working on this for weeks and finally found the right ratio of deliciousness that bakes up quick in the microwave to answer those chocolate brownie needs.

What you need to make an easy vegan mug brownie?
Flour: This recipe has been tested with white wheat flour, spelt flour and oat flour.
Sugar: Use your preferred sweetener. I use regular sugar, but this can also be made with maple syrup, agave, or coconut sugar.
Cocoa powder: Opt for a fair trade cocoa powder. Our ethics should not just be with animal welfare, but also with making sure that human exploitation is avoided.
Nut or seed butter: I tested this with peanut butter and my favorite chocolate tahini from Soom Foods. Make sure your nut/seed butter is creamy and natural.
Plant milk: Will make this brownie richer. Opt for almond, soy or coconut milk beverages.
Coffee: Again, check to make sure your coffee is also fair trade. Workers that harvest should be allowed safe working conditions and also paid fairly.
Chocolate chips: Opt for dairy free. The more you add in the more fudgy your brownie will be.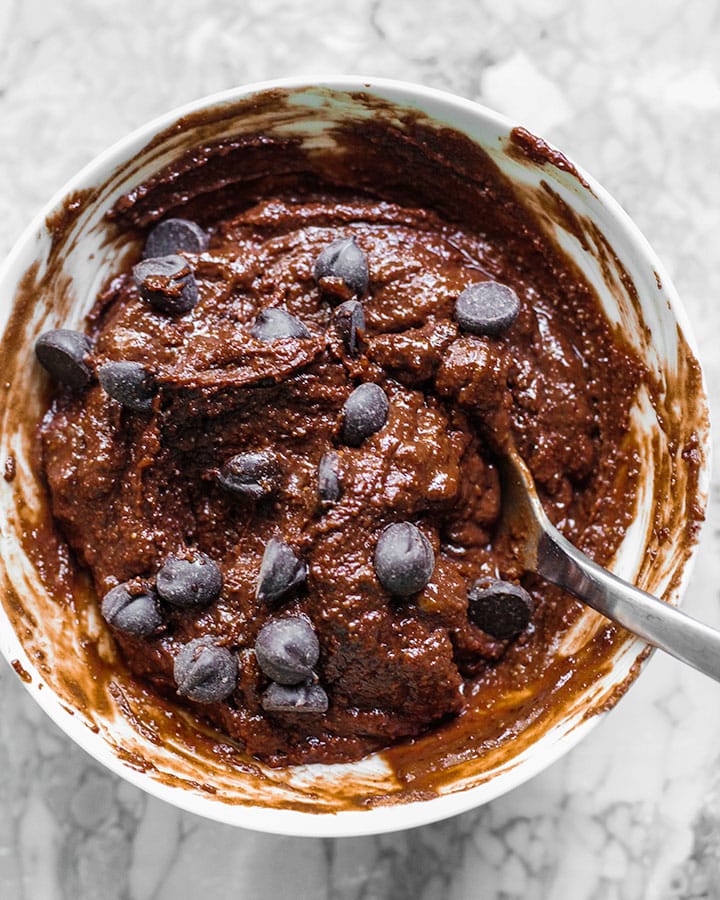 Tips for making the perfect easy vegan mug brownie? 
Do NOT add baking powder if you want a more fudgy, brownie like consistency. If you do like a cakey brownie, add 1/4 tsp of baking powder to your batter.
Make sure to include your chocolate chips. The chocolate chips will lend to a more fudgy consistency. Feel free to add more chocolate chips as desired. I tend to add a few extra on top just to make it look pretty.
Allow your mug brownie to cool down after cooking in the microwave. This will more importantly make sure you do not sustain a burn. Patience pays off.
Microwaves vary in wattage. A good way to prevent your mug cake from over cooking is to check it at the 30 second mark and then add time as necessary to cooking. 45 seconds in my microwave seemed to work perfectly, but if the top looks under baked, you can add small amounts of time to your total baking time.
Are microwaves safe to use? 
The question I get most is regarding safety using a microwave. There is abundant research available on the safety of microwave use in relation to cooking. Understanding how a microwave cooks food can often shed a little more light on it's safety. Microwaves utilize waves of energy similar to those of radio waves. These waves specifically will work towards heating water molecules along with other molecules that have a charge to them. These molecules will vibrate at a higher frequency, which helps to produce heat that is used to cook your food.
Cooking using this method continues to follow the principals of cooking and it's impact on food. Heat in general can impact nutrient retention. The interesting thing is that because microwaves require a shorter cooking time and create a steaming environment, you often are able to retain way more  nutrients this way compared to other cooking methods. Typically the one thing I caution with microwaves is being careful not to burn yourself (that is pretty much the biggest microwave threat). A really detailed evaluation of the safety and use of microwaves can be found through the World Health Organization.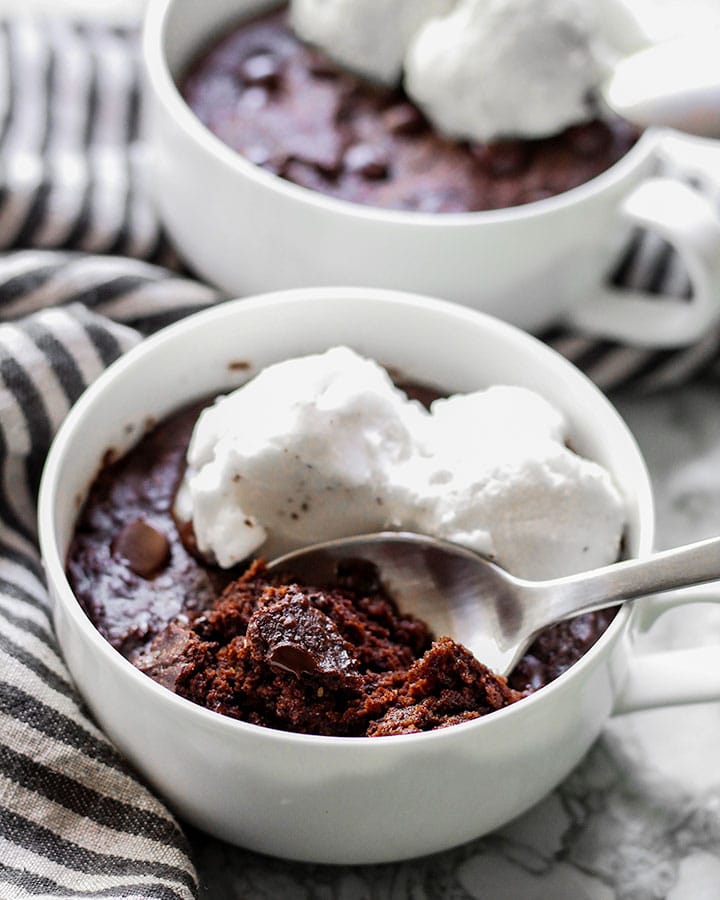 Can you bake this easy vegan mug brownie? 
Yes! Make sure to use an oven safe ramekin or dish. Follow the directions, but instead of placing in the microwave, place in the oven at 350F for at least 10 minutes. Remove from heat and allow to rest and cool for at least 5 minutes.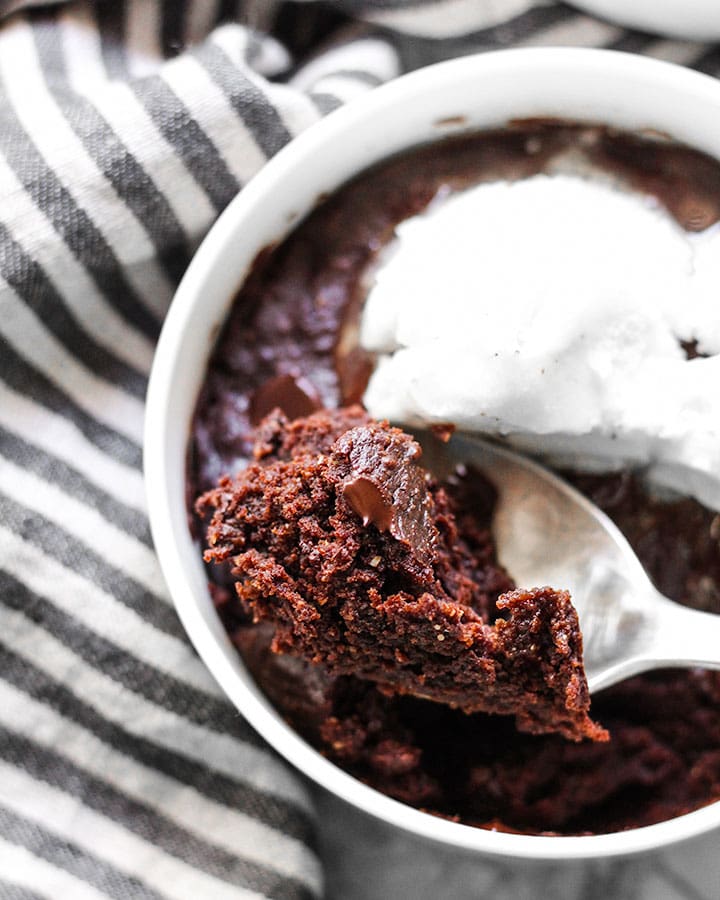 Need more brownie inspiration? 
Print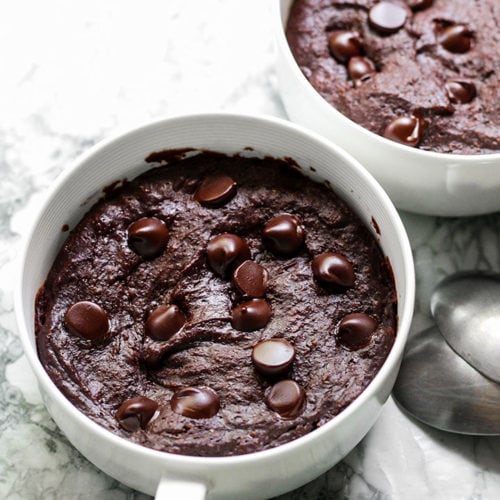 Easy Vegan Mug Brownie
Prep Time:

5 minutes

Cook Time:

1 minutes

Total Time:

6 minutes

Yield:

1

brownie

1

x

Category:

Dessert

Cuisine:

American
---
Description
This easy vegan mug brownie for one is dairy free, egg free & uses basic pantry ingredients. Baked in the microwave in just 45 seconds to fudgy perfection.
---
1 1/2 tbsp

white wheat flour

1 1/2 tbsp

sugar

2 tbsp

cocoa powder
Pinch salt

2 tbsp

peanut butter

2 tbsp

almond milk

1 tbsp

brewed coffee

1 tbsp

dairy free chocolate chips (add more chocolate chips to top or fold in as desired)
---
Instructions
For microwave
In a mug, add all dry ingredients and stir with a fork.
Add in peanut butter, coffee and almond milk then carefully stir with fork to create a wet batter.
Carefully fold in chocolate chips and add in extra to decorate on top as desired.
Place mug in the microwave for 45 seconds.
Make sure to allow mug cake to rest and cool for a few minutes before eating.
For oven
Follow above instructions, but instead of placing in the microwave, preheat oven to 350F. Place batter into an oven safe dish and bake for about 10 minutes.
Allow to cool slightly for a few minutes before enjoying.
---
Notes
You can replace the recommended flour hear with spelt, regular white flour or oat flour. 
You can opt for a sweetener you prefer here. 
You can opt out of the coffee and add an extra tbsp of almond milk. The coffee here helps to bring out more of the chocolatey taste.
Feel free to opt for any runny nut or seed butter if you have a specific allergy. 
Keywords: brownies, mug cake
Did You Try This Recipe?
Then let me know what you thought! Share your creations by tagging me on Instagram with the hashtag #plantbasedrdeats
★ Catherine