This baked tempeh sabroso as it's name implies is tasty! Infused with lime, sazon and garlic, this tempeh will leave you satisfied.
Tempeh wasn't always something I loved. When I first learned about it and it's origin, I was super excited to try it. However, I didn't do a good job of cooking it and that first bite almost made it my last bite. However, I came back to it, and made it a point to learn more about it. As I've improved my relationship with tempeh, I've learned some things that have made me enjoy tempeh more. Recently, this baked tempeh sabroso has been a favorite go to. Sabroso literally means "tasty" in Spanish, and when it comes to this baked tempeh, sabroso is right! I used some of my favorite Dominican flavors to enhance the taste of this tempeh. Every bite is flavorful and super satisfying.

What is tempeh? 
Tempeh is a traditional Indonesian soy product. It is made through a fermentation process using soybeans. Within this process, the soybeans are molded together to form a cake or block. Because this is made using whole soybeans, the taste and texture of this fermented block tastes completely different to that of tofu. It also means that tempeh includes a few more nutrients that make it special including fiber and probiotics among other vitamins and minerals. I've never had freshly made tempeh, but with store bought tempeh in the United States, you still get some earthy, nutty flavor notes when it is cooked properly. Traditionally, you can see tempeh marinated in spices or a brine and then fried. Of course fried is delicious, but I've also learned to enjoy tempeh baked, stir fried and steamed as is.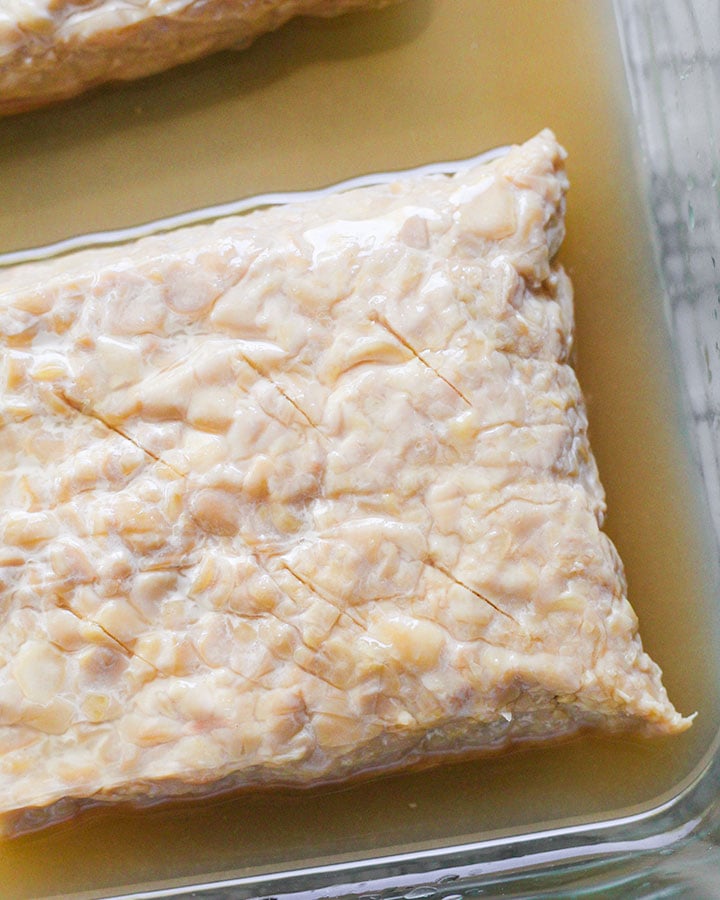 How to make tempeh taste good
There are a few ways that you can go about making tempeh taste good. Cooking method matters a lot when it comes to tempeh.
Steam/Simmer. Steaming or simmering your tempeh in water can help reduce some of the tempeh's bitterness. I find that simmering tempeh in a flavorful broth helps to cook off biterness while also infusing flavor into your tempeh.
Sauces. Just smother your tempeh in one of your favorite sauces. It can be BBQ sauce, teriyaki sauce or even buffalo sauce. Cook it in that sauce to help amplify the flavor.
Brine/Marinate. Adding a brine helps to counteract the bitterness. Marinating your tempeh will also allow for more flavors to infuse into it.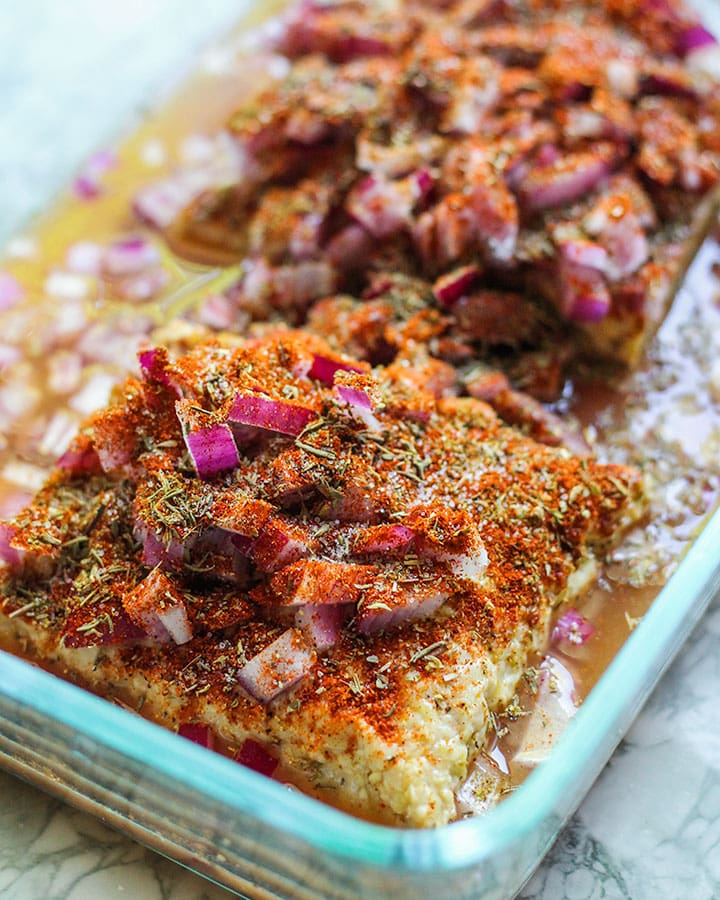 What is sazon? 
Sazon is a special seasoning salt blend that is used in many Latin homes. As a Dominican, sazon is pretty much a main seasoning component for most of our soups, stews and rices. You might be most familiar with the brand Goya that typically makes easily available packets that are pretty commonly found in the international section of most grocery stores. Want to make your own? Just add equal parts of the following ingredients to make your own sazon.
Salt
Ground black pepper
Granulated garlic
Ground coriander seed
Ground cumin
Mexican oregano
Achiote (annato) seeds – feel free to use turmeric if you can't find annato seeds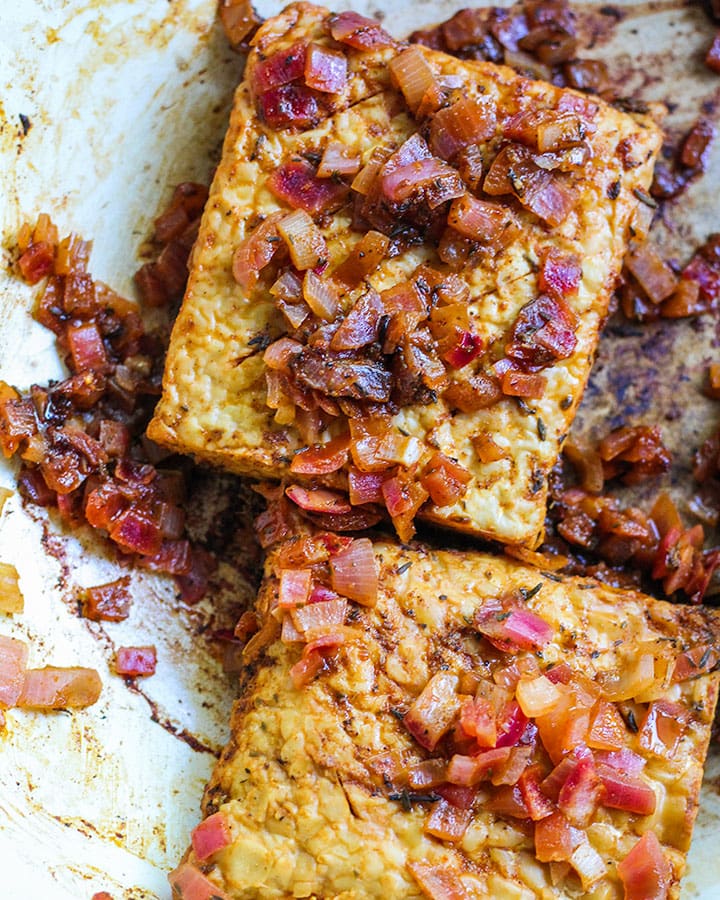 How to make baked tempeh sabroso?
Place your tempeh into a shallow dish and pour vinegar and freshly squeezed lime juice over top.
Include minced onions and seasonings to the liquid marinade then allow tempeh to marinate for at least 30 minutes.
Take tempeh slices and place in a heated pan and allow to sear on both sides.
Pour all marinade contents overtop of the tempeh in the pan and bring marinade to a simmer.
Allow tempeh to simmer until a majority of the liquid has been absorbed or is cooked off.
Place cooked tempeh on a lined baking sheet and bake in the oven until edges brown then serve.
Tips for making baked tempeh sabroso
To help infuse more flavor into your tempeh, take a knife and pierce the tempeh a few times on both sides before marinating/cooking.
If you want to further help reduce the bitterness of the tempeh, feel free to add a tsp of sugar to the marinade.
When baking, you can top with extra onions to crisp up or reserve the saute onions to top over tempeh once it's done baking.
Salt to taste. Personally, I like the tempeh as is once it's baked. However, you might feel you need a little more salt to help balance out some of the flavors.
Need more tempeh sabroso inspiration?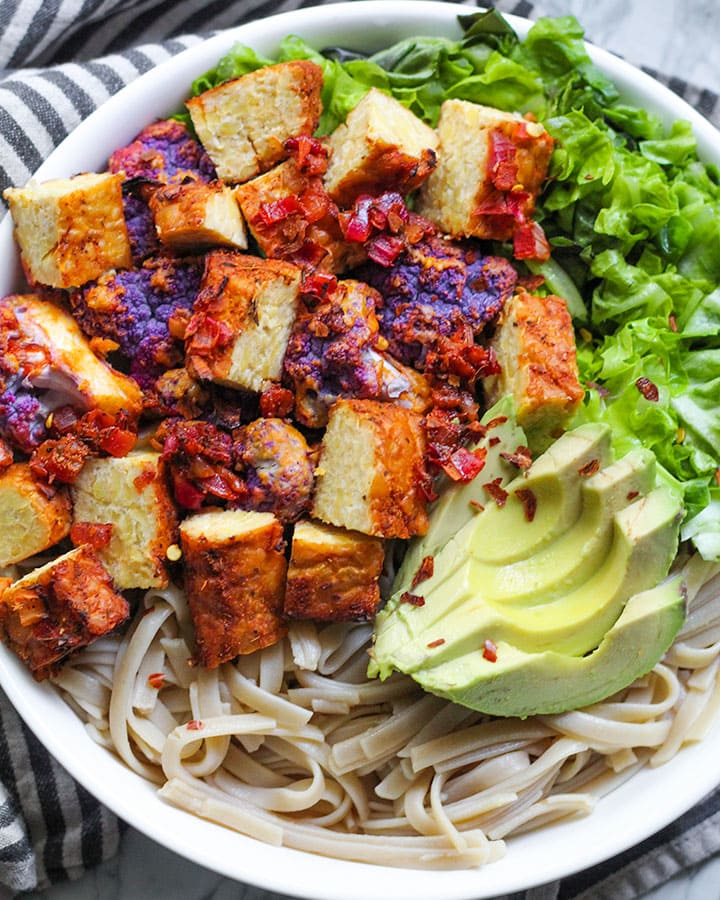 Print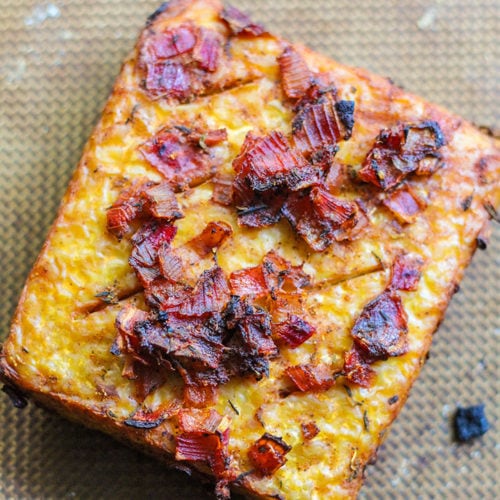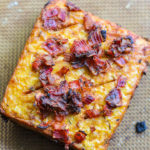 Baked Tempeh Sabroso
Prep Time:

40 minutes

Cook Time:

30 minutes

Total Time:

70 minutes

Yield:

2

servings

1

x

Category:

Main Course

Cuisine:

American
---
Description
This baked tempeh sabroso as it's name implies is tasty! Infused with lime, sazon and garlic, this tempeh will leave you satisfied.
---
1

block tempeh
Juice of

2

limes

1/4 cup

white vinegar

1

small onion, finely diced

1 tsp

sazon seasoning

1/2 tsp

cumin

1/2 tsp

black pepper

1 tsp

smoked paprika

1 tsp

thyme

1 tsp

oregano

4

cloves garlic, minced

1 cup

vegetable broth

1/8 tsp

salt or to taste
---
Instructions
Set oven to 400F.
Cut tempeh in half into 2 even blocks. With a knife, pierce into the tempeh at least 6 times on both sides.
In a bowl, whisk together vinegar, lime juice, and salt.
Place tempeh blocks in a shallow dish or tray. Top with diced onion, garlic and remaining seasonings then pour juice mixture all over the tempeh.  
Cover your marinating dish and allow tempeh to sit for at least 30 minutes, flipping tempeh to other side half way through the marinating time.
Bring a sauté pan to medium heat, and place the blocks of tempeh in the pan and sear for 2-3 minutes on both sides.
Add marinade and vegetable broth and bring to a low simmer.
Flip your tofu as needed and allow liquid in pan to cook off, about 10 minutes. 
Take tempeh, and place on a baking tray. Season with a pinch of salt and pop in the oven to bake for 15-20 minutes or until golden. 
Remove from oven and serve with vegetables and starch of your choice.
---
Notes
If using an airfrier, add tempeh and bake at 370F for 8-9 minutes.
Depending on heat of the stove, liquid may need more time to cook off. Make sure to watch your pan to make sure you don't burn your tempeh while cooking off liquid. 
Did You Try This Recipe?
Then let me know what you thought! Share your creations by tagging me on Instagram with the hashtag #plantbasedrdeats
★ Catherine