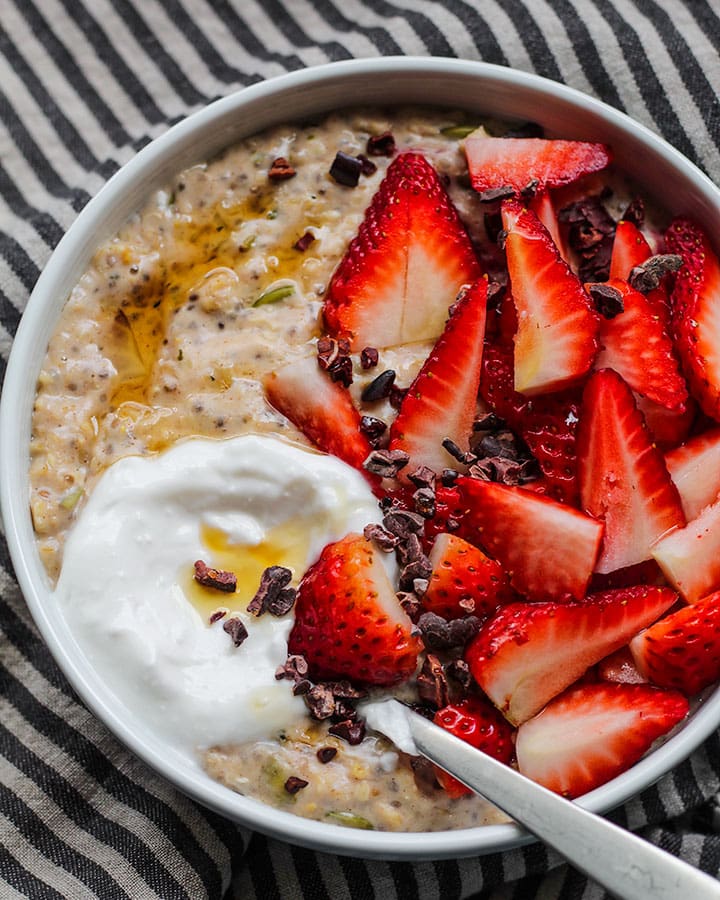 Are you someone that thinks oatmeal isn't very filling or satisfying? Whelp, let me introduce you to my little friend. Just joking, it's still oatmeal except with a bunch of great add ins to help you boost protein, healthy fats and your general sense of fullness. Ready to get full on this bowl of high protein strawberry oatmeal? I know I am, and I'm here to help make your future oatmeal experiences just as satisfying and enjoyable from now on.
What impacts satiety?
Ever wonder why some foods fill you up and others don't? It all has to do with the nutritional properties of those foods and how our body tends to digest them. In order to impact fullness, you need a number of different nutrients working together. Both proteins and fats tend to digest a lot slower than things like carbohydrates. Complex carbohydrates are a step better than simple carbohydrates because of their high fiber content. And while things like complex carbohydrates will take a little longer to digest thanks to the fiber content, it won't nearly do as well on it's own as it would if you combine it with things like protein and fat. At the end of the day it all comes down to balance.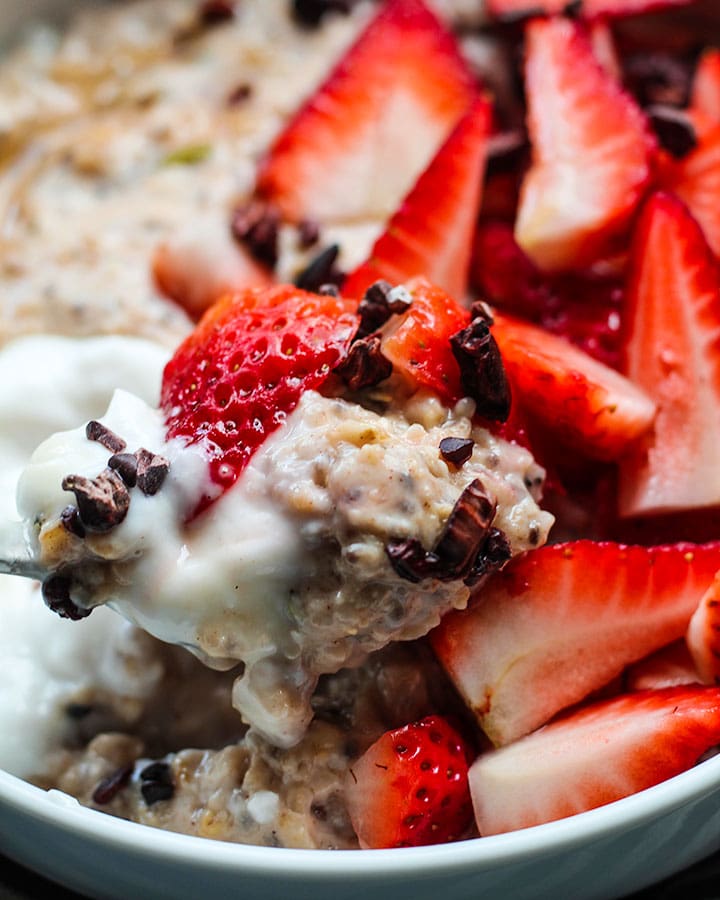 How to balance your bowls for maximum satiety
We just talked about proteins, fats and high fiber foods for boosting satiety, but what does that look like in terms of actual food? Here's a breakdown specifically for a well rounded bowl of oatmeal. Honestly, you can mix and match any of the ingredients below for the ultimate filling bowl.
Fats: nuts, seeds, nut/seed butters, dark chocolate chips
Protein: high protein plant milks like soy, pea protein or hemp based milks, some plant based yogurts (soy/nut based), hemp hearts
Complex Carbs: Oats (rolled or steel cut oats take longer to digest than instant)
Produce: shredded fruits and veggies (think shredding zucchini or carrots into oats like you would in some quick breads/cakes)
I believe a good formula to follow is to choose at least 1 serving from each of these three categories to maximize fullness. This combo might look like cooking your oats in soy milk, then topping with a spoon of peanut butter and a handful of berries. Mix and match the different options based on your preferences. I made these high protein strawberry oats to meet all these qualifications and more.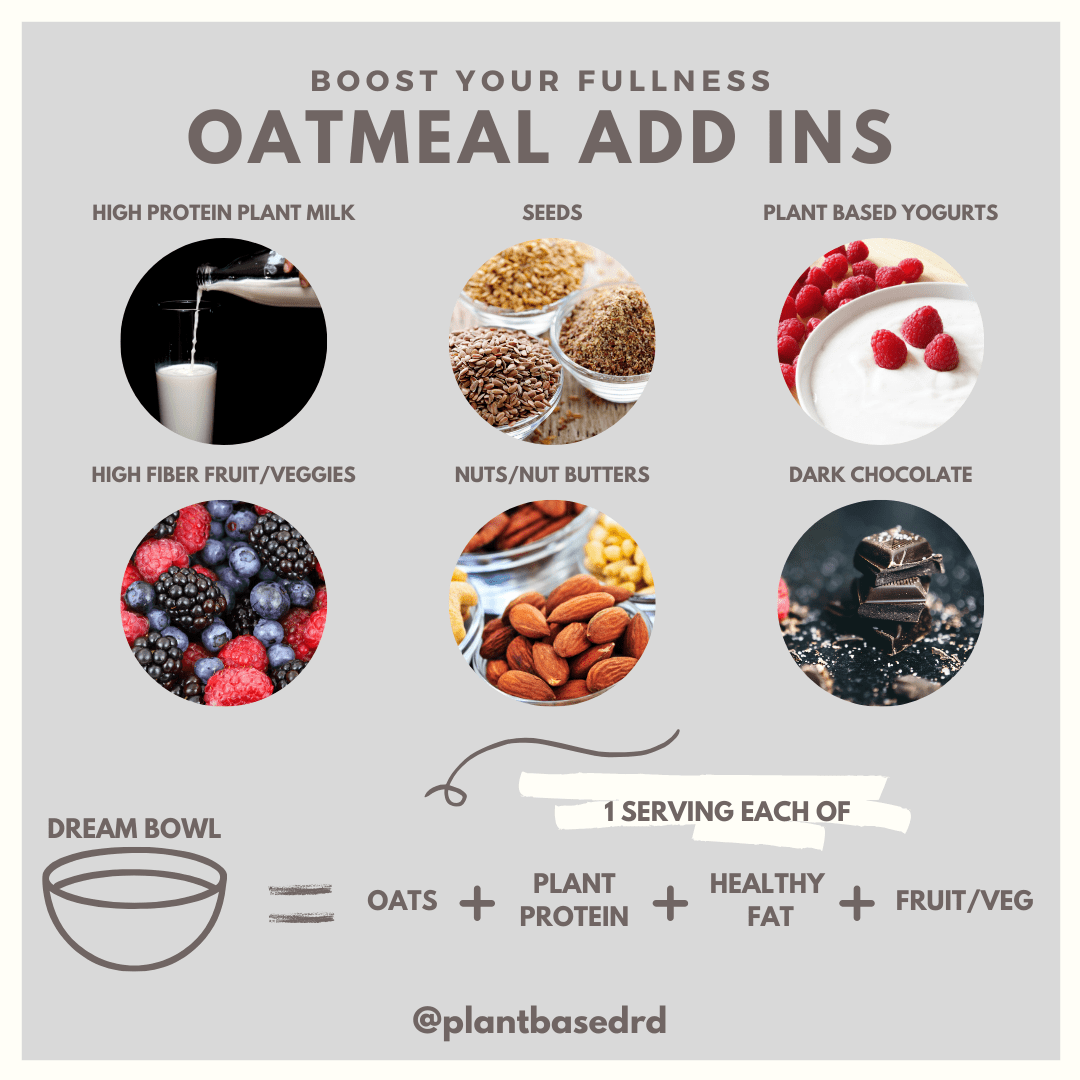 What ingredients in this high protein strawberry oatmeal add to fullness?
Rolled oats
Chia seeds
Hemp hearts
Soy milk
Strawberries
Plant based yogurt
As a reference, most instant oatmeal packets clock in at just 4 grams of protein. This recipe gives you 19 grams of plant protein. This in combination of all the healthy fats will help boost fullness and your omega 3 needs as well.
Need more high protein oatmeal inspiration?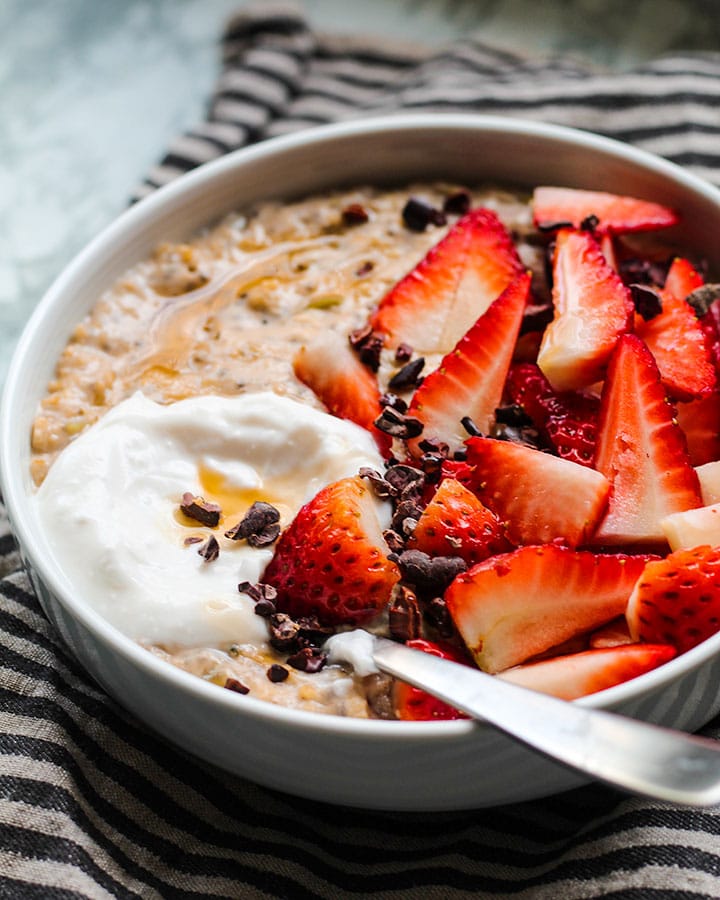 Print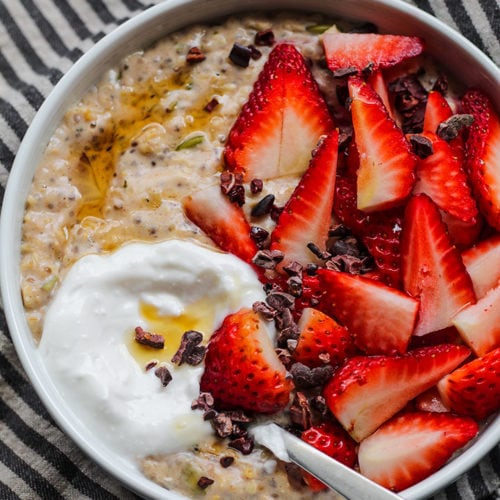 High Protein Strawberry Oatmeal
Prep Time:

5 minutes

Cook Time:

10 minutes

Total Time:

15 minutes

Yield:

1

serving

1

x

Category:

Breakfast

Cuisine:

American
---
Description
This creamy bowl of high protein strawberry oatmeal feels like spring in a bowl and is loaded with 19 grams of plant protein. The perfect filling, vegan and gluten free breakfast for everyone.
---
1/2 cup

gluten free rolled oats

1 tbsp

chia seeds

1 tbsp

hemp hearts

1 1/4 cups

unsweetened soy milk

1/4 cup

strawberries, sliced

2 tbsp

unsweetened almond yogurt

2 tsp

maple syrup

1/4 tsp

cinnamon
Pinch of salt
---
Instructions
Add oats, chia seeds, hemp hearts, cinnamon, and strawberries to a sauce pan and stir to combine.
Pour in milk and mix together.
Bring mixture to a simmer and allow to cook and thicken to desired consistency for 5-8 minutes.
Remove from heat and stir in maple syrup, salt and yogurt then serve.
---
Notes
Serve and top bowl with additional fresh strawberries, more yogurt and an extra drizzle of maple syrup if desired.

If you have a soy allergy, you can replace the soy milk with a high protein plant based milk like Ripple Milk for the same amount of protein or Hemp Milk, which will only be a few grams less than provided by soy milk. 
For a thicker oatmeal, allow oats to sit and thicken for a longer period of time before eating. 
You can make a big batch of this oatmeal and store in separate Tupperware containers. When planning to eat, add a few splashes of milk, stir and reheat in the microwave for about 1 minute and 30 seconds. 
Keywords: baked oatmeal, chia seeds, cinnamon, hemp hearts, maple syrup, plant based yogurt, rolled oats, soy milk, strawberries
Did You Try This Recipe?
Then let me know what you thought! Share your creations by tagging me on Instagram with the hashtag #plantbasedrdeats
★ Catherine