These baked garlic chili chickpea patties are all flavor and easy to make. Healthy, satisfying and loaded with plant based protein. Perfect for meal prep too!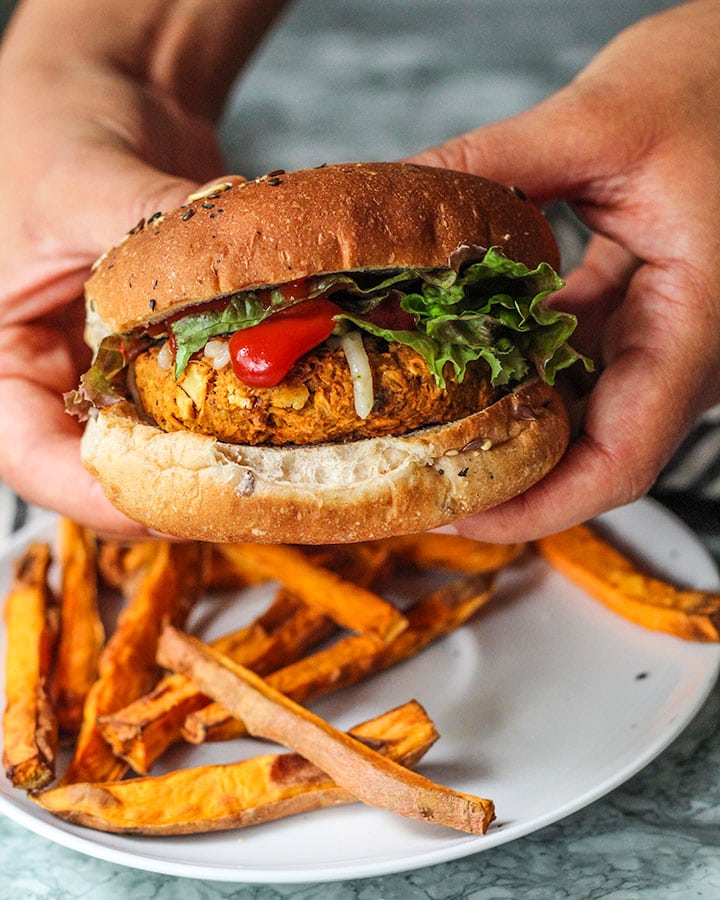 Beans are great. I absolutely love them. However, sometimes convincing people to love them the same way I do can be challenging. I can eat them as is, but people like my husband need a little more incentive to eat them. The best way I'm able to convince my husband to eat his beans with gusto is to constantly find ways to transform their texture and flavor. Que these delicious and easy garlic chili chickpea patties. A super satisfying way to enjoy chickpeas by infusing a lot of flavor and baking them into patties for a fun plant protein side.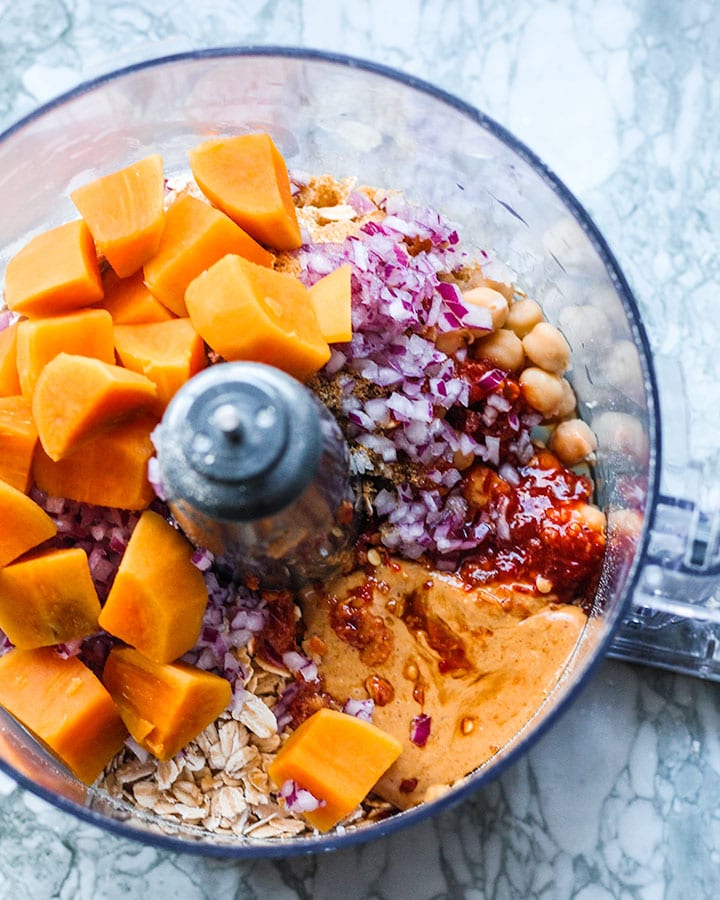 The most common chickpea patty you will see is a falafel. As much as I love them, I wanted to try some other ways to flavor these chickpea patties.
Garlic Chili Chickpea Patty Flavor Enhancers
Garlic Chili Sauce
Peanut Butter
Onion
Cumin
Garlic Powder
Soy Sauce
Not only are these chickpea patties really tasty, but they also bake nice and firm. No soggy or mushy patties here! Here is all you will need to know to make sure you have the same delicious and amazing chickpea patty experience.
Tips for making the perfect garlic chili chickpea patties
Drain, rinse and dry chickpeas. To prevent patties from being mushy, make sure to drain your canned chickpeas, rinse well and then let them sit on a clean kitchen towel or paper towel to remove as much moisture as possible.
Allow sweet potatoes to cool before adding to recipe. Allowing the sweet potatoes to cool will reduce excess moisture for the resulting chickpea mixture that you use to form the patties.
Lightly wet hands before handling batter. Want to prevent the batter from sticking to your hands? Just make sure to very lightly moisten the surface of your hands prior to handling. This will help you shape the patties a lot easier.
Make sure to cook the patties all the way through. Make sure to follow the cook time to avoid mushy patties. Lightly tap on the center of the patty to ensure the center isn't completely soggy. They should come out of the oven, slightly firm to the touch. When burgers come out of the oven, allow them to rest on the baking tray for 10 minutes to continue firming up.
Add additional quick oats if too wet. If mixture is too wet to form into patties, add extra quick oats to the mixture to help absorb some of the moisture.
Double the recipe easily. You can easily double all the ingredients in this recipe to make up to 12 chickpea patties. In this instance, using a food processor can be your best friendly as mashing all these ingredients in a bowl can be very tedious.
Most common questions
Can these garlic chili chickpea patties be frozen?
Yes! One of my favorite thing about these patties is that you can double or triple the recipe, bake a bunch of them at the same time and then freeze them for later use. Allow burgers to completely cool after baking. When packing into storage containers, make sure to separate patties by placing a sheet of parchment paper between patties to prevent sticking together. Place patties in freezer to fully freeze. When ready to serve, take patties and place in toaster oven or air fryer and reheat for at least 6-8 minutes or until burger is fully thawed and firm.
Are these patties gluten free? 
They can be made gluten free by opting for gluten free rolled oats. Normal oats are not typically gluten free as there is often cross contamination with wheat during harvesting. Look for oats that are clearly labeled and say that they are gluten free. Also make sure to use gluten free soy sauce alternatives. You can opt for things like gluten free soy sauce, coconut aminos, or wheat free tamari.
Can I make these patties without a food processor? 
You can make these burgers without a food processor. Just replace rolled oats with plain quick/instant oats. Add all ingredients to a mixing bowl and with a fork or potato masher, mash ingredients together and stir to combine. Take chickpea batter and form patties as instructed in the recipe.
Need more tasty chickpea recipes?
Print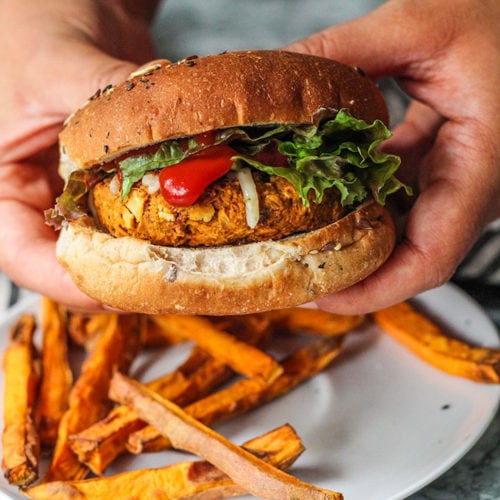 Garlic Chili Chickpea Patties
Prep Time:

15 minutes

Cook Time:

45 minutes

Total Time:

60 minutes

Yield:

6

patties

1

x

Category:

Main Course

Cuisine:

American
---
Description
These baked garlic chili chickpea patties are all flavor and easy to make. Healthy, satisfying and loaded with plant based protein. Perfect for meal prep too!
---
1

small sweet potato (about the size of your fist)

1

can chickpeas

1 tbsp

chili garlic sauce

2 tbsp

lite soy sauce

2 tbsp

peanut butter

1/4

medium red onion, minced

1 tsp

cumin

2 tbsp

ground flax seed

4 tbsp

water

1

cup rolled oats

1 tsp

garlic powder
---
Instructions
Preheat oven to 375F. Take sweet potato and poke holes into the skin and place in the microwave for 3-4 minutes or hit potato button and cook until soft. Set aside and allow to cool.
Mix water and flax seed in a small bowl and allow to gel up, about 5 minutes.
Once sweet potato is cooled, cube it. Optional, but if you don't want the skin on, feel free to cut sweet potato in half and just scrap out the insides with a spoon into a food processor.
Drain and rinse a can of chickpeas. Allow chickpeas to sit on a few paper towels or clean kitchen towel to remove excess moisture.
Add ALL ingredients to a food processor and pulse until well mixed and easy to mold into patties.
Take 1/4 cup mixture and with slightly wet hands, mold mixture into a patty shape.
Place patty on a lined baking sheet and repeat patty formation with remaining mixture (should form 6 patties).
Bake 25 minutes, carefully flip and bake another 10-15 minutes or until burger is firm, then remove from oven. Allow to sit for at least 5-10 minutes to cool before serving.
---
Notes
You can easily double this recipe to make a larger batch. 
These burgers are easy to freeze for later use. Make sure to allow to fully cool and then store in a container. Use a piece of parchment paper to separate burgers and prevent them from sticking together.
If you don't have a microwave, you can either roast your potato in the oven ahead of time or peel, cube and steam your sweet potato until it's soft. If opting for steaming, please note that you want to allow potato to completely cool and let some of the moisture dry off before adding to food processor.
Keywords: burgers, chickpeas, oats, patties, sweet potato
Did You Try This Recipe?
Then let me know what you thought! Share your creations by tagging me on Instagram with the hashtag #plantbasedrdeats
★ Catherine