This hearty Kale Crunch Salad is loaded with massaged kale, crunchy cabbage, crispy chickpeas, and tossed with a creamy peanut ginger sauce.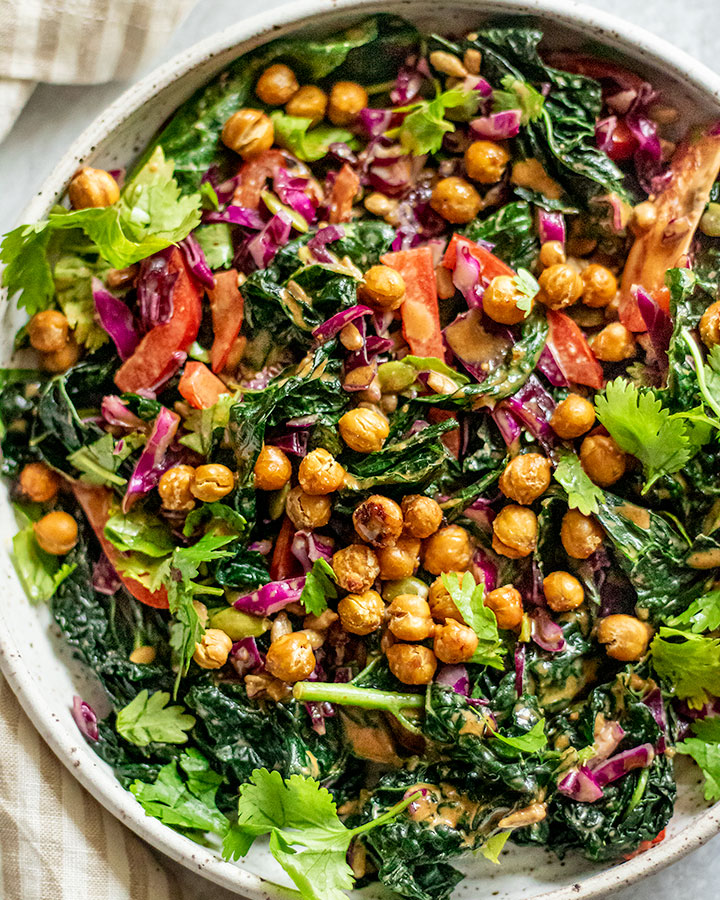 When I was in college and wanted a better salad than what my cafeteria offered, I would meal prep this salad. I'd grab the cruciferous salad mix from Trader Joe's, massage the greens with a squeeze of lemon or lime juice, and then add in some rinsed and drained chickpeas, and mix everything with a quick homemade peanut sauce.
The peanut sauce was the best part for me and made me want to eat the whole bowl of greens and chickpeas in one go, and I feel like when I'm really in the mood for some extra vegetables that I enjoy, this salad is always my bowl of choice.
Why You'll Love This Crunchy Salad
This salad has texture. Lots of crunchy vegetables, seeds, and roasted chickpeas all topped with a velvety dressing.
Easy to make. The three components of this salad are super easy to make and you really don't need any special ingredients or equipment to make.
As is, this salad is vegan and gluten-free and easy to modify to be nut-free as well.
Key Ingredients and Substitutions
Kale: This is the base of our recipe, but you can feel free to use shredded brussels sprouts or spinach. It makes this salad hearty, but also provides a variety of minerals.
Cabbage: I used red cabbage, but green works too. It provides one layer of crunch to the salad. If you need to make this easier, feel free to use bagged shredded cabbage.
Red Pepper: Provides crunch, but also provides a very mild sweet flavor. Shredded carrots also work really well!
Seeds: A combination of sunflower and pepitas provide a 3rd layer of crunch. The combination provides vitamin E, zinc, magnesium and protein.
Peanut Sauce: A creamy peanut sauce made with a combination of peanut butter, soy sauce, vinegar, garlic and ginger.
Roasted Chickpeas: Lightly seasoned chickpeas, roasted until nice and crispy. A great alternative for croutons that can also provide extra protein, iron, and fiber to the salad. If you want to skip making your own, I love using roasted bean products like

Biena

or

Bada Bean Bada Boom

as a great protein rich salad topper.
How to Make Kale Crunch Salad
Rinse and drain a can of chickpeas and place the drained chickpeas on a clean kitchen towel. Rub the chickpeas well to dry and if there are any excess chickpea skins, go ahead and remove them. Take the chickpeas and place on a baking tray with some oil, garlic powder, onion powder and a pinch of salt, then toss to coat and bake.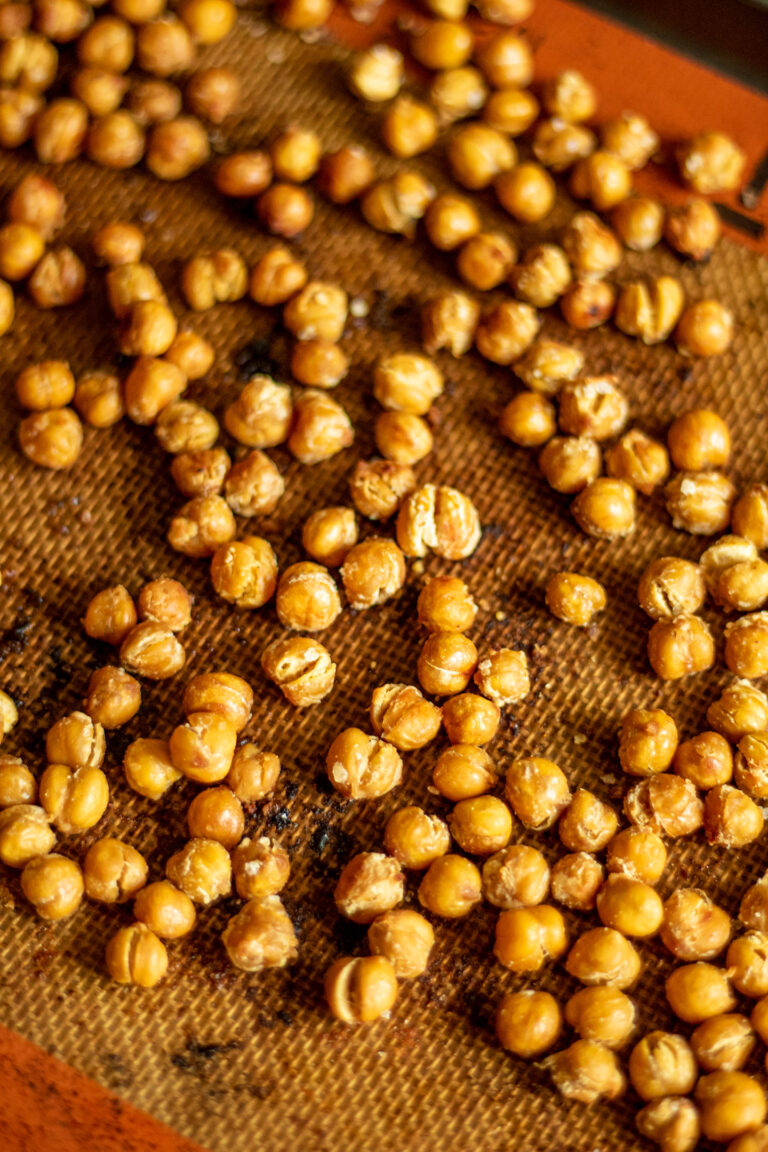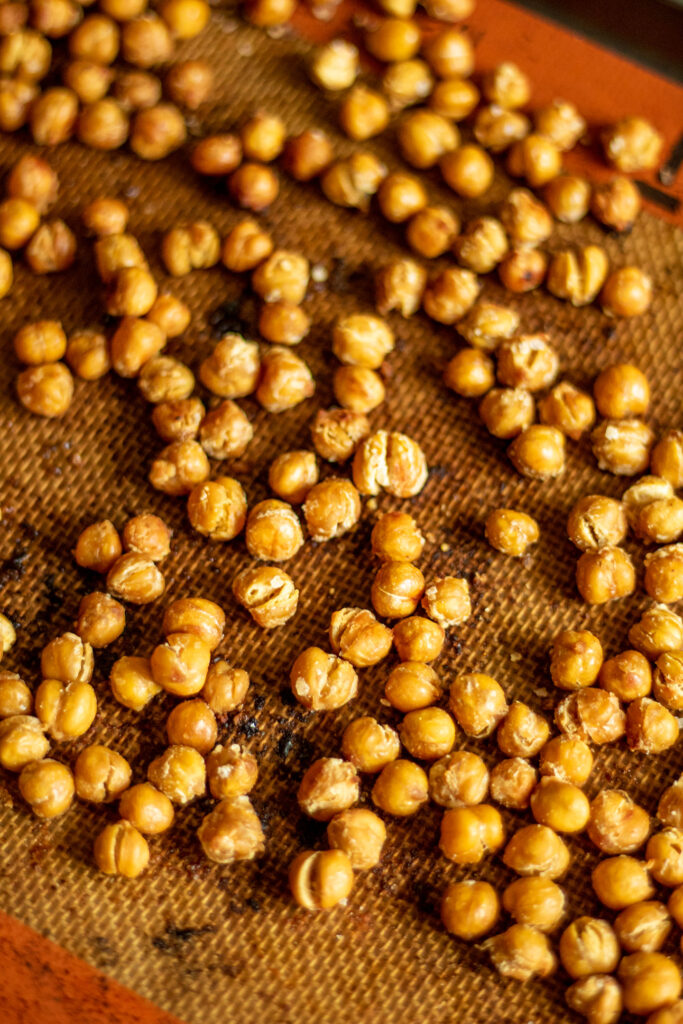 Remove the stems from your kale and roughly chop and place into a large mixing bowl. Add a teaspoon of oil, salt and a little bit of lime juice and rub it into the kale.
Chop your vegetables and add them to the bowl of kale and toss together to mix along with the nuts, seeds and cilantro.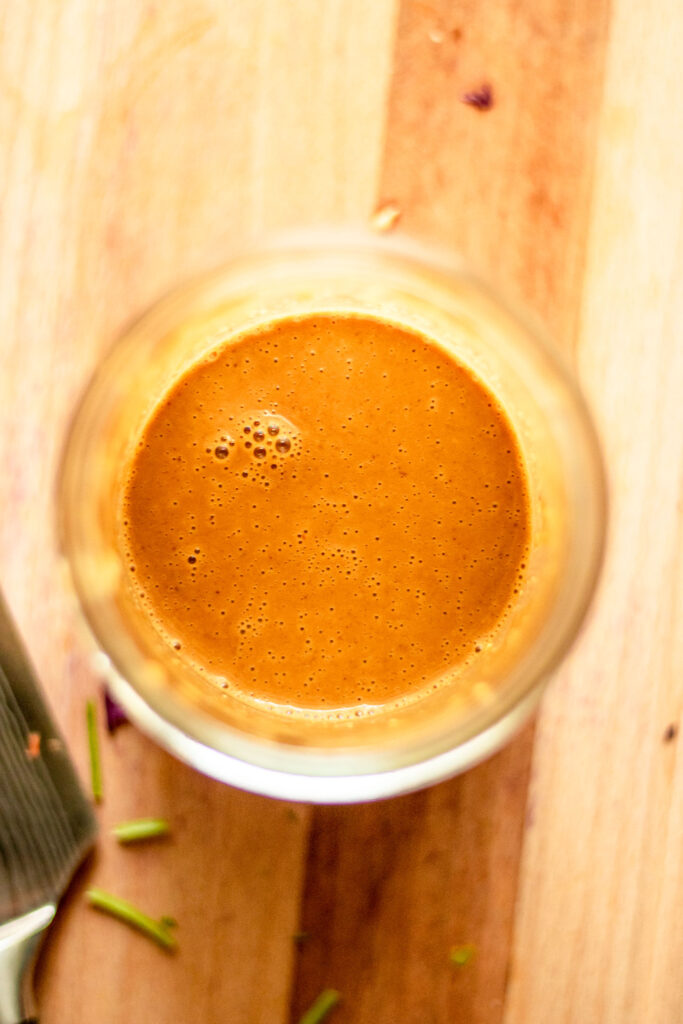 As the chickpeas are cooling out of the oven, whisk the dressing together in a bowl. You can control how thick or thin you want it by adjusting the amount of water you add to it.
When ready to serve, drizzle with your peanut dressing and top with the crispy chickpeas.
Tips for the Best Salad Texture
To remove bitterness and improve the texture of kale, make sure to massage it with a little fat. You can use oil, avocado or a bit of the dressing you are using. Rub it into the kale with some salt and acid and you will see the leaves soften significantly.
Use a mix of hearty greens and crunchy vegetables for the best texture. Crunchy vegetables like cabbage and bell pepper help to add to all the textures in this salad. To make this salad faster, sometimes I'll use a salad mix that contains shredded cabbage and carrots.
Make sure to chop your cabbage thin to get the perfect texture. If you feel slow with a knife, you can use a mandoline or food processor to save time and slice your veggies evenly. Pre-shredded vegetables like cabbage and carrots can also save time here too.
If you want to meal prep your salad, consider placing the salad in a meal prep container along with the dressing stored in a small cup or jar to store with the salad. You can also do a quick salad jar. Layer the dressing at the bottom and layer in the hearty ingredients like the rinsed chickpeas, kale, cabbage, bell pepper, the seeds and finally the cilantro. This will help prevent your salad from getting soggy.
Frequently Asked Questions
How long does this salad keep?
Store the salad undressed for best longevity. When ready, drizzle with the dressing and top with the crispy chickpeas. The salad will last up to 4 days and remain crunchy. Make sure to store the chickpeas separately from the salad. To keep the chickpeas crispy, allow to completely cool and store in a glass container with the lid partially off to completely dry them out. The chickpeas can be kept for 4 to 5 days.
Is it okay to eat raw kale and cabbage?
They are totally fine to consume in their raw state, however, for some it might be bitter and tough to eat. To make it more enjoyable, make sure to massage your kale with fat, salt and acid like lemon juice to help remove the bitterness and make it easier and more satisfying to eat. Both kale and cabbage are loaded with good for you nutrients including vitamins C, K, folate, fiber and antioxidants associated with lower chronic disease risk.
Can you make this nut-free?
Yes, just swap the peanut butter for sunflower seed butter in the original peanut ginger recipe post. Make sure the seed butter is natural to ensure you get a nice and creamy texture.
How do you make this gluten-free?
When preparing the dressing, just make sure that you are using a gluten-free soy sauce or coconut aminos.
Can I use whole fats instead of oil for this recipe?
You can try. The chickpeas might be trickier to make crispy without the oil, but you can either try roasting them at 425F with the coated spices for 25 to 30 minutes or try them in the air fryer for 20 minutes at 400F. The air fryer tends to make them crispier. To replace the oil with a whole fat for the kale salad, feel free to try it with using a little peanut sauce or 1/4 of a ripe small avocado to massage into the kale.
Is this salad a healthy alternative?
This salad is loaded with nutrients thanks to the variety of vegetables, proteins and fats used to make it. There are a lot of cruciferous vegetables like kale and cabbage to provide various minerals like vitamins C, E and K while providing folate and various minerals. The crunchy chickpeas provide protein to pair well with the fat and protein combo provided by the two seeds in the salad.
How to Serve
To make this a complete salad, I would recommend serving it with some starch. I personally love having this recipe with some rice. However, you can absolutely toss some other grains like quinoa, wild rice and some corn. You may also wish to enjoy with a side of soup like this Chickpea Kale Soup or 1/2 a sandwich like this vegan panini.
More Satisfying Salad Recipes to Try
Print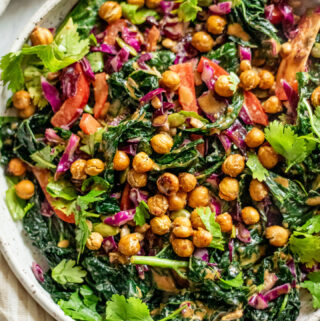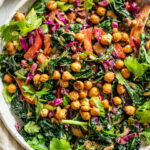 Kale Crunch Salad
Author:

Prep Time:

15 minutes

Cook Time:

30 minutes

Total Time:

45 minutes

Yield:

4

servings

1

x

Category:

Salad

Method:

Baking

Cuisine:

American

Diet:

Vegan
---
Description
This hearty Kale Crunch Salad is loaded with massaged kale, crunchy cabbage, crispy chickpeas, and tossed with a creamy peanut ginger sauce.
---
4 cups

lactino kale, destemmed and roughly chopped

1 tsp

olive oil
Juice of

half a

lime or lemon

1/4 tsp

kosher salt

1 cup

purple cabbage, shredded

1

red bell pepper, sliced into strips or

1/2 cup

shredded carrots

1/4 cup

roasted sunflower seeds

1/4 cup

roasted pepitas

1/4 cup

cilantro, roughly chopped

1/3 cup

peanut ginger sauce or a store bought peanut sauce
Roasted Chickpeas
1

,15 oz can chickpeas, rinsed and drained

1 tbsp

avocado oil

1/2 tsp

onion powder

1/2 tsp

garlic powder

1/4 tsp

salt
---
Instructions
Preheat the oven to 400F. Take your rinsed chickpeas and place them in a clean dish towel and rub them as dry as you can. Discard any excess chickpea skins that rub off the chickpeas as you dry them.
Add your onion powder, garlic powder and salt and then drizzle your chickpeas with the oil. With your hands, toss the chickpeas to evenly coat with the oil and seasoning. Make sure the chickpeas have enough room on the tray to roast in a single layer.
Place in the oven for 30 minutes, shaking the tray to move the chickpeas half way through. Once cooked, allow to cool on the tray.
To a large bowl, add in your kale along with a tsp of avocado oil or extra virgin olive oil, your salt and lime juice and then massage this into the kale until the kale appears to shrink and soften.
Add the remaining vegetables and cilantro to the bowl along with the sunflower seeds and pepitas and give the salad a quick toss to combine.
Pour on your preferred amount of peanut sauce, I use about 1/4 to 1/3 cup of the recipe and give another toss to coat the salad with, then top with the crispy chickpeas before serving.
---
Notes
Make it a complete meal by adding some cooked grains or starches like quinoa, wild rice or couscous.
Allow your chickpeas to completely cool before storing. Moisture in the chickpeas especially when hot will cause the chickpeas to soften. Sometimes, if they do get soft, I'll pop them back in the oven or air fryer for a few minutes to help crisp them up again.
To remove bitterness and improve the texture of kale, make sure to massage it with a little fat, salt and acid. I use olive oil, salt and a little squeeze of citrus juice, usually lime or lemon. Just rub it into the kale leaves to help them soften and become more enjoyable to eat.
Store your tossed greens and vegetables separate from the dressing and chickpeas if meal prepping. Place the salad in a meal prep container along with a small container with your dressing. Store the chickpeas in a small jar or sandwich bag to add on top when ready to serve.
To save time, you can skip roasting and just coat the chickpeas with the seasonings and toss into the salad with the dressing.
Keywords: vegan salad recipe, kale crunch salad, vegan kale crunch salad
If you tried this recipe or any other recipe on the blog, then let me know what you thought in the comments below! And if you loved it, don't forget to rate it too. Feel free to follow on Instagram, Pinterest, and TikTok for the latest nutrition tips and recipe videos.
★ Catherine
This post contains affiliate links which means I will make a small commission if you purchase from those links. I only recommend and share products that I know, trust and personally use myself!