This hearty Winter Farro and Kale Salad is loaded with tender farro, chickpeas, and sweet pomegranate seeds, dressed in a garlic citrus vinaigrette. Easy meal prep for easy lunches.
My husband has been wanting me to change things up, namely with the grains I use. As you may know, I love rice and it finds a way into a good majority of my meals. I would say Greg…not as big of a fan of rice as I am, so when I asked him what he wanted me to cook, he was very much on board with using farro. I wasn't opposed, so I gave this chewy and nutritious grain a shot in this tasty salad.
In a way, this salad reminds me a lot of my Lemon Orzo Chickpea Salad. Big difference is that this is more of a warm salad using roasted winter vegetables.
Why You'll Love This Winter Salad
It's easy to put together. A tasty salad, doesn't need to be overly complicated. Choosing simple ingredients and cooking methods can make this salad tasty without all the labor.
Hearty and packed with nutrition. The farro, chickpeas and hearty vegetables make this salad really filling and satisfying. All the ingredients work together to make a balanced and tasty meal to meet your nutrient needs.
The perfect way to try something new. Have you ever tried farro? Or maybe you don't vary up your grains often? This salad will help convince you to try a new grain, vegetable or combination of ingredients you might never have thought of before.
Key Ingredients and Substitutions
Farro: A chewy and unique grain that is loaded with protein (6-7g per 1/4 cup dry) and fiber (5g per 1/4 cup dry). Also a good source of magnesium and zinc.
Broccoli: One of my favorite cruciferous vegetables, but another hearty cruciferous vegetable works too. You can try brussels sprouts, cabbage, or cauliflower depending on what you enjoy.
Red Onion: I love that it makes this salad tasty and colorful. It's also loaded with powerful antioxidants like anthocyanin. You can absolutely change it up and use shallots or another onion if preferred.
Chickpeas: Plant protein to compliment the protein in the farro for a nice and filling meal. You can replace with lentils or tofu if desired.
Herbs & Spices: I used a combination of coriander, paprika, cumin, thyme and basil. Add or takeaway any spices you prefer.
Kale: I love to use lactino kale as I find it's easiest to clean, but feel free to enjoy using a different variety or a different green all together. Kale is hearty, so if you swap to something like spinach, wait to dress your salad until you plan to eat it.
Toppings: Pepitas and pomegranate. You can absolutely change it up too. Feel free to swap the pepitas for other nuts or seeds like walnuts, pecans, hemp hearts or sunflower seeds.
The Dressing: Olive oil, lemon juice, fresh minced garlic, mustard, red pepper and oregano, but feel free to use a store bought dressing if it's easier.
How to Make a Kale & Farro Salad
There are 3 major steps when it comes to this salad, but each one is very easy.
Start by cooking your farro. Either cook it according to the package or you can follow my quick boil method. Bring a pot of water to a boil and throw in your grains similar to how you cook pasta. Allow to cook for 15-17 minutes and then drain the water. Spread your farro on a baking sheet to cool and dry as you prep the rest of your ingredients.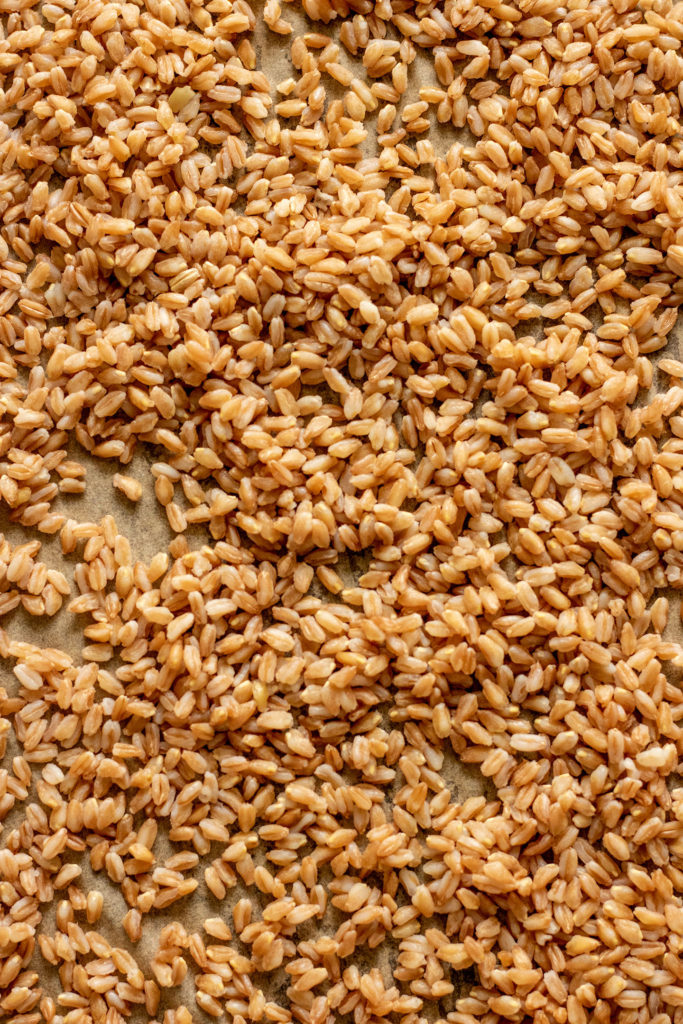 Prep your vegetables. Add broccoli and onion to a baking tray and coat with herbs, spices and oil. Toss together and place in the oven. Rinse and chop kale then prep your chickpeas by rinsing and draining.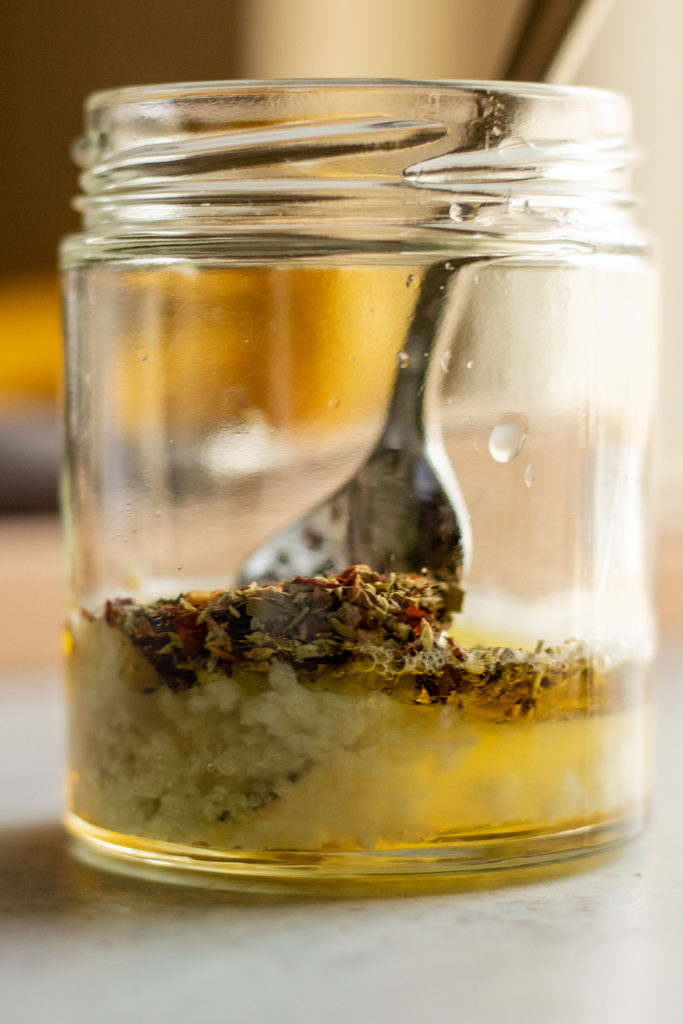 Make your dressing and dress your salad. Combine all the dressing ingredients in a jar and give a good mix. Add a few teaspoons to the kale and massage it until the kale starts to soften and wilt. Top with your cooked farro, chickpeas, roasted vegetables and any extras you like. Top with dressing and toss to combine then serve.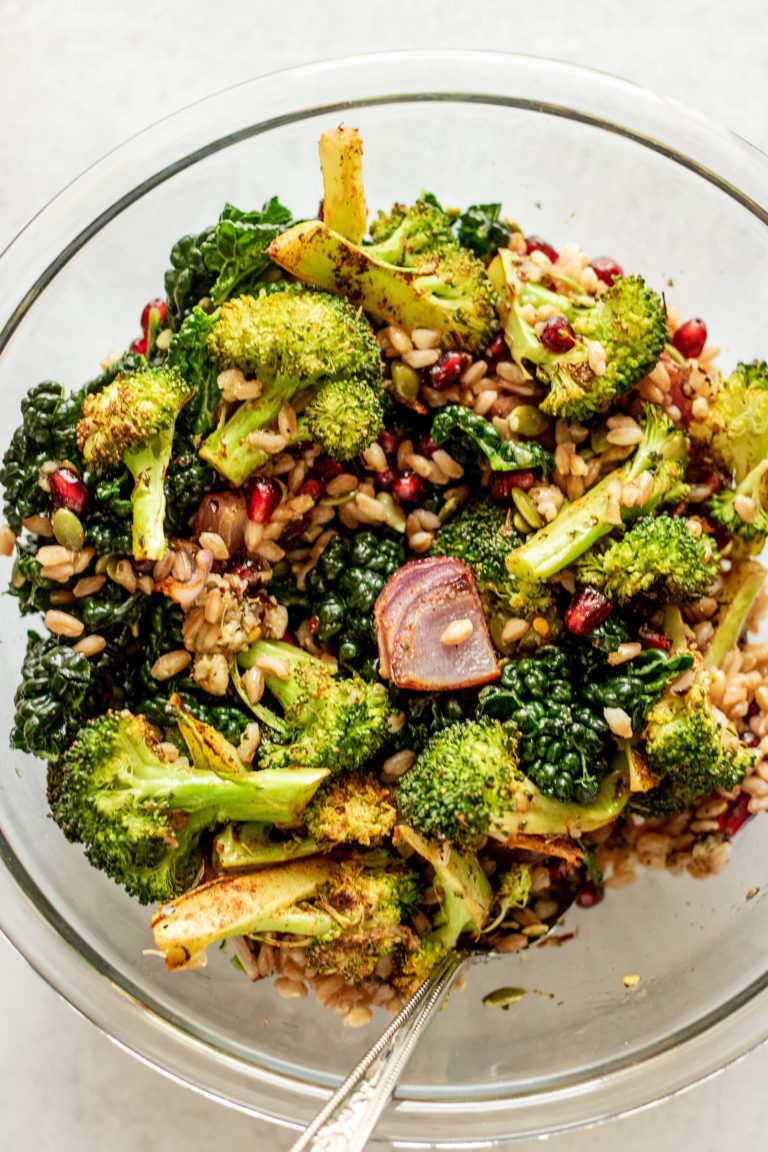 Expert Tips for a Delicious Salad
Massage your greens. Whenever I use kale, I mention this helpful tip. As silly as massaging your greens sounds, rubbing the greens between your fingers with a little fat, salt and acid helps to breakdown some of the fibers to help soften the greens and make them more flavorful.
Cook your farro like pasta. The easiest way to cook farro in my opinion is to cook it like pasta. Boil it in some salted water for about 15-17 minutes and then drain it. After you drain your farro, spread it out on a baking tray and let it continue to dry for a few minutes while you prep the remaining ingredients for your salad. The farro comes out perfectly chewy.
Season your salad throughout. Massage your kale with a few teaspoons of dressing. Sprinkle your salad as you layer it with some salt, pepper and herbs. Toss the whole salad in a flavorful dressing. This will make sure every bite of your salad is flavorful.
Choose the ingredients you love. Like many of my recipes, I truly love to suggest you change it up to what you enjoy most. Not a fan of kale? Use spinach! Don't want to mess with pomegranate seeds? Use some dried cranberries. Variety is the spice of life, but if you love or find other ingredients more your speed, don't stop yourself.
Frequently Asked Questions
Is farro a gluten-free grain?
No. Farro does contain gluten. To make this gluten-free you can swap out the farro for any gluten-free grain of preference including brown rice, wild rice, quinoa, or millet.
How can I make farro more tasty?
Make sure to salt your water as your farro will absorb flavors as it cooks. You can also try cooking it in vegetable broth or adding additional herbs as it cooks.
Can this salad be made in advance?
Because we are using hearty grains like farro and hearty greens like kale, your salad can be prepped in advance with the dressing and last in the fridge in an airtight container for up to 4 to 5 days. This makes this recipe perfect for meal prep.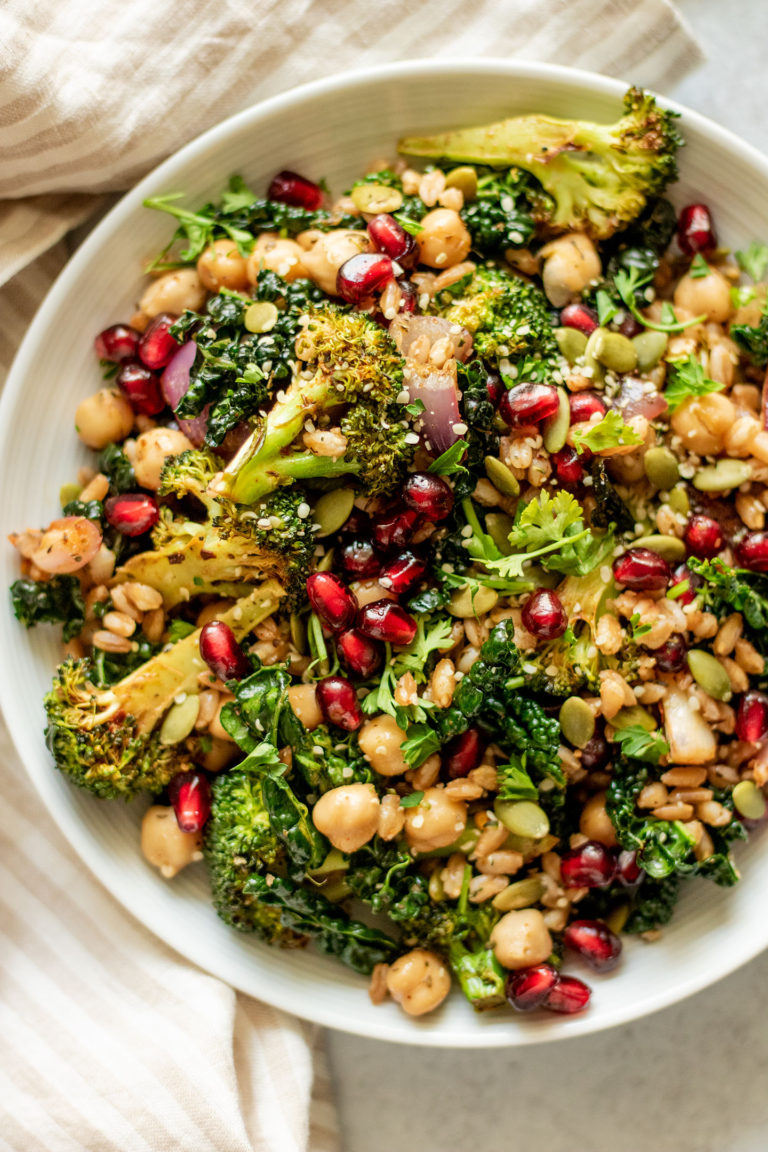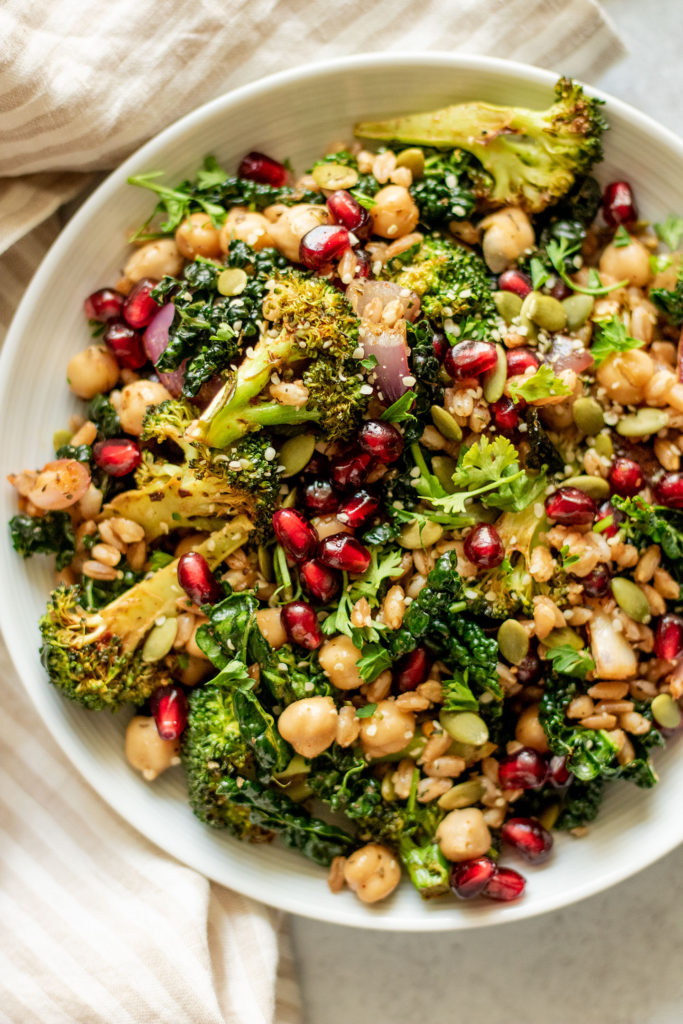 How to Serve
This salad is perfect as is and provides a great deal of nutrition in the form of fiber, protein, antioxidants, vitamins and minerals from the variety of ingredients used. So feel free to use this as a main as is.
If you'd rather serve this as a side, you can also try pairing it with any of the below suggestions to help make this as balanced as possible.
More Tasty Salads to Try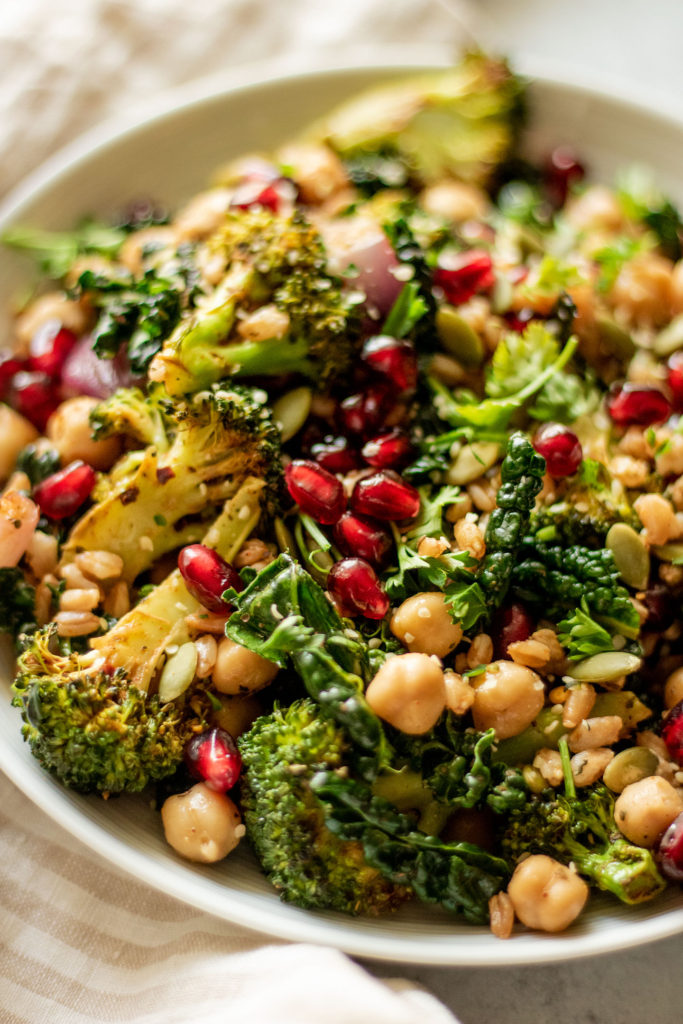 Print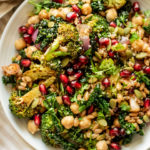 Winter Farro & Kale Salad
Author:

Prep Time:

20 minutes

Cook Time:

20 minutes

Total Time:

40 minutes

Yield:

4

servings

1

x

Category:

Salad

Method:

Baking

Cuisine:

American

Diet:

Vegan
---
Description
This hearty Winter Farro and Kale Salad is loaded with tender farro, chickpeas, and sweet pomegranate seeds, dressed in a garlic citrus dressing. Easy meal prep for easy lunches. 
---
1 cup

dry farro

1

head of broccoli, cut into

1

inch florets

1

small red onion, roughly chopped

1/2 tbsp

avocado oil (or any neutral high heat oil)

1/2 tsp

ground cumin

1/2 tsp

ground coriander

1/2 tsp

smoked paprika

1/2 tsp

dry basil

1/2 tsp

dry thyme

2

–

3

cups kale, destemmed and roughly chopped

1/4 cup

pomegranate seeds

1/4 cup

pepitas

1

, 15 oz can of chickpeas, rinsed and drained
Salt and pepper to taste
Garlic Citrus Dressing
1

large clove garlic, crushed

2 tbsp

extra virgin olive oil

1 tsp

Dijon mustard
Juice and zest of 1 lemon

2 tsp

maple syrup

1/4 tsp

red pepper flakes, optional

1 tsp

dry oregano
---
Instructions
Bring a large sauce pan of salted water to a rapid boil. Add in your farro and allow to cook for 15-17 minutes (taste a grain and see if you want to cook it longer, this is just my preferred chewiness). Once cooked al dente, drain your farro through a sieve and then spread the farro out on a parchment lined baking tray to cool and dry.
Set oven to 400F. Place broccoli and onion on a lined baking tray with the listed spices and herbs, avocado oil and a pinch of salt. Give a good toss to coat and place in the oven for about 15 minutes.
While the vegetables bake, make your dressing. Combine all the dressing ingredients in a small bowl or jar and mix well.
Now, prep your salad. Start by adding your kale to a large mixing bowl with 1-2 teaspoons of the dressing. With your hands, massage or rub the kale until the kale softens and turns a bright green. Top with the roasted vegetables, pomegranate, pepitas, chickpeas and dressing along with a pinch of salt and pepper. Give everything a good toss to coat and serve.
---
Notes
You can cook your farro however you wish following package instructions. If you'd like to flavor it beyond just salt, feel free to boil your farro with some additional aromatics like onions and herbs.
Adjust seasonings to taste as this is just a framework for how to build the salad. Add more spices if desired, and make sure to add a pinch off salt between steps as needed to flavor.
This salad is not gluten-free. To make gluten-free use a gluten-free grain like quinoa, wild rice, or millet in place of the farro.
You can simplify this recipe as much as you like. Use a store bought dressing if desired, use dried cranberries instead of peeling a pomegranate, or pre-chopped vegetables to save some chopping.
Keywords: kale farro salad, kale and farro salad, kale and pomegranate salad, winter farro salad
If you tried this recipe or any other recipe on the blog, then let me know what you thought in the comments below! And if you loved it, don't forget to rate it too. Feel free to follow on Instagram, Pinterest, and TikTok for the latest nutrition tips and recipe videos.
★ Catherine
This post contains affiliate links which means I will make a small commission if you purchase from those links. I only recommend and share products that I know, trust and personally use myself!