This garlic chili tofu with peanut sauce is a super easy and delicious dinner option that pairs perfectly with noodles or rice for a balanced meal.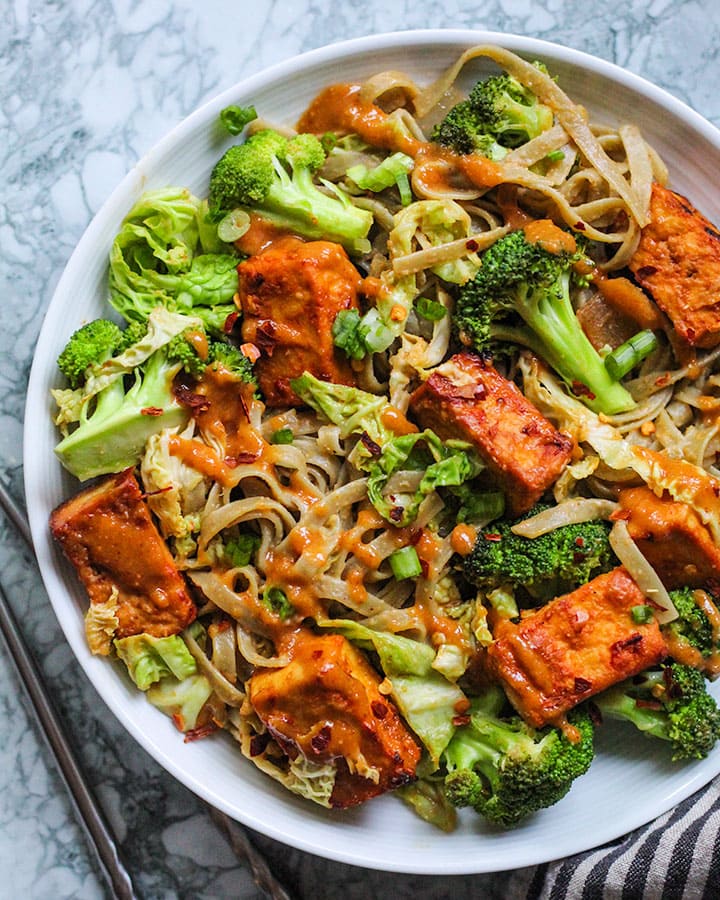 Have a good peanut sauce and you can guarantee yourself a yummy meal in minutes, any day of the week. This couldn't be more true for this yummy bowl of garlic chili tofu with peanut sauce. Perfectly baked tofu with a creamy, perfectly spiced peanut sauce that only takes a few basic ingredients to make.  Cook up some extra sides to mix and match with your tofu and dress up with your peanut sauce for fun meal preps for the week.

What is tofu? 
Tofu is the by product of coagulating soy milk. The curds left over from this process are then pressed together to form blocks of varying firmness and softness. Most often, you find tofu in the following forms at your local market: Silken Tofu, Firm Tofu, Extra Firm Tofu and Super Form Tofu. The firmer the tofu, the more protein per serving it will contain.
Silken tofu is exactly as it sounds, very soft and silky in texture. It's perfect to add into stews or blend into smoothies to make them creamy.
Firm tofu holds it's shape much better than the silken tofu and is often still soft enough to use in stir fries or to crumble and use in tofu scramble recipes.
Extra firm tofu holds it's shape very well and is great for marinating. It's texture is perfect for baking, grilling and frying.
Super firm tofu holds it's shape the best without crumbling. This tofu is typically so firm that it doesn't necessarily need to be pressed (we'll get to pressing in a second). It's perfect for those times where you don't have time to properly drain your tofu of all it's water.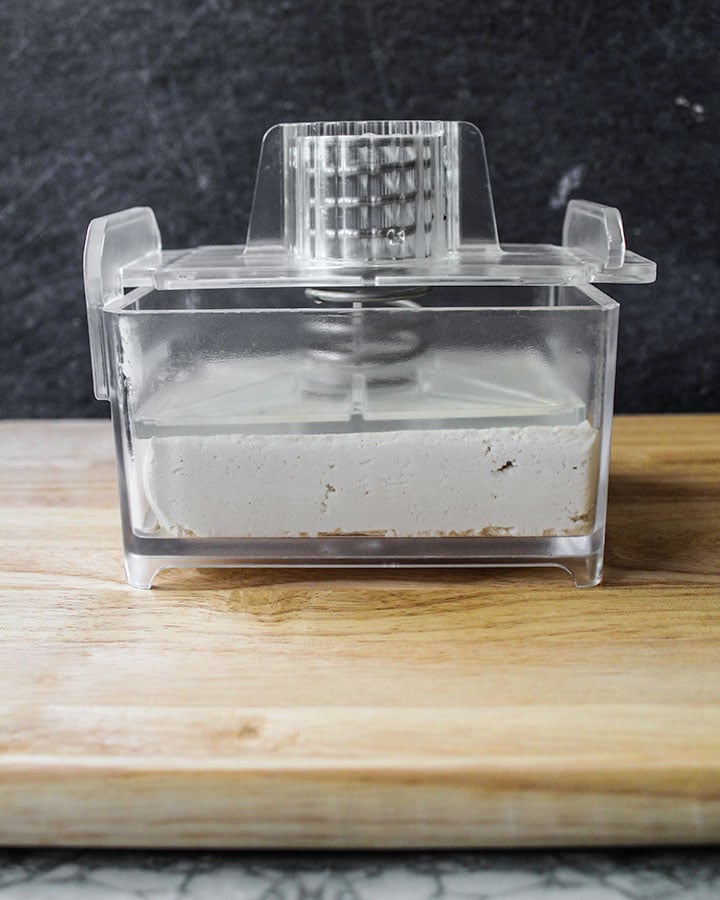 How do you press tofu?
When it comes to firm or extra firm varieties of tofu, to get a consistency when cooking that isn't watery and can better absorb marinades and sauces, it is a good idea to drain water that the tofu is packaged in and to gently press the tofu of excess water. There are a number of methods I've tried in the past that work well.
Wrap your tofu in a clean, dry cloth. Place between two plate and rest a heavy object like a textbook over top and allow for the water to escape the tofu for an hour or more.
Cut the tofu into thin slabs and rest a cloth or paper towels over top of the tofu and lightly press with your palm to release the water.
If you love tofu and want to make a small investment in a tofu press, all you need to do is place the block in the press, screw it down tight and watch the tofu drain away all it's water. This is the least messy method in my opinion. Totally worth the investment if you eat tofu regularly.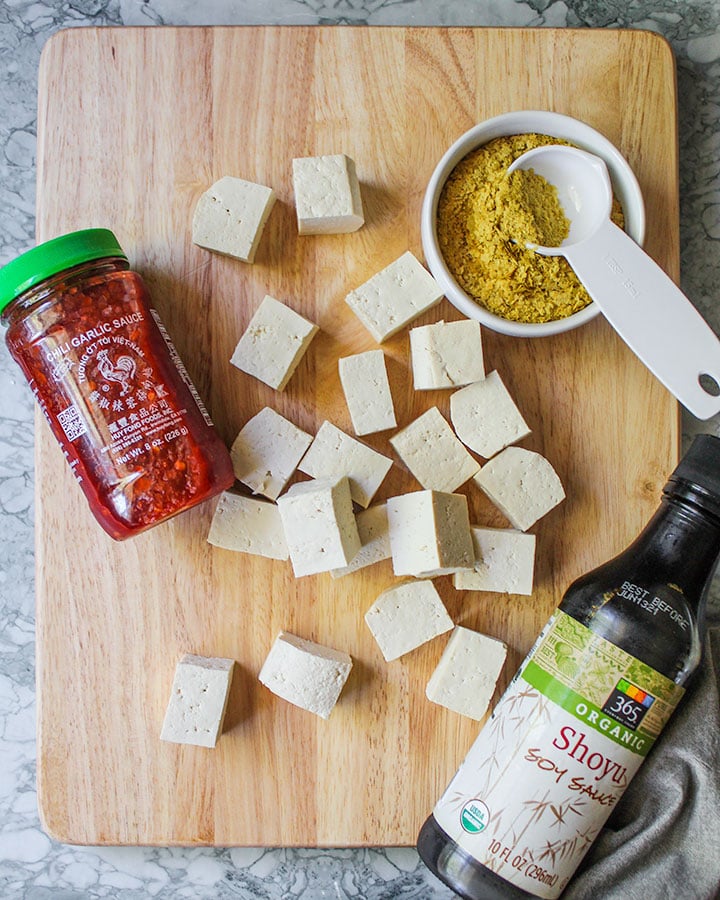 How to make garlic chili tofu with peanut sauce
Start by pressing your tofu. Once pressed of excess water, cut tofu into cubes.
Add tofu cubes to a freezer zip lock bag or a Tupperware container. Add in ingredients that you want to coat your tofu with, seal and toss together. If using a bowl, add all ingredients to a bowl and gently toss together with a spoon or spatula.
Place coated tofu on a baking sheet, making sure tofu pieces aren't touching and then bake.
Prepare your peanut sauce while tofu is baking. Once tofu is done baking, pair it with additional sides and then toss those ingredients with peanut sauce or pour over top your serving bowl.
Tips for making the peanut sauce for your garlic chili tofu
Use natural peanut butter. Natural peanut butter is creamy and will blend a lot better to make your sauce the perfect consistency. Your natural peanut butter should only include peanuts and salt in the ingredients list.
Swap peanut butter as needed. If you have a peanut allergy, use almond butter or if completely nut free, opt for sunflower seed butter.
Use fresh lime if possible. This will taste completely different if you are using fresh lime versus bottled lime.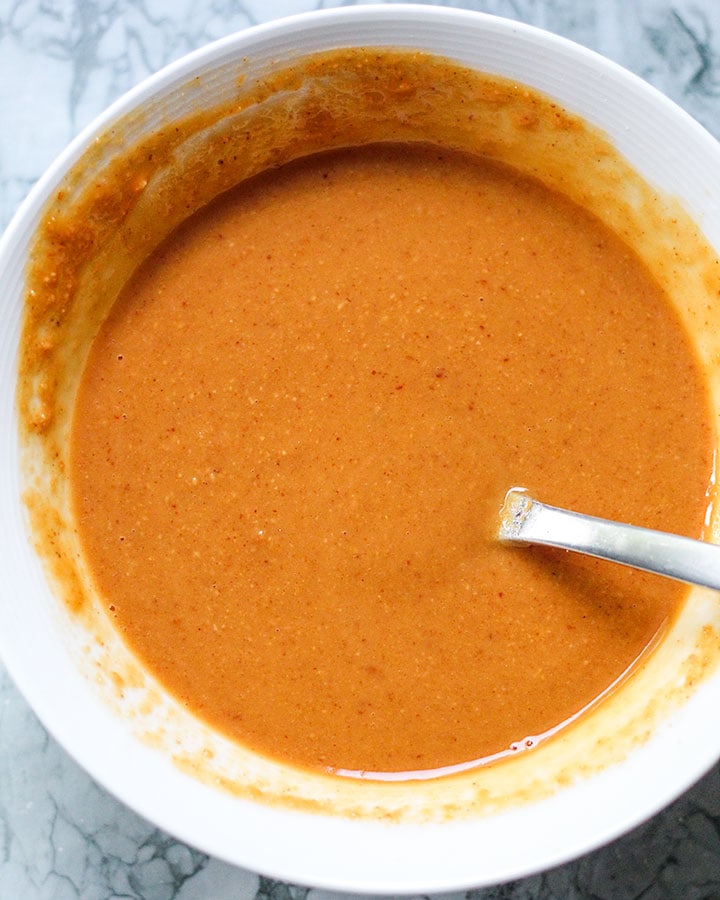 Frequently asked questions
Is soy healthy? 
This is probably the most frequently asked question on soy that I get. Most concern for soy consumption stems from the fact that soy includes isoflavones/phytoestrogens. These compounds have been studied extensively especially in relation to their ability to bind estrogen receptors. Because these compounds slightly differ from normal estrogen, they exhibit different effects and impact on us biologically. As a result, you can often see positive benefits for the regular inclusion of soy in the diet. For a comprehensive look at soy, this article by dietitian Jack Norris provides an in depth look at the research for the most controversial topics related to soy.
How often should I eat soy?
Like with any food, whether deemed "healthy" or "unhealthy", we should instead focus on the big picture. No one food is bad in isolation. What we choose to do most of the time will often determine our health status, so having a good balance of foods that keep us feeling physically and mentally our best, matters most. As long as you do not have an allergy to soy, you can comfortably keep soy in the diet regularly. According to dietitian Jack Norris, "there's no reason to think that two servings per day are harmful to most people, and good reason to think soy provides some health benefits."
What if I have an allergy to soy? 
You can absolutely swap the tofu and soy sauce to accommodate this challenge. Opt for chickpeas or soy free vegan meat alternatives. To replace the soy sauce, opt for coconut aminos, which is coconut based and is gluten free as well.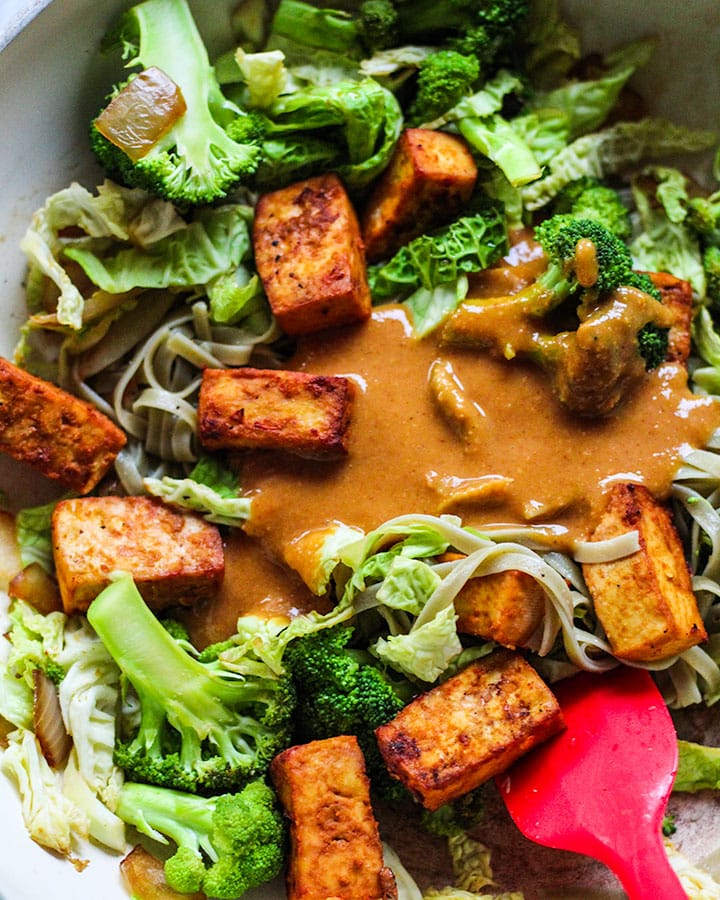 Need more saucy inspiration?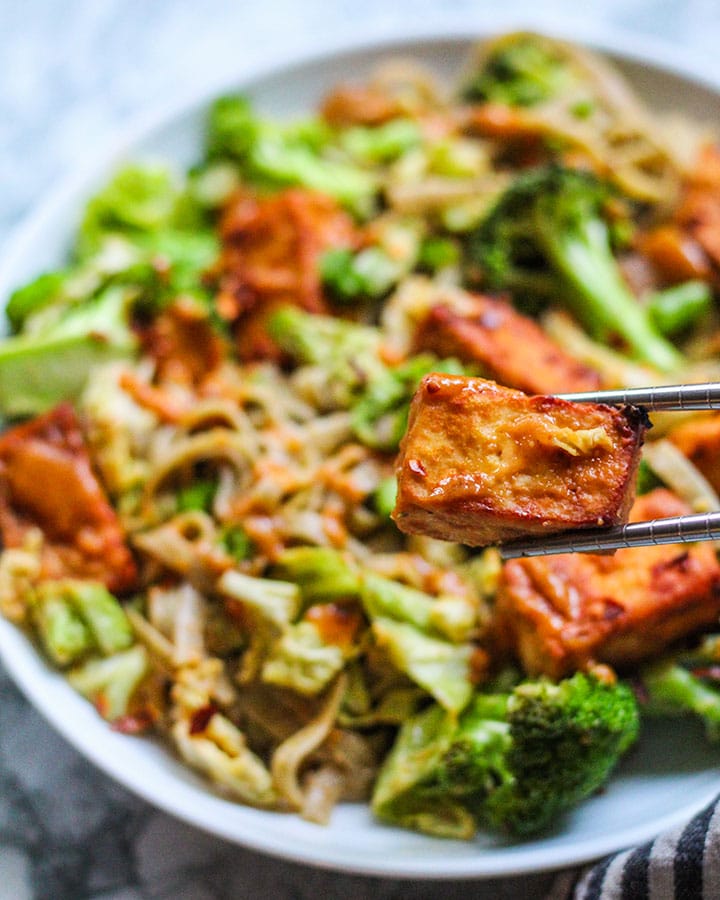 Print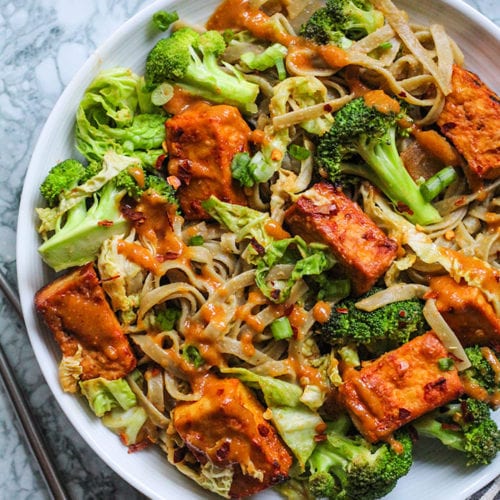 Garlic Chili Tofu with Peanut Sauce
Prep Time:

60 minutes

Cook Time:

20 minutes

Total Time:

80 minutes

Yield:

3

sesrvings

1

x

Category:

Main Course

Cuisine:

American
---
Description
This garlic chili tofu with peanut sauce is a super easy and delicious dinner option that pairs perfectly with noodles or rice for a balanced meal.
---
Baked Garlic Chili Tofu
1

block extra firm tofu, drained and pressed for at least an hour

2 tbsp

tamari

1 tbsp

nutritional yeast

2 tsp

chili garlic sauce
Peanut Sauce
3 tbsp

natural peanut butter

2 tbsp

tamari

1 tbsp

maple syrup

1 tsp

sriracha

1 tsp

mustard

1/4 tsp

garlic powder

1/4 tsp

ginger powder
Juice of

half a

lime

2

–

3

tbsp water
---
Instructions
For baking garlic chili tofu
Set oven to 400F. After pressing tofu, cut tofu into even cubes and place in a bowl or Tupperware container.
Add in remaining ingredients. If using a bowl, lightly toss all ingredients together with a spatula. If using a Tupperware container or zip lock freezer bag, seal container and gently shake contents to evenly coat tofu.
Remove tofu and place on a lined baking sheet making sure tofu cubes are not touching.
Place in oven for at least 25 minutes or until edges have browned. Remove from oven and set aside.
For peanut sauce
Add all ingredients to a bowl and whisk together until smooth.
Adjust consistency of sauce to your liking by adding additional water in small amounts to achieve desired consistency.
Assemble bowl
Divide tofu and prepared sides between 3 serving bowls or containers.
Add tofu along with sides to a bowl and pour about 2 tbsp worth of peanut sauce over top each bowl and toss together. Add more peanut sauce if desired.
---
Notes
Use recommended swaps as needed as they have been tested. If you see a swap that hasn't been recommended, I can not promise that the end result will be the same. If you try any of these recipes with other alternatives, definitely let me know if you have success with them!
Make this recipe gluten free by opting for gluten free soy sauce alternatives like coconut aminos and opt for gluten free sides like rice or rice based noodles.
Make this recipe fast by opting for super firm tofu that does not need to be pressed or pressing tofu for a shorter period of time than recommended above.
Keywords: peanut sauce, tofu
Did You Try This Recipe?
Then let me know what you thought! Share your creations by tagging me on Instagram with the hashtag #plantbasedrdeats
★ Catherine