This Smoky Adobo Chickpea Salad is loaded with fresh veggies, adobo roasted chickpeas, fire roasted corn and the most delicious sauce! It's vegan and gluten-free, and perfect for a healthy lunch or dinner!
My mission in life is to encourage people to eat healthful things. I want people to eat more fruits and vegetables. But more importantly then getting you to eat them, I want you to enjoy them. There is no fun in telling someone to eat fruits and vegetables and have them turn up their nose to them. My excitement only comes after spending time convincing someone to actually go beyond just raw or steamed vegetables and really playing around with them. I want people to get the same joy out of seasoning and flavoring their vegetables the same way they may have seasoned a protein previously or flavored their favorite starch.
Yes, it is possible to enjoy vegetables. You just have to believe in them. I totally typed that with a straight face. Want to make your salads fun and actually maybe even enjoy them? Focus on flavor! Get excited about the dressings you use the same way I get excited for this Ginger Green Goddess Dressing. Add hearty grains similar to this Lemon Orzo Chickpea Salad. Don't limit yourself to just greens and a random tomato or cucumber. That's just not enjoyable. So here's one of my favorite salads to help teach you what flavoring your salads can do!
Why you'll love this chickpea salad
This salad has the best textures! Crunchy greens, crispy chickpeas, chewy corn and creamy avocado.
A salad that actually lives up to the hype thanks to the layers of flavors we build into it as we go. Have you ever had adobo chickpeas? The mix of adobo and smoked paprika is the perfect savory and smoky flavor that when combined with a crispy outside will make you keep coming back for more.
This salad is vegan, gluten-free and nut-free while still hitting all of the umami flavors you want to enjoy in a salad.
Key Ingredients
Chickpeas: To make it easy we are using canned
Adobo Seasoning: Think of this as seasoning salt, and if you can't find some you can always make some with this recipe
Smoked Paprika: To help with the smoky flavors
Tahini: A good source of healthy fat that will make the dressing creamy
Fire Roasted Corn: I used some frozen fire roasted corn to make this super simple
Avocado: For a nice creamy texture
Greens: I used a mix of shredded brussels sprouts and romaine lettuce
How to make adobo chickpea salad
Start by preparing your chickpeas. Rinse and drain them, then place chickpeas on a clean dry kitchen cloth and pat as dry as possible. While on the towel, gently rub the towel around the chickpeas to help loosen and remove some of the skins (no worries if you can't remove all of them). If you can, allow them to sit and air dry for a few moments to help dry them off a little more and reduce excess moisture.
Roast your dried chickpeas. Coat them with your oil and seasonings and spread them out even on a baking sheet, making sure to avoid the chickpeas from laying on top of each other. Place in the oven and allow to bake for either 25 minutes (if you want this salad fast) or 45 minutes to crisp up and get crunchy.
Mix your sauce ingredients together and set aside while you wait for your chickpeas to cook. You can also prep all of your vegetables by cleaning and chopping.
To a bowl add in your greens, herbs, thawed corn and dressing. Toss these ingredients to coat and reserve remaining dressing for the end or to serve. When serving, add your chickpeas, avocado and extra dressing as desired.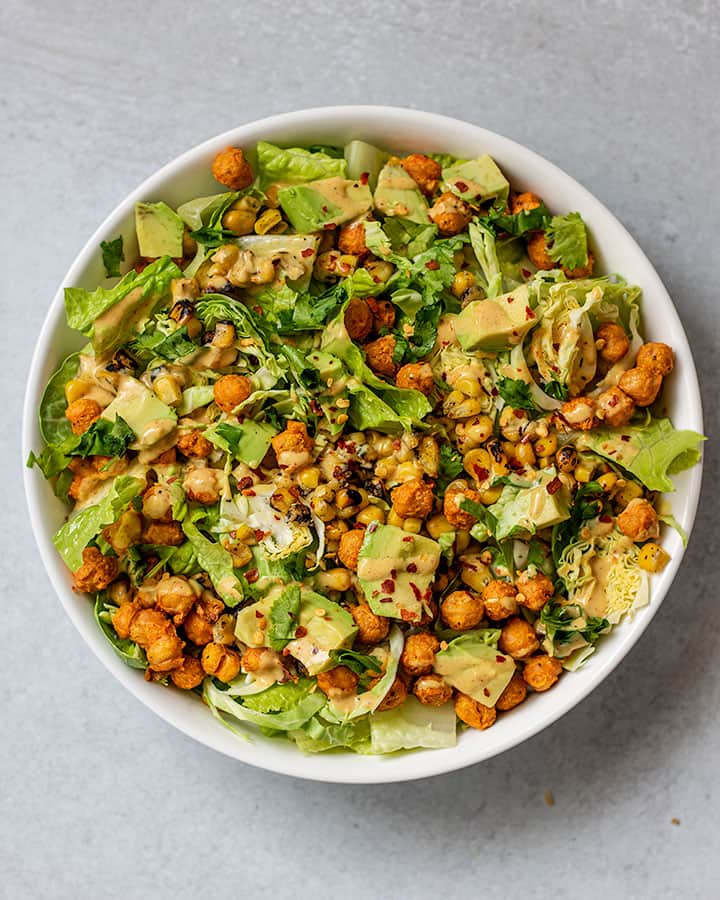 Tips for making this chickpea salad perfectly
Season your greens! If you want a flavorful salad, make sure you are not just loading flavor into your dressing. Season your greens as you are adding ingredients to your salad bowl. Sprinkle with some extra salt, pepper, herbs and spices. Trust me, it makes a big difference.
Control the thickness of your sauce by adjusting your water in the sauce recipe. Mix in your water slowly until your sauce has reached the consistency you desire. Add to much water and your sauce will be too thin, so be careful!
If you wish to meal prep this salad consider packing it in layers to keep the salad long lasting. In a large mason jar or Tupperware container, add your dressing to the very bottom. Layer it next with your vegetables of choice and the corn. On top of that, add your avocado (and consider adding some diced red onion next to it to help prevent it from browning), then your chickpeas and lastly your greens and herbs. Allow the salad to sit refrigerated, but try not to let it sit for longer than 2-3 days if possible to help keep it fresh and enjoyable..
How to make your roasted chickpeas stay crispy
Why do your chickpeas not stay crispy after baking? It is likely due to the moisture of your chickpeas. It doesn't matter if you are using canned or freshly cooked chickpeas, if there is moisture lingering around, your chickpea will quickly get soft and soggy after a bit of time of sitting on the shelf. To make sure your chickpeas come out crispy, make sure you are removing as much moisture as possible.
There are the top tips for removing moisture:
Dry your drained and rinsed chickpeas REALLY well. Pat them as dry as you can in a clean towel to help get rid of a good deal of moisture. I'd also encourage you to rub off some of the chickpea skins if you have the time. You don't have to get every single one off, but the skin often times retains a lot of moisture and if a majority of them have moisture, then your chickpeas will get soggy.
To help remove more moisture, play around with the cooking time. You want them to roast for a longer period of time to remove additional moisture. Roasting to the 45 minutes mark can be super helpful.
The cooling process is also VERY important. Let your chickpeas cool completely. If you try storing them right away even if they are slightly warm, you will end up having the heat condensate around your chickpeas and cause them to slowly soften.
More Salad Recipes
Print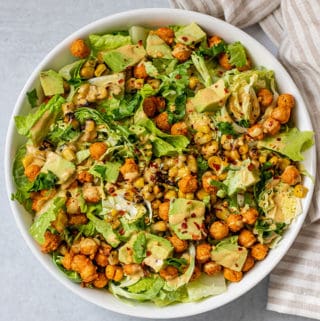 Smoky Adobo Chickpea Salad
Author:

Prep Time:

60 minutes

Total Time:

1 hour

Yield:

3

servings

1

x

Diet:

Vegan
---
Description
This Smoky Adobo Chickpea Salad is loaded with fresh veggies, adobo roasted chickpeas, fire roasted corn and the most delicious sauce! It's vegan and gluten-free, and perfect for a healthy lunch or dinner!
---
Tahini Buffalo Chickpeas
1

can chickpeas, rinsed and drained

1 tbsp

tahini or avocado oil

1/2 tsp

adobo (seasoning salt)

1 tsp

smoked paprika
Adobo Tahini Dressing
3 tbsp

tahini
Juice of

one

lime

1/2 tsp

smoked paprika

2 tsp

maple syrup

1 tsp

yellow mustard

1/2 tsp

garlic powder

1/4 tsp

adobo seasoning

1/2 tsp

sazon or more smoked paprika

4 tbsp

water
Salt and pepper to taste
Smoky Adobo Chickpea Salad
1

–

2

romaine hearts, chopped
Adobo Roasted Chickpeas (recipe above)

1 cup

frozen fire roasted corn, thawed

1

avocado, chopped

1 cup

roasted or shredded brussel sprouts
Adobo tahini dressing (recipe above)
Salt and pepper to taste
Cilantro to taste/garnish
---
Instructions
Set oven to 400F. Place rinsed and drained chickpeas on a clean kitchen cloth and dry them off of excess moisture. Take your kitchen cloth and rub some of the extra skins off the chickpeas and discard to help reduce extra moisture. 
Place chickpeas, adobo, smoked paprika and your tahini or oil in a bowl and toss together to coat chickpeas evenly.
Spread your seasoned chickpeas over a lined baking sheet and place in the oven for 25 or 45 minutes depending on whether you want your chickpeas crispy or not. Make sure to move your chickpeas around every 15 minutes to make sure they cook evenly.
Remove chickpeas from oven and allow to completely cool to achieve maximum crispness.
While you wait for your chickpeas to cook, you can prepare your dressing. In a small bowl add in all dressing ingredients and whisk until smooth.
Add additional water 1 tablespoon at a time if you want to make the consistency a little thinner to your liking.
In a large bowl add romaine, brussel sprouts, thawed corn, cilantro, and top with 1/2 the dressing. Toss to coat well. 
You can pour in remaining dressing and toss to coat again or reserve the remaining dressing to enjoy when serving.
Divide salad into serving bowls and top generously with your adobo chickpeas, cubed avocado and dressing. 
---
Notes
Please note that the time to cook your chickpeas depends more so on your patience for waiting to prep your salad and the texture you want to have for your chickpeas. I recommend baking them for 45 minutes if you want your chickpeas to be crispy, but you can bake them for 25 minutes if you don't feel like waiting.
I love this dressing, so if you like, feel free to double or triple the recipe to get more uses out of it. The consistency is totally up to you, so adjust the water slowly to make sure you don't make your sauce too runny. 
Keywords: salad recipes, lunch recipes
Did You Try This Recipe?
Then let me know what you thought in the comments below! Share your creations by tagging me on Instagram with the hashtag #plantbasedrdeats
★ Catherine