A Mediterranean vegan chickpea salad sandwich loaded with olives, capers, onions, tahini, herbs and spice. Easy to make and perfect for weekly meal prep.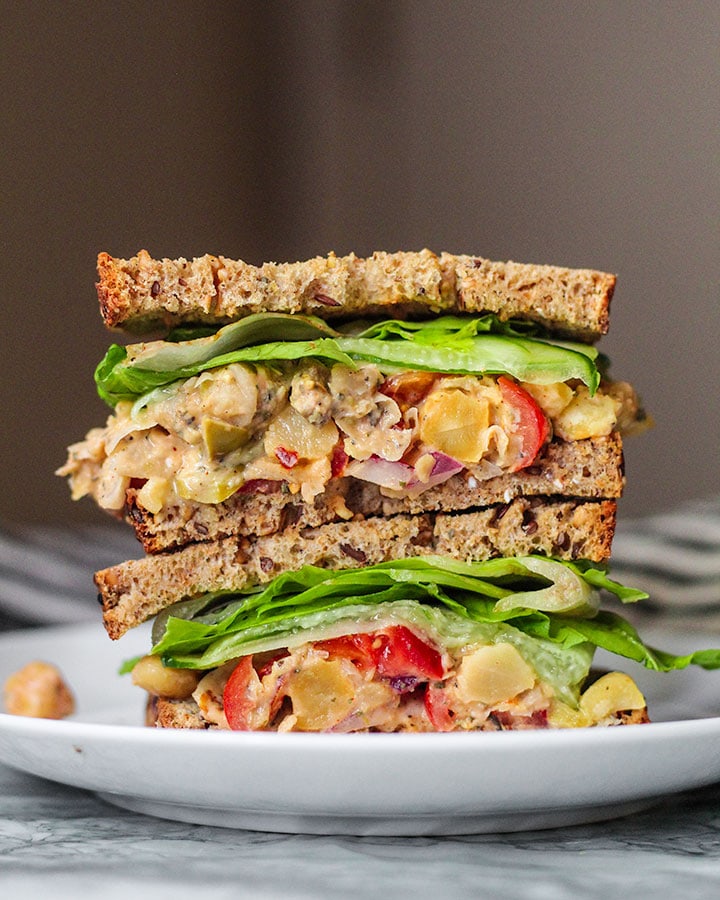 I feel like olives deserve so much more love than they get. A really great condiment that can enhance the umami flavors in a dish instantaneously. I am a particular fan of them on pizzas, in my mom's arroz con gandules and also in this Mediterranean inspired chickpea salad sandwich. Each bite is bursting with flavor and it's so satisfying.

What makes a dish Mediterranean? 
Mediterranean cuisine is characteristic of all the countries that surround the Mediterranean sea. This includes countries like France, Italy, Greece, Spain, Turkey, Syria, Israel, Egypt, Algeria, Libya, Tunisia and Morocco that lend influence to this style cuisine. Most are familiar with ingredients from France, Italy and some extent to Greece, but we often miss the other countries that provide influence to this cuisine. Much of the shared influence occurred during periods in history where conquests allowed for the spread of foods. One example is the Ottoman Empire's rule over a large chunk of the countries, which lead to spread of influence. As a result, we often see a theme in ingredients used between these countries. It's important to note that the Mediterranean is a blanket term and overshadows the fact that various regions have their own distinct dishes, flavors and recipes.
Common ingredients that people often hear about when thinking of Mediterranean cuisine include things like olives, grapes (wine), wheat, garbanzos, rice, bulgar, parsley, lemon, couscous (specific to North Africa and their use of Durum wheat or semolina), thyme, cumin, za'tar, mint, oregano, sumac, cinnamon, fava beans, houmus, tahini, and pomegranate.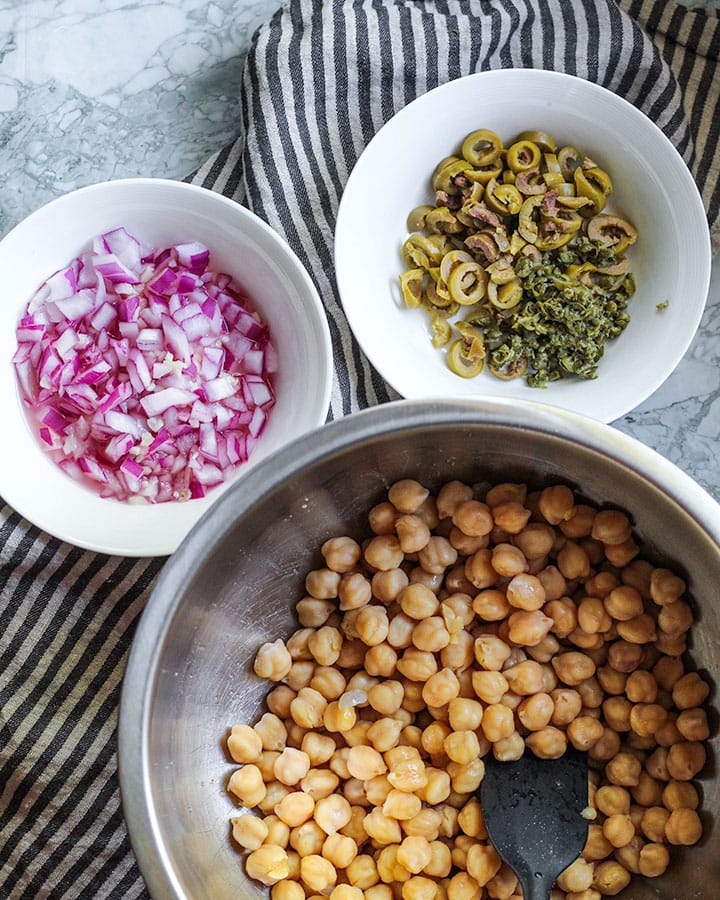 What ingredients do you need to make a Mediterranean Inspired Chickpea Salad Sandwich
Since we aren't using ingredients like feta in this bowl, I wanted to make sure that this sandwich still got a nice tang by including fresh lemon juice. You can also add a few spoonfuls of plain vegan yogurt to get some additional tang as well. However, to keep it simple using mostly pantry basics, I opted to leave that out for this recipe. Instead, I've used the ingredients below to enhance the flavors of this dish.
Red Onions
Garlic
Tahini
Lemon Juice
Garbanzos (Chickpeas)
Olives
Capers
Tomatoes
Herbs/Spices (Basil, Oregano, Red Pepper Flakes)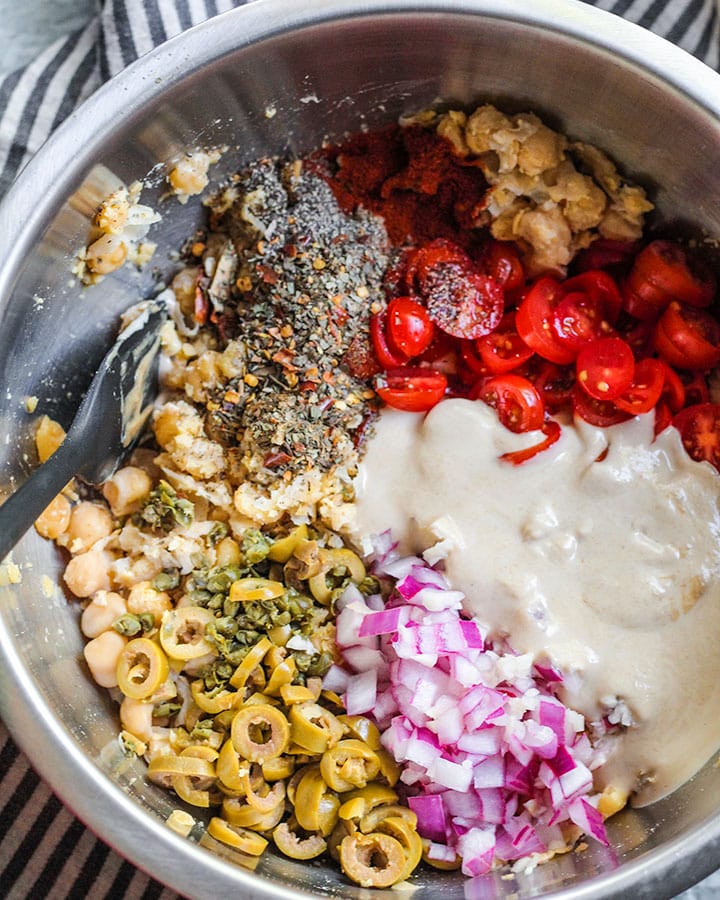 How to make a Mediterranean Inspired Chickpea Salad Sandwich
Start by adding onion, garlic and a pinch of salt to a small bowl and squeezing the juice of a lemon over top to help break down some of the sharpness of these aromatics. Allow to sit and rest while preparing the remaining ingredients.
Add chickpeas to a bowl and mash with a fork or potato masher to break it up into smaller chunks.
Combine water and tahini and whisk together until creamy.
Add in onion garlic mixture, olives, capers, herbs and spices into bowl with chickpeas. Pour in tahini mixture and the remaining lemon juice.
Fold ingredients together and mix well. Place mixture in the fridge to chill for at least 30 minutes or overnight before serving.
Take a generous scoop and place on a slice of bread. Top with additional vegetables and condiments then top with the other slice of bread then enjoy.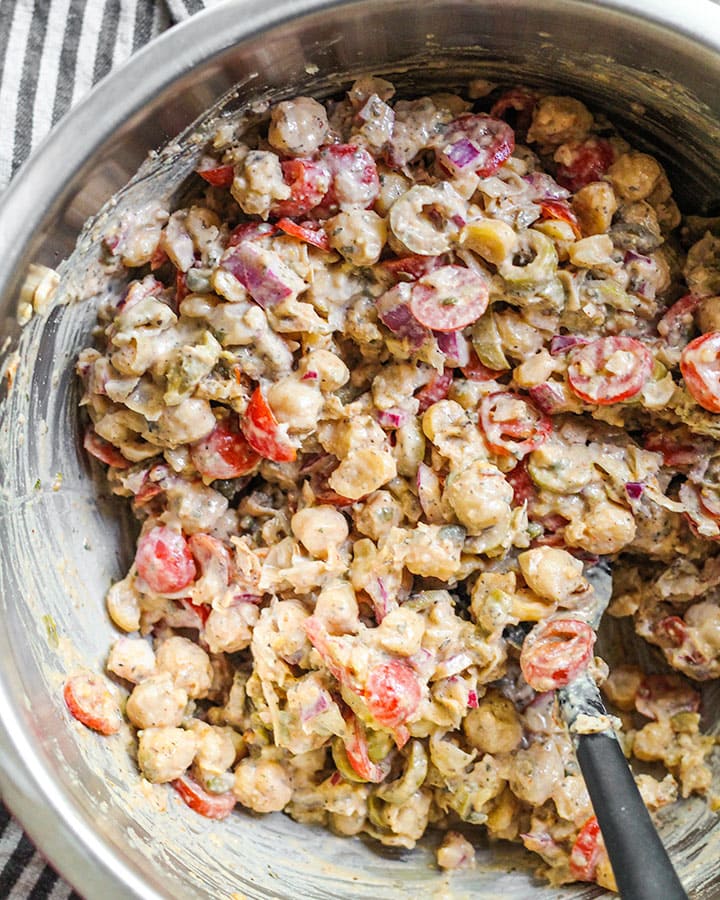 Tips for the perfect chickpea salad sandwich
To save time with mashing, I recommend using a potato masher to mash your chickpeas. It will save a lot of time and you get a more even mash throughout your mixture.
Once you combine all of your ingredients, you should end up with a mixture that clumps together well. If you see a lot of whole chickpeas left, go ahead and give mixture more of a mash to help make it easier for it to clump together. You still want some chickpea pieces in the mixture for texture, but just not too much where your sandwich won't hold together well.
Make sure to allow the flavors to meld together for a bit of time before enjoying. It makes a huge difference in flavor as a lot of the spices and herbs infuse their flavor into the mixture overtime.
You can store this mixture in an airtight Tupperware container in the fridge for up to 4 days. As a result, this mix is a perfect meal prep ingredient! You can make sandwiches with the remaining mixture throughout the week, add on it's own to a salad for a boost in protein, throw into wraps or serve with some crackers and veggies.
More lunch inspired ideas
Print
Mediterranean Inspired Chickpea Salad Sandwich
Prep Time:

20 minutes

Total Time:

20 minutes

Yield:

6

sandwiches

1

x

Category:

Lunch

Cuisine:

Mediterranean
---
Description
A Mediterranean vegan chickpea salad sandwich loaded with olives, capers, onions, tahini, herbs and spice. Easy to make and perfect for weekly meal prep.
---
1/4

small red onion (minced)

3

cloves garlic (minced)
Juice of

two

lemons

1/4 cup

tahini

1/4 cup

water

2

cans chickpeas (rinsed and drained)

1/3 cup

olives (roughly chopped)

2 tsp

capers (minced)

1/2 tsp

smoked paprika

1 1/2 tsp

dry basil

1

1/2 tsp dry oregano

1/4 tsp

red pepper flakes

1/3 cup

cherry tomatoes (diced)
Salt and pepper to taste
Bread for serving
---
Instructions
In a small bowl add red onion, minced garlic and a pinch of salt then squeeze the juice of one lemon over top. Stir well and allow to sit.
Take your rinsed and drained chickpeas and add them to a medium sized mixing bowl and with a fork or potato masher, mash chickpeas very well until your mixture is chunky.
Add olives, capers, tomatoes, herbs, spices, and onion garlic mixture to the bowl with chickpeas.
In the same small bowl used for the onion and garlic mixture, use to mix tahini and water. Whisk together until mixture becomes creamy then pour this into the bowl with the chickpeas.
Sprinkle the top of the bowl with another pinch of salt, add in the remaining lemon juice and fold mixture together to fully combine.
Take mixture and allow to chill in the fridge for at least 30 minutes before serving. Make sure to give another good mix and adjust seasoning before serving between two slices of bread.
---
Notes
You can replace the dry herbs with fresh herbs if you have them on hand, mince well and stir into the mixture.
Store mixture in a sealed Tupperware container in the fridge for up to 4 days.
Servings may vary depending on size of bread. Serve a generous scoop of the chickpea salad between two slices of bread and add additional veggies and condiments if desired.
Keywords: chickpeas, olives, tahini
Did You Try This Recipe?
Then let me know what you thought! Share your creations by tagging me on Instagram with the hashtag #plantbasedrdeats
★ Catherine